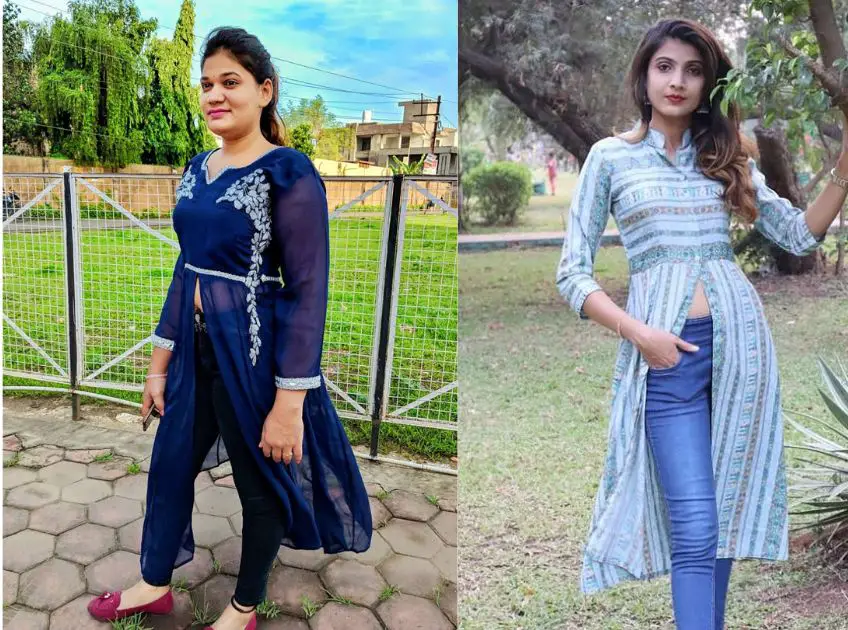 Kurtis is the most basic yet timeless and elegant outfit that is used as everyday wear. But you may think about how to enhance it further to look superb. For you, we have searched a lot and providing you with a fancy-style kurti to amaze your favourite parties or events. Front-cut kurti with jeans is perfect for accentuating any classic and casual kurti clothing by giving a charming and classy style statement.
If you wish to keep up with the present fashion trends, front-cut kurti paired with denim are always a perfect choice to check out
So, continue reading to know gorgeous and latest trends in front slit kurti
Best 20 Front Cut Kurti with Jeans
1. Bandhani Bandej Pink Sleeve Kurti with Jeans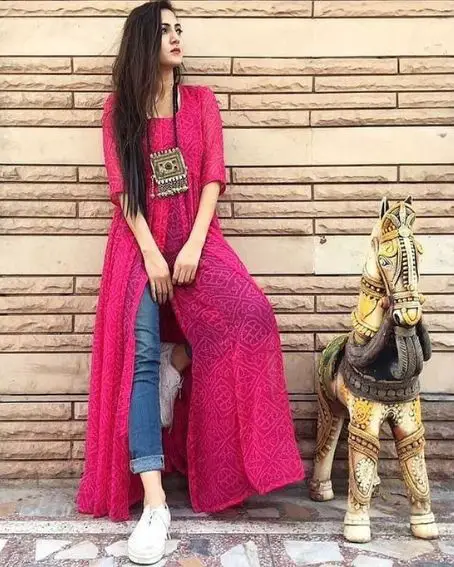 If you are looking for a mesmerizing and high-end heavy fashion wear outfit, you should select this bandhani bandej pink sleeve kurti. This long pink kurta gives a vibrant, modern look and refreshing style.
2. Collar Neck Medium-Length Kurti Paired with Denim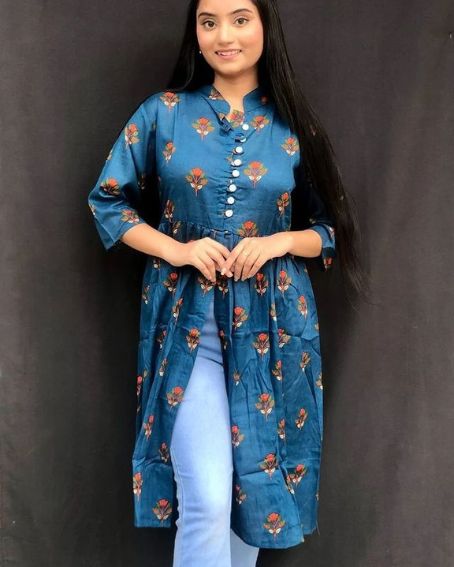 For those who going to attend grand parties or festive celebrations, this collar-neck kurti with blue denim can be quite an apt fit. The mild floral print design with button stitch on the front is lovely to wear.
3. Knot End Sleeve Front Open Kurti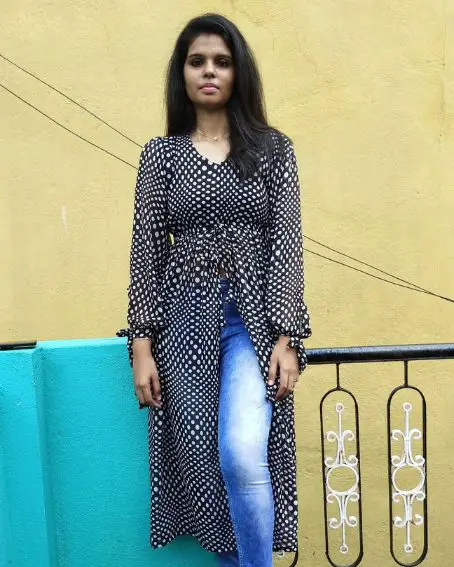 The black and white combo always remembers the olden days. Here, you can see the front slit kurti comes with a polka dot and knot end sleeve. When you wear this style you look elegant and graceful without much effort.
4. Casual Wear Front Cut Kurti with Jeans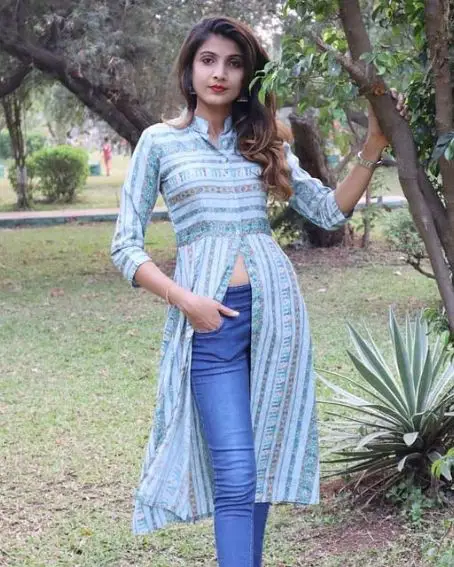 This casual wear kurti is a new stylish one and it will be lovely for all women. Looking for an office or casual outfit, this one serves as the best companion wherever occasions you go.
5. Handmade Button Detailing Front Cut Kurti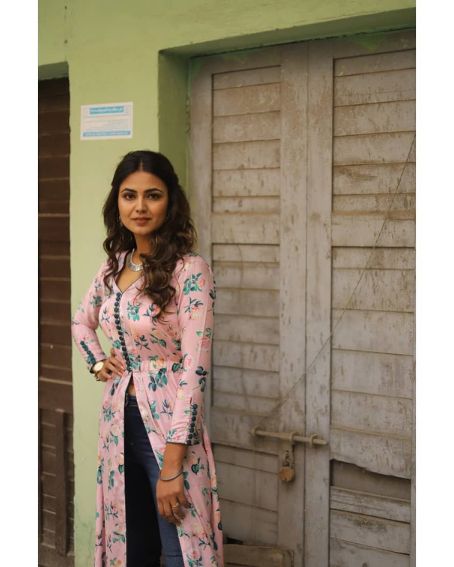 You may love this light and vibrant beige floral print kurti at first sight. Handmade buttons on the front and sleeve end gives you a refreshing as well as spring-summer fashion vibe instantly.
6. Slim Fit Jeans for Full Sleeve Digital Design Printed Kurti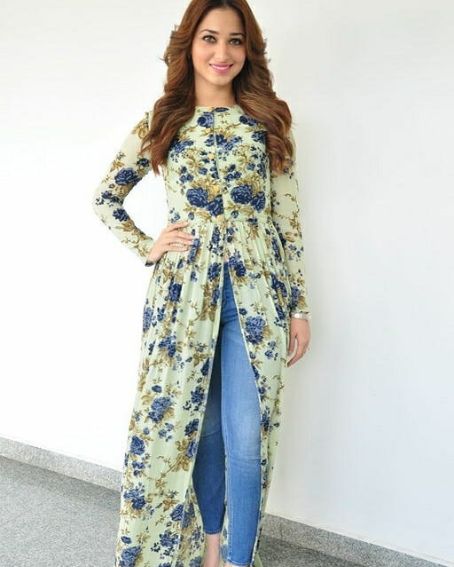 The elegance and charm associated kurti can never be competed with. The creamy white long kurti is designed with a digital print blue floral one that can be paired with jeans and surely will get everyone's attention in the crowd.
7. Sleeveless Long Kurti Style with Jeans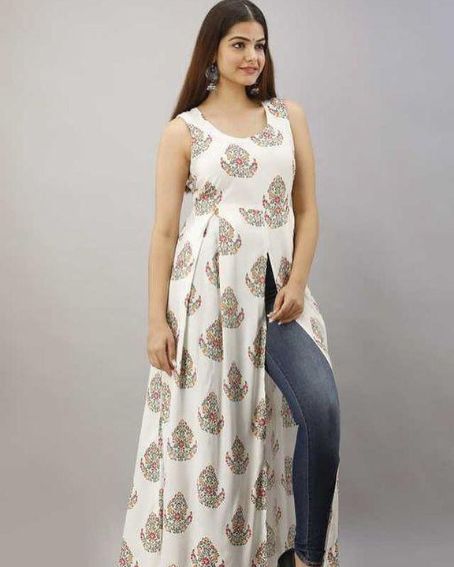 The stunning white sleeves front slit kurti is a perfect choice when wearing jeans of any colour. This powerful pairing is effortlessly chic and very comfy. Choose the right fit accessories and cool hairstyles to complete your look.
8. Intricate Design Print Front Slit Kurti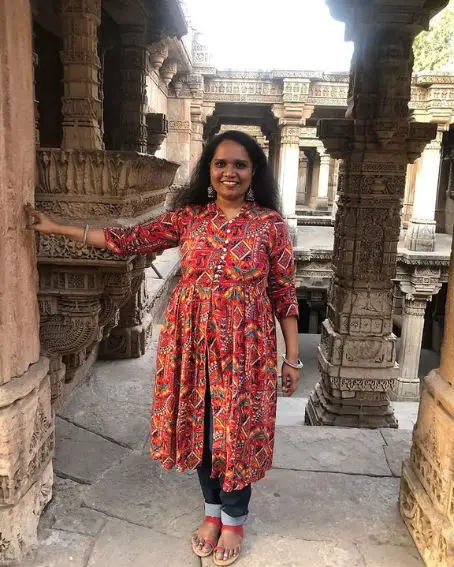 Want to move out from traditional wear and love to try trendy one, don't search anywhere here is your attire that makes you look awesome and neat. Intricate design with a button at the front is an outstanding outfit must-try for any travelling around a heritage city.
9. Big Floral Designed Pink Kurti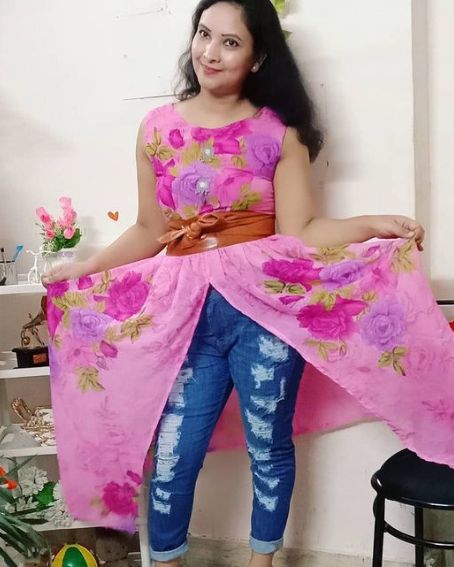 This beautiful floral-designed pink kurti with jeans is ideal for casual events. Although it is a long kurti, the front cut makes it very casual than the traditional one. Pairing it with jeans of your option creates a complete look of beauty.
10. Mirror Work Sleeveless Sandal Long Kurti with Jeans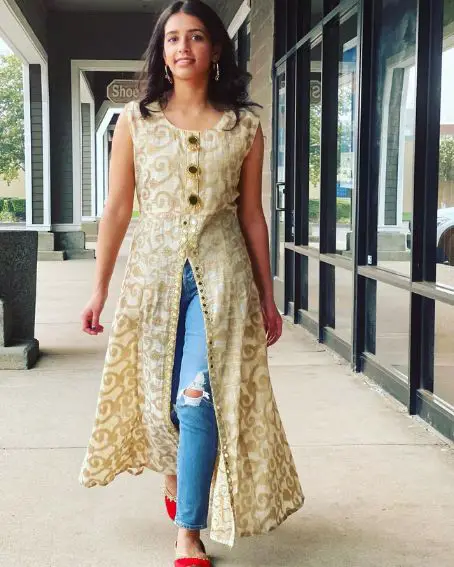 Wear a mirror work sleeveless sandal kurti when you want to rock your party. Mirror work on the top and slit curve is a creative and unique style gives a classy look when have it with ripped jeans
11. Transparent Sleeve V Neck Kurti Paired with Blue Jeans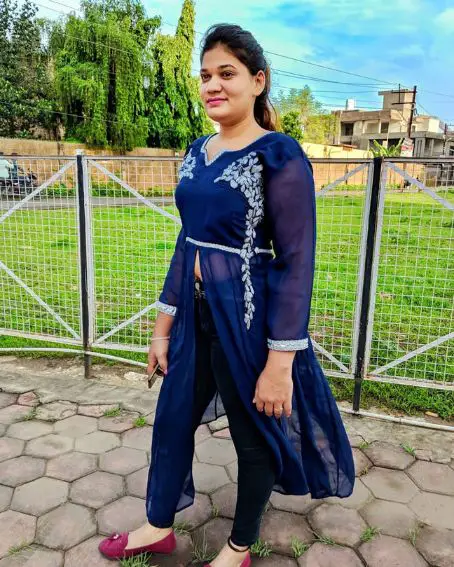 12. Checked Pattern Red Collar Neck Kurti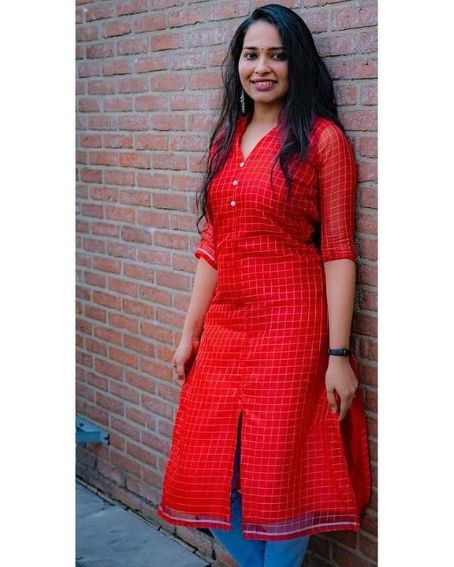 13. Fabric Cotton Printed Blue Long Kurti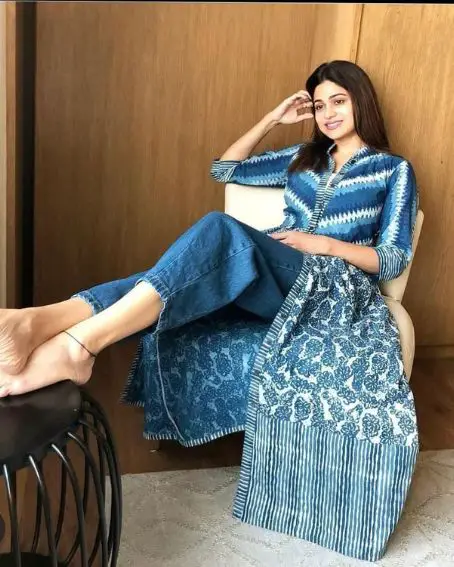 14. High Neck Button Stiched Classy Kurti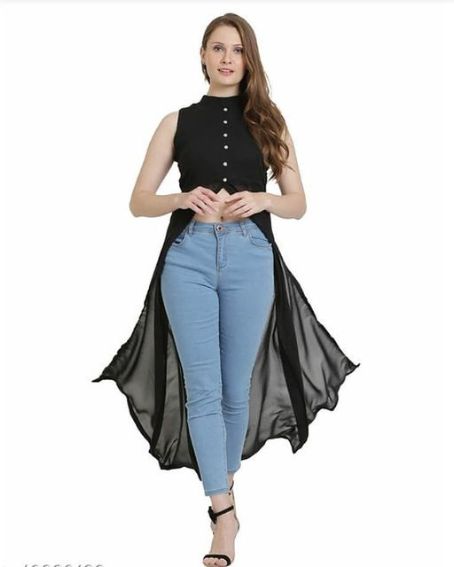 15. Maroon Georgette Printed Front Slit Kurti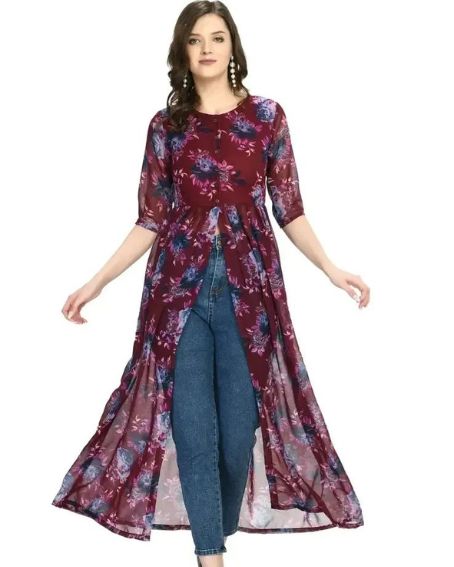 16. Tribal Print Rayon Kurti with Denim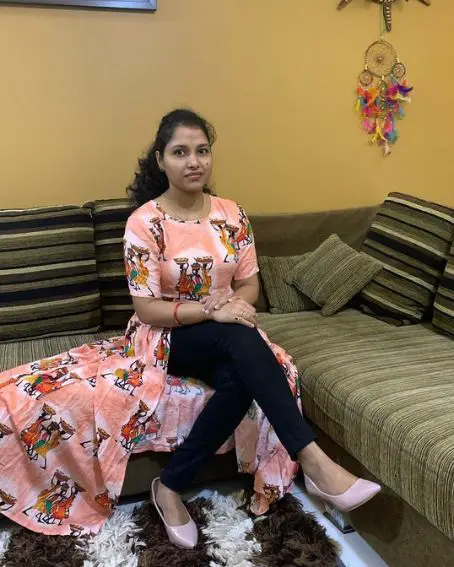 17. Full Sleeve Round Neck Kurti
18. Multi Colour Elbow Sleeve Kurti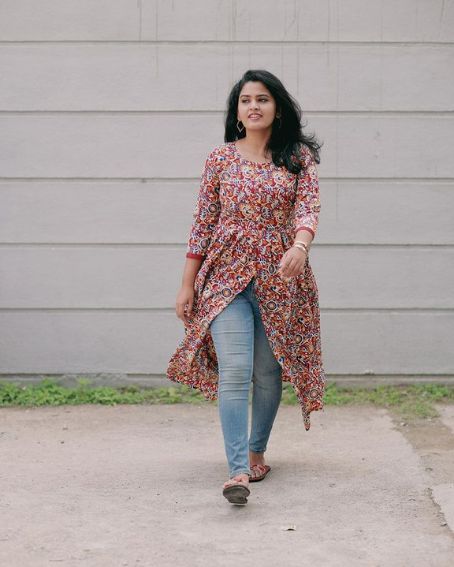 19. Indo Western Festive Season Front Slit Kurti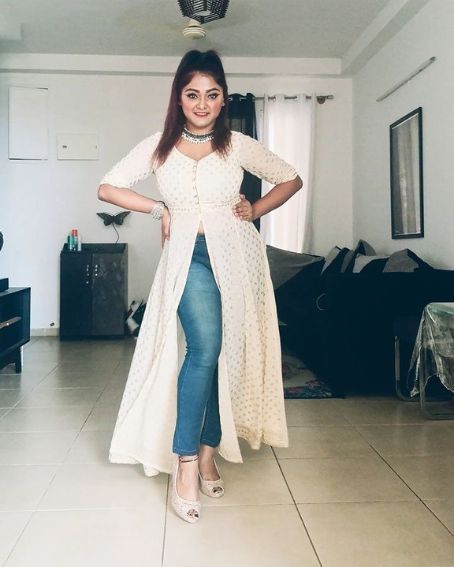 20. Front Slit Fancy Kurti with Cut Jeans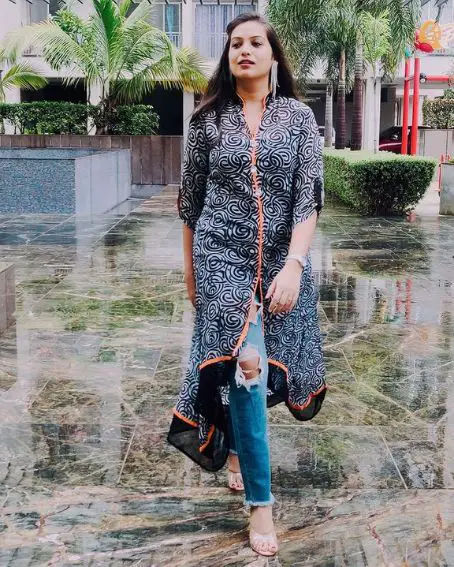 Conclusion
We hope you have enjoyed seeing this latest as well as the stylish front cut kurtis. For any season you can choose this style without hesitation to seamlessly deliver mesmerizing and alluring glam quotient, no matter about age group. Do try the option which is curated above.
Related Articles