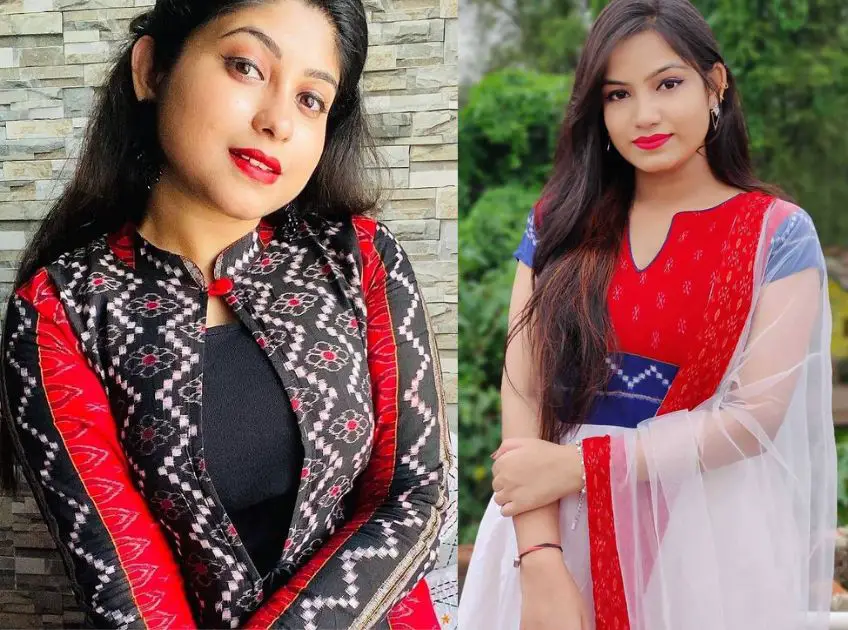 Traditional Sambalpuri dress neck designs are highly regarded for several reasons, as they show the rich cultural heritage of Odisha and the artistry of Sambalpuri weavers. these neck designs add an element of elegance and grace to the overall attire, enhancing the wearer's appearance. These sambalpuri textiles are versatile and can be tailored to suit different body types and personal preferences.
Additionally, traditional Sambalpuri dress neck designs are often handwoven with intricate motifs, showcasing impeccable craftsmanship and attention to detail. Lastly, they bring a sense of tradition and authenticity to any occasion, making them a popular choice for those seeking a timeless and culturally significant ensemble.
Top 20 Traditional Sambalpuri Dress Neck Design
1. Green Traditional Dress with Lovely Neck Design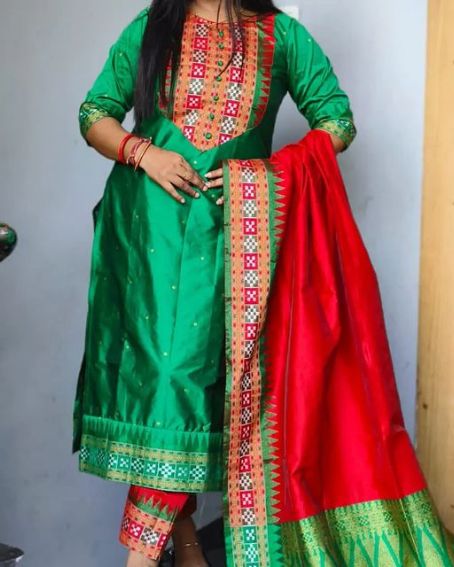 This stunning traditional sambal puri dress set in a green and red dupatta has three-fourth sleeves and a stunning patchwork neck design. This dress has a glossy, shiny appearance that draws attention from everyone at your important events or occasions.
2. Traditional Sambalpuri Blue Dress with Collar Neck Design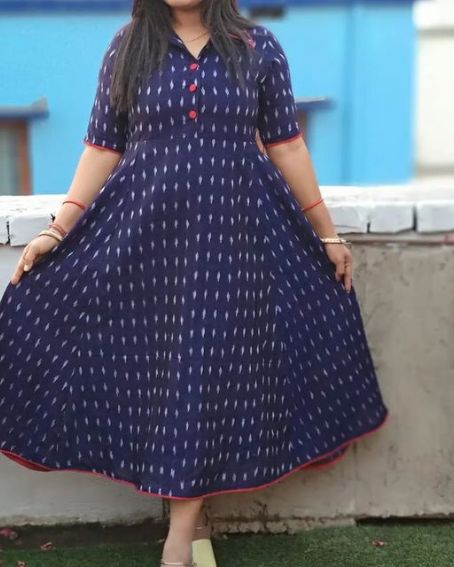 The traditional shirt collar never goes out of style and provides a kurti with a polished, elegant appearance. The traditional sambal puri dress is completely transformed into a chic and classy style with this collar-neck design. This blue sambalpuri dress has a collar neck and buttons for a classy look.
3. Black Sambalpuri Dress Neck Design with Hangings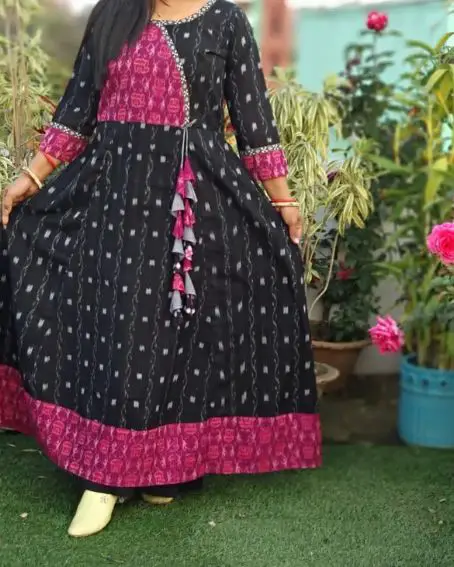 Enhance the charm of a Sambalpuri kurti with a beautiful u shape neck design featuring border lines with side hangings creating a visual of the modern look that complements the intricate handwoven patterns of the fabric.
4. Trendy Sambalpuri Design Dress with V-Cut Neckline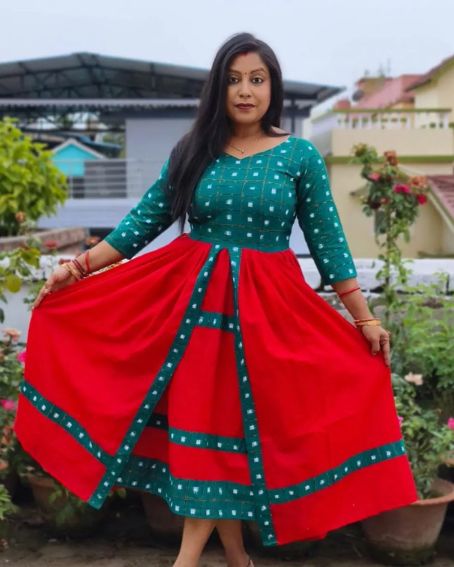 Enrich your look with a handloom Sambalpuri cotton kurti with v cut neck design with a unique pattern of dress design. This dress improves your style with the appearance of the traditional sambalpuri dress design.
5. Traditional Long Sambal Puri Dress with Collar Neck Design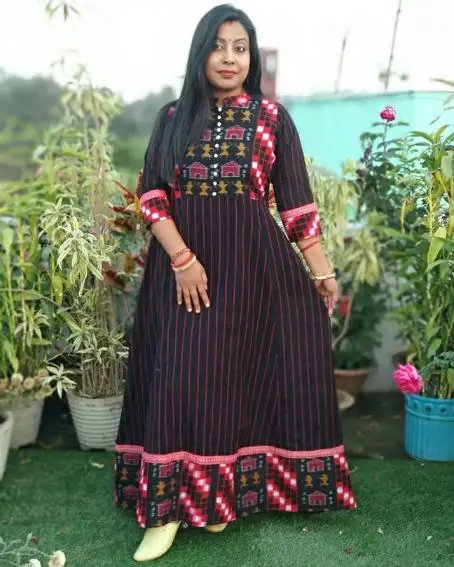 This is an astonishing Sambalpuri long gown dress with a collar neck design with buttons placed. this modern neck design is a perfect blend of traditional elegance and contemporary flair. The collar neck design beautifully highlights the neckline with buttons.
6. Stunning Black Sambal Puri Dress with Zip Lock Neck Design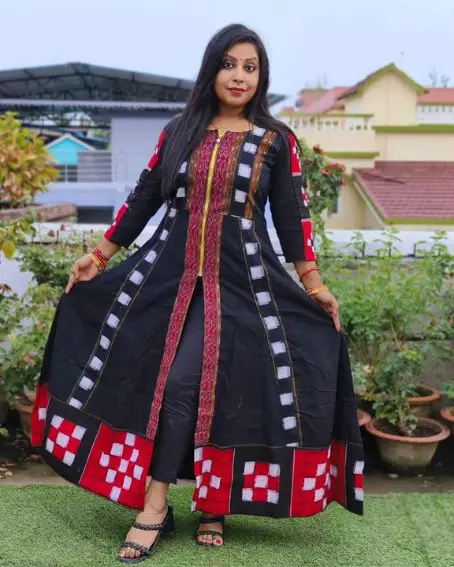 This stunning Sambalpuri long dress in black has a U-cut neckline, a zip that runs the length of the dress, and a front cutout. The dress's decorated zip lock gives it a dazzling visual appeal by radiating a special and entrancing charm.
7. Sambalpuri Collar Neck Design with a Cut Open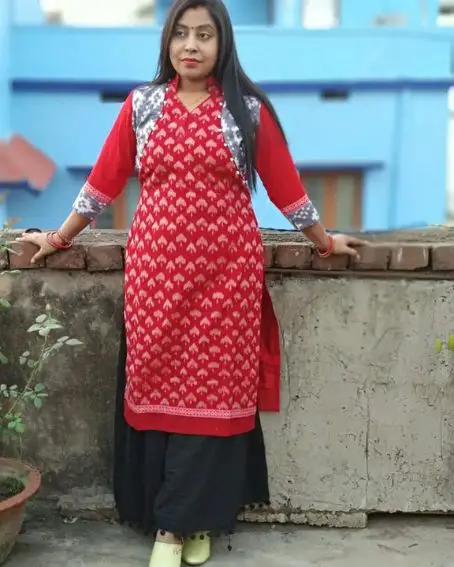 This fantastic collar neck design analyzes the style and appeal of the traditional sambalpuri dress by improving the appearance of the collar. With its appearance, this collar neck design appears to be highly trendy and loving with a small cut open near the neck.
8. Unique Side Run Neck Design with Potli Buttons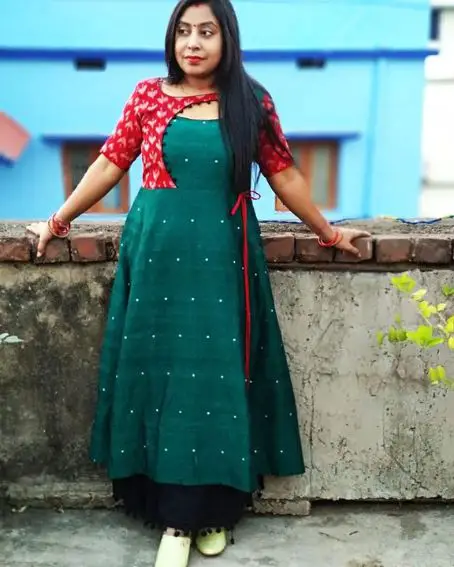 Elevate your look with a handloom Sambalpuri cotton kurti accented with a curve and unique side run neck design with potli buttons arranged on the side, which creates a distinctive and eye-catching patchwork pattern that adds a sense of elegance and flair to the dress.
9. Lovely Sambal Puri Dress with Boat Neck Design with a V Cut Open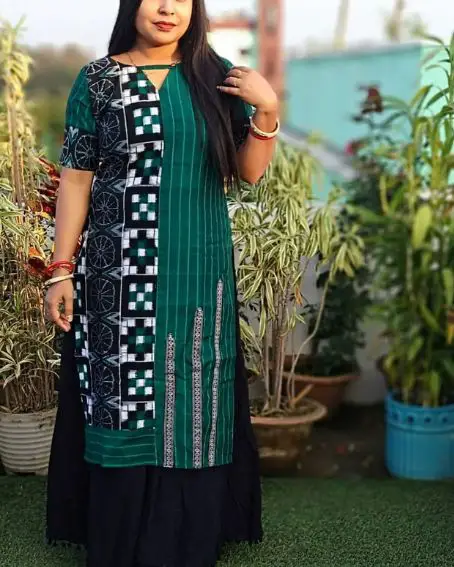 This classic sambalpuri dress has an amazing boat neck design with a triangle slit open, and a vibrant and stylish appearance. The kurti's boat neck adds a lovely touch, and its trendy and charming neck design makes it the perfect choice for a range of occasions.
10. Closed Round Collar Neck Design with a Button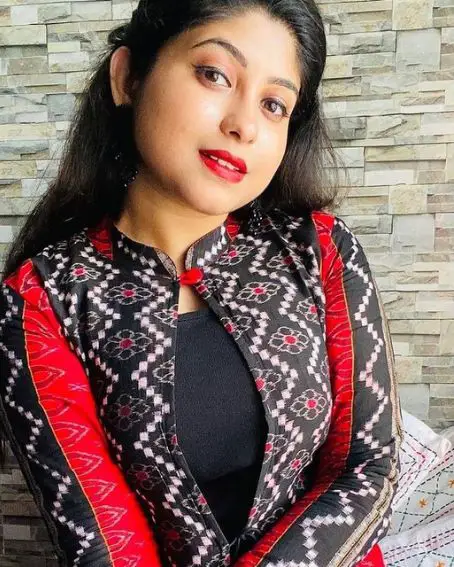 The traditional sambal puri dress has a smooth and polished appearance as a result of the closed round collar neck design, which is a timeless classic. It is distinguished by a rounded collar with a cut open and a button that encircles the neck.
11. Trendy Sambalpuri Dress with V-Cut Neck Design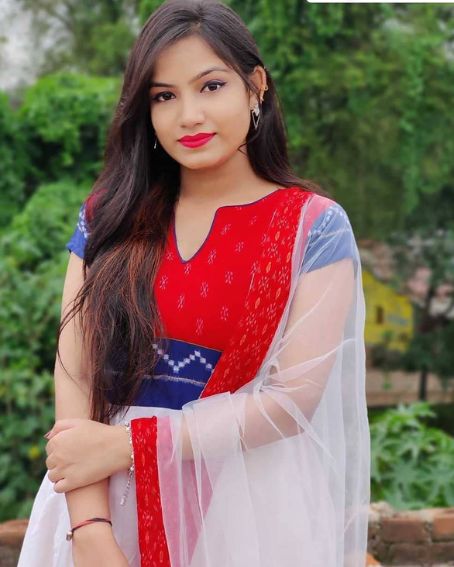 12. Sumbalpuri Dress with Motifs Neck Design with Politi Buttons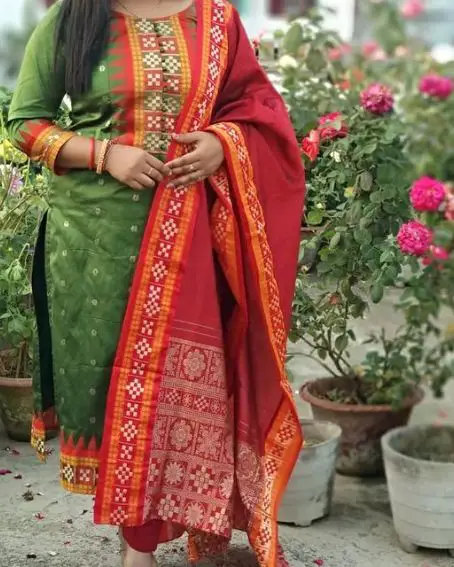 13. Sambalpuri Dress with Boat Neck with a Keyhole Design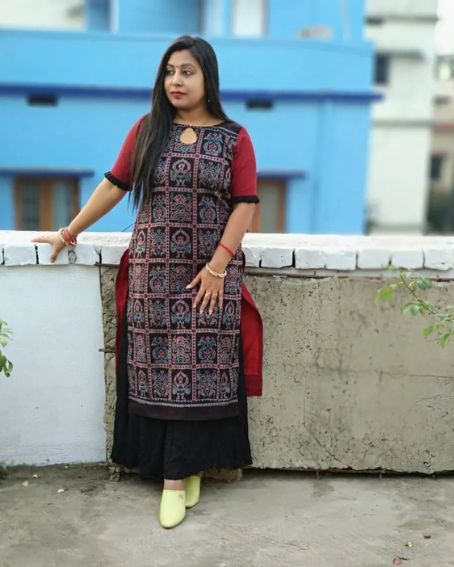 14. Square Cut Neck Design with Patchwork and Tie Up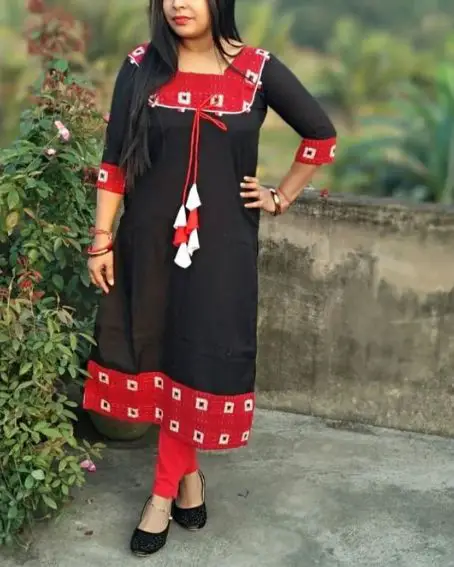 15. Traditional Long Sambalpuri Dress with Patchwork Neck Design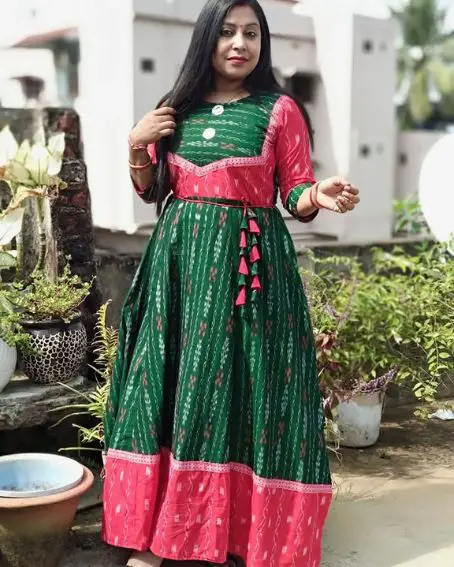 16. Stunning Neck Design with a Patchwork of Samablpuri Dress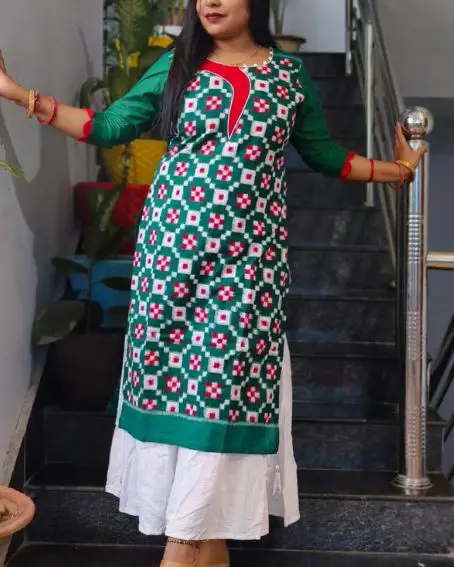 17. Awesome Sambulpuri Dress with Tie-Up Neck Design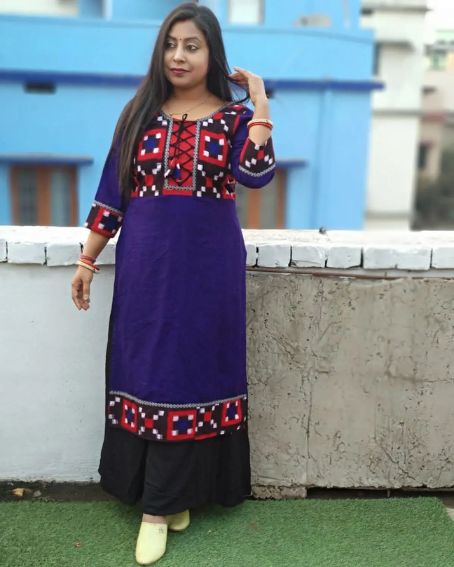 18. Checkered Pattern Sambalpuri Dress with Boat Neck Design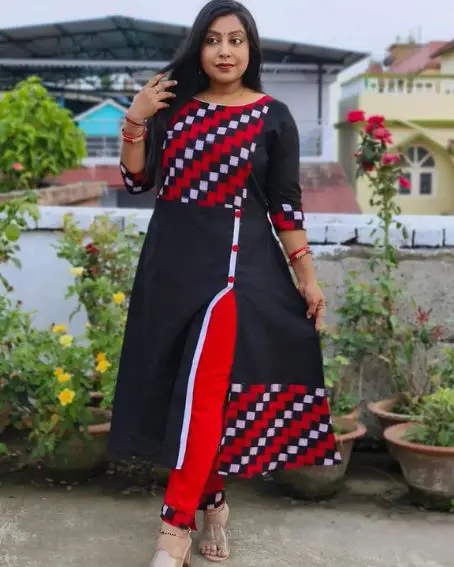 19. Sambalpuri Dress Fashionable Collar Neck Design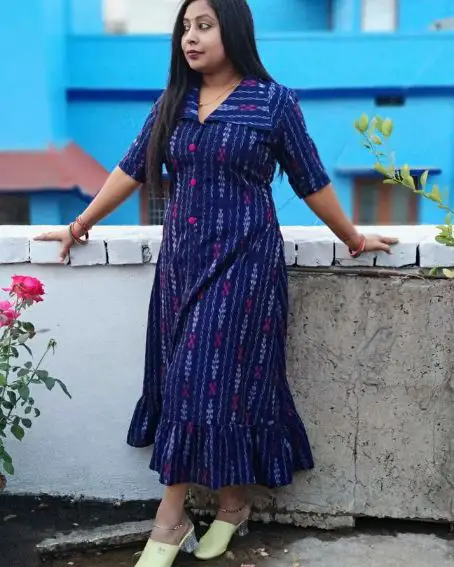 20. Classic Collar Neck Design of a Sambalpuri Dress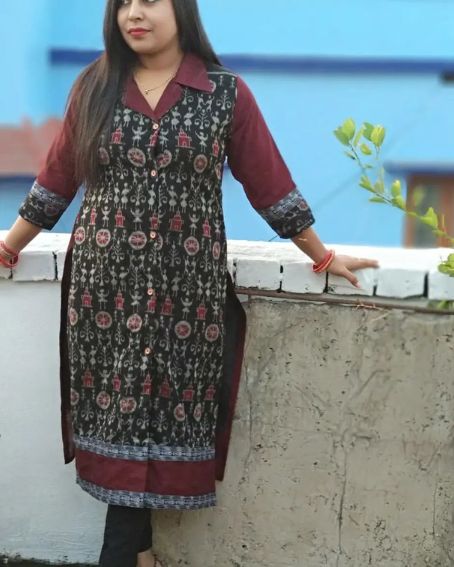 Conclusion
Sambalpuri clothing is made of traditional handwoven fabric. There are numerous styles and designs from which to pick when it comes to the neckline of a Sambalpuri dress. Sambalpuri dresses often have beautiful ikat patterns or other decorative elements on the fabric, so it's important to pick a color and style that enhances the dress' overall appearance while still adding in a little modern art. For individuals looking for a mix of traditions and trends, this marriage of traditional skill and modern design components produces an original and elegant style.
Related Articles