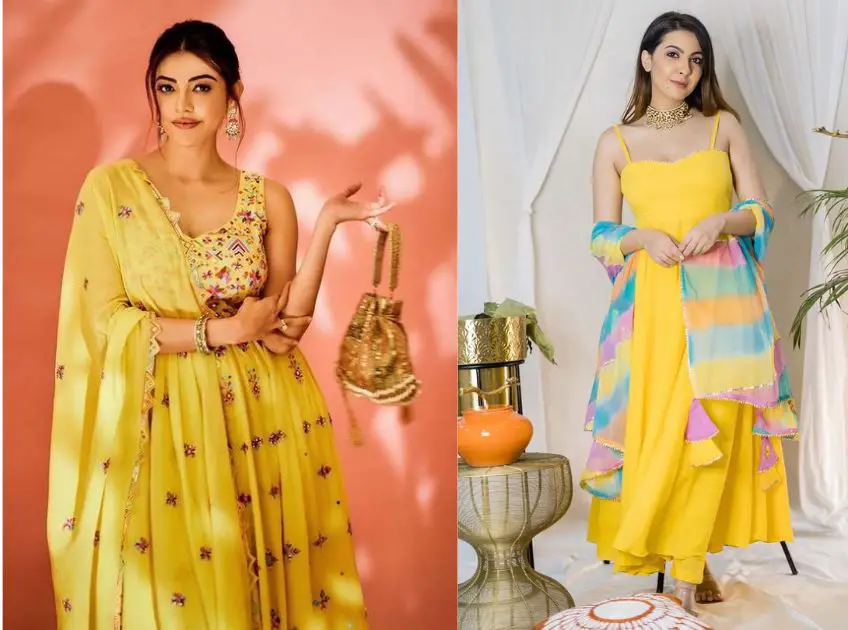 Yellow is considered an auspicious color in many cultures and is associated with positive energy, prosperity, and good luck. Choosing yellow for the Haldi function is believed to bring blessings and joy to the couple's married life. Yellow represents purity, happiness, and new beginnings.
Whereas, these Yellow kurtis for Haldi functions offer a vibrant and joyous touch. Choose traditional designs with intricate embroidery or mirror work, reflecting the celebratory atmosphere. Floral prints and motifs add freshness and beauty, while fusion or high-low styles offer a contemporary twist. Take a look at different yellow kurti designs suitable for Haldi functions:
Top 20 Yellow Kurti Designs for Haldi Functions
1. Amazing Yellow Short Kurti with Palazzo Set for Haldi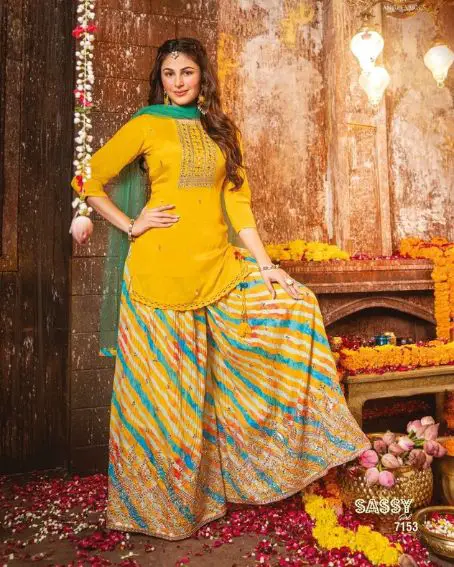 This stunning and vibrant yellow short kurti paired with a multi-color palazzo set, creates a lively and playful look for the Haldi ceremony, this short kurti comes with three-fourth sleeves and embroidery work which embrace the joyous celebration and radiating happiness.
2. A Perfect Haldi Dress with Multi-Color Dupatta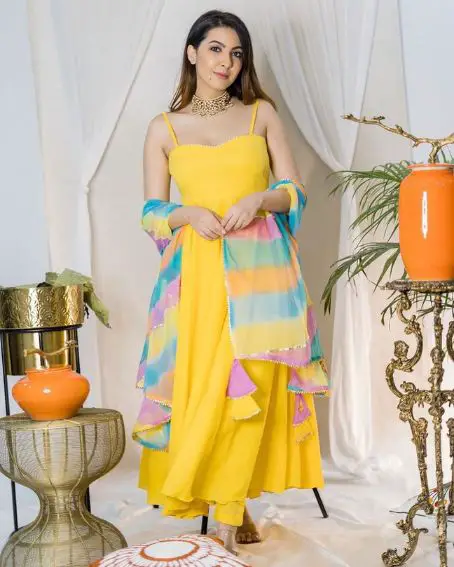 This is a sleeveless long plain gown kurti and pant, paired with a multicolor dupatta that exudes simplicity and elegance, offering a chic and modern look for the Haldi function, combining comfort and style effortlessly.
3. Yellow Georgette Haldi Kurti Design with Dhoti Pant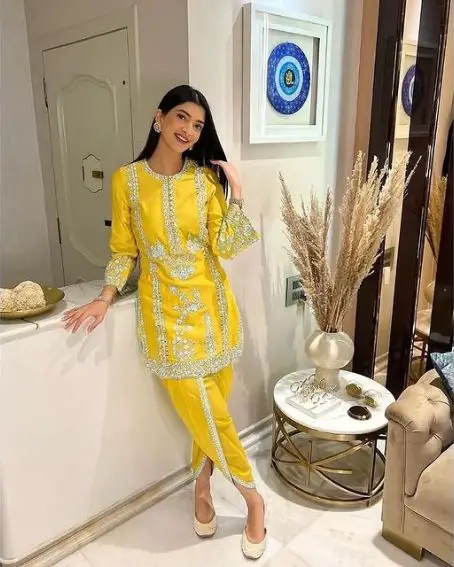 Dazzle in a unique design for the Haldi function with a yellow short kurti adorned with intricate stonework, paired with stylish dhoti pants, creating a fusion of traditional and contemporary elements that will make you stand out with elegance and flair.
4. Kajal Agarwal in a Beautiful Yellow Kurti for Haldi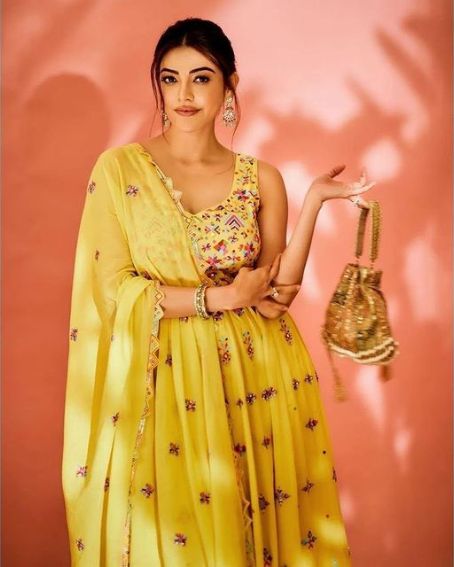 Kajal Aggarwal looked stunning in a beautiful yellow sleeveless Kurti adorned with a floral printed pattern, paired with a matching dupatta, adding a touch of elegance and charm to her Haldi ceremony look.
5. Yellow Long Gown with Embroid Kurti for Haldi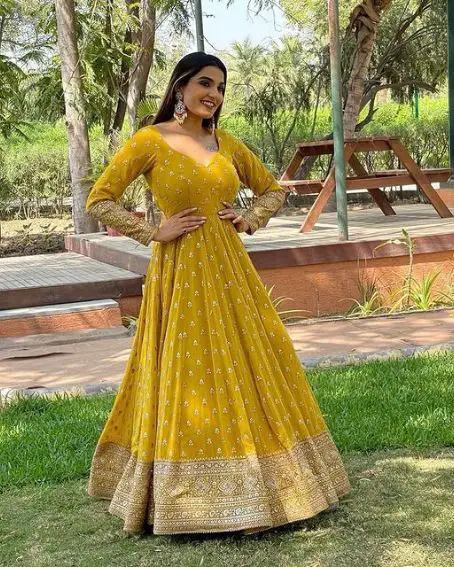 This yellow long gown-type kurti with heavily embroidered border lines for kurti sleeves and kurti border creates a mesmerizing look that is perfect for a Haldi ceremony. The intricate detailing adds a touch of glamour and style, making you shine on your special day.
6. Plain Yellow Kurti with Simple Neck Design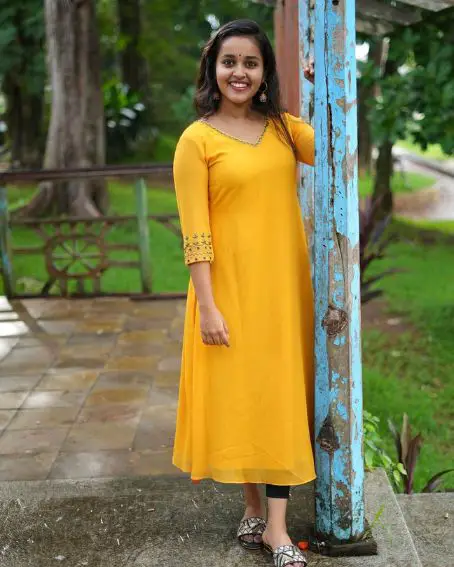 A simple yellow kurti with a modest neckline design and three-fourth sleeves is an ideal choice for a Haldi ceremony. The minimalistic design exudes elegance and allows the focus to remain on the vibrant yellow color, reflecting the joyous atmosphere of the occasion.
7. Anarkali Pattern Yellow Kurti Set with Thread Embroidery Work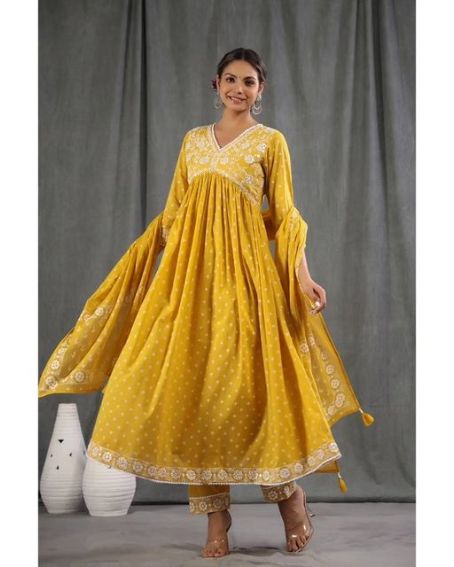 This is an Anarkali pattern yellow kurti set embellished with white thread embroidery work is a captivating choice. The Anarkali outfit adds grace, while the embroidery enhances the charm, creating a stunning ensemble that perfectly embodies the festive spirit of the occasion.
8. Yellow Gharara Set Heavily Embroidered Kurti for Haldi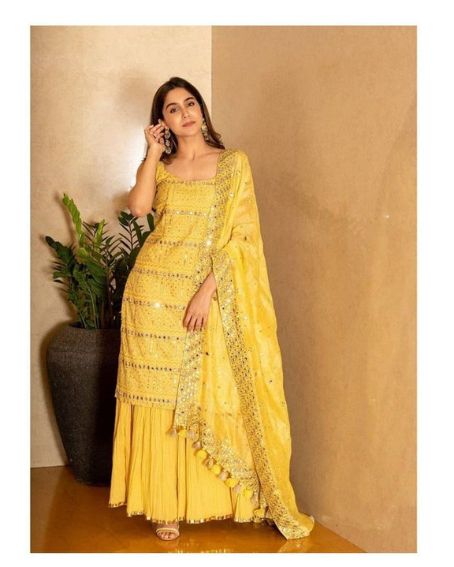 At your Haldi ceremony, go for a yellow Gharara set with a kurti that has beautiful embroidery for a statement-making look. The Gharara bottom adds a traditional touch, and the beautiful embroidery gives the outfit richness and attractiveness.
9. Heavily Embroidered Naira Cut Yellow Kuti for Haldi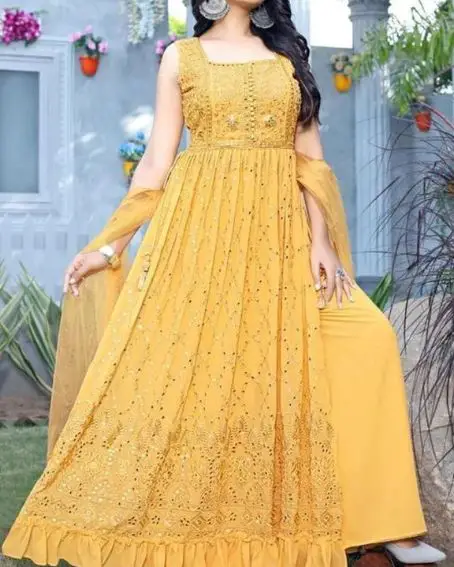 A heavily embroidered Naira-cut yellow kurti is a stunning choice for a Haldi function. The heavy embroidery on the Naira cut kurti is sleeveless and long, adding a touch of elegance and uniqueness to the kurti, making it a standout piece.
10. Yellow Sharara Suit Short Kurti Is Best for Haldi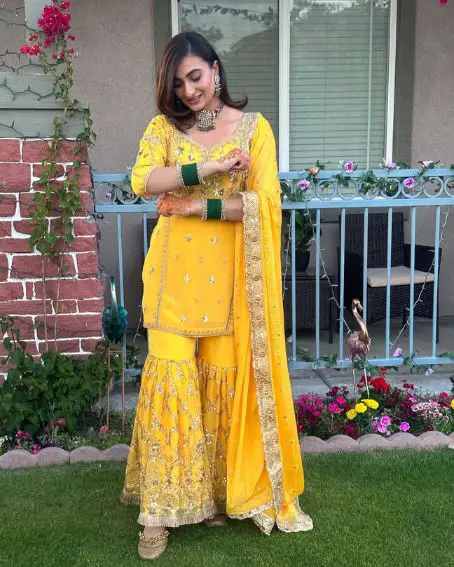 Elevate your Haldi look with a yellow sharara suit embellished with a heavily embroidered short kurti, exuding a perfect blend of traditional charm and elegance. Complete the outfit with beautiful jewelry and bangles for a stunning and radiant appearance on your special day.
11. Anarkali Pattern Yellow Kurti with Pink Dupatta for Haldi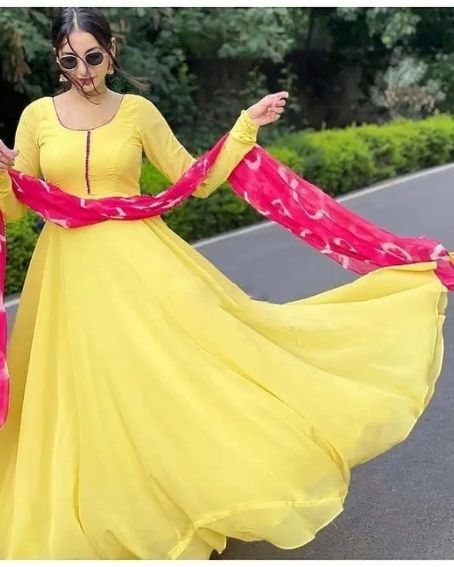 12. Beautiful Yellow Kurti with Full Sleeves Design for Haldi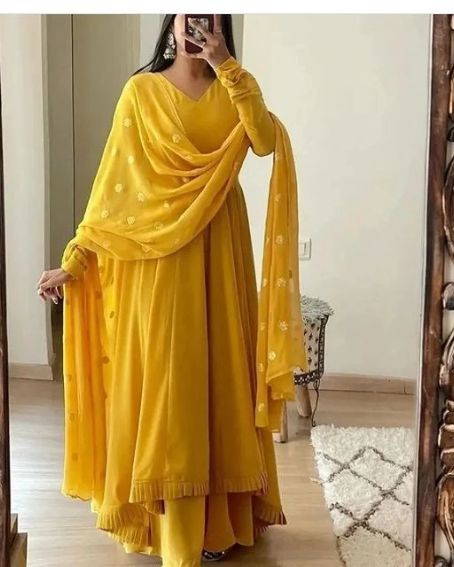 13. Ganiliya in Yellow Kurti Set with Mirror Embroidery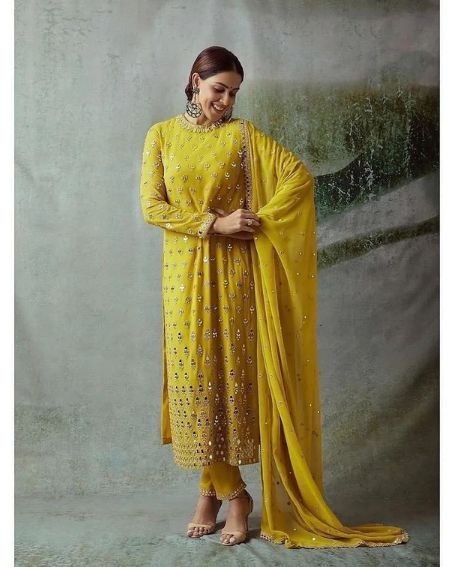 14. Lovely Yellow Kurti Set with Thread Embroidery for Haldi Function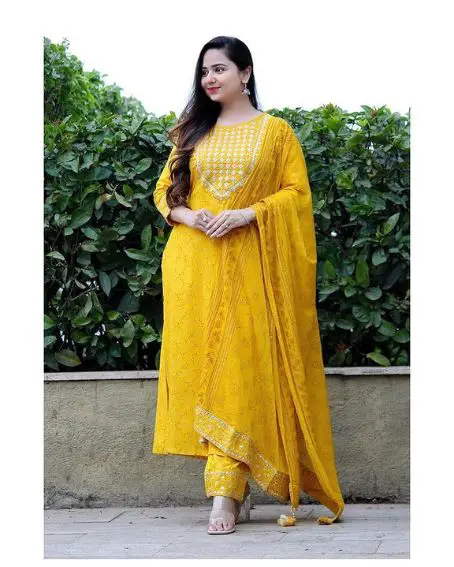 15. Simple Yellow Short Kurt with White Dhoti Pant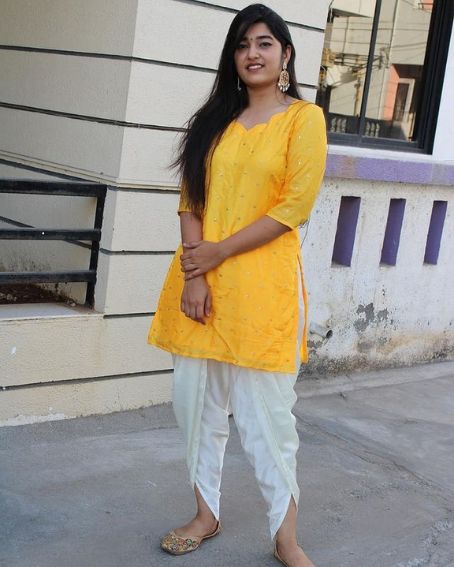 16. Astonishing Yellow Long Kurti with Dupatta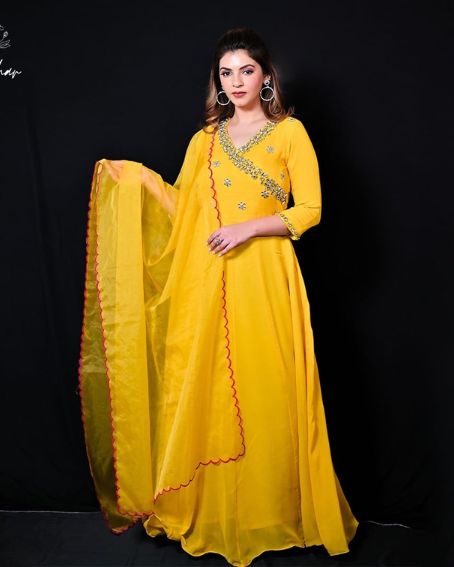 17. Plain Yellow Pleated Gown with Collar Neck Design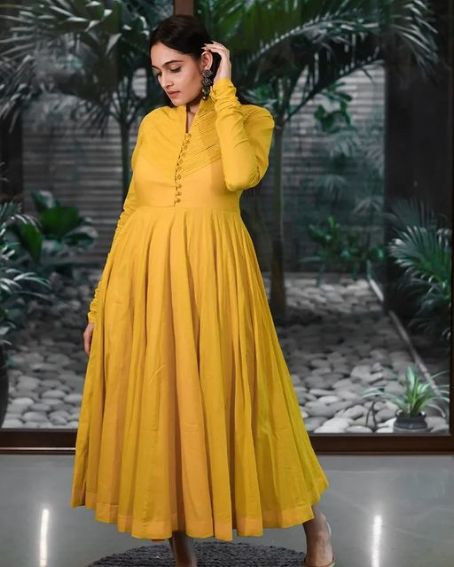 18. Yellow Haldi Kurti with Front Slit Design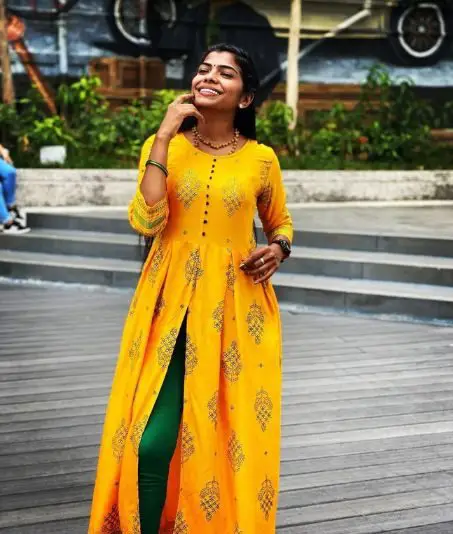 19. Yellow Long Kurti with Green Dupatta Set for Haldi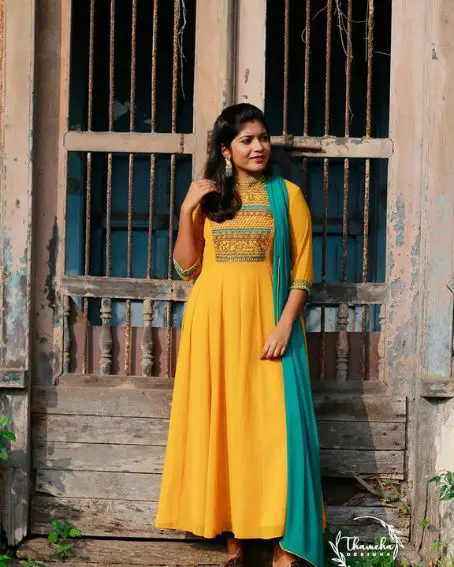 20. Stunning Pleated Long Kurti with Full Sleeves and Embroidery Neck Design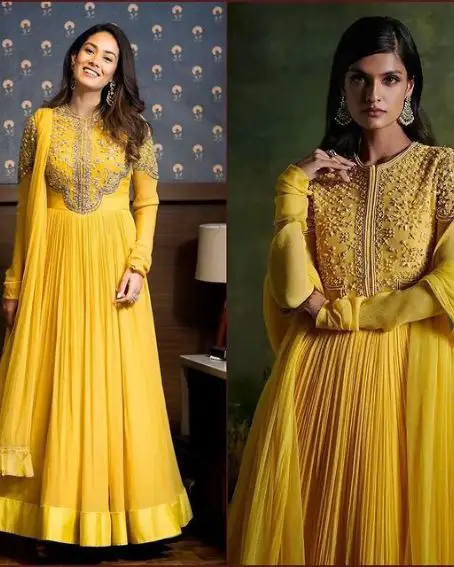 Conclusion
Yellow kurtas are a colorful and optimistic choice for Haldi traditions. These Kurtis represent the sense of festivity, from traditional embroidery to modern prints. Accept the attraction of yellow kurtis to produce a dazzling and happy look for your Haldi function, they represent fresh beginnings and happiness. To create a distinctive and fashionable style for your Haldi occasion, embrace the appeal of yellow kurtis and pair them with matching bottoms and accessories.
Related Articles