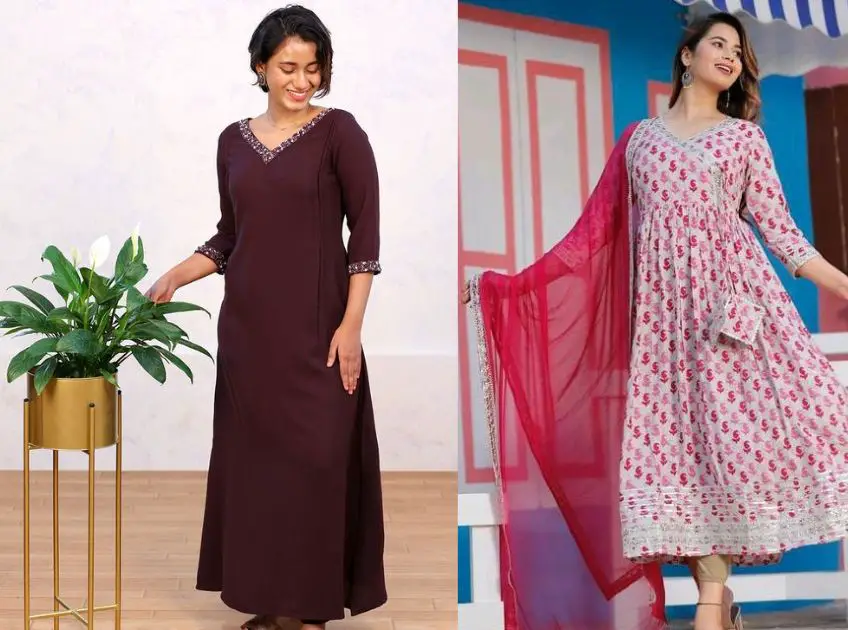 When it is coming to matters of clothing, the very first thing which comes to our mind is the kurti. Among all other styles and patterns, neck designs with embroidery play a major role in Kurtis, as they can significantly improve the overall look as well as the appeal of the garment.
Earlier, a kurti was strictly a part of the ethnic ensemble and only reserved for traditional and casual wear. As time passed by, a kurti with neck embroidery design can be used for all occasions and become a part of everyday fashion.
Here are some excellent neck embroidery designs for kurti for you
20 Best Neck Embroidery Designs for Kurti
1. Bell Sleeve V-Neckline Embroidery Kurti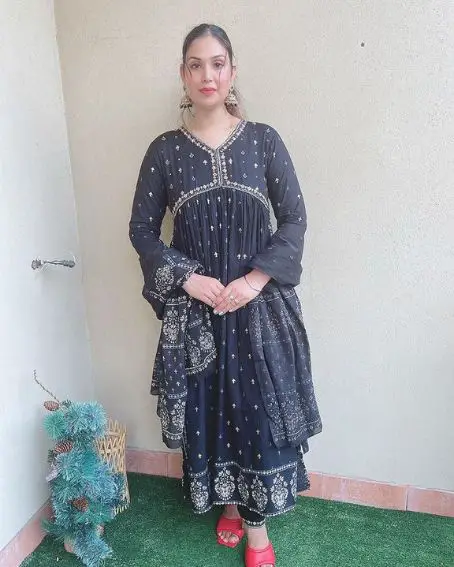 One of the most stylish and most comfortable-looking styles is this v the neckline Kurti. Embroidery work is done over the v-shape of the neck as well as the overall part of the kurti. Bell sleeve adds a chic touch to the v-neckline.
2. Floral Embroidery Stunning Boat Neck Kurti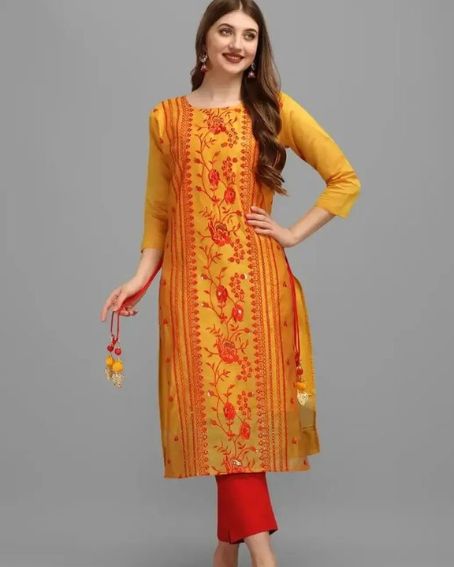 Floral embroidery boat neck kurti is currently the latest trend and it is very pleasing to the eye. It is very well suited for young to middle-aged people which accentuates the body a little more and makes it very exciting to wear
3. Yoke Embroidery Round Neck Kurti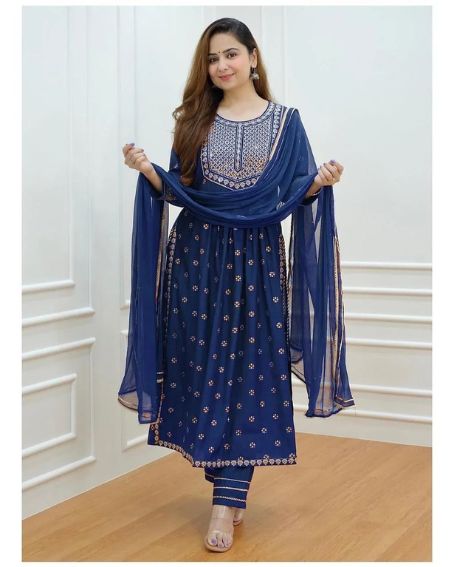 Add a minimal silhouette around your neck to be very beautiful. In this round neck, kurti heavy embroidery and original sequence work are done on the kurti which makes it most suitable for grand parties as well as a traditional celebration
4. V Notched Mirror Work Neck Embroidery Kurti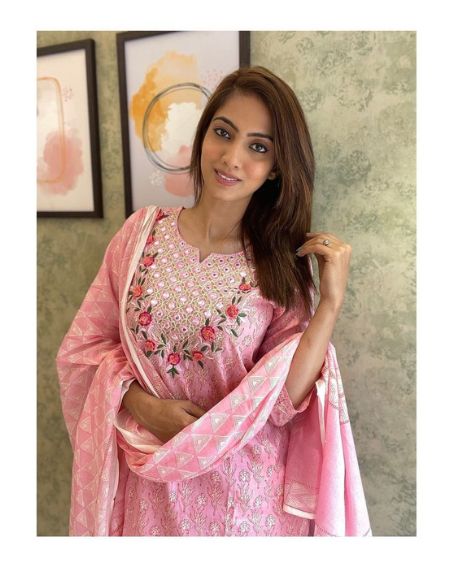 Flaunt your femininity with this V-notched mirror work and floral embroidery kurti. The floral motif around the yoke mirror embroidery gives a pleasing and pretty look. Find a style like this and try it out as soon as possible
5. White Embroidery Neck Elegant Green Kurti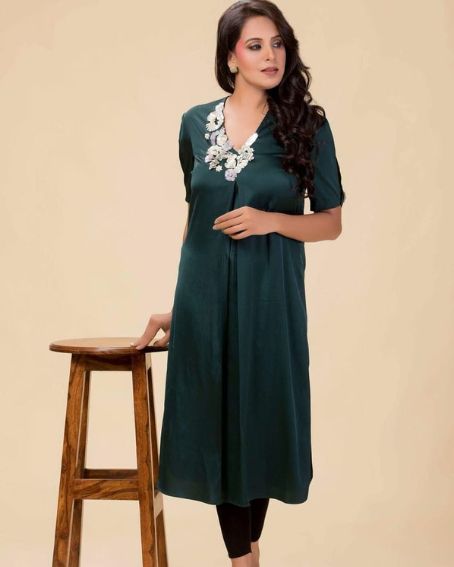 The kurti in v-neck is trending as they render a sophisticated look. If you like to have a plain kurti with simple embroidery you should make use of this style. You can pair it with leggings to look more modern.
6. Foil Print with Neck Embroidery Kurti with Belt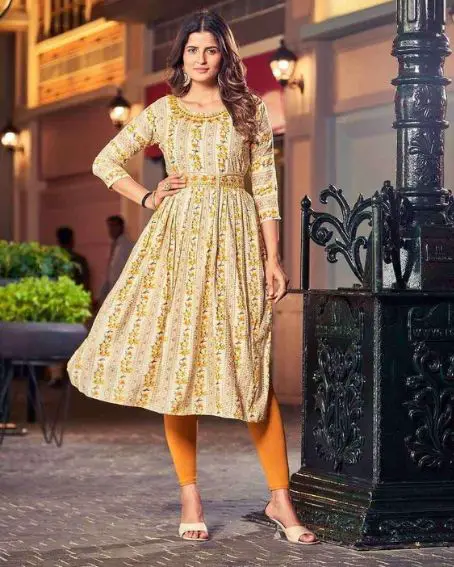 Foil printed with neck embroidery is a very elegant kurti that can be worn in casual settings or friends' outings. A belt in the hipline looks extremely trendy and very comfortable to wear
7. Tapeta Silk Square Neck Embroidery Kurti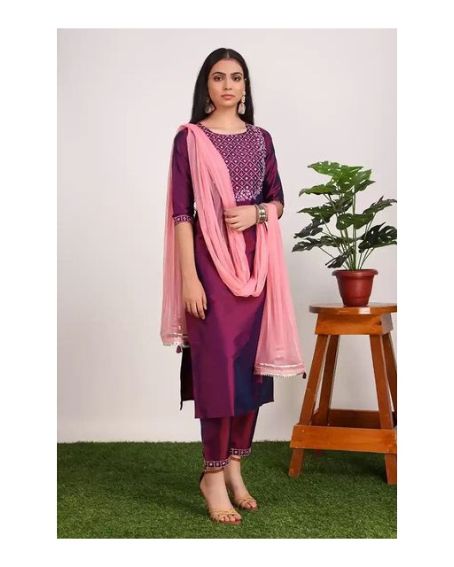 This is a fresh and attractive style kurti design that is worn by many young ladies presently. Fanciable embroidery work is made on the yoke and the square neckline gives a contemporary style overall
8. Muslin's Beautiful Neck Embroidery Detailing Kurti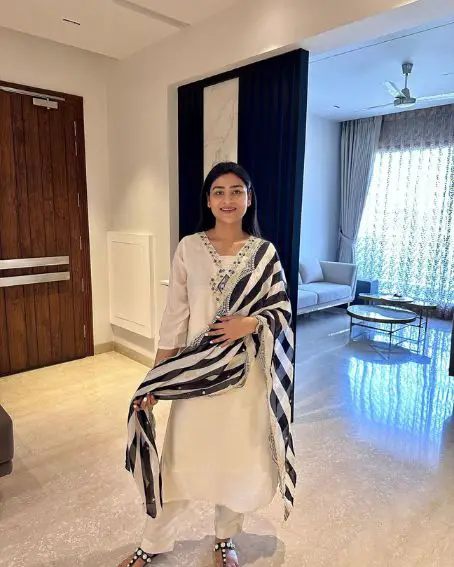 If you are fond of wearing black and white then look out for this muslin fabric beautiful neck embroider Kurti. The black thread used in the embroidery makes it look more fashionable and sure it will give you an olden-days effect.
9. 3/4th Sleeve Neck Embroidery Kurti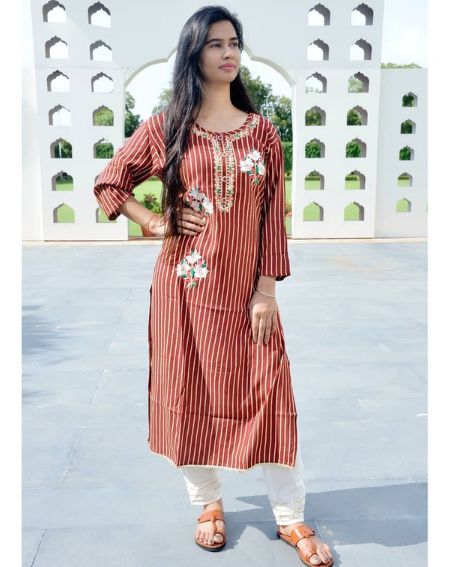 Wear this chocolate brown colour kurti with neck embroidery this summer to turn others head around you. The white floral motif is simple yet gives a winsome look. This round neck kurti is overall a drop dread gorgeous one
10. Pure Cotton Stretch Style Neck Embroidery Kurti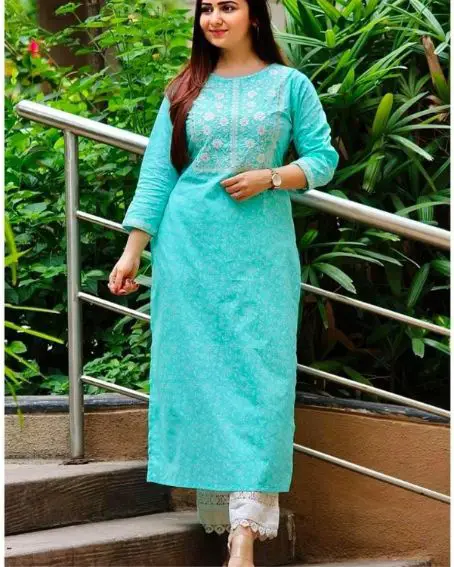 Create a perfect traditional look kurti by having this blue pure cotton stretch style. Moreover, this kurti can accommodate any body type. Pair with matching pants to enhance your look which goes very well for festival celebration and formal events.
11. Sleeveless Neck Embroidery Kurti with Mirror Work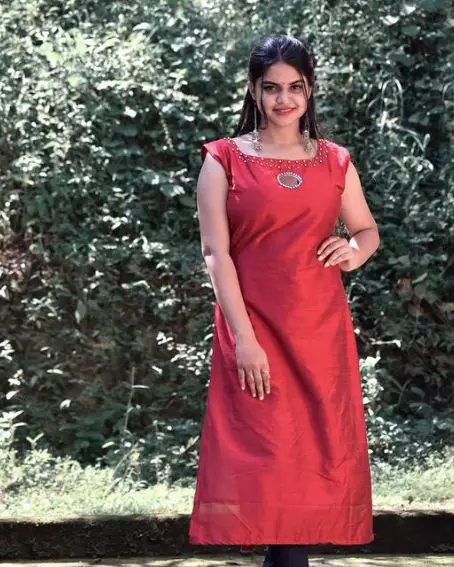 12. Puff Sleeve End Neck Embroidery Work Kurti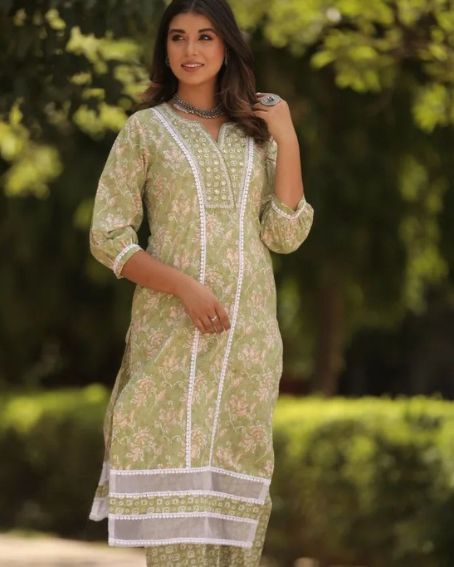 13. Rayon Slub Kurti with Neck Embroidery Work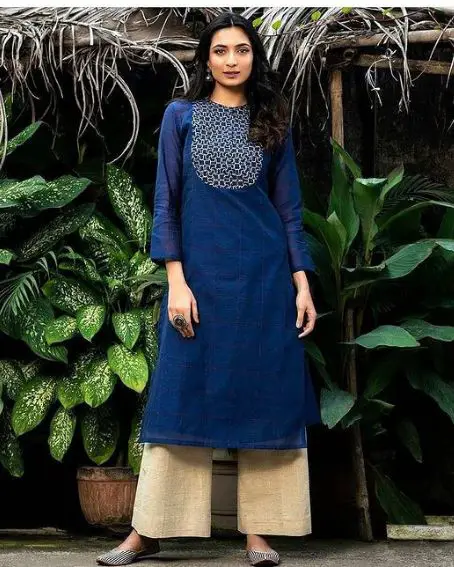 14. Leafy Digital Print Red Neck Embroidery Kurti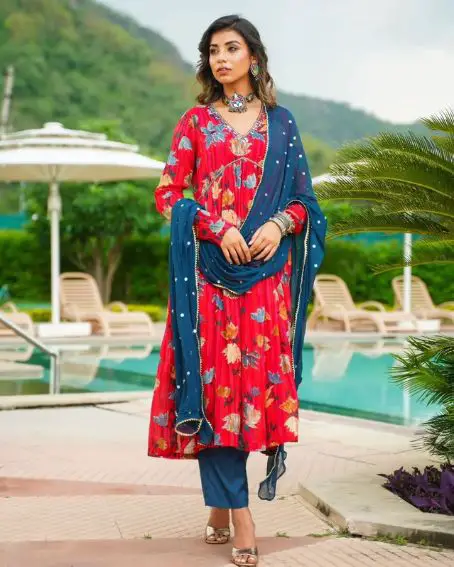 15. Short Hand Neck Embroidery Blue Kurti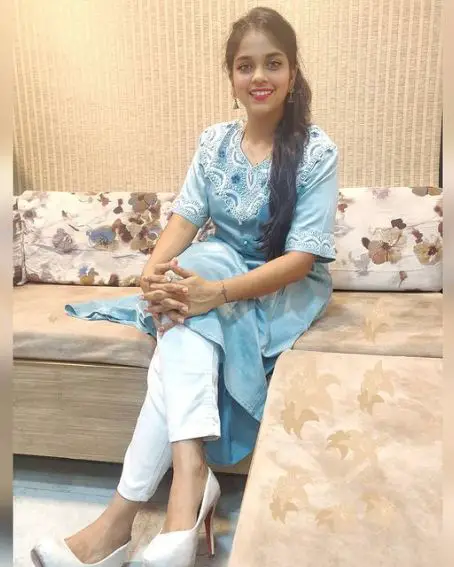 16. Pom Pom Neck Embroidery Purple Kurti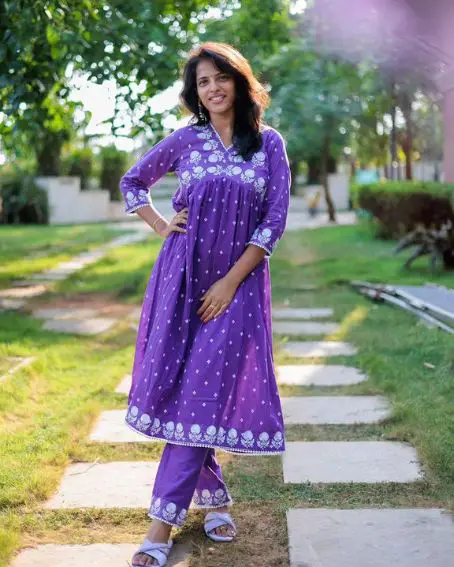 17. Exquisite Embroidery V Neckline Kurti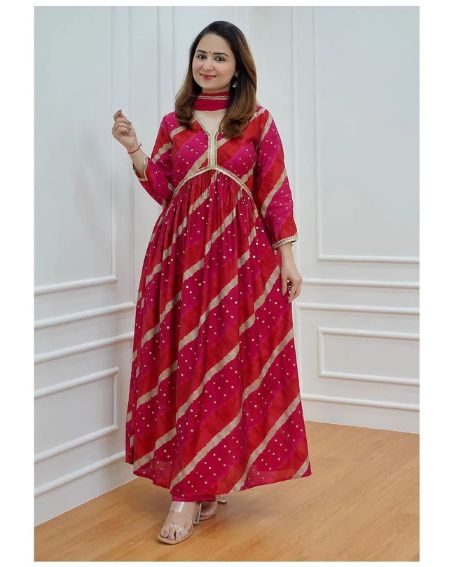 18. Chikankari Short Black Kurti with Neck Embroidery Work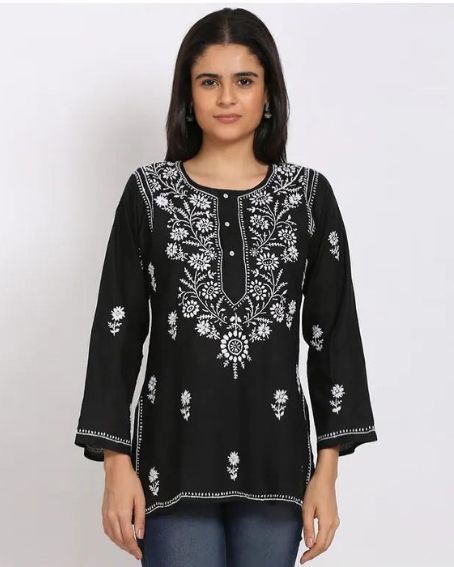 19. Side Laktan Neck Embroidery Kurti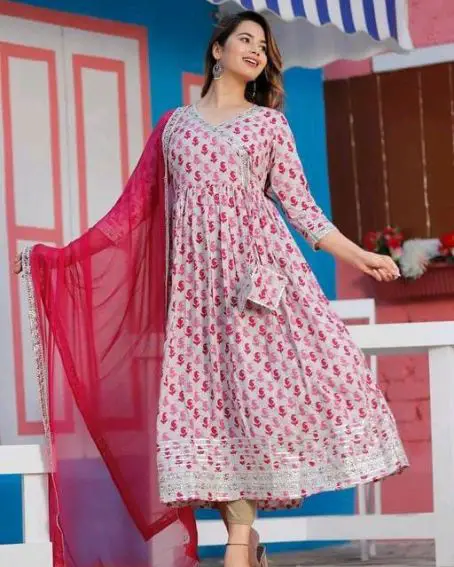 20. Georgette Semi Flares Kurti with Neck and Sleeve Embroidery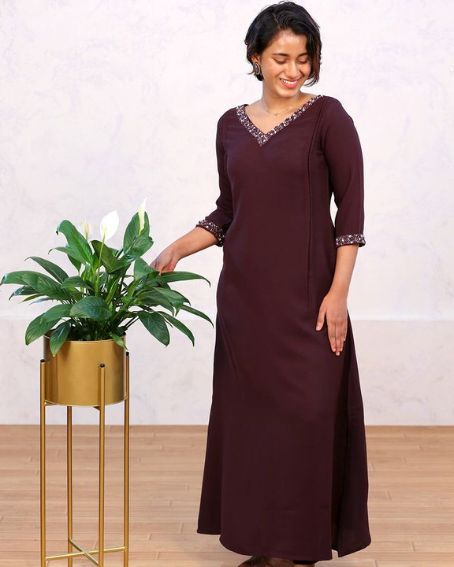 Conclusion
Whether you want simple daily wear or a little more oomph factor, the cut of the neck and style plays a big role. We have mentioned some beautiful and designer kurti for you to try now! You can create a variety of looks with an extremely versatile piece that is presented here.
Related Articles