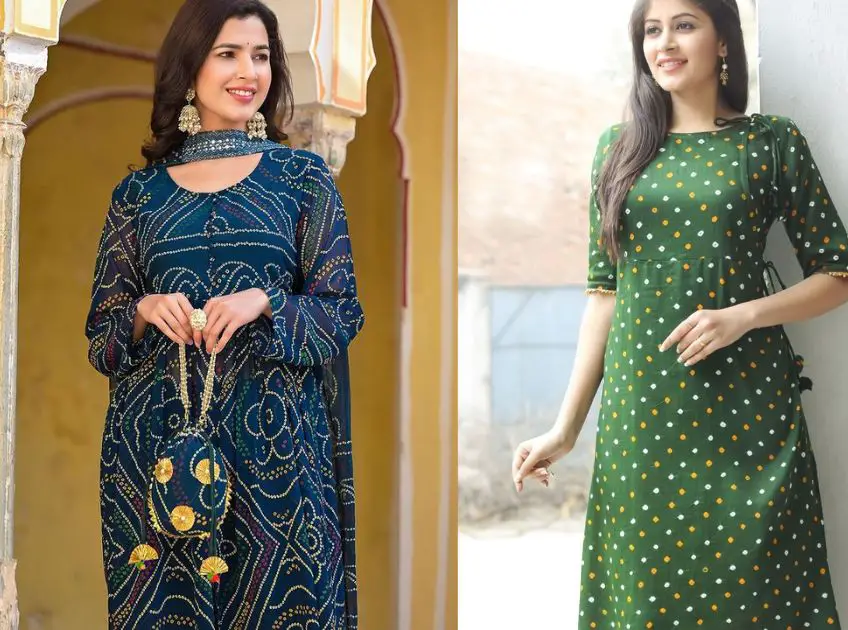 The traditional tie-and-dye method of making lovely patterns on cloth is known as bandhani. In regions of Gujarat, Rajasthan, and Kutch, it is quite well-liked. Even in other parts of India, bandhani suits are becoming more and more fashionable. These designs feature vibrant colors and geometric motifs, enhancing the neckline of the kurti. They add a touch of elegance and cultural richness to the garment, making it a popular choice among fashion enthusiasts.
However, in this article, we'll focus on the fashionable bandhani print kurti suits that are now on the market. The right kind of pattern should be lightweight lovely, and colorful.
Top 20 Fancy Bandhani Kurti Neck Designs
1. Red Fancy Bandhani Kurti Round Neck Design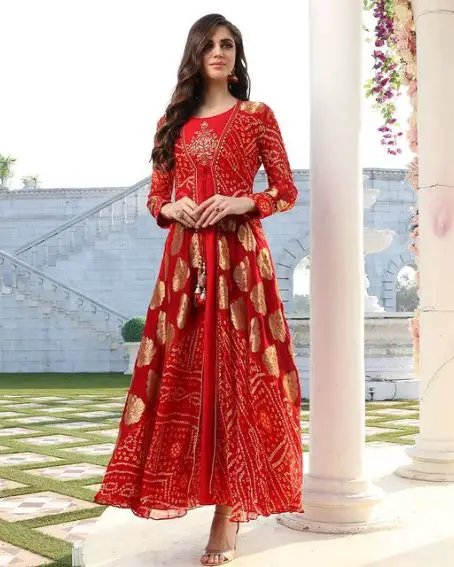 This is a long red bandhani kurti with a round neck design and a golden print creating a striking and elegant outlook. The round neck of a fancy bandhani kurti adds a classic touch, making it a versatile and fashionable choice for various occasions.
2. Peach Bandhani Kurti Border Neck Design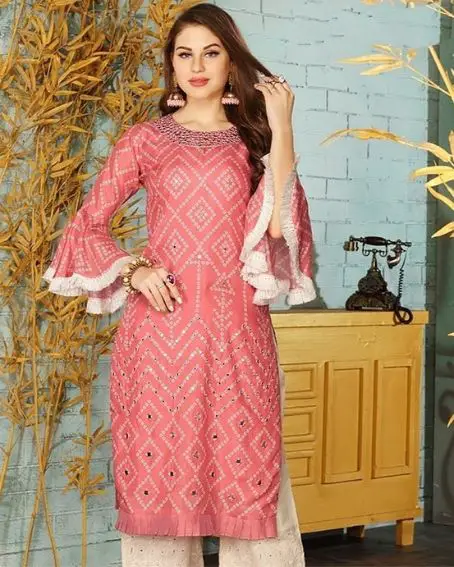 The fantastic Bandhani pattern printed kurti looks amazing with the broad neck design in a U shape embellished with mirror work. The mirror work adds a sparkling touch to the garment, enhancing its overall beauty and making it a charming choice for special occasions.
3. Fancy Bandhani Kurti with V-Cut Neck Design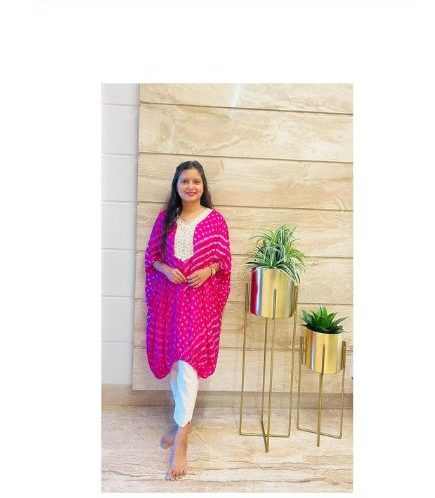 A gorgeous Bandhani kurti with a unique pattern and a V-cut neck style decorated with golden lace fabric. It stands out as a unique accessory for special occasions and festivities because of the combination of the wonderful Bandhani design and the golden lace.
4. Green Bandhani Kurti with Boat Neck Design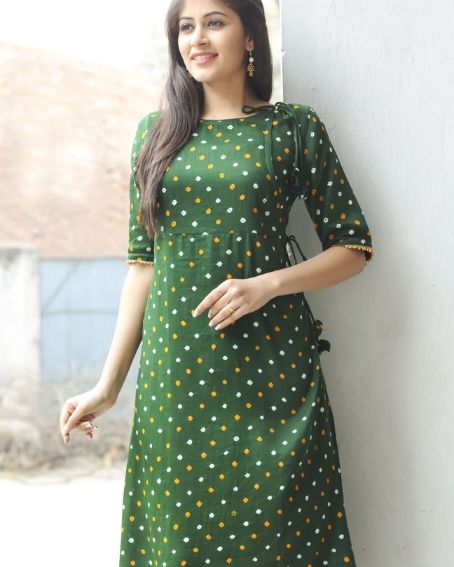 This is a green Bandhani kurti with a boat neck design and a side tie-up design, that creates a stylish and contemporary look. The boat neck adds a touch of elegance, while the side tie-up design adds a playful and trendy element, making it a fashionable choice
5. Flair Long Bandhani Kurti with Collar Neck Design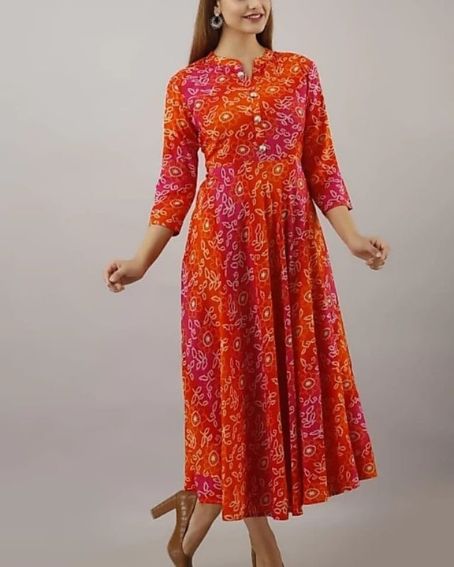 This kurti comes with a long flair bandhani printed pattern kurti with a collar neck design that offers a fusion of traditional Bandhani print and a modern outlook. It is a versatile and fashionable option for numerous situations to the collar neck design, which gives a touch of elegance.
6. Premium Bandhani Print Kurti with Heavy Gota Decorations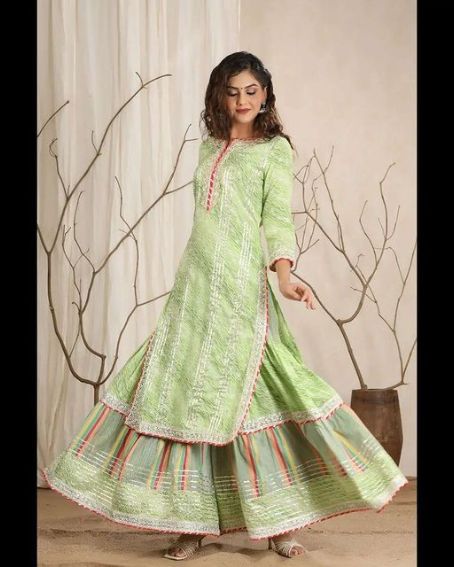 The complex Bandhani print combined with the Gota work creates a lavish and fancy look, making it a perfect choice for festive occasions. This is a premium Bandhani print kurti decorated with heavy Gota decorations that exudes a regal and opulent charm.
7. Pink Bandhani Printed Kurti Round Collar Neck Design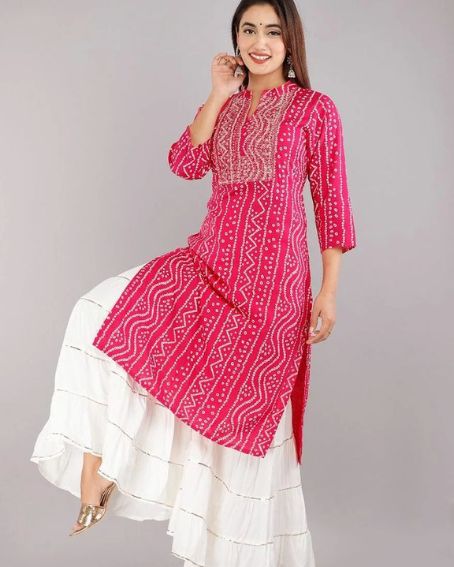 The lovely and classy look of this bandhani printed pattern pink kurti is with a round collar neck design which attracts everyone with its classy appearance. This is the best choice for collage going students who would like to be traditional.
8. Gray Bandhani Kurti Set with Tie Up with Dori Neck Design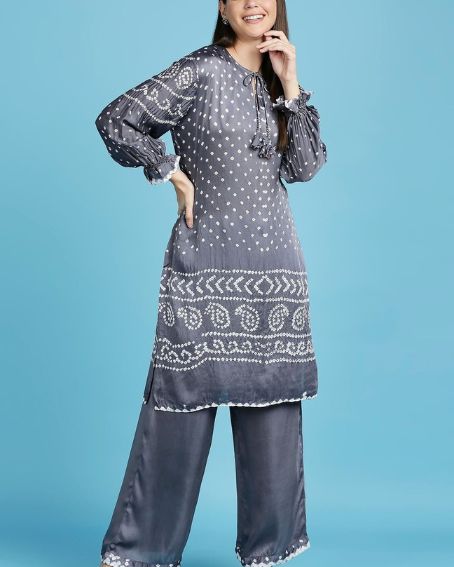 This kurti comes with a tie-up detailing dori neck design adds a playful and chic element to the kurti, while the gray Bandhani print complements the modern design, creating a fashionable and eye-catching outlook.
9. Y Shape Border Design Neck Design of a Bandhani Kurti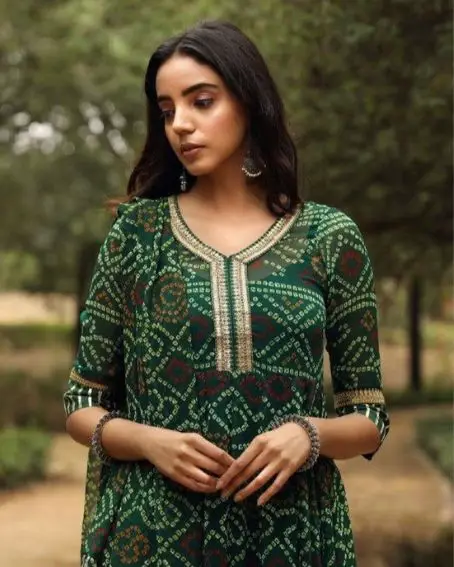 The bandhani printed sequence in green silk fabric kurti come with a Y-shaped border line with golden lace material. The bandhani sequence on the fancy bandhani kurti adds a classic touch, making it a versatile and fashionable choice for various occasions
10. Blue Bandhani Kurti with Round Neck Design with a Cut Open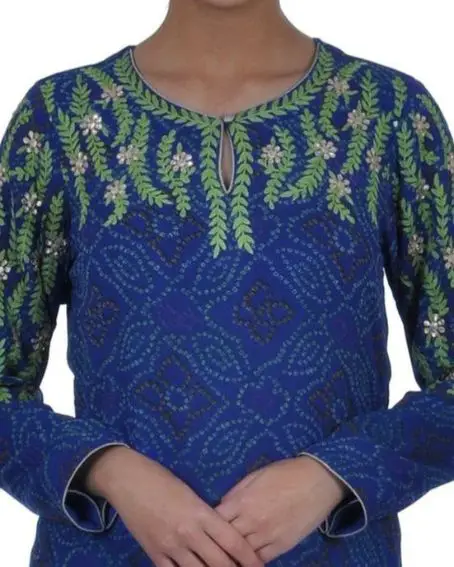 The blue kurti with this round neck comes with a bandhani print and has a round neck with a slit opening and a button to close it. The major feature of this kurti is the green threading embroidery that is used to embellish it.
11. Bandhani Gold Foil Print Kurti with Collar Neck Design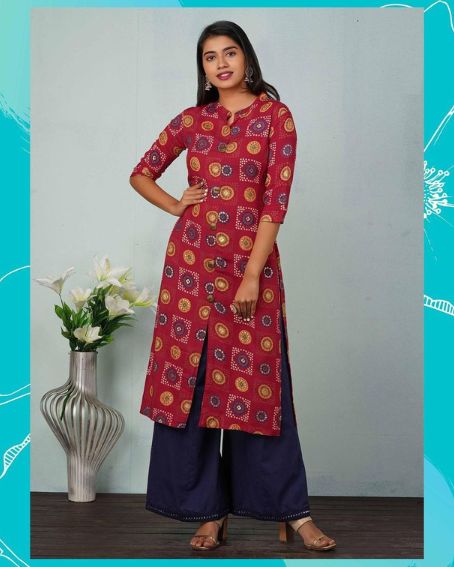 12. Fancy Bandhani Long Kurti with White Jeans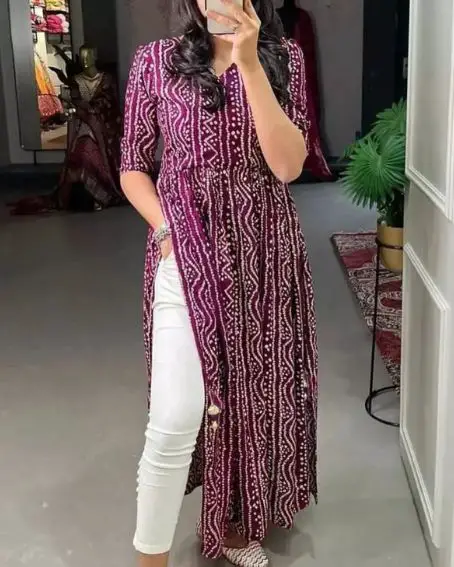 13. Georgette Bandhani Kurti with Round Neck Design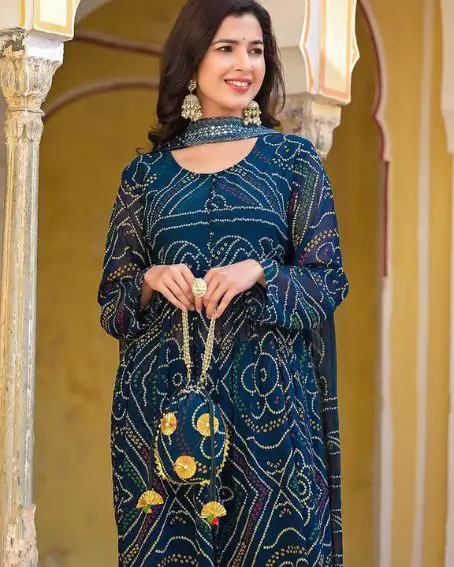 14. Orange Bandhani Kurti with Patchwork Neck Design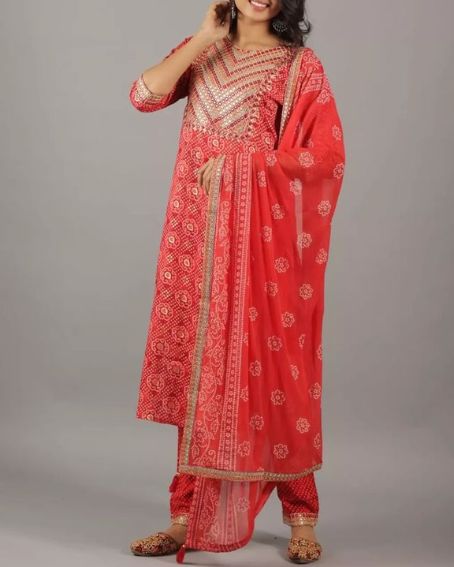 15. Peach Bandhani Kurti with Round Neck Design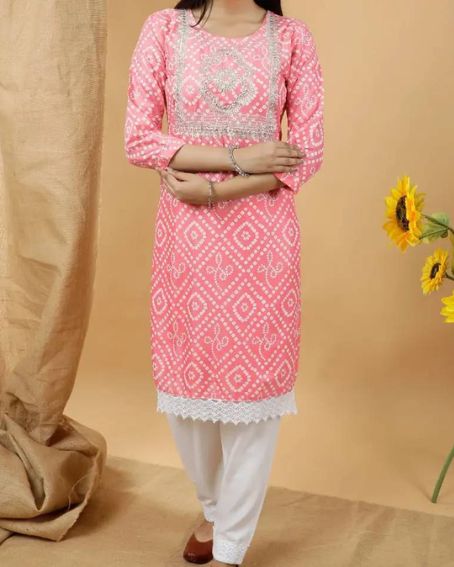 16. Lovely Bandhani Kurti Neck Design with a Round Cut and an Open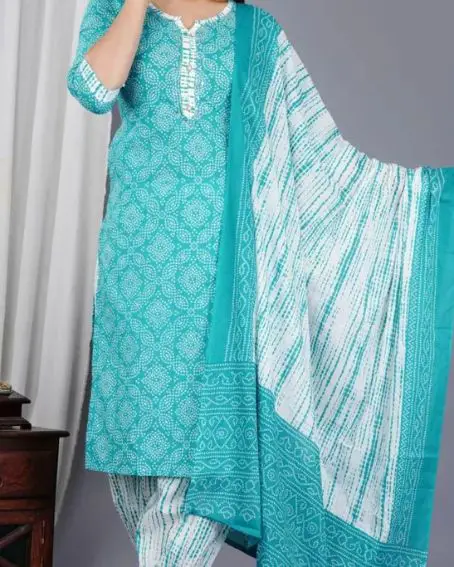 17. Round Neck Bandhani Kurti Neck Design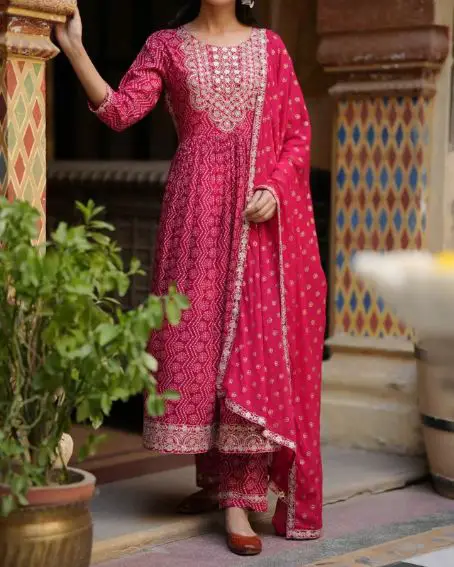 18. Modular Collar Neck Design Bandhani Kurti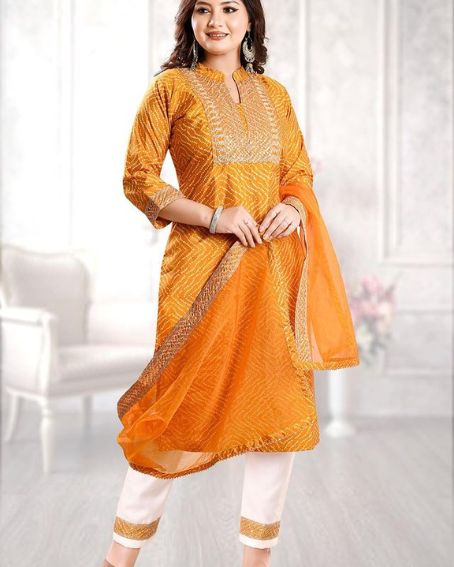 19. Bandhani Kurti with Piping Neck Design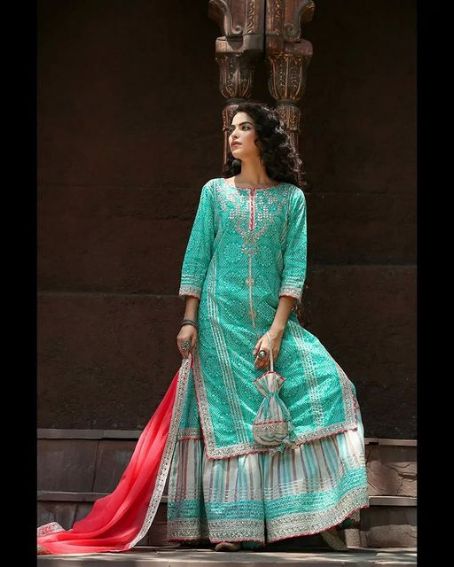 20. Long Green Kurti with Boat Neck Design with Dori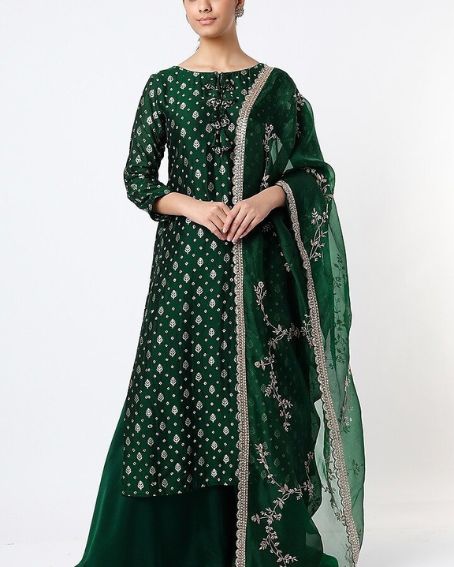 Conclusion
An attractive mix of traditional skill and modern design may be seen in fancy Bandhani kurti neck designs. The necklines of the kurtis are enhanced by these motifs, which have elaborate patterns and decorations, lending them elegance and appeal. Every neckline, whether it is a round, V-cut, collar, or boat neck, has a special charm. These neck designs transform the Bandhani kurtis into fashionable and functional ensembles appropriate for a range of events by adding colorful decorations like mirrors, lace, or Gota work, and unique tie-up or Dori finishing.
Related Articles