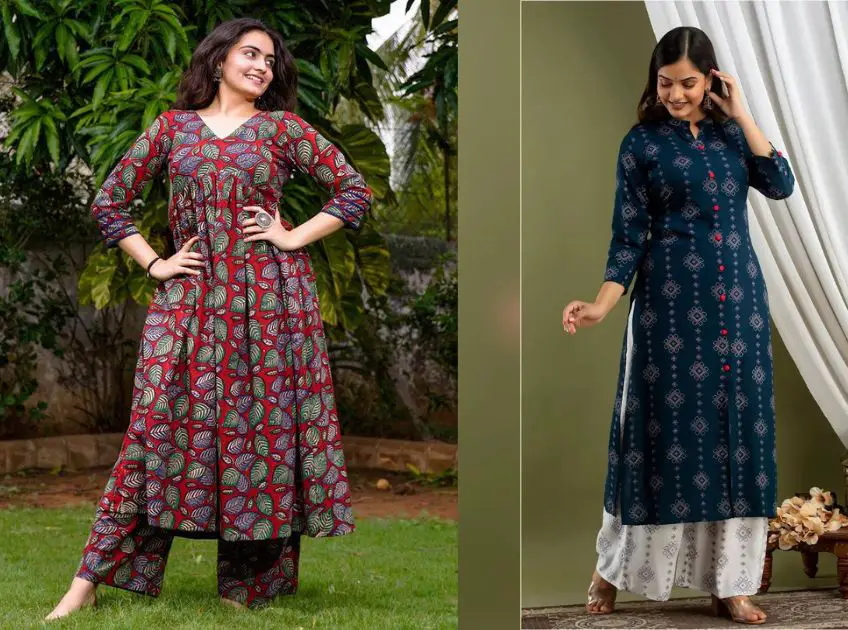 Long kurtis with palazzo are a trendy fusion outfit that combines traditional and contemporary elements. The long kurti, often reaching below the knees or ankles, offers a touch of elegance and sophistication, while palazzos are wide-leg trousers that provide comfort and style. This ensemble is a perfect choice for both casual and semi-formal occasions, providing a fusion of comfort and fashion.
Long kurtis can be decorated with lovely embroidery, prints, neck designs, or embellishments, while palazzos come in various fabrics and designs, adding versatility to the outfit. The combination of these two pieces creates a chic and fashionable look for women of all ages, making it a go-to outfit in modern Indian fashion.
Top 20 Long Kurti Designs with Palazzo
1. Naira Cut Long Kurti with Printed Palazzo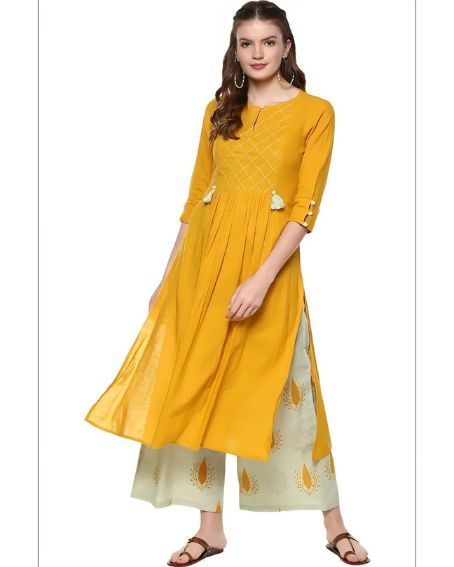 This is a lovely yellow color naira kurti with a round neck design and a slit open along with a closing button looks attractive when paired with yellow printed patterns on white palazzo pants. This is the most fashionable combination suitable for all age groups.
2. Long Kurti with Side Cut and Keyhole Neck Design with Palazzo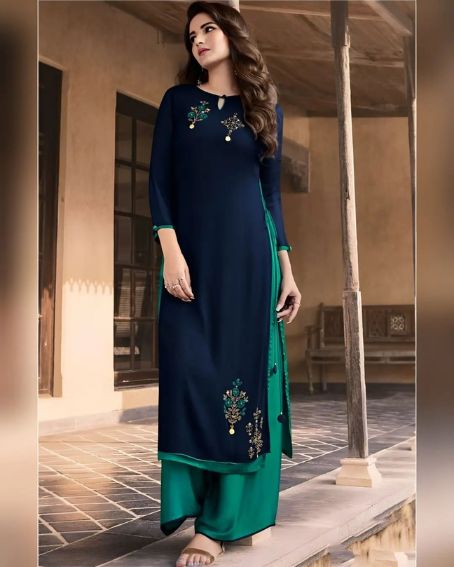 Prity Katrina Kaif looks gorgeous in this long dark blue kurti with a keyhole neck design and three-fourth sleeves. The most attractive part is this kurti is with a side-cut design along with thread hangings. This long kurti is paired with suitable palazzo pants.
3. Anarkali Long Kurti with High Neck and Palazzo Pants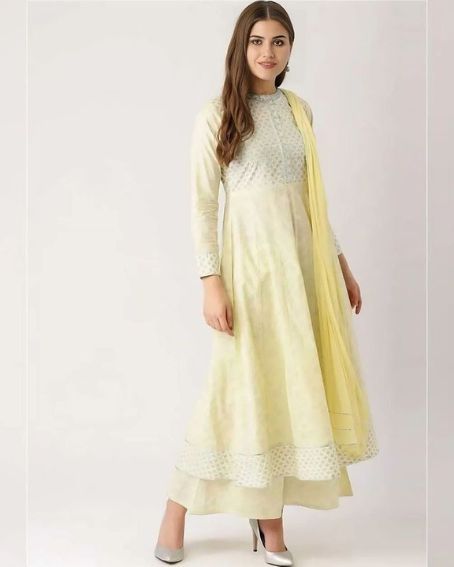 This is a long gown kurti with an Anarkali pattern and a high neck design. This neck style has chamki work on the border. This kurti has broad sleeves and is paired with a palazzo. This is a one-of-a-kind combo of kurti and long kurtis.
4. Plain Yellow Long Kurti with High Neck Design and Printed Palazzo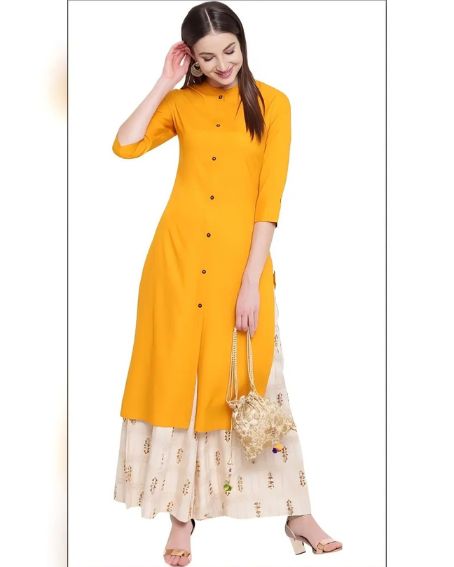 This is a bright yellow long kurti with a high neckline and three-fourth sleeves. The rows of flux buttons highlight the neck design. This beautiful yellow kurti is worn with printed white palazzo pants. This outfit is perfect for any occasion.
5. Crop Kurti with a Long Shrug and Palazzo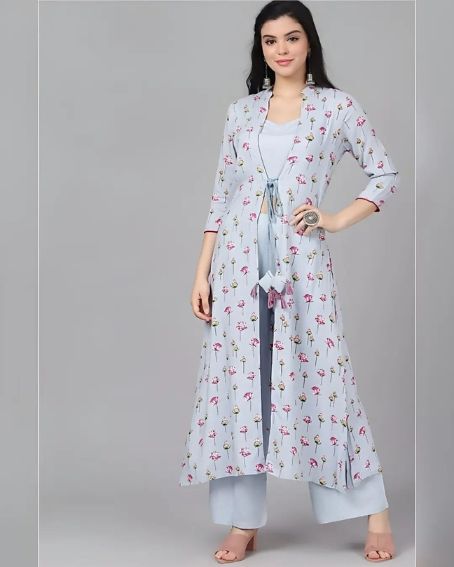 If you like combination clothing, do not miss out on this look! The three-piece set includes a crop top and palazzo. The plain gray ensemble is elevated by an ethnically printed long shrug that instantly lifts your spirits.
6. Black Printed Pattern Long Kurti with Palazzo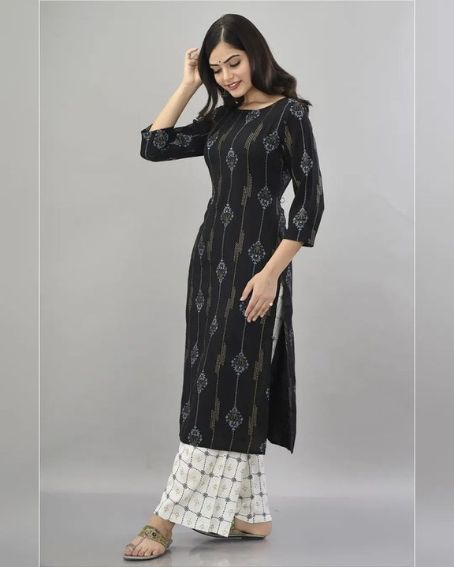 Another stunning black long kurti with a printed pattern, a boat neck design, and three-fourth sleeves. This wonderful black printed long kurti is paired with white printed palazzo pants. This long kurti design looks wonderful to everyone on special occasions.
7. Ethnic Jacket and Top and Palazzo Set with Full Sleeves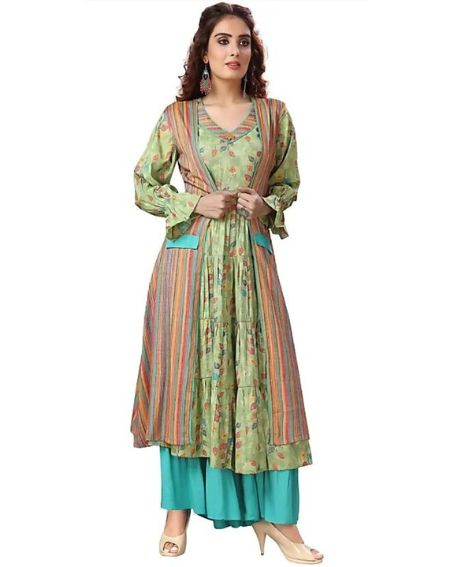 This is an ethnic wear long kurti with a V Neck pattern and a long jacket. This unique kurti has adorable full sleeves with cuff sleeves. This long kurti pairs well with palazzo pant that matches. making it an ideal pick for formal events or evening parties.
8. White Long Kurti with Embroidery Design with Palazzo Set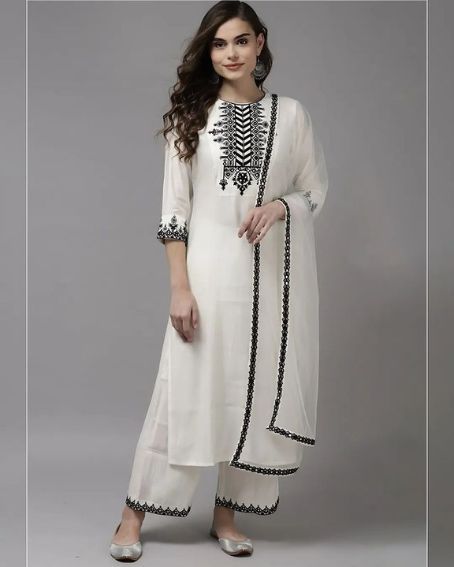 White is an always elegant and decent color that is preferred by most beautiful women. This black embroidered print on a plain white long kurti is paired with a sequence palazzo. This pattern is loved by everyone and wish to have it in their wardrobes.
9. Pink Sleeveless Kuti with Plain White Palazzo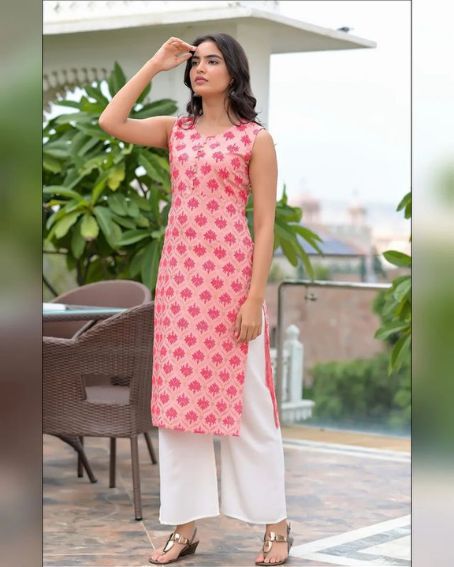 This look includes a pink sleeveless kurti that gives charm and grace. The ensemble, when paired with a plain white palazzo, gives a fresh and chic style that is ideal for a summer day or a casual occasion.
10. Floral Pattern Round Collar Neck Design Kurti with Palazzo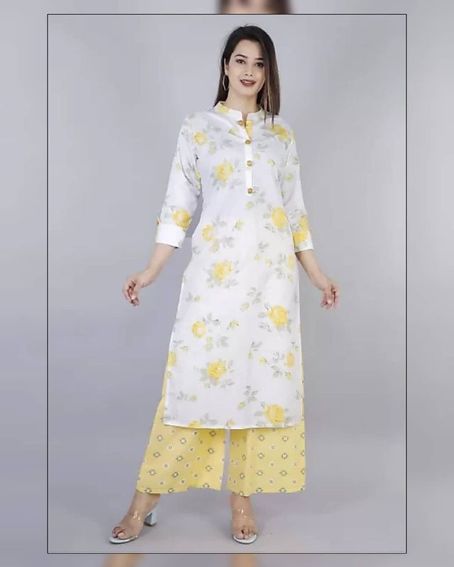 This stylish ensemble showcases a floral printed pattern kurti with a round collar neck design, offering a trendy and vibrant look. Paired with palazzo pants, it creates a comfortable and fashionable outfit suitable for various occasions.
11. Up and Down Navy Blue Long Kurti with Palazzo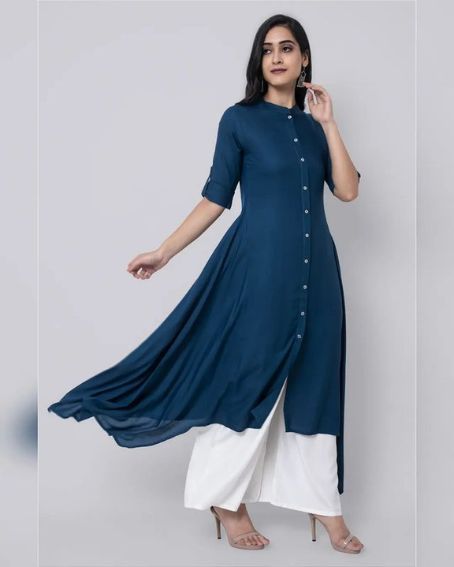 12. Floral Printed Anarkali Long Kurti with Palazzo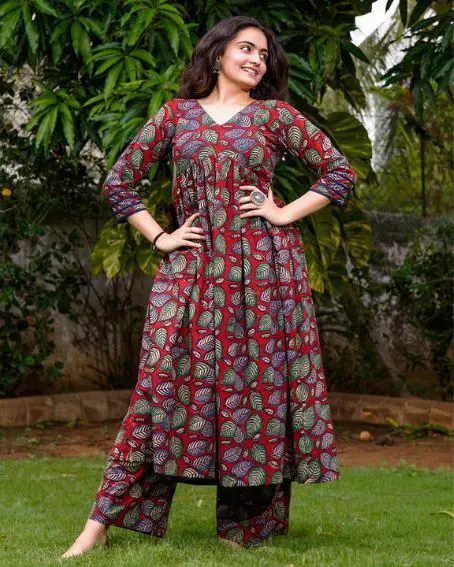 13. Beautiful Yellow Long Kurti with Palazzo Set with Gota Borders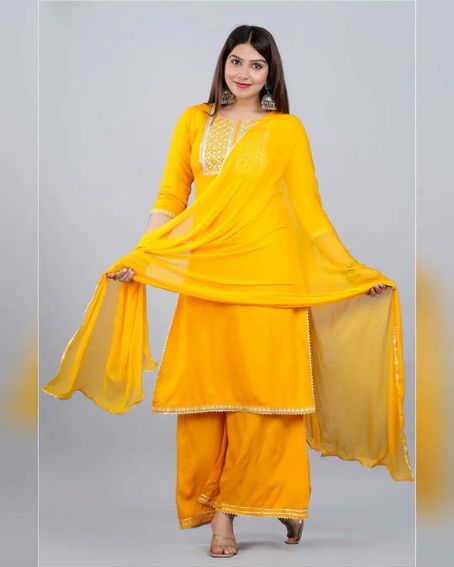 14. Straight Long Kurti with Gota Border Palazzo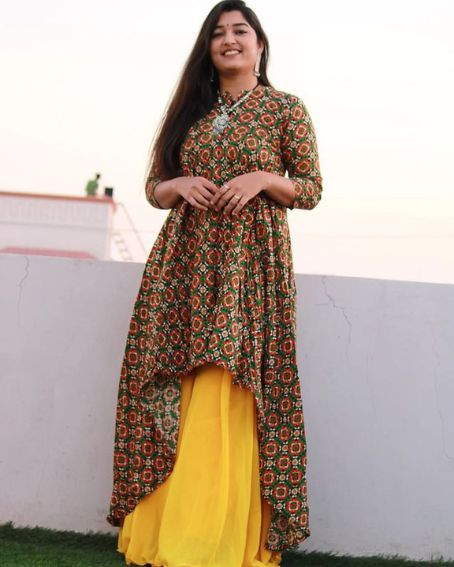 15. Beautiful Long Kurti with Side Cut and Palazzo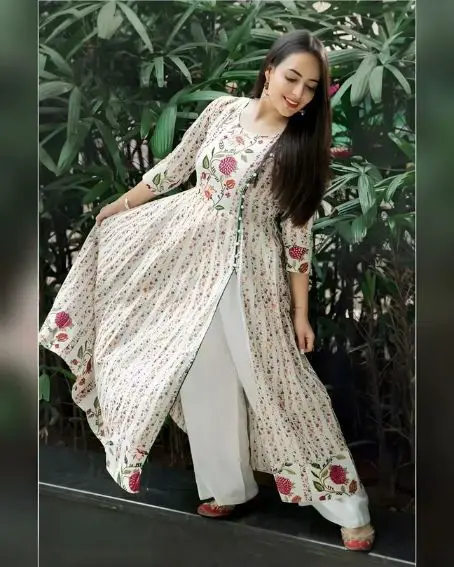 16. Round Reck Design Kurti with Palazzo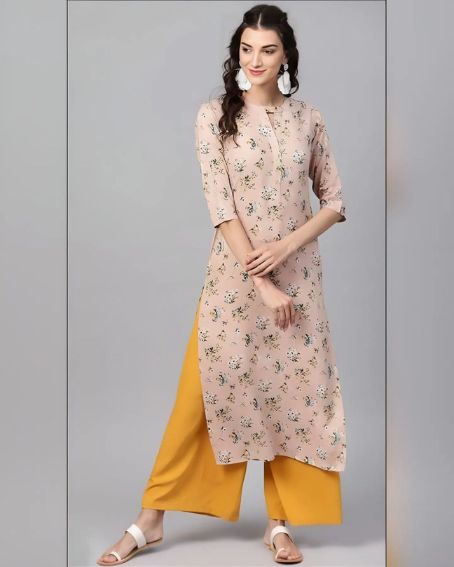 17. Round Collar Neck Design Long Kurti with Palazzo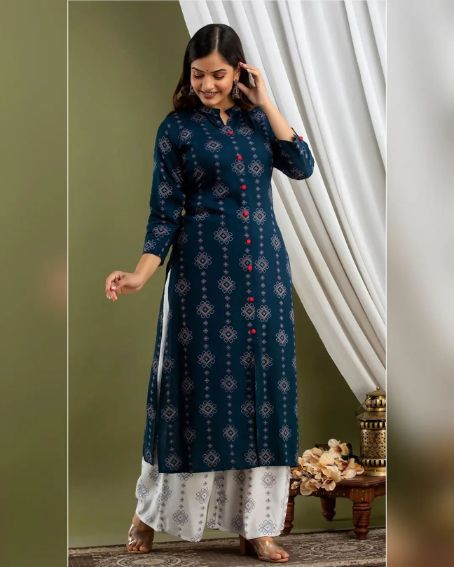 18. Navy Blue Long Kurti with Contrast White Palazzo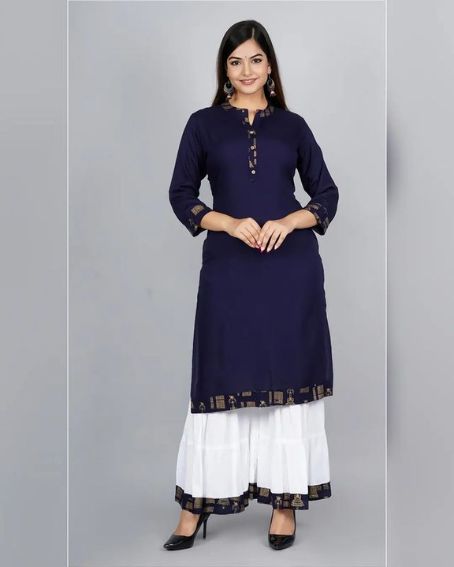 19. Lovely Zig Zag Printed Pattern Long Kurti with Palazzo Set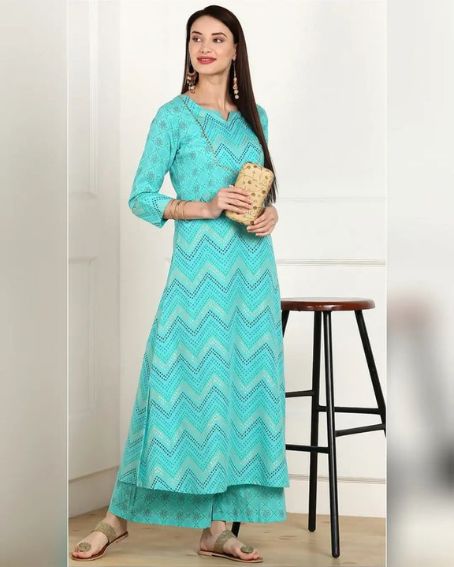 20. Plain Light Green Long Kurti in Three-Fourth Sleeves and Palazzo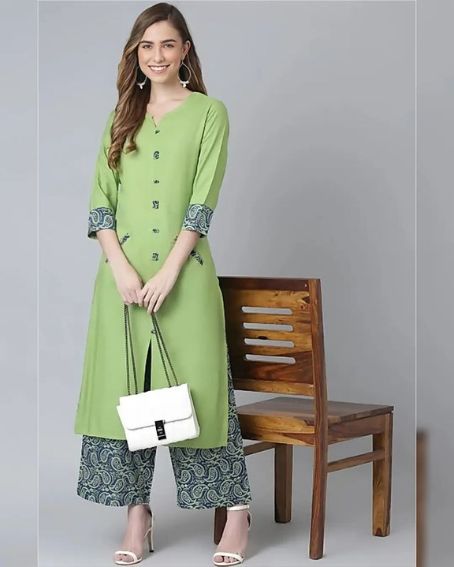 Conclusion
Long kurtis with palazzo pants are a smart and popular fashion option that combines traditional and modern. The combination of the elegance of a long kurti and the comfort of palazzo pants provides the ideal balance of class and comfort. This ensemble, whether covered with expanded prints or basic designs, is suitable for all kinds of situations, making it a go-to option for fashion-forward women seeking an elegant and graceful style. With this lovely combination, enjoy the combination of classic and modern styles.
Related Articles