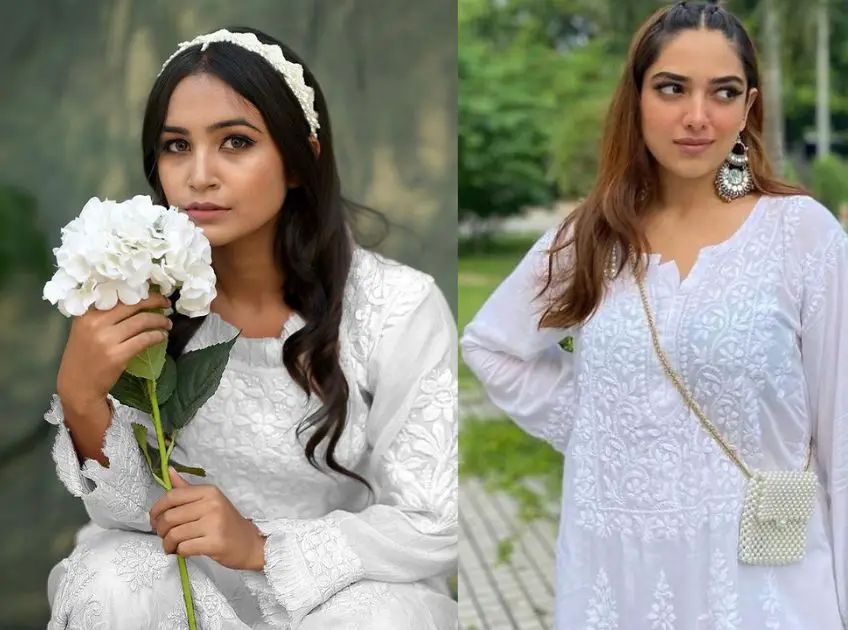 Chikankari Kurtis Are Super Versatile, Supremely Delicate and Have Intricate Hand Embroidery Techniques. This Kurtis with Various Patterns Is a Timeless Fashion That Won't Go Out of Style Anytime Soon. Chikankari Kurtis Come in a Wide Range of Styles, Designs and Fabrics. If Anybody Like White Chikan Kurti Neck Design and Searching for Upcoming Celebrations, Then You Have Come to the Right Place.
the Proper and Unique Neck Design Can Make a Kurti Change a Normal Kurti into a Stylish One. It Can Vary from Round Necks to V – Necks, Square Necks, Boat Necks and More
Here Are Some of the Kurtis That Have Been in Trend for Recent Years! Look Out Those Things
20 Best White Chikan Kurti Neck Design
1. Delicate Hand Embroidery Notched Neck Chikankari Kurti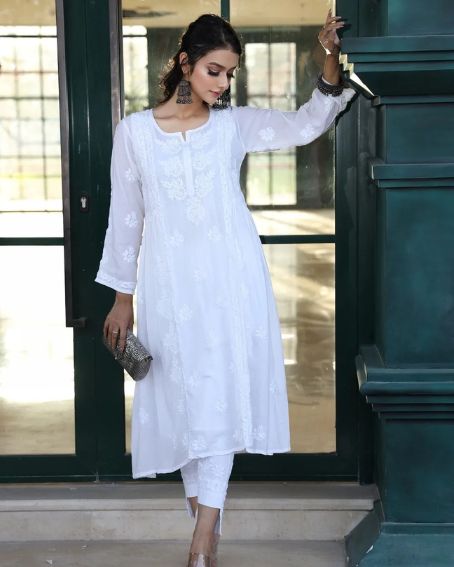 This White Chikankari Hand Embroidery Is the Perfect Blend of Style, Fashion and Comfort. a Notched V-Cut on the Scoop Neck Helps You to Step into the World of Refined Fashion. Grab One That Serves as a Perfect Party Wear.
2. Front Keyhole Boat Neck White Chikankari Kurti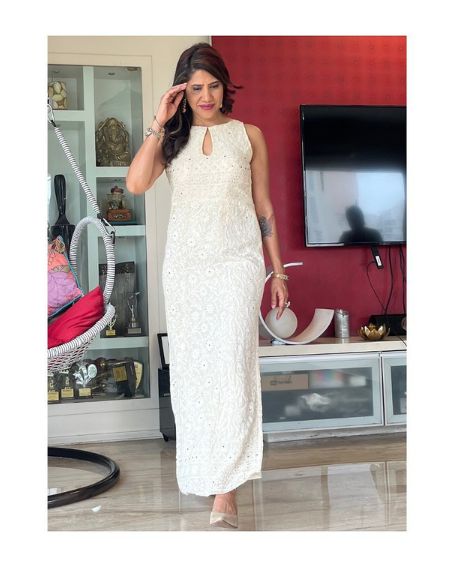 If You Are a Woman with a Tall Body Frame, This Front Keyhole Boat Neck Will Give You a Very Stylish Appearance. It Is a Modern Design and a Very Long Kurti Well Suited for All Types of Social Gatherings.
3. Downward "M" Cut Neck White Chikankari Kurti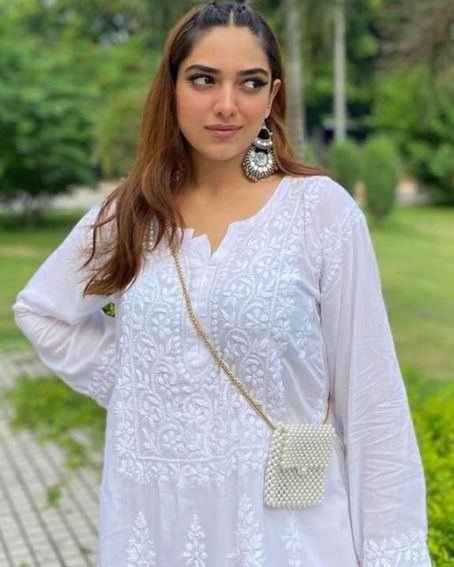 This Beautiful White Chikankari Kurti Features a Stylish Downward "M" Cut Neck Giving an Outstanding Way of Looking. Pleasant Embroidery with Full Sleeve Makes It the Perfect Attire for an Evening Party During the Summers
4. Three-Quarter Sleeve U-Cut Kurti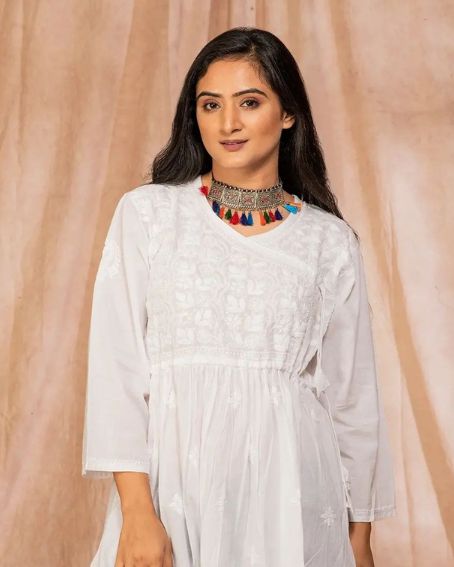 Adorn Yourself in the Elegance of This Three-Quarter Sleeve Chikankari Kurti. the Side Tassel Work and Full Sleeve Make It Look Very Feminine and the Beautiful Embroidery Stimulates Its Grace.
5. Slit Neck Elbow Sleeve Chikankari Kurti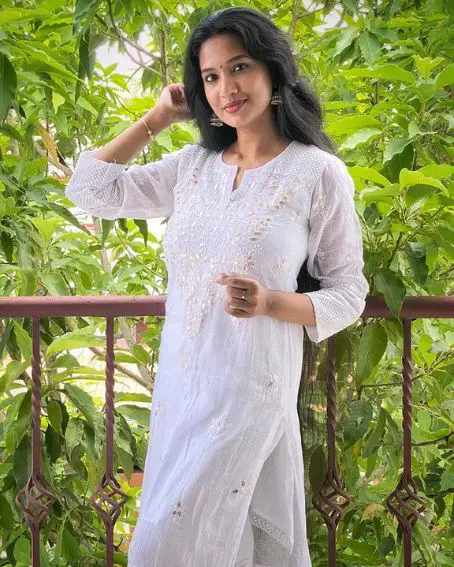 See the Beauty of White Magic! This Slit-Neck Chikankari Kurti with Floral Embroidery Is a Timeless Fashion That Won't Go Out of Style. It Is the Perfect Option to Achieve a Light Summer Vibe as Well as to Brighten a Gloomy Winter Day
6. Sweet Heart Neckline White Chikankari Kurti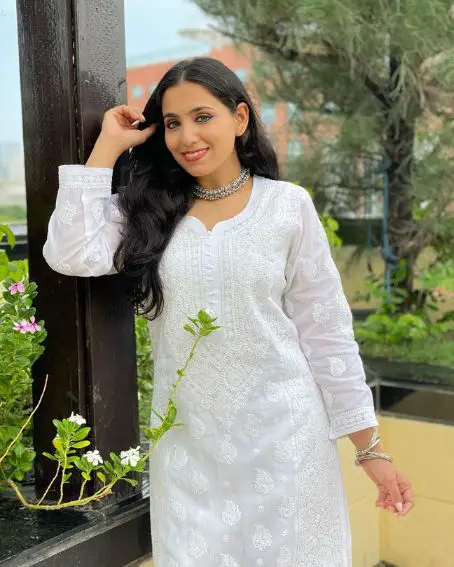 To Give a Truly Charm and Exquisite Look to the Wearer, Try Out Sweet Heart Neckline Kurti and It Should Be Present in Every Indian Wardrobe. It Is a Best Versatile Pick for Everyday Outfit and Festive Wear During Summer
7. Chinese Collar Neck Style with Sweetheart Cut Sleeves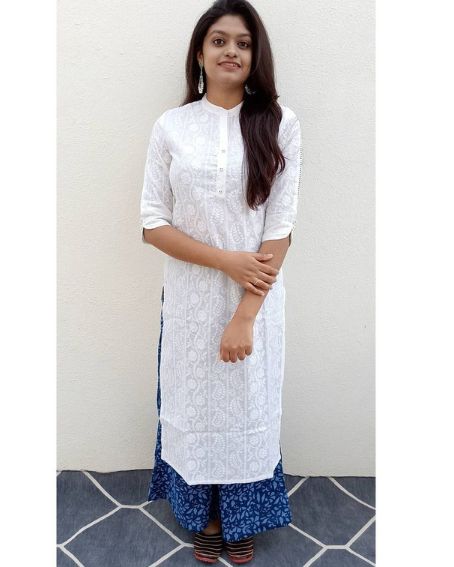 Kurti with a Chinese Collar Neck Style Is Always in Style. Most Young Girls Like to Wear Them as They Make Them Very Fashionable and Attractive. Sweetheart Neckline Sleeve Is Very Much Apt and Give a Understated Look
8. Transparent Sleeve Collar Style Neck Kurti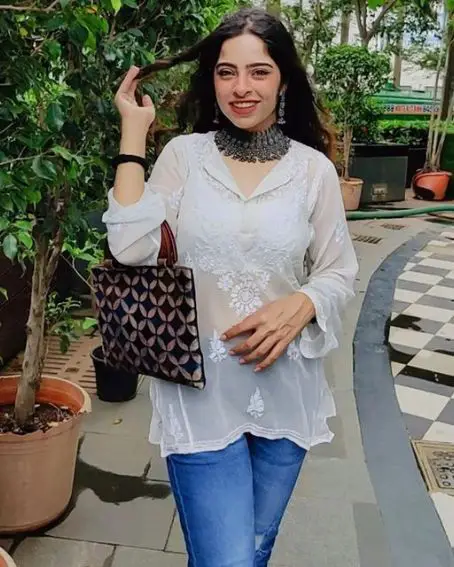 For Almost Any Casual Occasion, Glam Up with Collar Style Neck White Chikankari Kurti. Thanks to It's Elegant and Subtle Design. Whether You Are Searching for an Ultra-Modern or Luxury One, This Transparent Short Kurti Will Satisfy Your Taste
9. Tail-Cut Creamy White Chikankari Kurti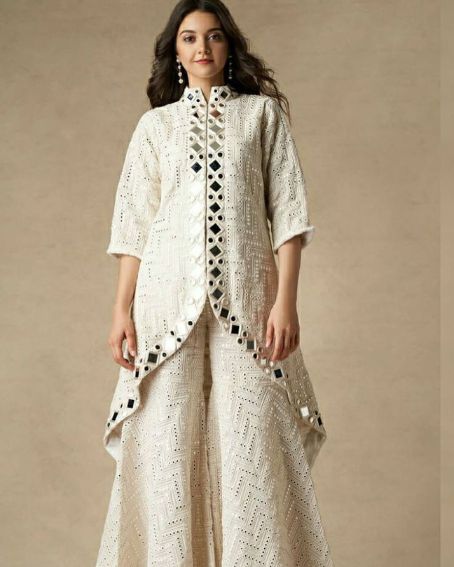 Another Gorgeous V-Neckline Mirror Work Kurti Looks Very Trendy. Late for a Movie Night and Don't Know What to Have? Pick Out This Creamy White Chikankari Kurti and You Don't Need to Wear Any Grand Dupatta Because Already It Is Very Unique and Grand.
10. Chikan Lace Full-Sleeve Kurti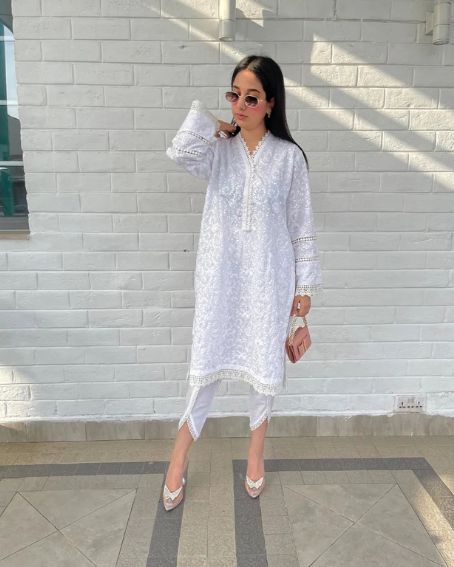 Nothing Beats the Comfort and Luxury of Chikan Lace Work Full Sleeve Kurti. a Whole Look Is Complete When You Paired with White Tulip Trouser. a Super Fun Yet Fabulous Look, This Indo-Western Chikan Kurti Is Sure to Grab Many Eyeballs Around You!
11. Pink Lace Work Round Neck Kurti
12. Small U Slit Round Neck Chikankari Kurti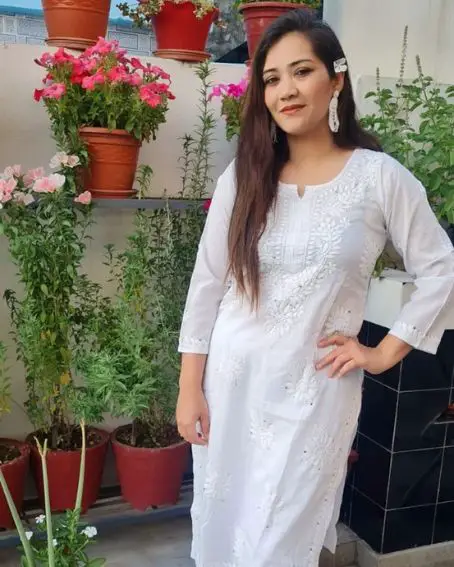 13. Mandarin Collar with One Pearl Detailing Kurti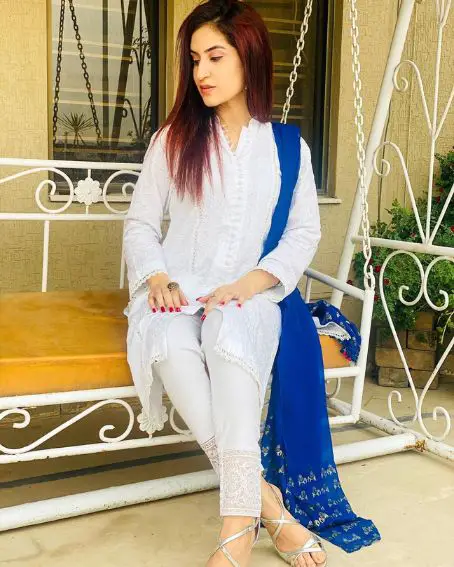 14. Round Ruffle Neck White Chikankari Kurti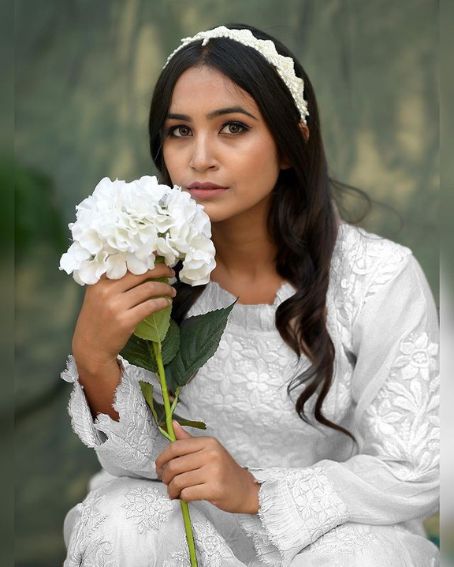 15. Dori Style Keyhole Neck Kurti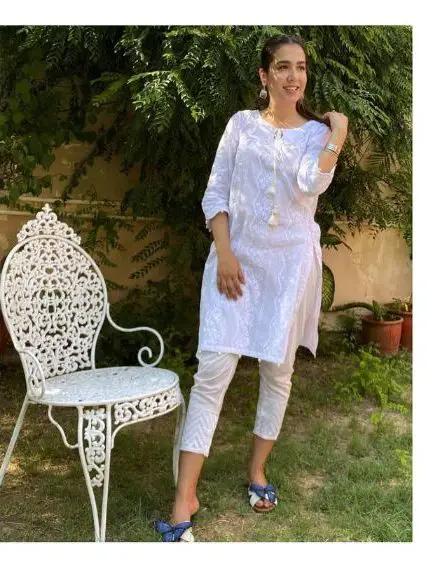 16. Tie Up Knot Thread Kurti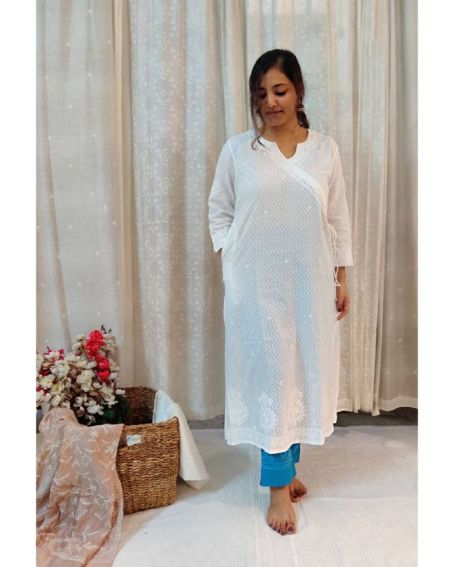 17. Tiny Loop Lace Work Neck Chikankari Kurti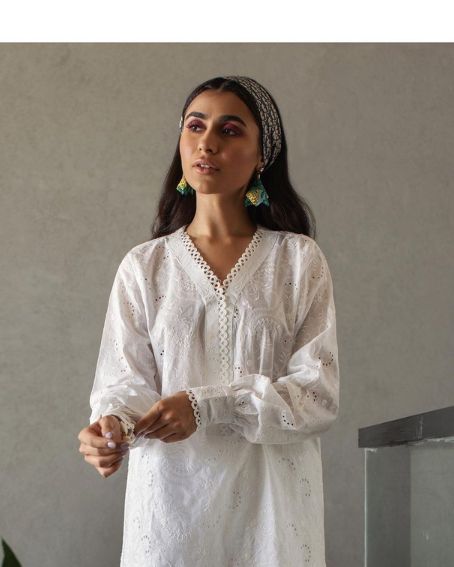 18. Pom Pom Button Work Chikankari Kurti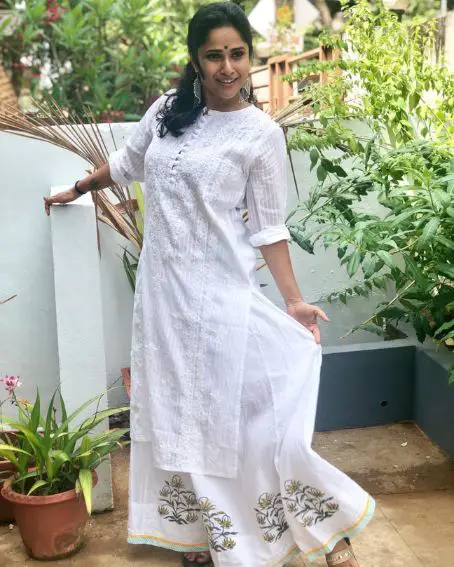 19. U Notched Round Neckline Kurti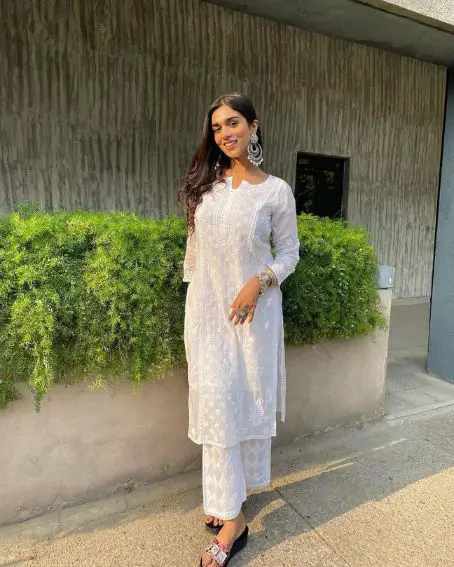 20. Long Neck Slit Short Kurti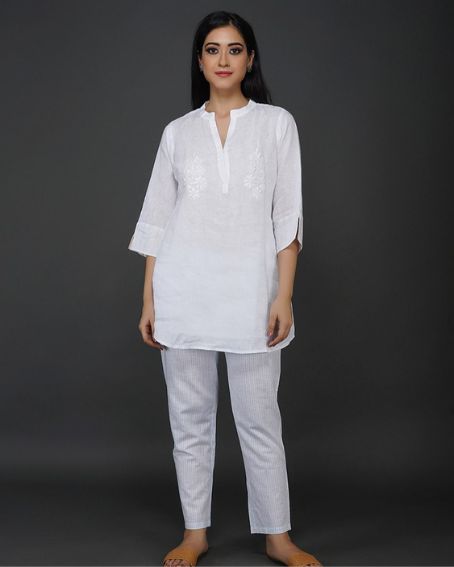 Conclusion
You May Prefer an Elegant, Classic or Trendy Look, but Proper Neck Designs Only Perfectly Complements the Kurti and Make You Look Ravishing. Wear a White Chikan Kurti Neck Design in a Different Style and Feel Your Bsest!
Related Articles