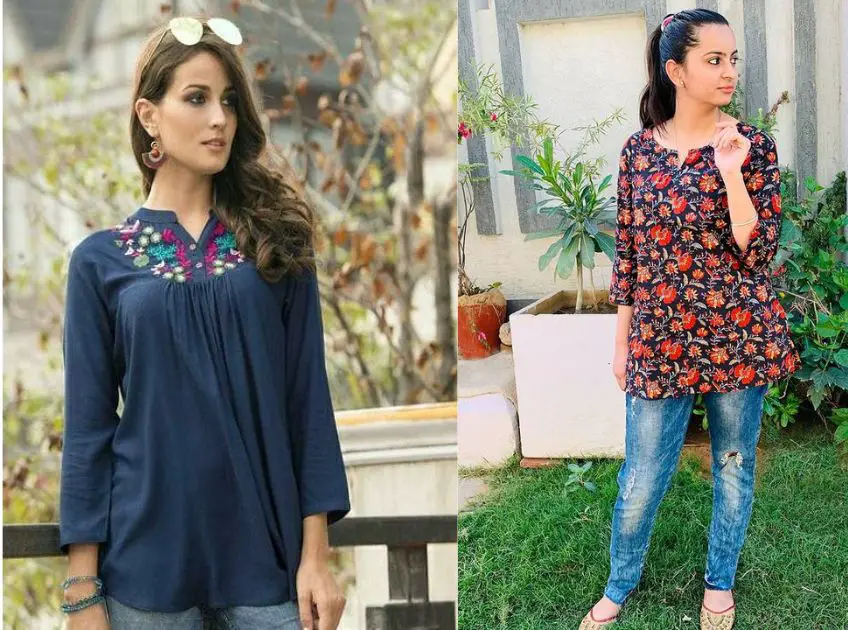 The short kurti has dominated for a long time in the women's fashion world. It comes in various colours, patterns and different textures. Whether it is a casual get-together or an office party, you will never go wrong with the short kurti fashionable look.
Fashionistas have created a different mix-and-match look while going out. Among all, short kurti designs for jeans are a fire solution when you like to add a bit of extra flair to the getup.
So start experimenting with the unique and trendy jeans with short kurti that are given below
20 Best Short Kurti Design for Jeans
1. Classy Pattern Organic Cotton Kurti with Jeans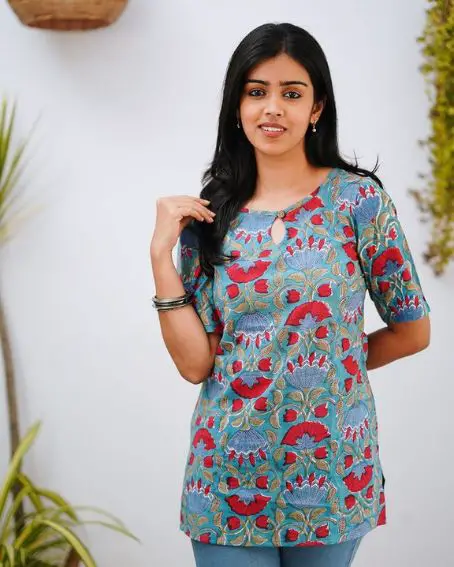 This beautiful short kurti for jeans comes with a nice pattern is very attractive which is made of soft organic cotton. Keyhole neck with button here enhances kurti look even more modern and will bring charmness to your overall appearance
2. Bagru Hand Block Printed Kurti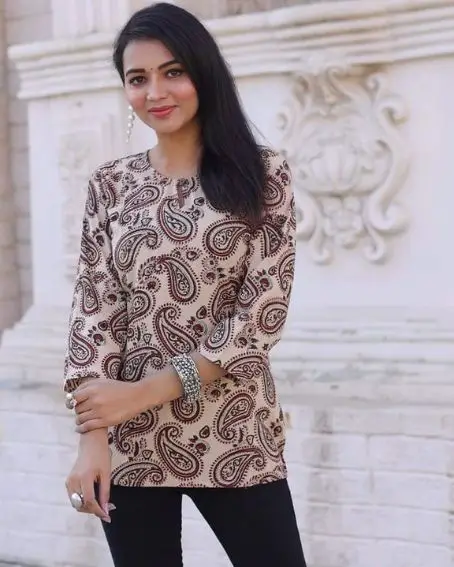 The paisley designed hand lock printed kurti helps you to create your unique look. This round neck elbow sleeve kurti can be paired with denim which makes a fashion statement.
3. Intricate Chikankari Embroidery Kurti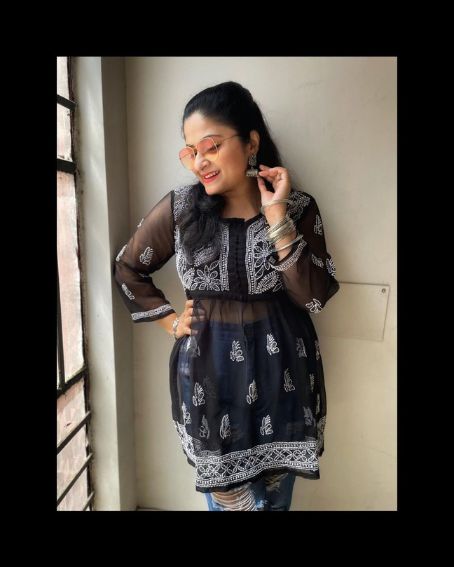 Upgrade your wardrobe with this intricate chikankari embroidery style kurti. Embroidery work ok the bodice, sleeve and hemline add a touch of elegance and modernity. The 3/4 th sleeve with transparent black kurti is perfect for casual, outings or get-together parties.
4. Georgette Short Kurti with Jeans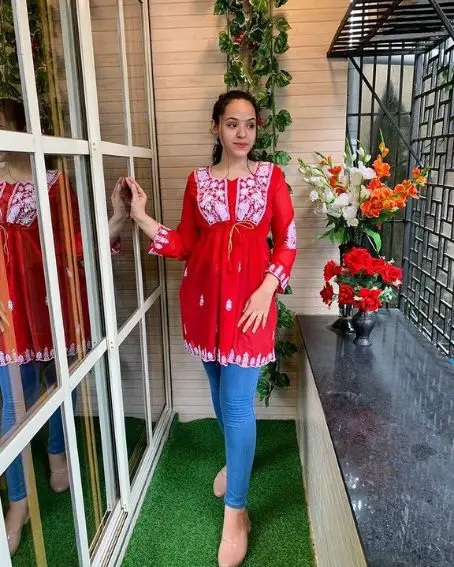 Form a unique style quotient that makes you look trendy with a georgette red short kurti. Beautiful white embroidery work throughout the kurti and tassel work on the front elevate the overall look of the kurti. To avail even more modernity in this style match it with jeans.
5. Front Pleated Type Yellow Kurti with Lace Work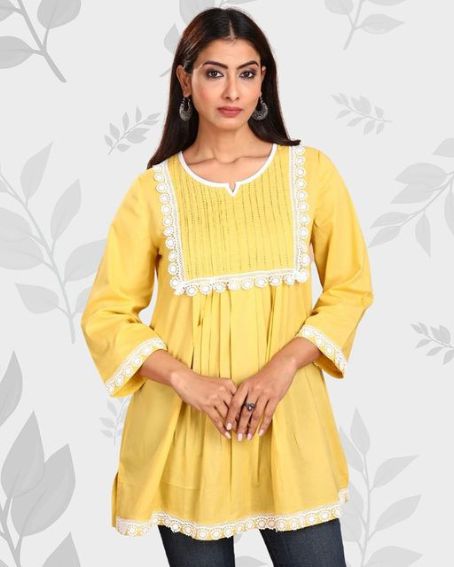 This front-pleated yellow kurti with jeans provides a semi-formal look. The design pattern with lace work is apt for casual outings and parties. Sport this fancy style outfit to bring out the diva in you.
6. Maroon Floral Printed Cotton Short Kurti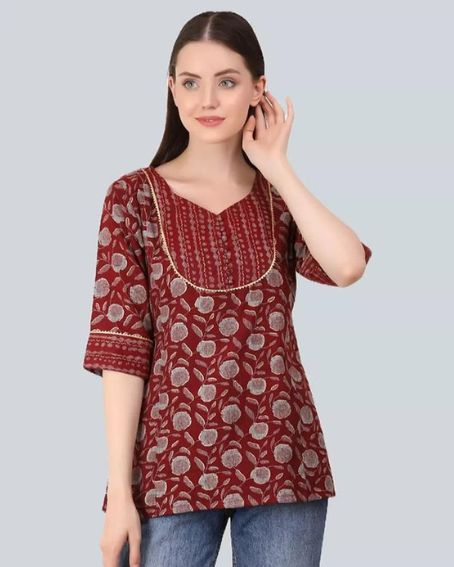 This incredible maroon floral printed kurti jeans combo works well for a relaxed and chic look at any casual or formal party. Pompom on the front with white simple lace work is exactly suitable for casual wear, party wear and festive wear
7. Small Keyhole Short Plain Kurti with Jeans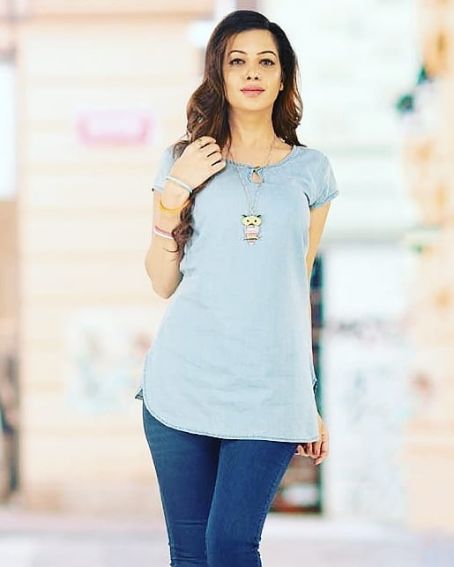 If you are a person who always likes simple clothing then go for a short plain kurti with jeans. This short-hand plain blue kurti with piping side cut is the latest kurti design to try for a casual event and set up your style quotient.
8. Red Designed Black Elbow Sleeve Kurti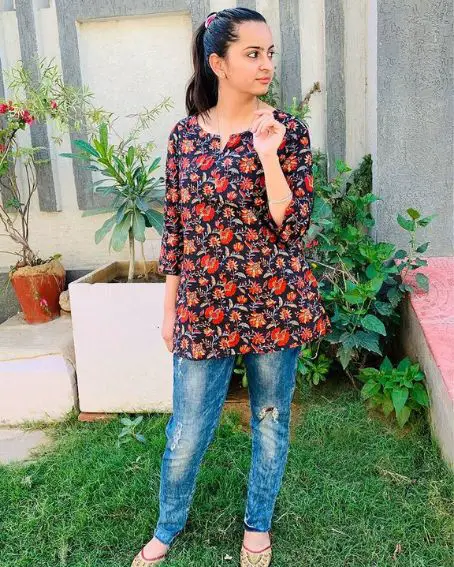 Amp up your ethnic collection with a red designed black elbow-sleeve Kurti. You can team up with jeans and find the right accessories to change your look from good to absolutely fantastic
9. Chikankari Transparent Yellow Kurti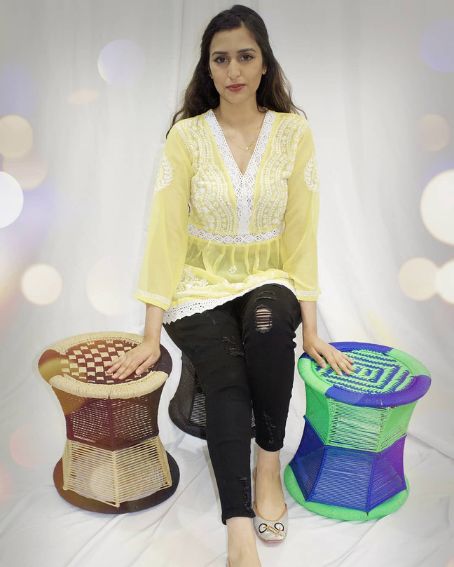 The lace work neck yellow kurti makes you look elegant and feminine. The v-neck is fully covered with lace which is simply superb. Make this your everyday wear kurti and set an example for people who think chikankari can't be styled in countless ways.
10. Puff Sleeve Short Kurti with Sleeve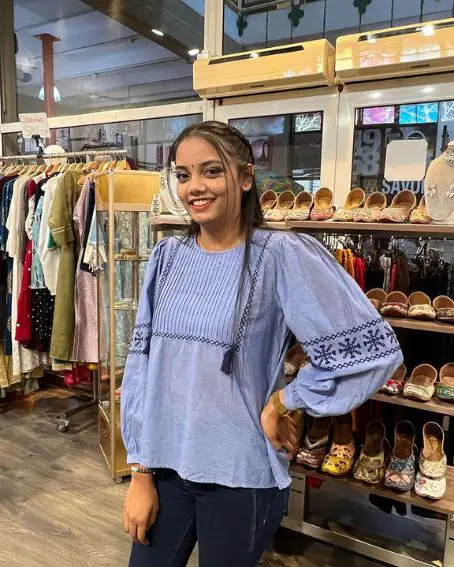 This latest kurti design is a great pick for any casual get-together or party. Pairing with jeans helps you to glam up your look like in this picture. The puff sleeve hand and tassel work on the front is unique and creative.
11. Sleeveless Orange and Green Short Kurti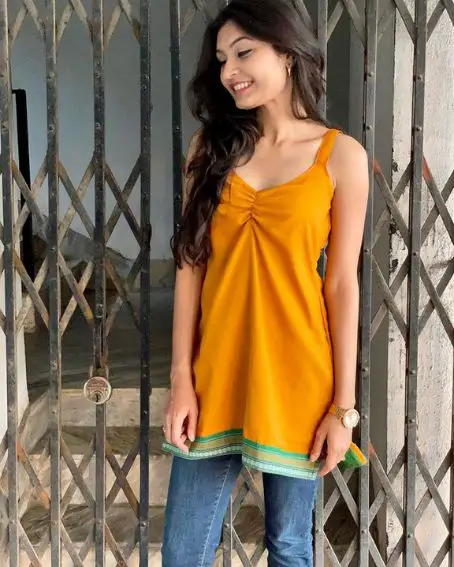 12. Frock Style Short Kurti with Pocket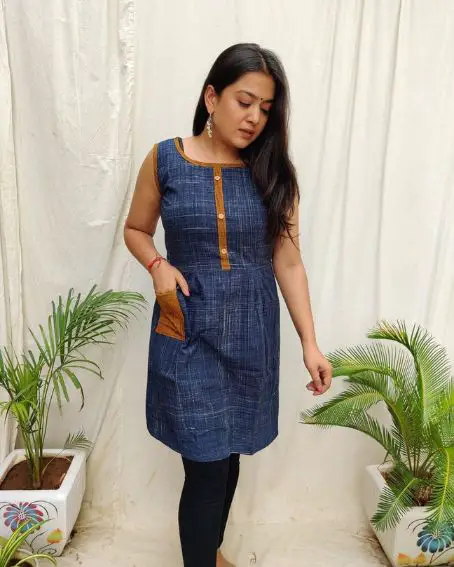 13. Zig Zag Pattern Thigh Length Short Kurti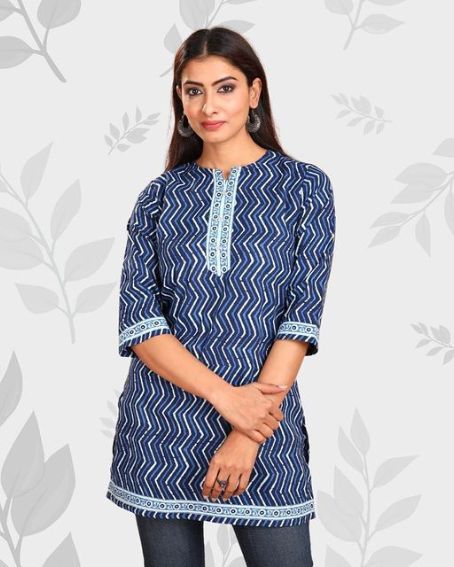 14. Round Neck Chocolate Brown Short Kurti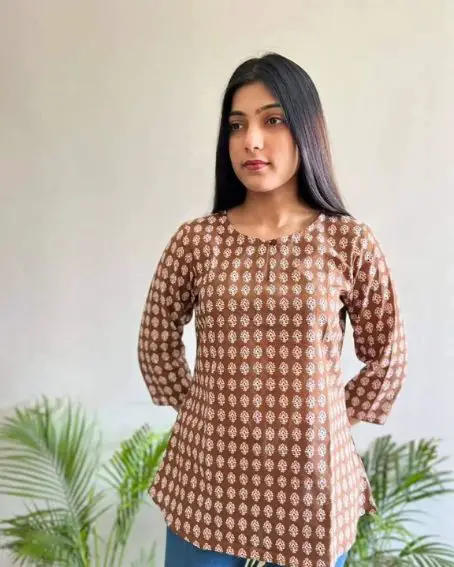 15. Chikankari Art Embroidery Mustard Color Kurti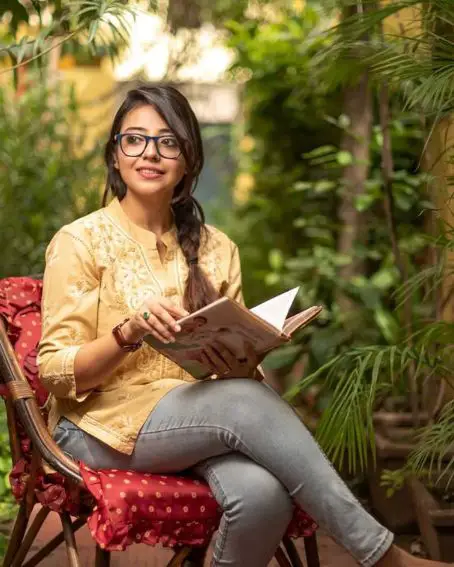 16. 3/4th Sleeve Plain Red Short Kurti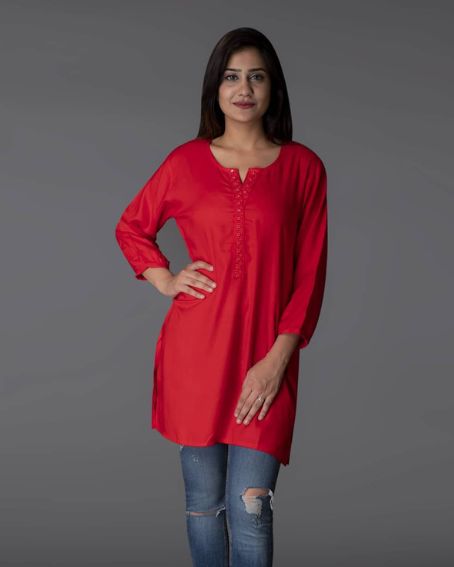 17. Side Slit Short Kurti with Jeans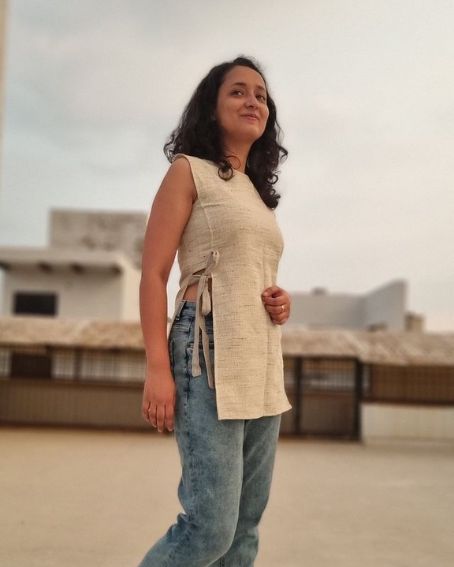 18. Checked Pattern Casual Short Sleeve Kurti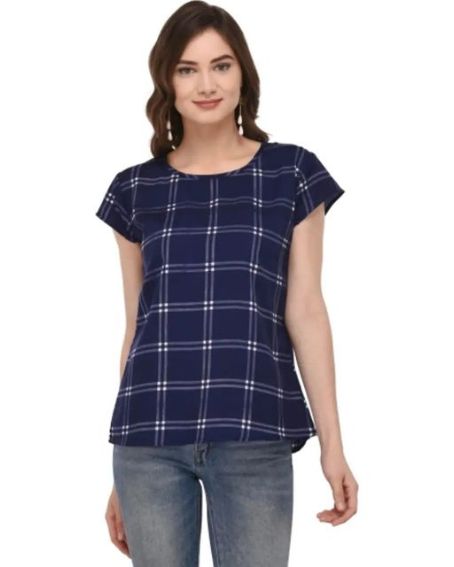 19. Sphegati Strap Pearl Stitched Kurti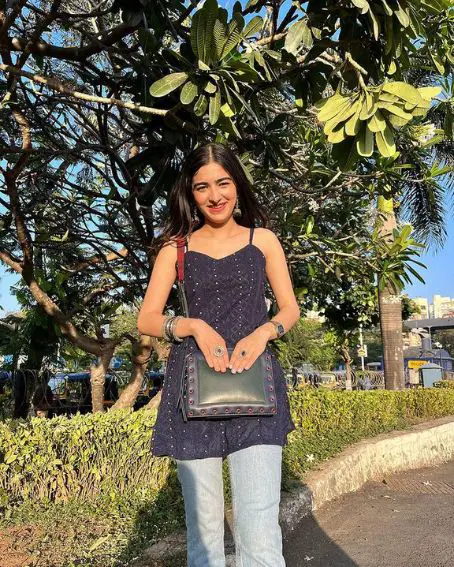 20. Neck Embroidery Navy Blue Short Kurti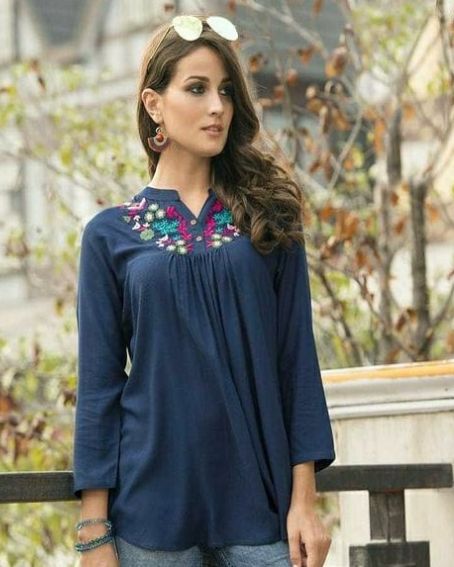 Conclusion
Concluding that this fun and easy-to-wear short kurti with denim for women is available in a variety of hues and styles that will help you pick the attire you love the most. Jeans assist bring out the silhouette of the short kurti in a great way. Go ahead with your style!
Related Articles