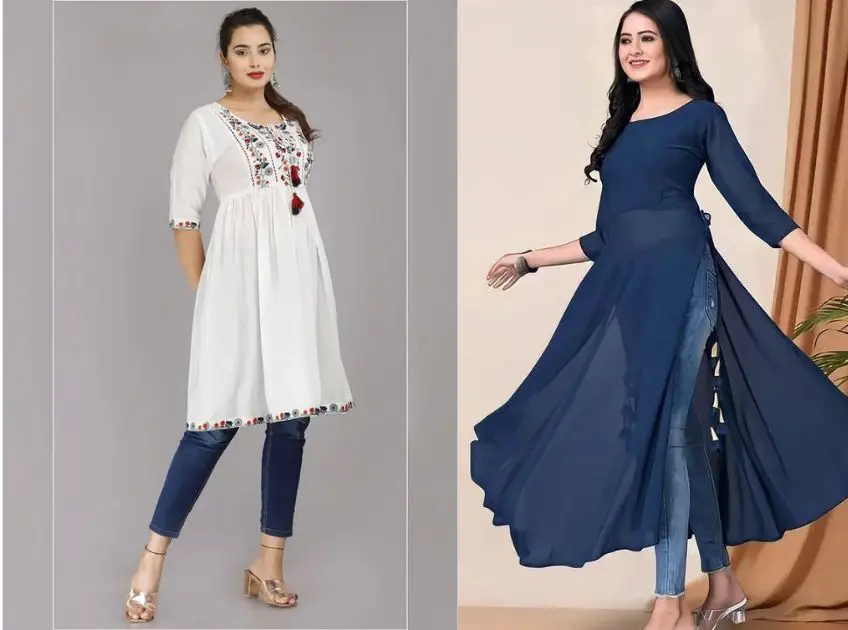 When it comes to fashion, pairing classic and modern aspects can result in an exciting and unique look. Combining a long kurti with jeans is one such trending look. This combination matches the formality of Indian cultural clothing with the comfort and flexibility of jeans. By combining these two opposing styles, you may create a fashionable and culturally friendly look.
This fusion outfit allows you to express your individuality, embrace cultural diversity, and stay on-trend. This article includes some stylish Kurti designs that women can easily match with a pair of jeans.
20 Trendy Long Kurti With Jeans
1. Side Slit Floral Pattern Long Kurti with Jeans Bottom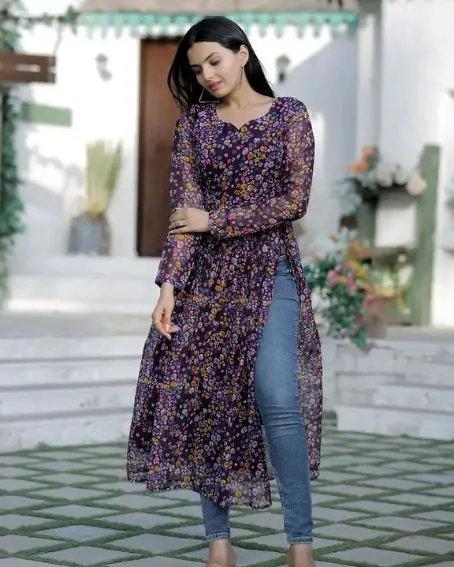 Women who wanted a stylish long Kurta with jeans might opt for this design. This kurti has full sleeves and is made of silk with a floral pattern. The main attraction is a side slit, which looks wonderful on the bottom of jeans.
2. Anarkali White Kurti with Jeans Bottom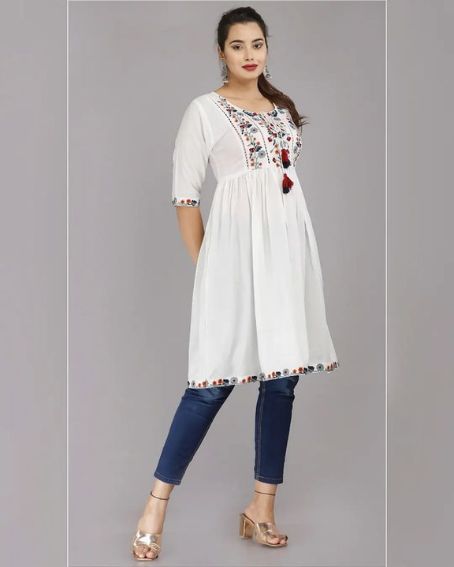 Though this Anarkali Kurtha does not have a slit, it still offers good enclosing for people who enjoy this style and comfortable appearance of Kurti and may be worn with jeans. White Kurtis and blue jeans look fantastic together and are quite attractive.
3. Red Color Asymmetric Crepe Kurti with Jeans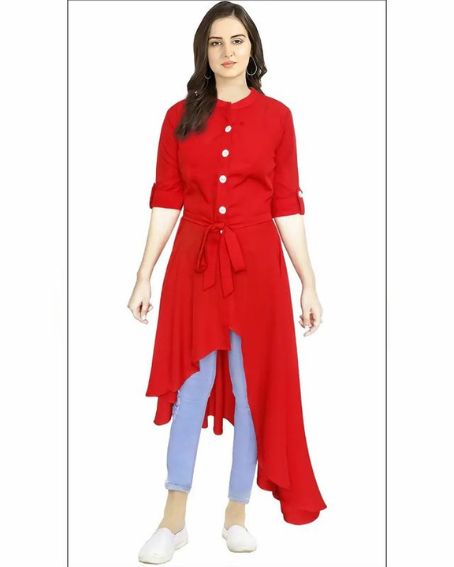 An asymmetric crêpe Kurti with jeans is a fashionable and comfy kurti that can be worn during the year. The quirky design has a very modern appearance. To complete the style, pair this Kurti with ankle-length jeans, sneakers, and hoop earrings.
4. Cotton Long Trendy Kurti with Front Slit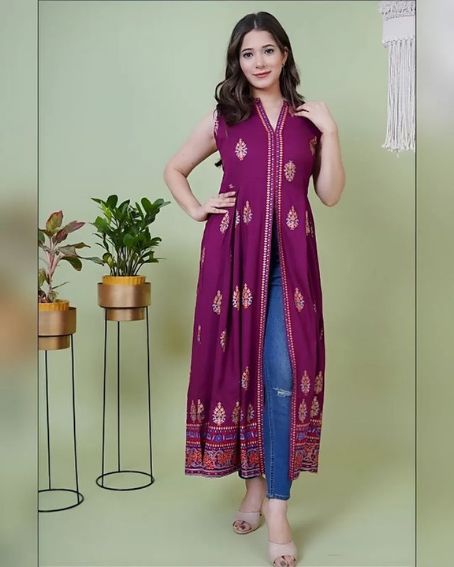 This is a trendy cotton long Kurta with a front slit that looks excellent with skinny jeans. This cotton kurti is manufactured of high-quality cotton fabric and has a floral pattern design with a border and a sleeveless kurti.
5. Dual Side Slits Beautiful Kurti with Jeans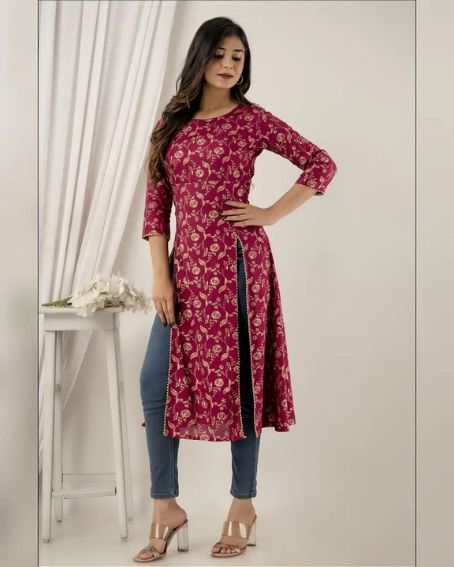 This is a trendy party wear dual slit Kurti, which looks amazing with a golden floral pattern along with golden beats borderline. This slit comes up with a uniqueness When paired with jeans Bottom, makes you look extremely stylish and trendy.
6. Multi Colored Collared Kurti with a Front Slit for Jeans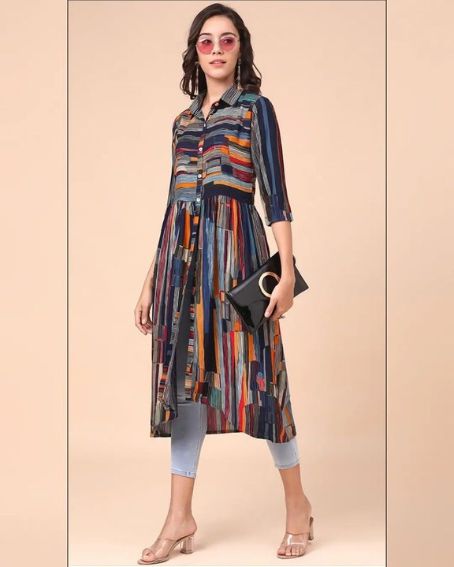 Wearing an Indian traditional kurti with Western designs makes you even more trendy and fashionable. If you want to be more fashionable with Indian trendy dresses, then try on this multi-colored Kurti with a collar neck design with skinny jeans bottom.
7. Plain Black Kurti with Jeans Bottom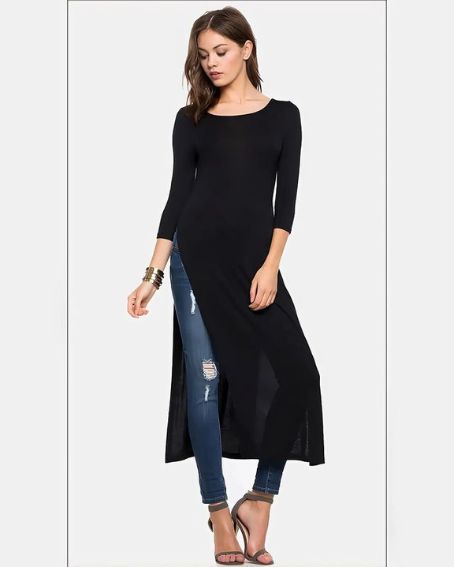 This is a long straight-cut plain black, Kurti with three-fourth sleeves and a round neck design. When this Kurti is paired with the bottom of jeans or toned jeans will change the look of your fashion to the peaks.
8. Stunning White Netted Long Kurti with a Front Slit for Jeans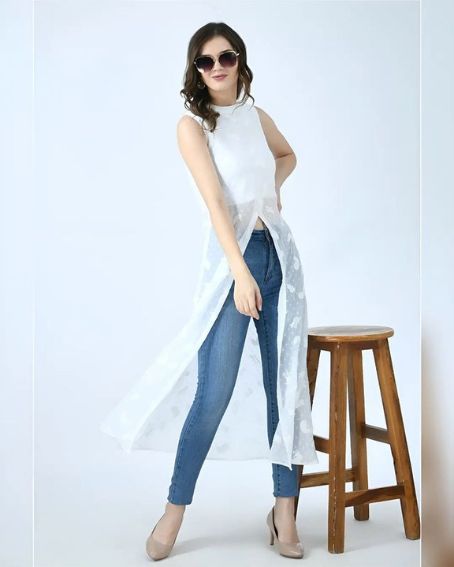 This is the most recent trend in ladies' jeans and kurtis. This front-slit kurta will make an impression at any party or occasion. The stunning white netted transparent long kurti matched with jeans creates a classy yet entertaining style. This kurta is perfect for any occasion.
9. Sweet and Simple Kurti with White Jeans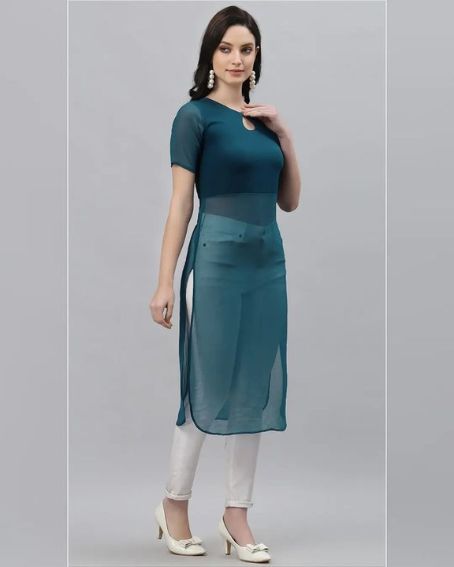 The color combination is also important when selecting the proper outfit. here, the A1 Kurti, which is a transparent long Kurti, has been paired with white skinny jeans, and the Kurtis neck design is quite beautiful with a keyhole around the neck design.
10. Amazing Kurti with Side Slits and Jeans Bottom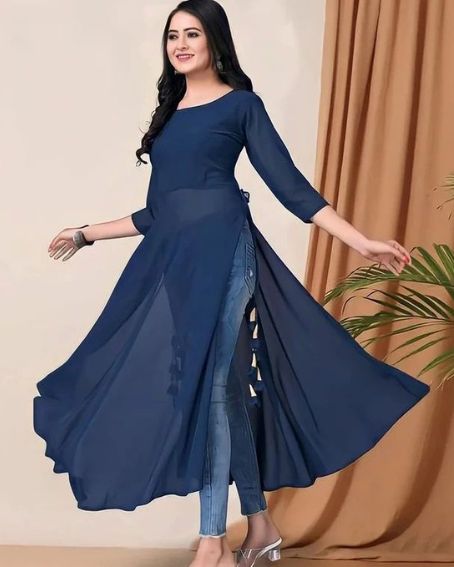 here comes the synthetic material kurti that has an Anarkali pattern with side slits and drooping lattkhans. When worn with jeans, this Kurti looks great and lovely on any event or at parties. Therefore, try this pattern of kurti today.
11. Black Transparent Kurti with Jeans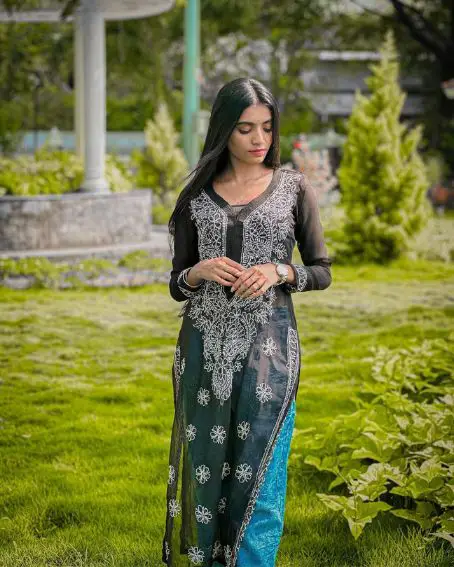 12. Actress Tamanna in a Floral Pattern Long Kurti with Jeans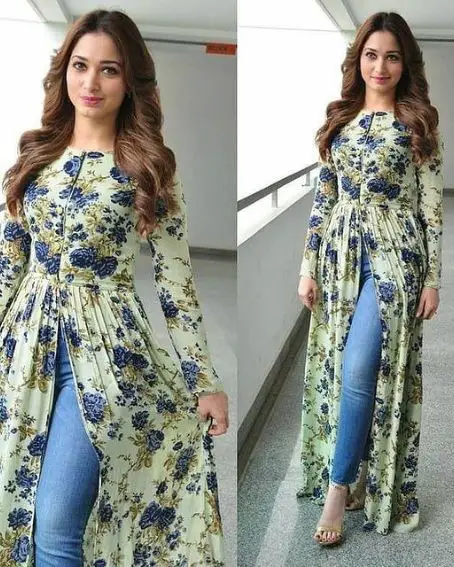 13. Trendy Long Kurti with Toned Jeans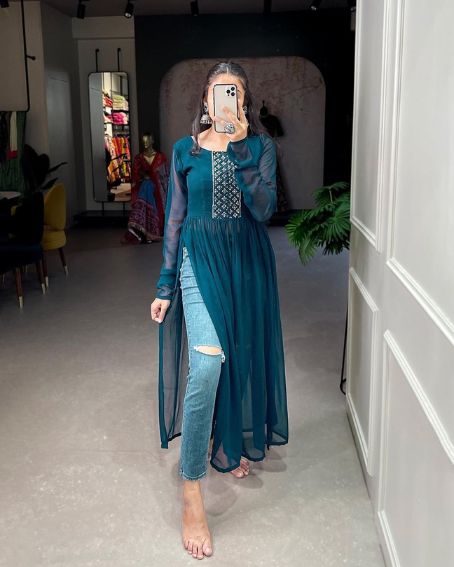 14. Front Up and Back Down Kurti with Jeans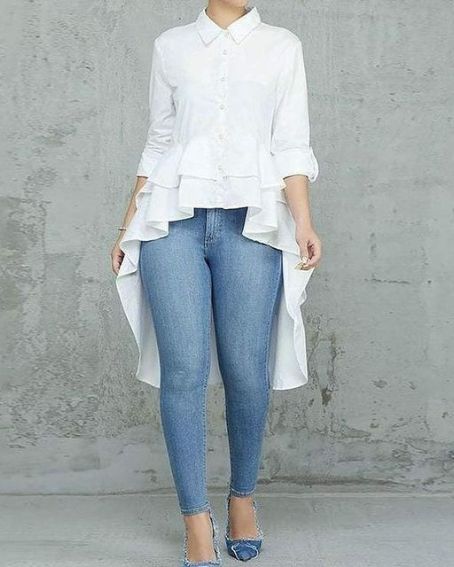 15. Sleeveless Long Kurti with Front Slit and Jeans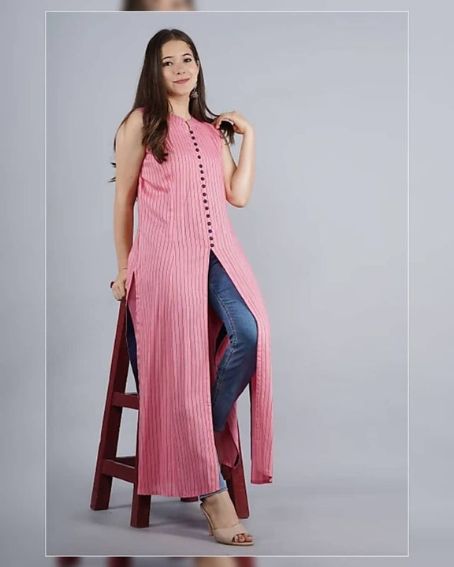 16. Wonderful Long Kurti with Front Slit and Jeans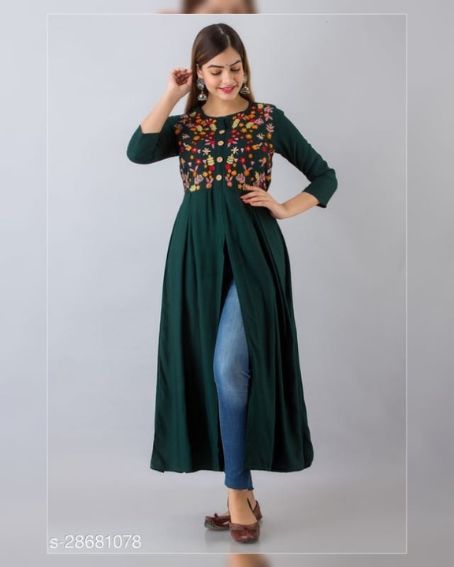 17. Classy and Trendy Collar Neck Design Kurti with Jeans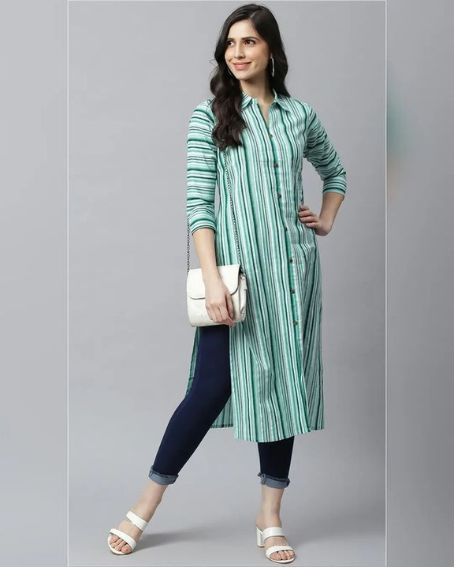 18. Stunning Kurti with Jeans Bottom
19. Simple and Classy Kurti with Jeans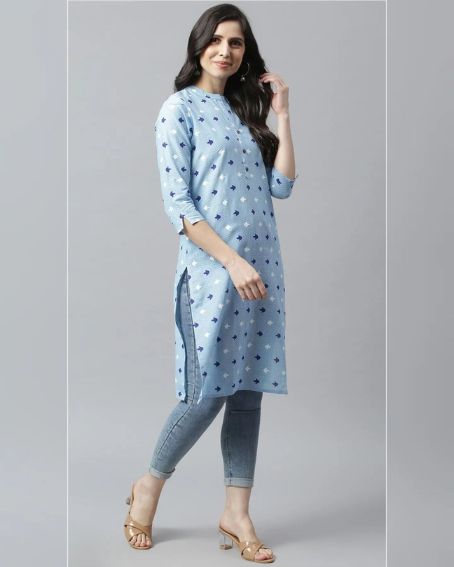 20. Sleeveless Kurti with Side Slit and Dori for Jeans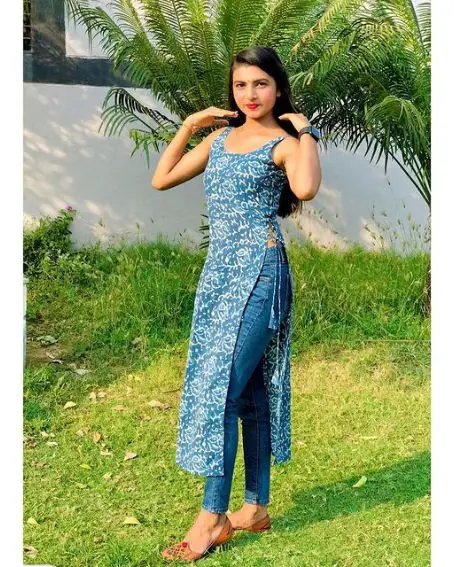 Conclusion
This fusion allows you to show the elegance of a long kurti while incorporating the comfort and style of jeans. By experimenting with different kurti designs, colors, and embellishments, as well as choosing the right jeans and accessories, you can create a unique and personalized look that suits your individual taste and occasions. This fusion outfit celebrates cultural diversity, embraces fashion-forward sensibilities, and offers endless possibilities for creativity.
Related Articles