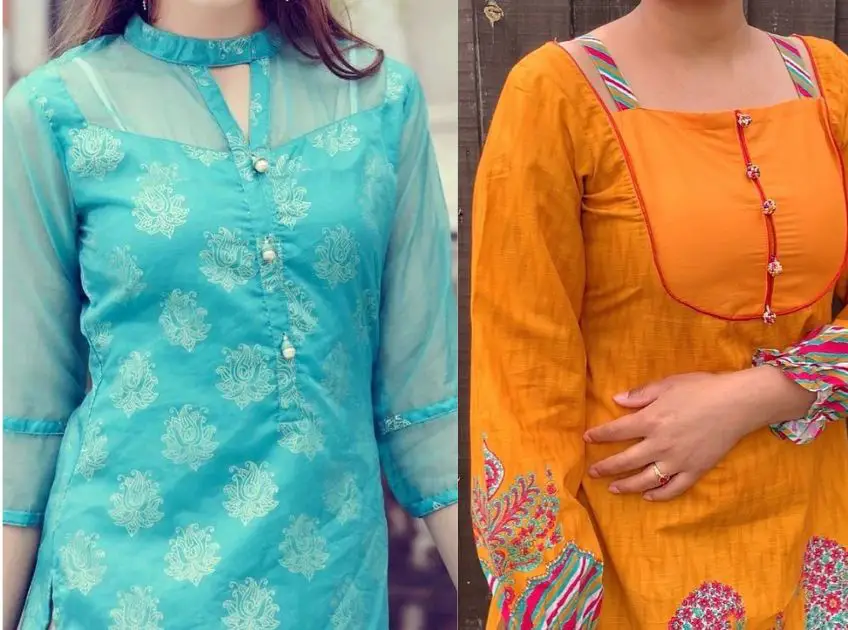 Kurtis is an ethnic wear dress that most Indian ladies wear. Kurtis can be dressed in a variety of ways and look somewhat trendy. The front-neck design of a kurti plays a significant role in enhancing its overall appeal. It will add elegance, style, and personality to the garment. There are numerous front-neck designs available for kurtis, each offering a unique and distinctive look.
Neck styles range from round to V-necks, boat necks, square necks, and collared necks, each with its own unique charm and appeal. Here are a few popular front-neck designs that you can think about
20 Best Front Neck Designs For Kurti
1. High Neck with Floral Open Cut Design for Kurti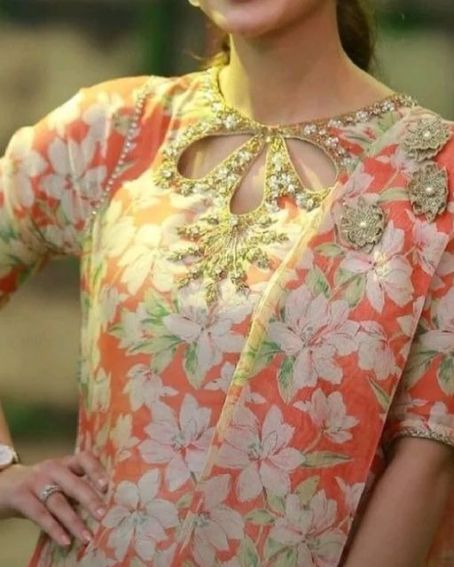 These are lovely kurti neck designs that lengthen a short neck and narrow the shoulders. This neck design has three open cuts in a floral pattern and is embellished with stones and golden thread embroidery. You should definitely try this type of neck design.
2. Nehru Collar Neck Design for Kurti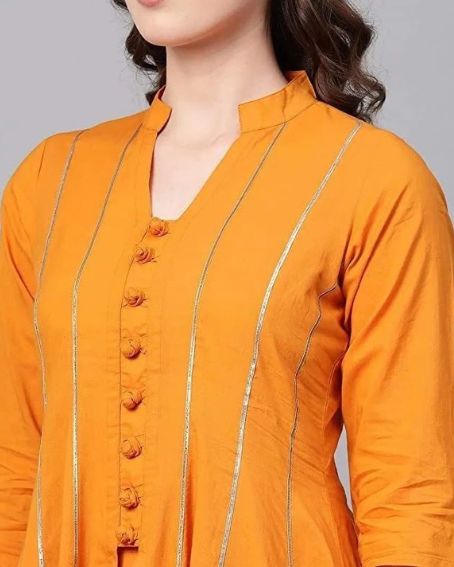 This is a simple and elegant kurti back neck design that is almost used for regular use. This mandarin collar is with deep v-cut neck design. A delicate necklace with a pendant and long earrings are the finest accessories for Kurti's neck design.
3. V Neck Design With Beads Borderline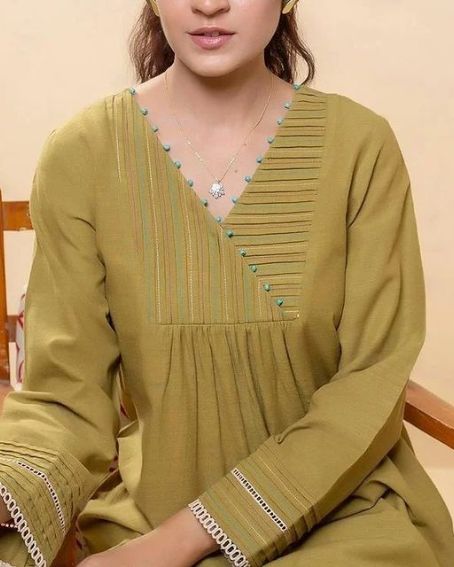 Yet another simple neck design gives a classy look to the kurti. This is a V shape front neck design that comes with a contrasting color bead border line which offers a classy look to the entire kurti. This is a must try kurti neck design.
4. Classy Round Neck Design for Kurti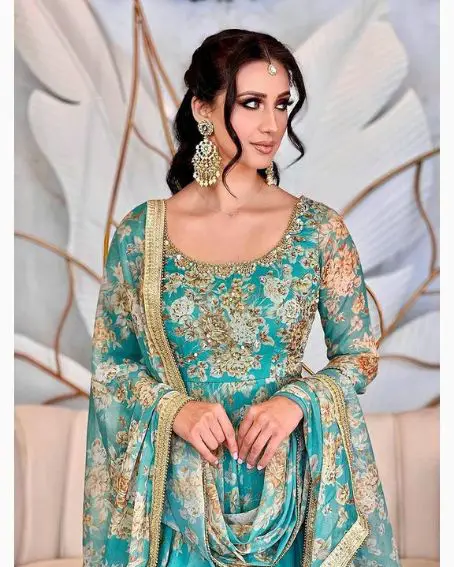 This universal neck design suits all types of women, whatever their facial shape or body type. If the outfit is two-toned, the round kurta neck pattern is bordered with a golden chemki borderline which increases the beauty of the neck design.
5. Kurtis Front Round Neck Design with a Small Circle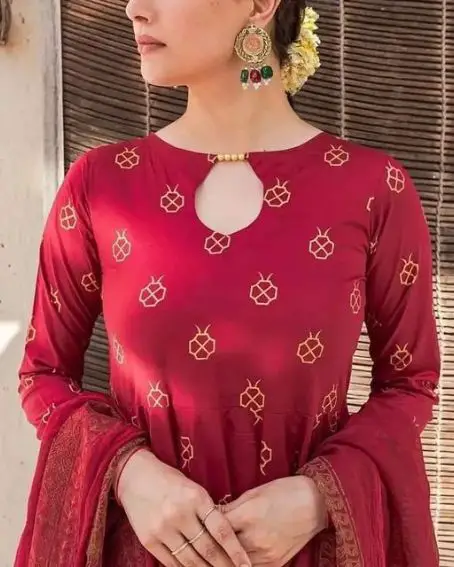 Try this type of front neck design with a round neck and a small circle joined with beads, which looks lovely in golden color. This type of front neck design will come with a high and round neck, which looks perfect on you for occasions and parties.
6. Front Neck Kurti with Frilled Round Neck Pattern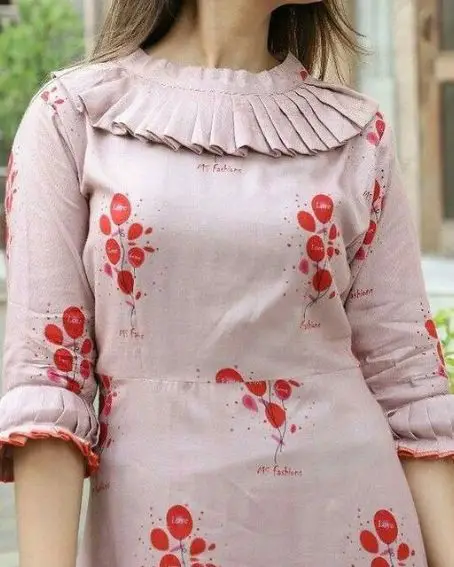 A kurti with a frilled collar is sure to make a fashionable which adds a touch of comfort and charm to your kurti, allowing you to express your unique style and personality. This unique round neck with frills should be in your wardrobe.
7. Front Neck Hole Kurti with Side Drop Shape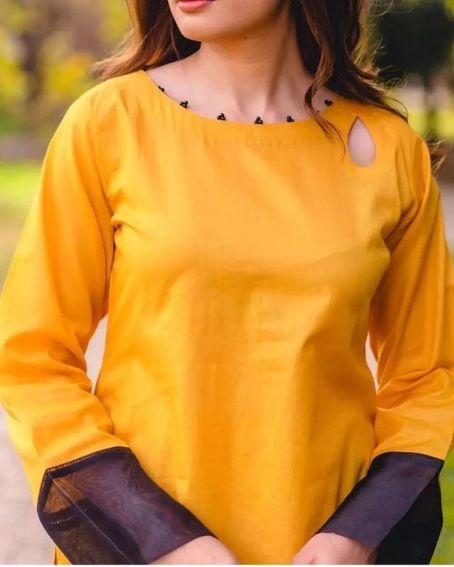 This is a wonderful front neck design with a side drop shape hole and a round neck. This neck design looks great with kurtis and jeans or leggings, and since the neck has a black beads borderline, you may use it with a black bottom.
8. Wonderfull Zig Zag Cut Open Kurtis Front Neck Design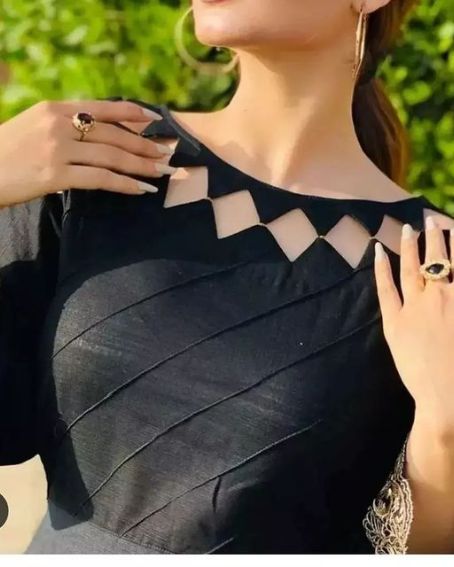 This is the best kurti pattern, with a stunning zig zag cut open front neck design. This design features two zig-zag layers connected by single beads that appear stylish and magnificent. Try this neck design to brighten your day.
9. V Shape Cloud Pattern Kurti Front Neck Design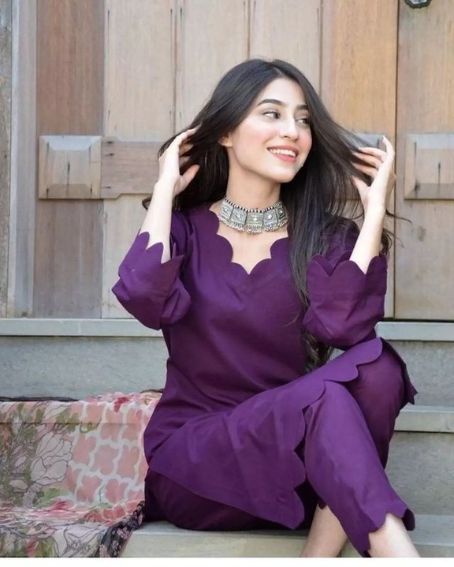 If you are bored of the usual v shape neck design, try this v shaped front neck design with a cloud pattern, which will make you look unique while also showing creativity. We have a wide range of front neck designs to choose from, so why not try this cloud front neck design for your kurti?
10. Big Collar Front Neck Design for Kurti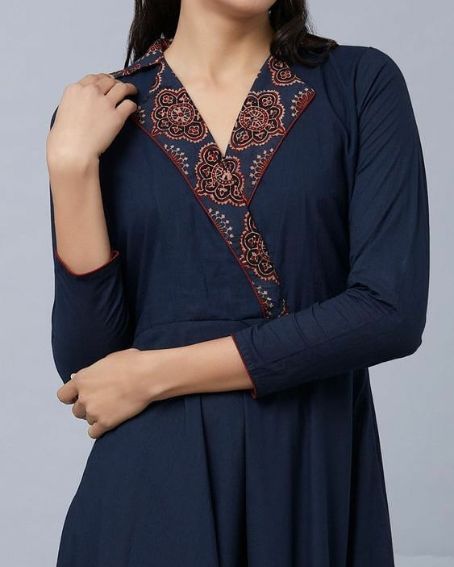 Try this amazing kurti front neck design with a collar to make a trendy and attracting kurti. This collar neck style is large and extends to one side through the hip. This variety neck design looks good for everyone and makes them look stunning.
11. Fashion Kurti with Front Boat Neck and a Side Keyhole Design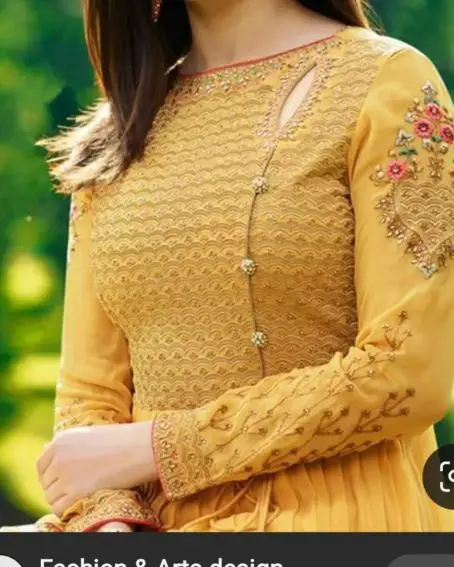 12. Kurti with Round and High Neck Collar Front Neck Design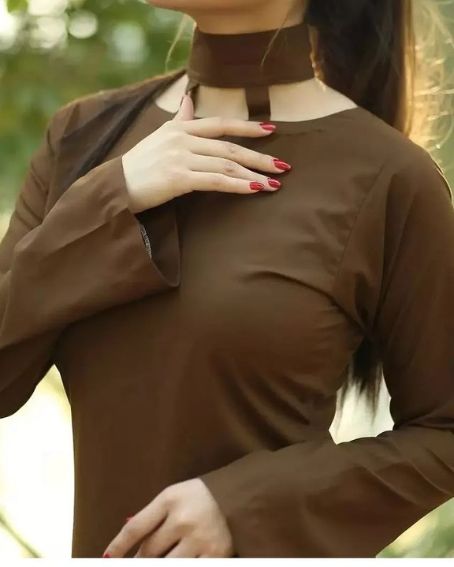 13. Red Kurthi with Simple Square Front Neck Design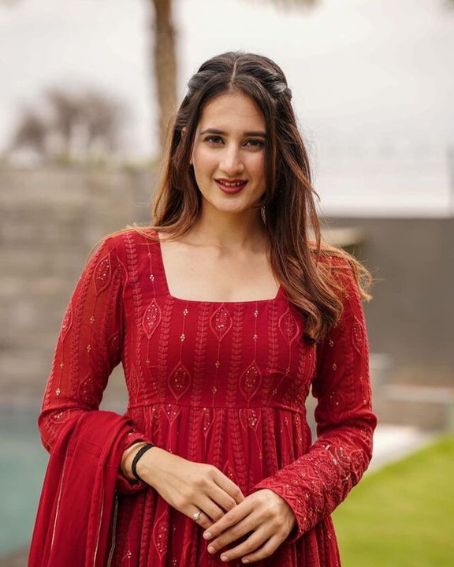 14. Beautiful Front Neck Design for Kurti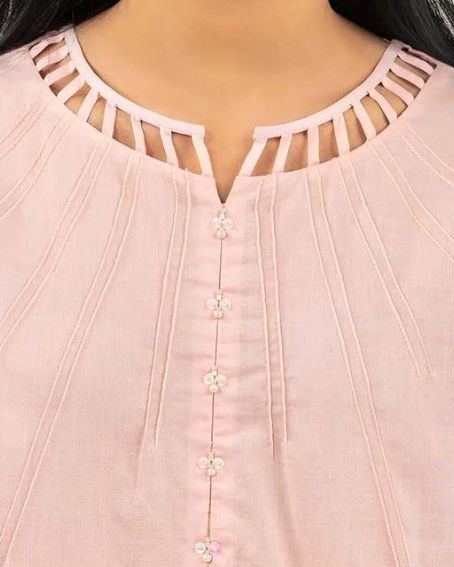 15. Astonishing Kurti Front Design with a Keyhole and Dori Attached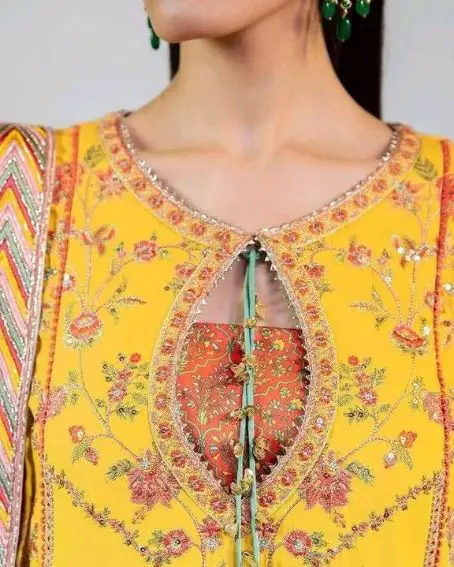 16. Unique Front Neck Design with Lace Border for Kurti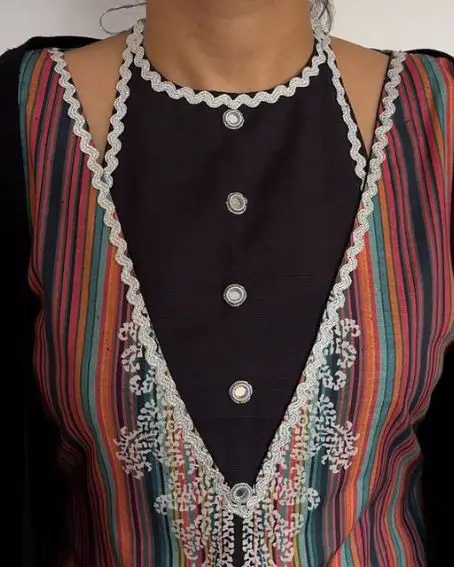 17. Kurti with Separate Straps Inside a Square Shape Front Neck Design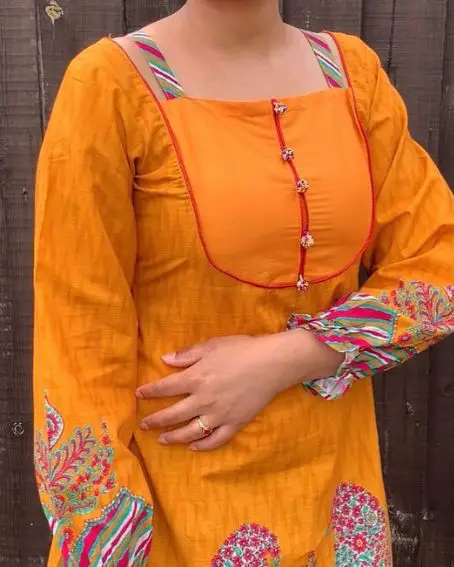 18. Kurti Front Neck Design with Rectangle Hole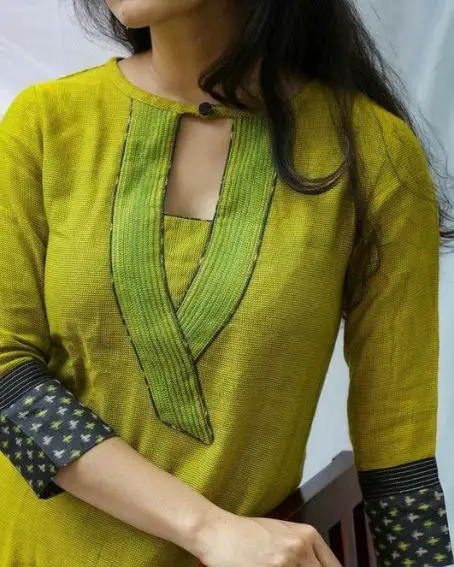 19. Turquoise Kurti with Netted Fabric Front Neck Design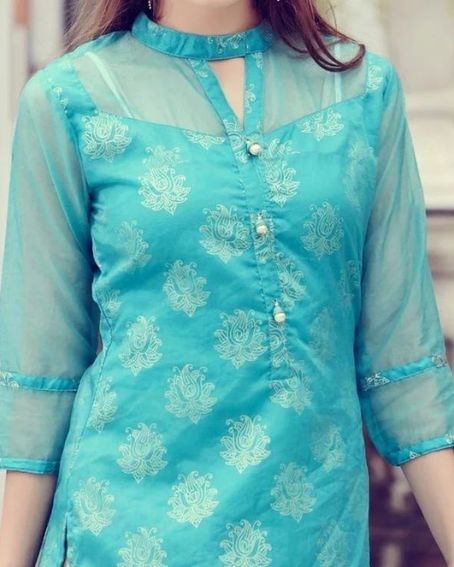 20. Stunning Mandarin Collar Kurti with Lace Border Front Neck Design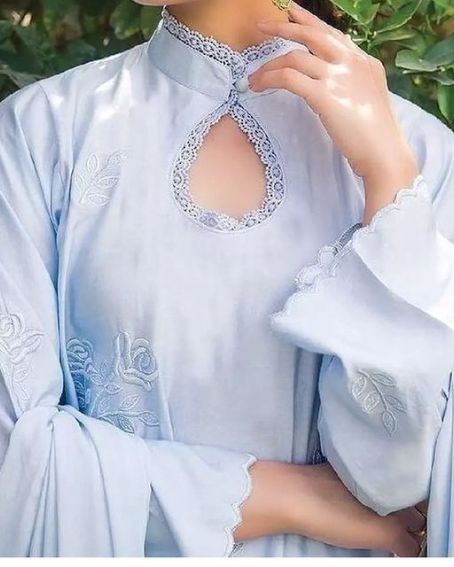 Conclusion
The front neck design of a kurti plays a crucial role in defining its overall look and style.Fashion is about expressing yourself and being satisfied in what you wear. So, feel free to experiment, mix and match, and create your own signature style. Whether you opt for a traditional round neck, a contemporary V-neck, or an ornate keyhole design, the front neck design of your kurti should make you feel beautiful and comfortable.
Related Articles