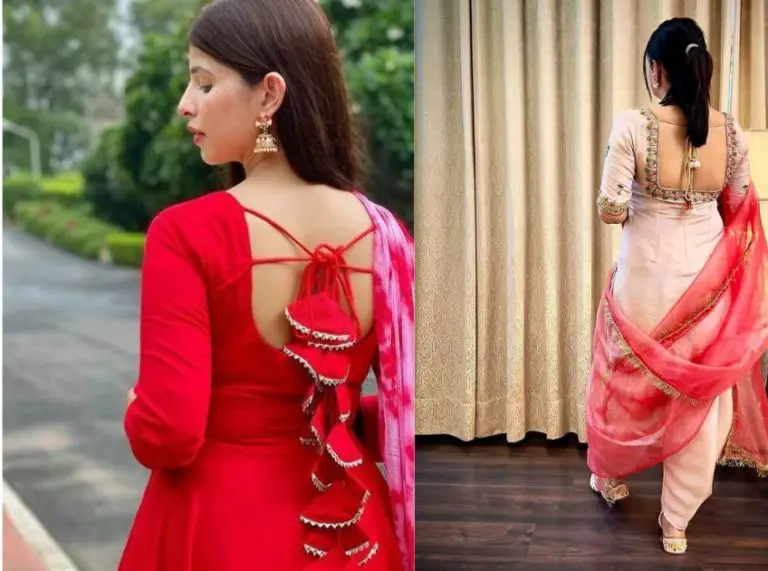 When it comes to creating a stylish and charming kurti, the back neck design plays a significant role. It provides an opportunity to showcase creativity and add a touch of elegance to the garment. You can surely dress up your Kurtis and salwar suits by creating fashionable back-neck designs
In this article, we acquired the most recent back neckline designs for women to try on with their kurtis. You may easily modify your kurtis by creating stylish and trendy back necklines.
20 Amazing Back Neck Designs For Kurti
1. Kurti Back Neck Design in Pot Shape with Hanging Tassels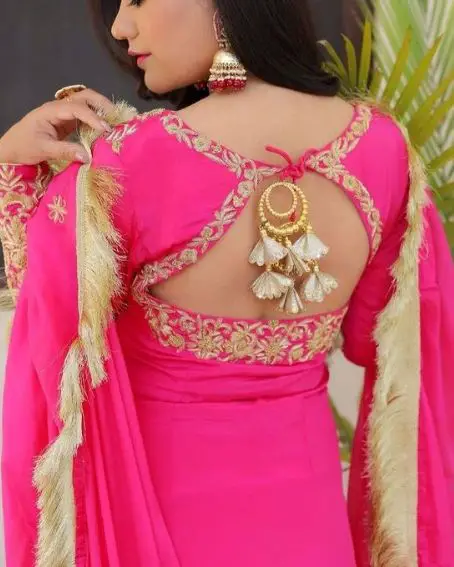 This is the best idea for having a pot-shaped back neck design for a kurti. This design comes with a tassel hanging in the open cut which looks classy and elegant along with an embroidery border line. Try this back neck design which enhances your day.
2. Deep Cut-Back Neck Design Attached with Netted Fabric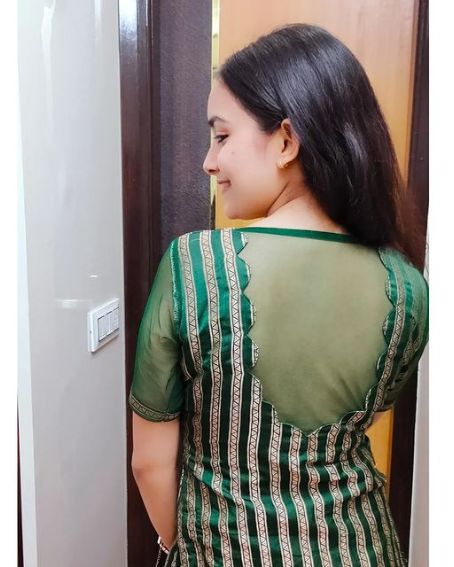 A deep cut-back neck design attached with netted fabric can create a stunning and alluring look for a kurti. This combination of a deep cut and netted fabric adds an element of passion and coolness to the kurti.
3. Drop-Shaped Back Neck Design with Lace Border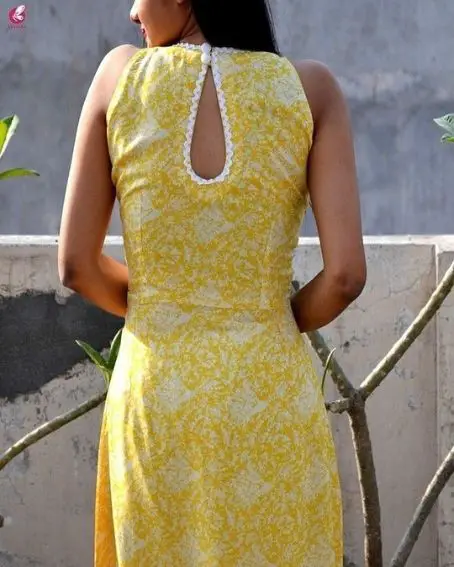 This drop shape back neck design is perfect for those who wish to keep things simple yet attractive. For a kurti with a back neck design like this, choose a higher neck design in the front and use stylish buttons for closing depending on your comfort levels.
4. Square Cut-Back Neck Design Decorated with Embroidery Border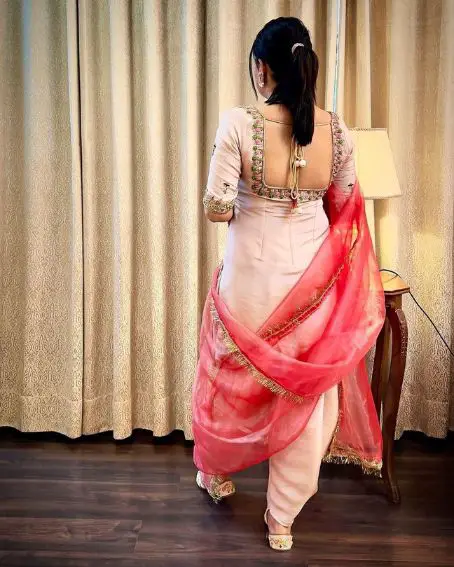 Dori tie-pushups are popular as well as in the back neck design of traditional kurtis, but also for front neck design. If you are bored of the same old Dori back neck design, try this simple variation, with a square cut and embroidery border.
5. Backless Neck Design for Kurti with a Tie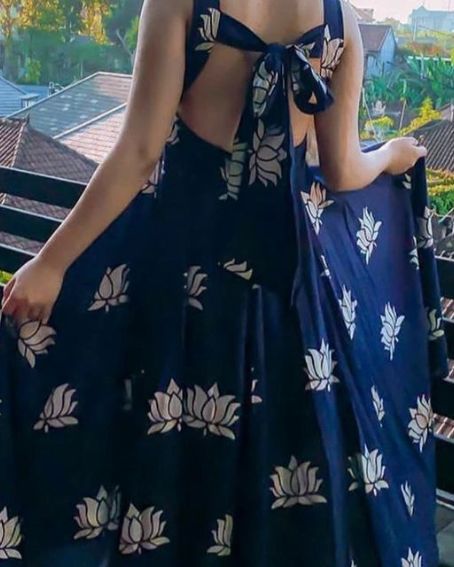 Try the strap tie-up back design, which looks like a lovely bow when tied. Super simple, but not without effect. If you don't mind having deeper backs, this is a must-try this open deep back neck design for your kurti.
6. Awesome Red Kurti with Latkans Back Neck Design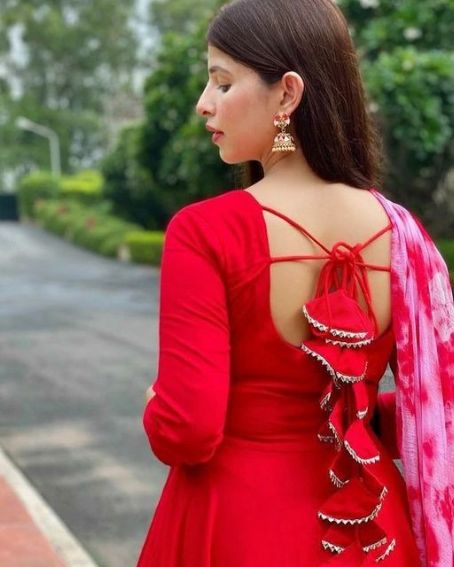 This is a stunning red kurti with a beautiful back neck design with latkans connected to the ribbon. It is a deep U shape back neck design that is simple in creating and looks fantastic. These back neck designs are great for party wear clothing and even kurtis.
7. Beautiful Lace Covered Back Neck Design for Kurti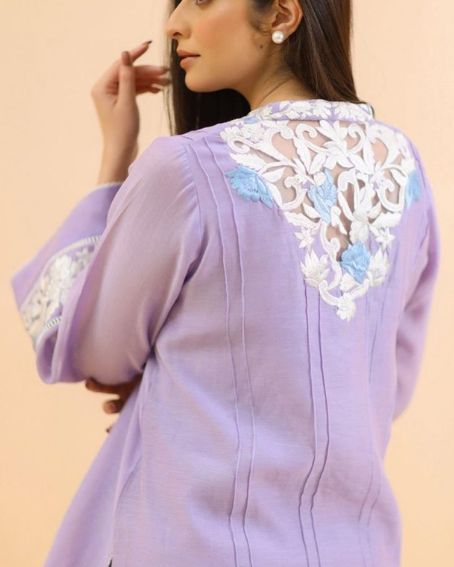 This is yet another back neck design with lace fabric and thread embroidery, a deep V cut that is embellished with embroidery lace fabric and white thread work with a color neck design. The design is both gorgeous and innovative. You should try this design.
8. Layered Circles Kurti Back Neck Design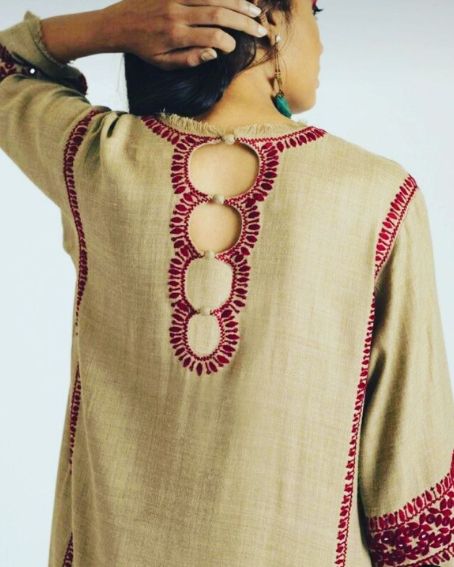 Try Instead of one, go for two or three circle cuts at the back and wrap up with a button closure. These stunning and stylish back neck designs completely change the size of the circular cut to fit your comfort level.
9. Amazing Cut Open Design with Zip Opening Back Neck Design for Kurti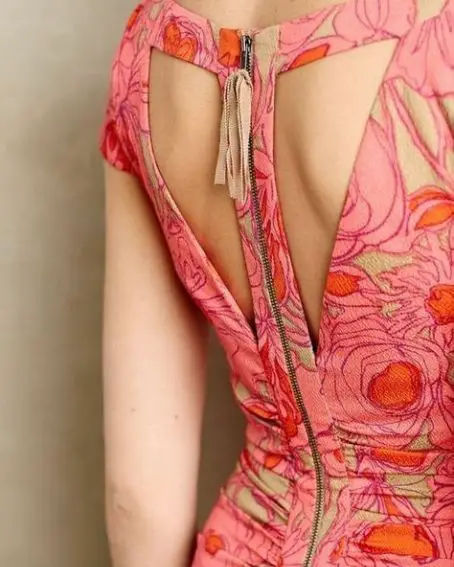 This is an awesome back neck shape with two triangle cuts and with zip lock. It is amazing and looks beautiful. It's just a beautiful kind of innovation that makes you look superb with this new trendy back neck design.
10. Lotus Cut Open Back Neck Design for Kurti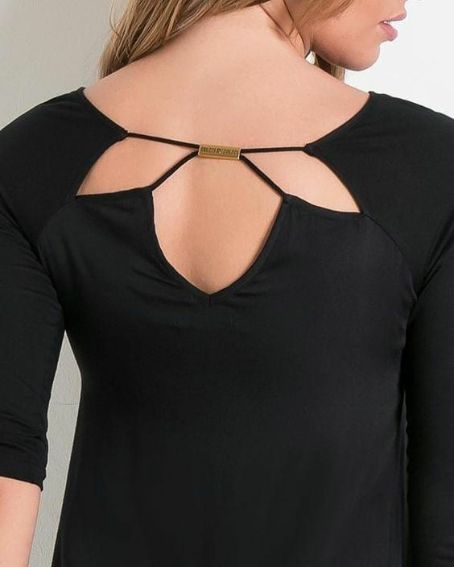 This lotus shapes open-back neck design is quite big and perfect for an amazing party look. You can wear it with either elaborately decorated salwar suits or plain kurtis to draw all attention to yourself.
11. Designer Kurti with Thread Work Back Neck Design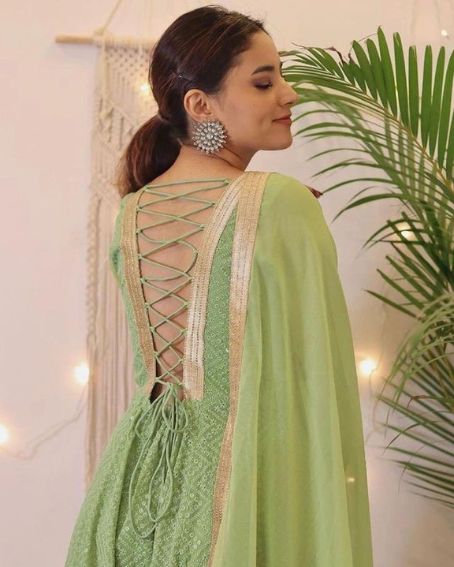 12. Simple Cut Open Kurti Back Neck Design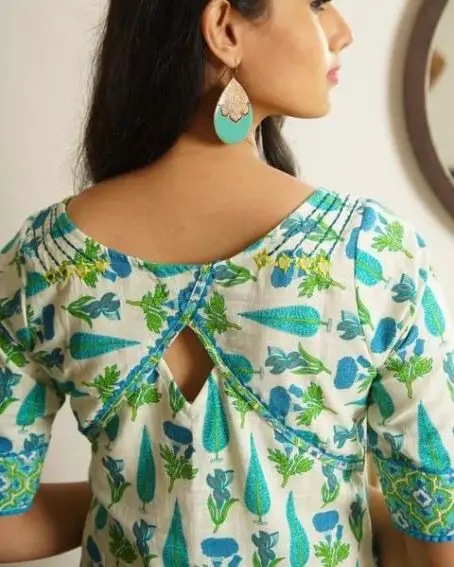 13. Deep V-Cut Neck Design for Kurti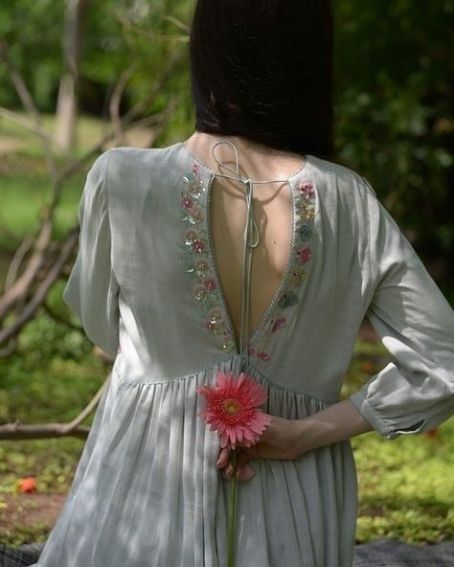 14. Triangle Cut Kurti Back Neck Design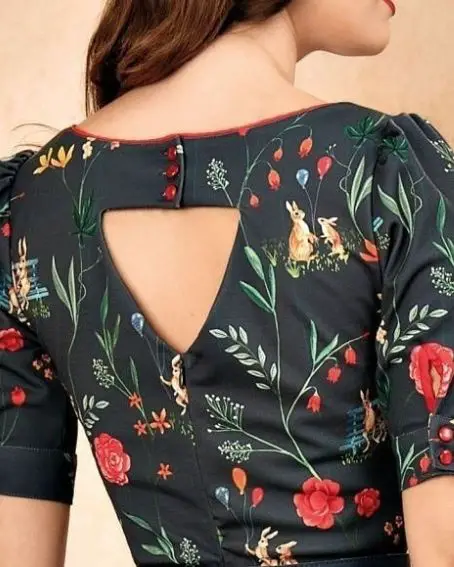 15. Beautiful Back Neck Design with Embroidery Border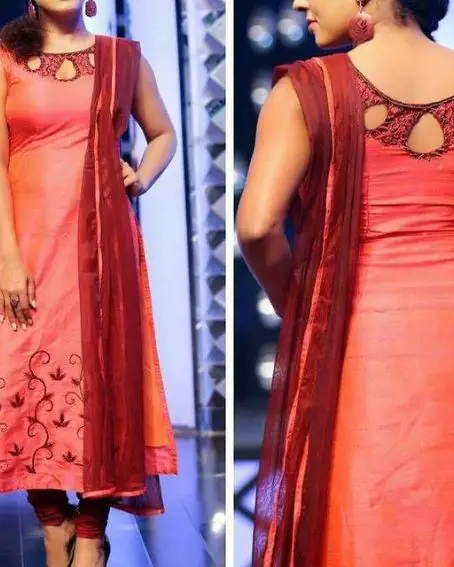 16. Amazing Back Neck Design Decorated with Stones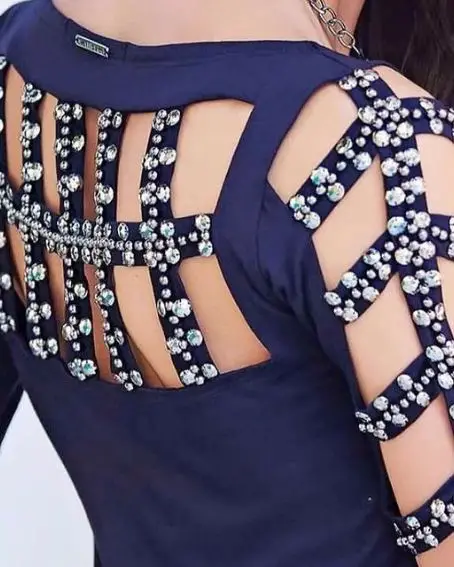 17. Wonderful Back Neck Design with Hangings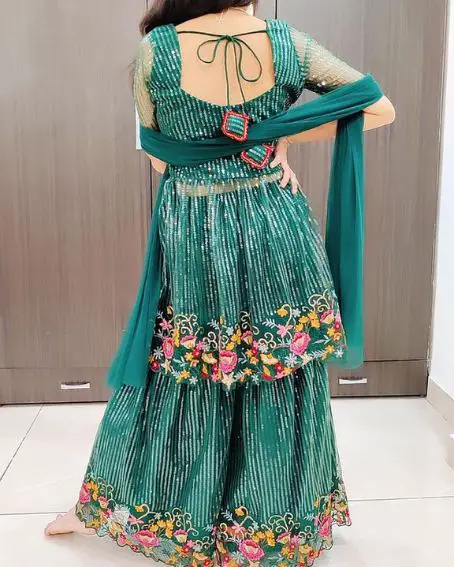 18. Diamond Shape Kurti Back Neck Design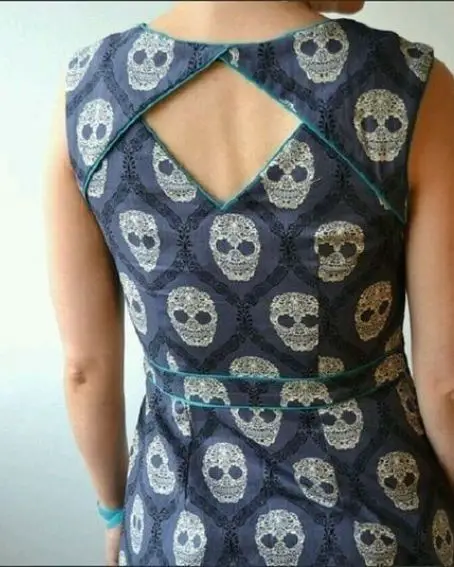 19. Multi-Layered Tasseled Deep Back Neck Design for Kurti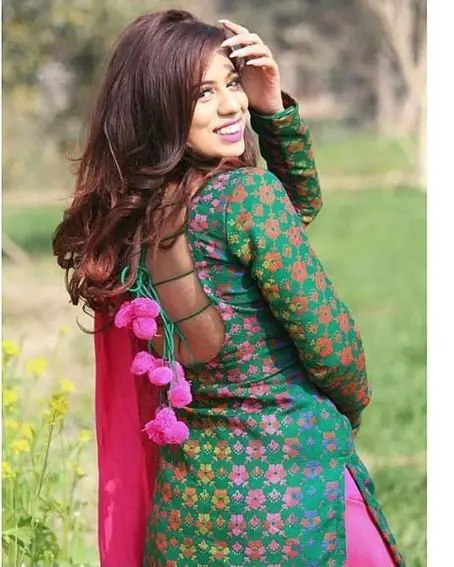 20. Back Neck Design with Golden Embroidery and Hanging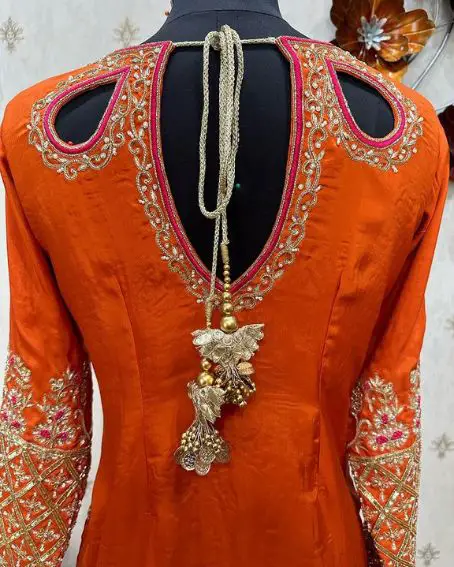 Conclusion
When selecting a back-neck design for a kurti, it is important to consider some factors such as body shape, comfort, occasion, and personal style. By choosing a design that flatters your body shape and aligns with your fashion preferences, you can create a kurti that truly reflects your personality and makes a fashion statement. With the right back neck design, a kurti can become a stylish and elegant kurti that adds charm and sophistication to any wardrobe.
Related Articles