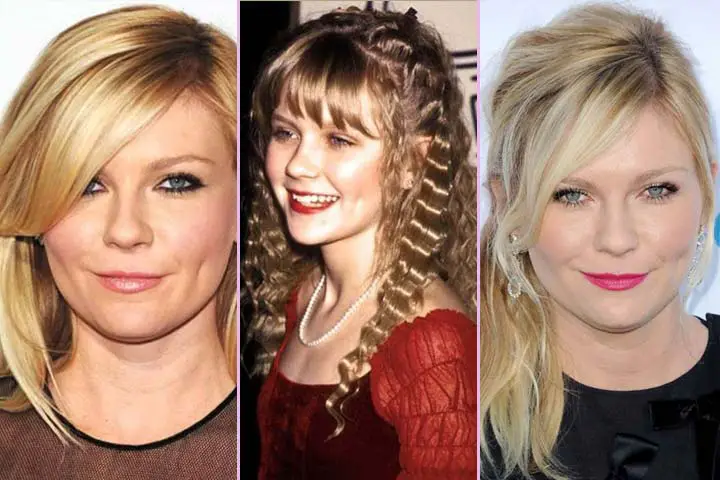 Few actresses like Kirsten Dunst have gained as much attention at an early age and also maintained their careers so well. She has created so many roles and attained huge popularity among fans. Usually, celebrity has the power to influence beauty as well as a fashion trend, especially with their hairstyle. For the last few decades, some iconic celebrity haircuts and styles are giving a grandeur look. Kirsten Dunst is not an exceptional one and she is no stranger to switching her hair to different styles. 
Kirsten Dunst is one of the celebrities to transform her look every season. No matter the change, it always leaves everyone to talk about it. Biggest celebrities and their awesome hairstyles dominated headlines over the past few years. Kirsten Dunst is on this list and keeps reading to know some beautiful hairstyles of this cute actress.
Top 20 Kirsten Dunst Hairstyles & Haircuts
1. Feather Cut Short Side Bangs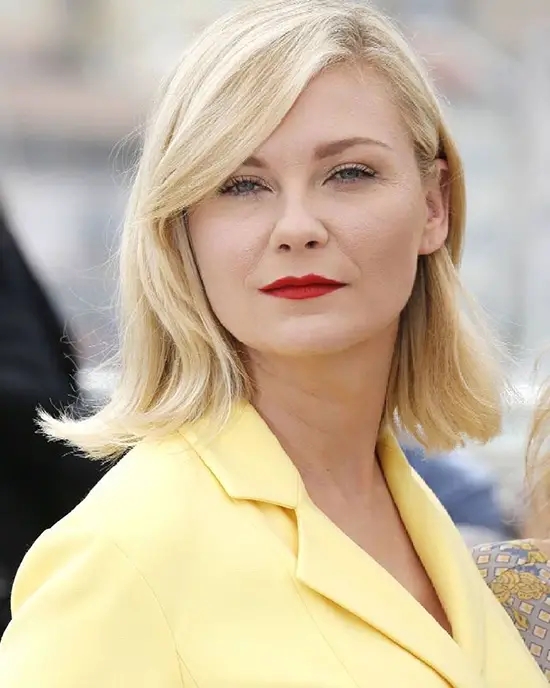 Kirsten Dunst is an icon and most people know that she has an excellent hairstyle that you can enjoy as well. Diamond face-shaped Kirsten Dunst has a feather-cut short side bangs style which helps her to have an ideal style.
2. Side Parted Short Haircut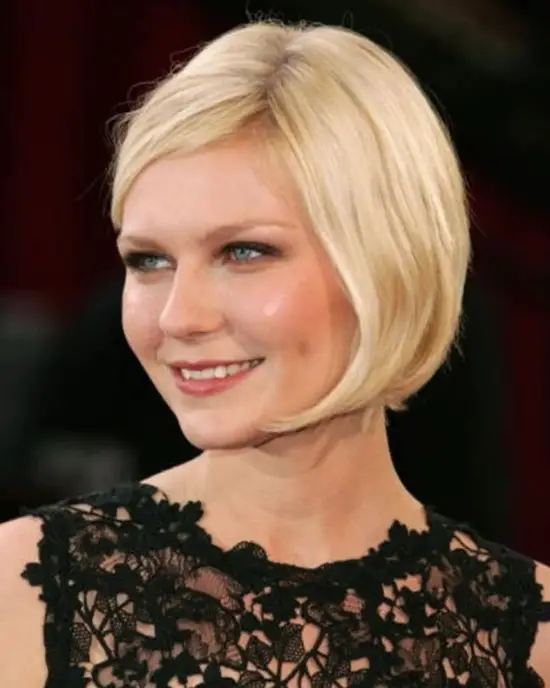 This simple yet trendy side-parted short haircut is so gorgeous and it fits Kirsten Dunst very perfectly. For a pretty feminine look, this is the best choice.
3. Pretty Braided Bun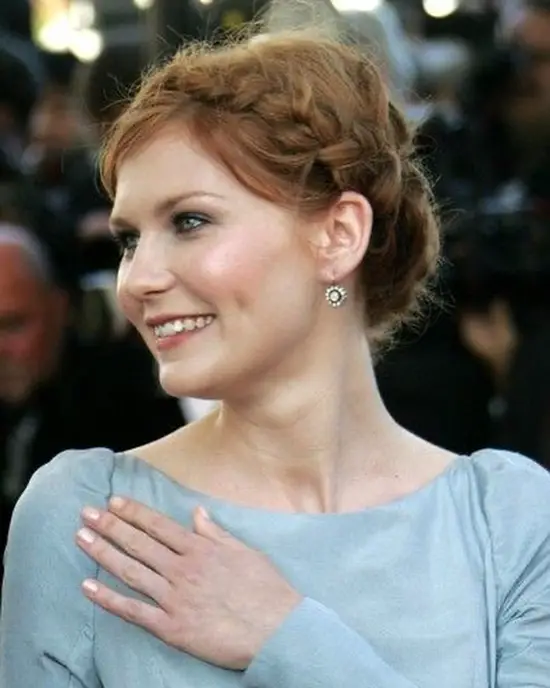 Kirsten Dunst's braided bun is super chic. The thick braid with a twiggy twist on the crown is really ravishing. She looks so good and spirited in this fantastic hairstyle. You can also try this hairdo for any event.
4. Sassy Mid-length Bob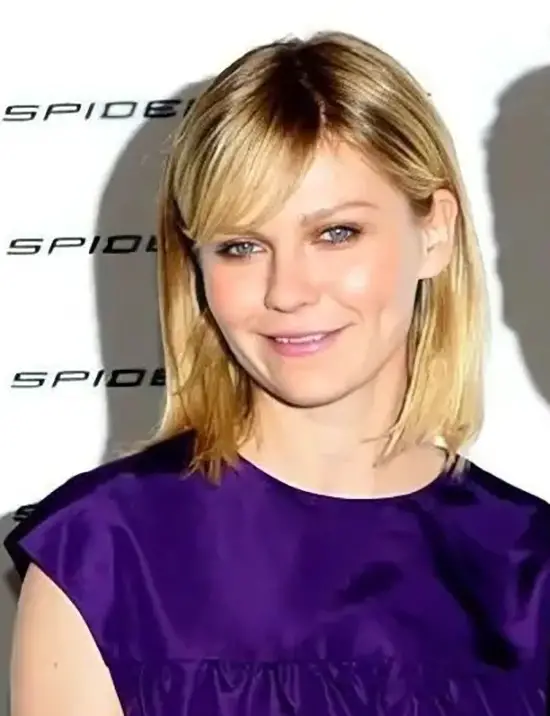 A sassy mid-length bob is an all-time favorite hairstyle that adds elegance along with youthful to Kirsten Dunst. Her hair shade matches the skin tone and she looks rocking in this particular hairstyle.
5. Side Bang Bob Hairstyle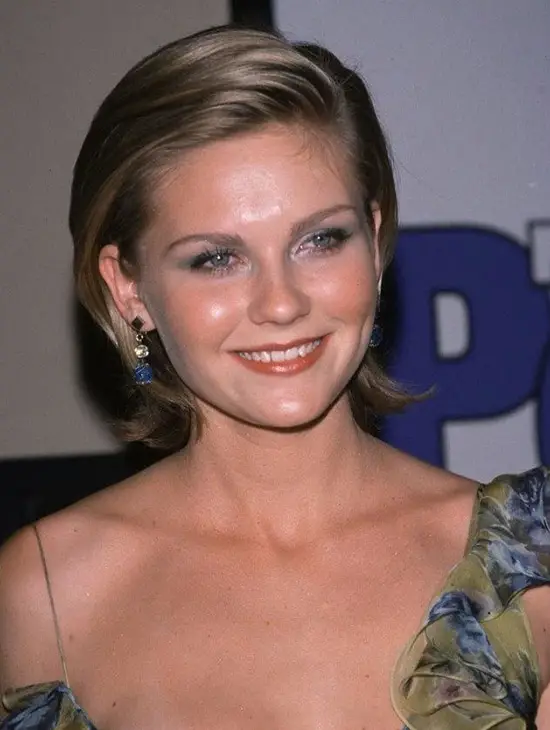 How gorgeous Kirsten Dunst is with a side bang bob hairstyle. This style with the floral outfit is so romantic and gorgeous for her, it is a good option for a wedding or gathering. Women who need to get a stylish look for an occasion then must try it at least once.
6. Shoulder Length Curls With Bangs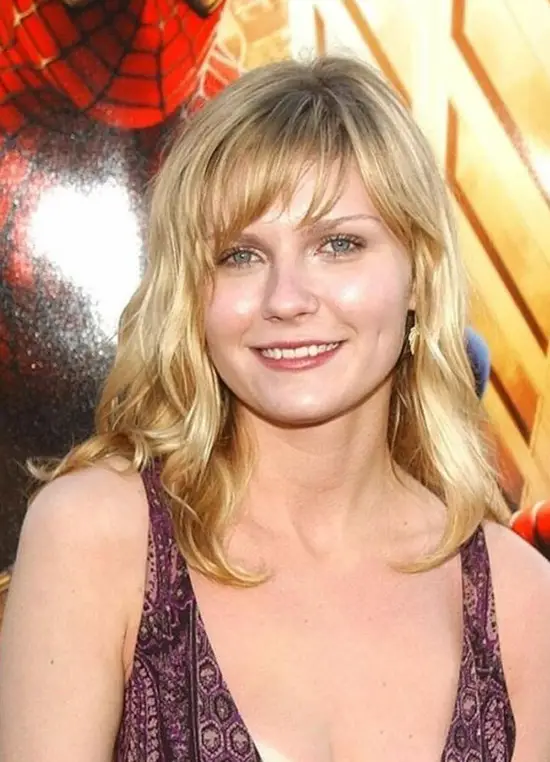 Shoulder-length curls bang is so chic haircut for girls with medium hair. Centre parted shoulder-length curls work well for Kirsten Dunst and they created a stylish look for her.
7. Blonde Messy Haircut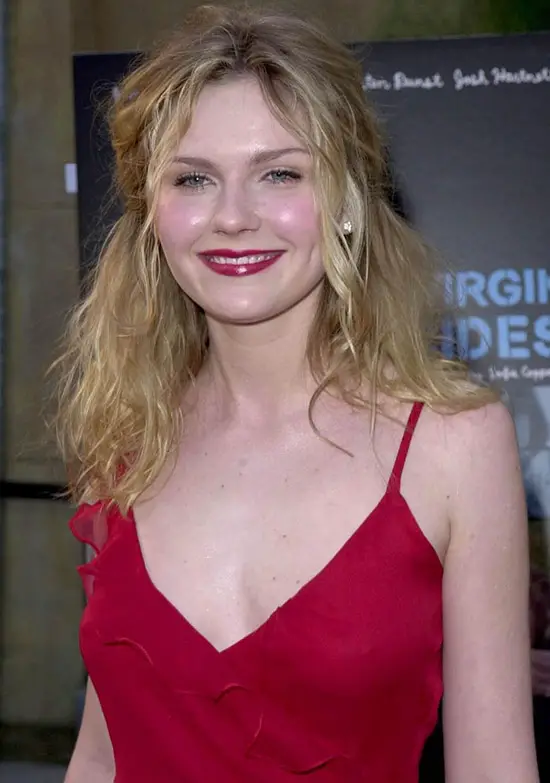 Blonde messy hair is said to be an all-time favorite hairstyle for so many reasons. Actress Kirsten Dunst looks graceful and ethereal with her intricately blonde messy hairstyle. Elevating the fantastic style with impeccable makeup, she looked ravishing while keeping her overall appearance natural and fresh
8. Blonde Side-faced Ponytail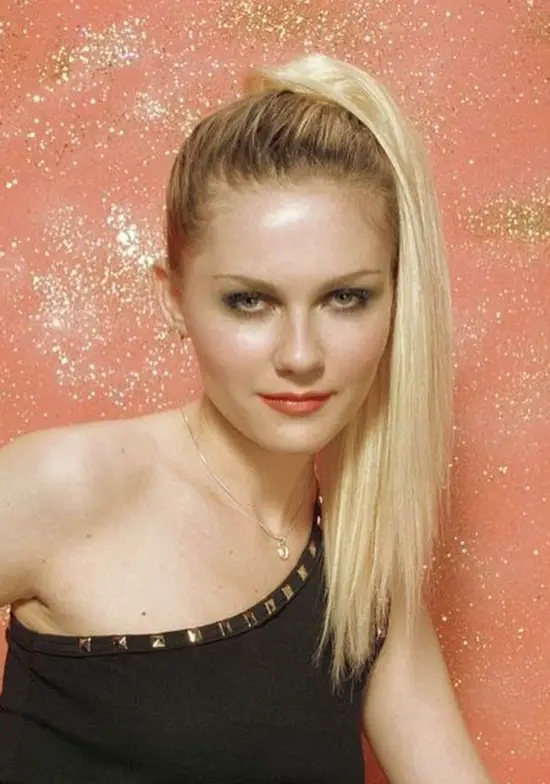 Kirsten Dunst embraces her diamond-shaped face by wearing a blonde side-faced Ponytail and it gives her a softer look. This look-up with a black dress is very good to go. It is a timeless feminine hairdo, you can never go wrong with this hairstyle. This looks pretty even the hair in a high ponytail.
9. Braided Bun With Bang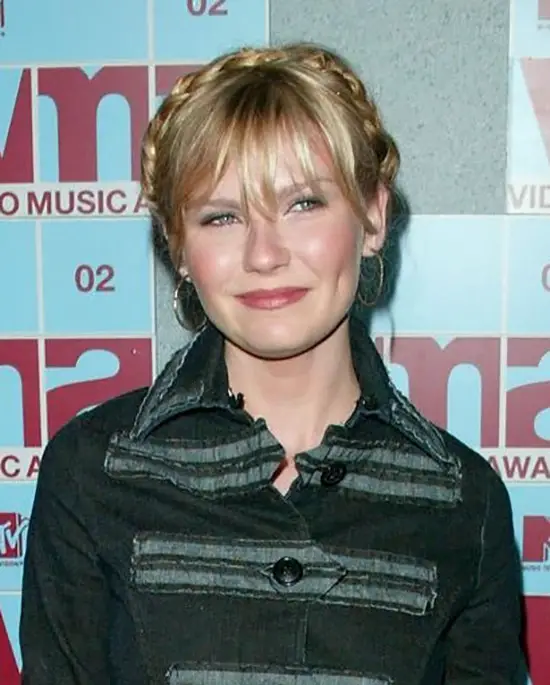 New natural braided with bang Hairstyle bestows Kirsten Dunst a stylish look and made her so special. This hairstyle is very nice and suitable for all events. It will help to reshape the face, so if you get a chance to get this style don't miss out chance.
10. Messy Updo Hairstyle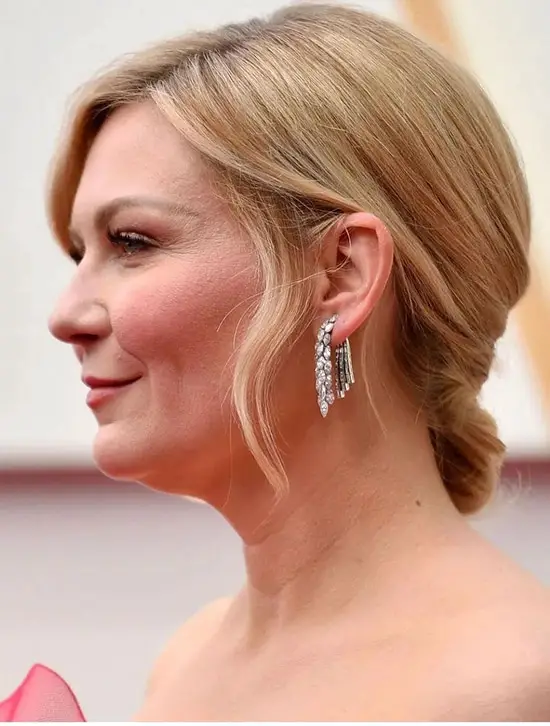 Kristen Dunst is always on trend and wears her messy updo hairstyle. This style elongates her face rather than focusing on her chin and cheeks. It looks effortless but we'll structure one and this look is very perfect for a bride or bridesmaid. You could definitely have this style for any special occasion.
11. Bob With Bangs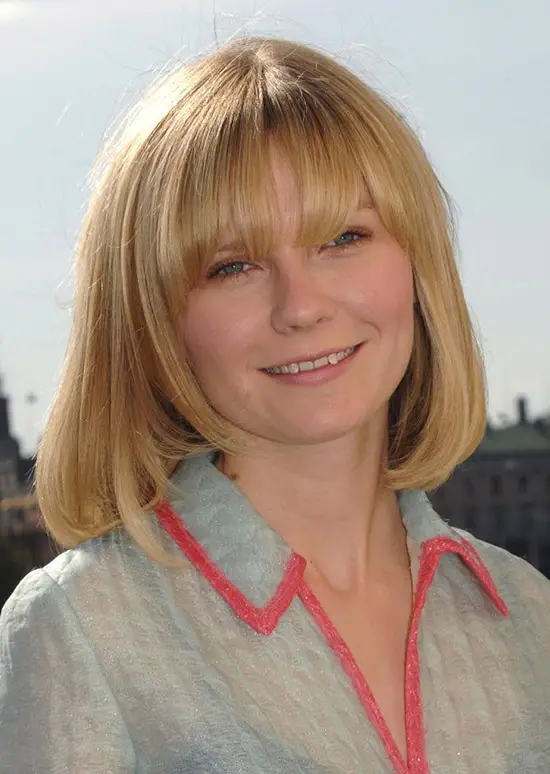 Bob with bangs hairstyle can flatter almost any type of face shape. So it also suits Kristen Dunst very well. Texture and layers really make this a fantastic medium bob. Her casual look with a simple hairstyle matches her grey attire in a great way
12. Long Side Parted Hairstyle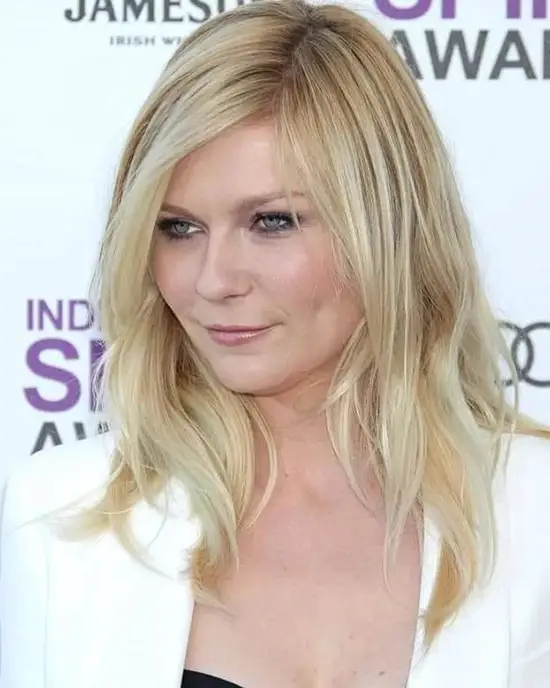 Kirsten Dunst is sharing such a cute and fun long-side parted hairstyle that is very superb for almost all occasions. If you are a stylish woman who always likes to have a long hairstyle, you may take a look at this hairstyle. This style makes the ordinary haircut outstanding with a chic vibe.
13. Chic Side Parted Medium Haircut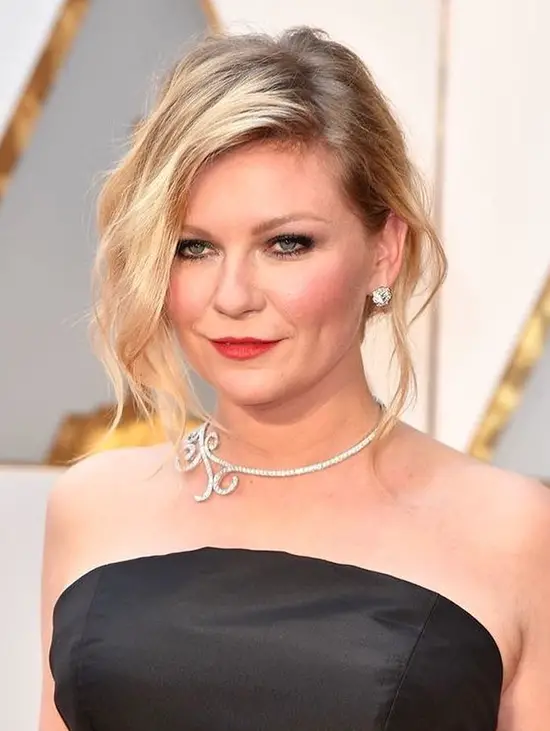 Kirsten Dunst looks magnificent with this side-parted medium haircut. If you have strong cheekbones as well as a bone structure like her, this side part will compliment you more perfectly. The ends have been given an asymmetric chop which is very beautiful with her black outfit and stones necklace.
14. Short Messy Haircut With Bang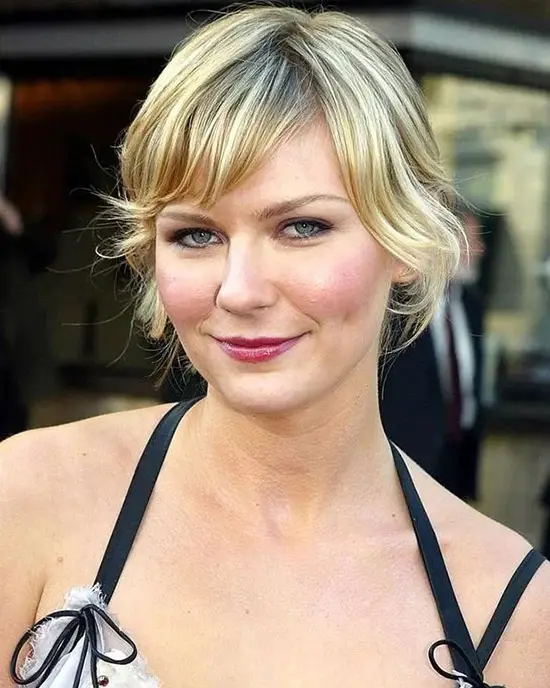 Kirsten is showing a great casual hairstyle that most women love it. This short messy haircut with bang style is very easy to do and even the short hair makes the style easy to manage. In this style, she looks so adorable in black and white combo attire.
15. Long Straight Side Swept Bang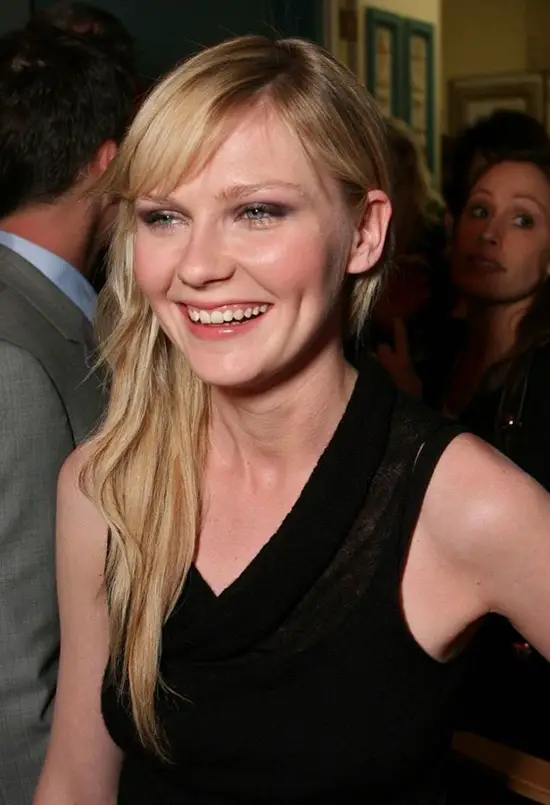 It is true that Kristen Dunst always looks stunning with her long straight side swept bang. The bangs are swept across the forehead in order to soften the face as well as complete the overall look outstandingly.
16. Polished Long Curls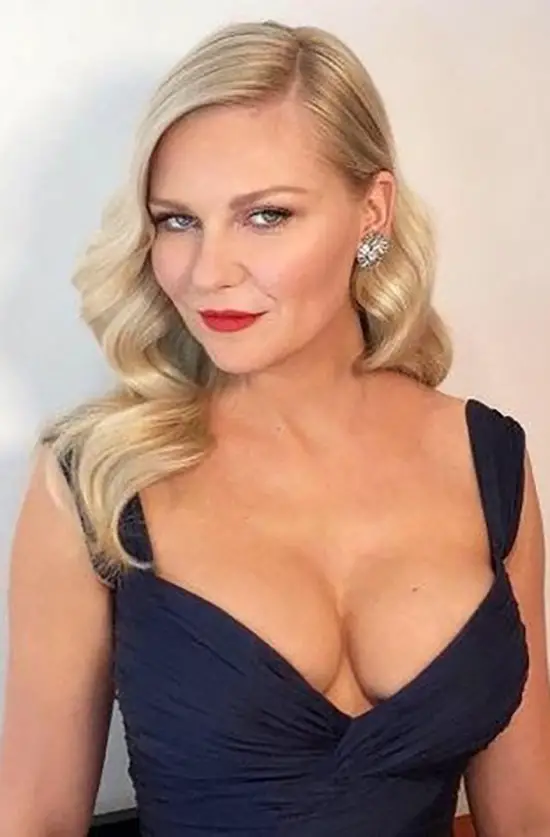 Kirsten Dunst looks amazing here in polished long curls. This hairstyle is ideal for her good hair type. She mostly chooses blond shades and icy white colors for her hair. She well understood her hair and pick the style which suits her personality. A long curl around her face adds definition as it elongates along with slims her diamond-shaped face.
17. Lightest Blonde Hairstyle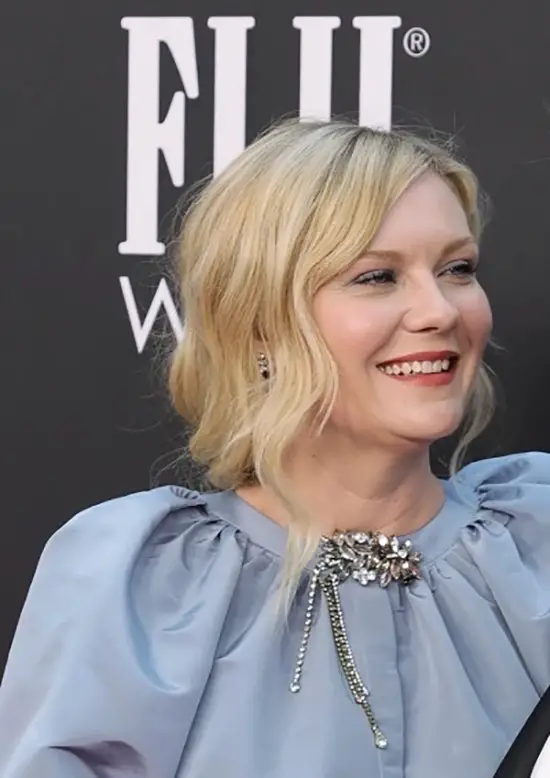 Getting smooth as well as simple is said to be the main aim of this hairstyle. Kristen Dunst lightest blonde style is parted on the side and also left out showing off the waves added to the mid-lengths to ends. This classic style is easy to recreate with the help of hot rollers and requires little products for hold and shine
18. Side Parted Messy Hairstyle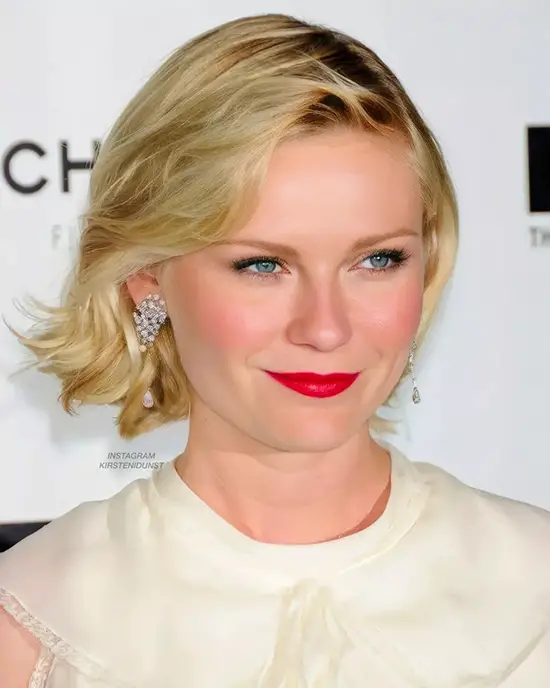 Kirsten Dunst's side-parted messy hairstyle is chic and sexy, at the same time bestowing fresh and playful vibes. There is something about this messy style trend with a pure white dress that gives irresistible charm to her.
19. Long Wavy Hairstyle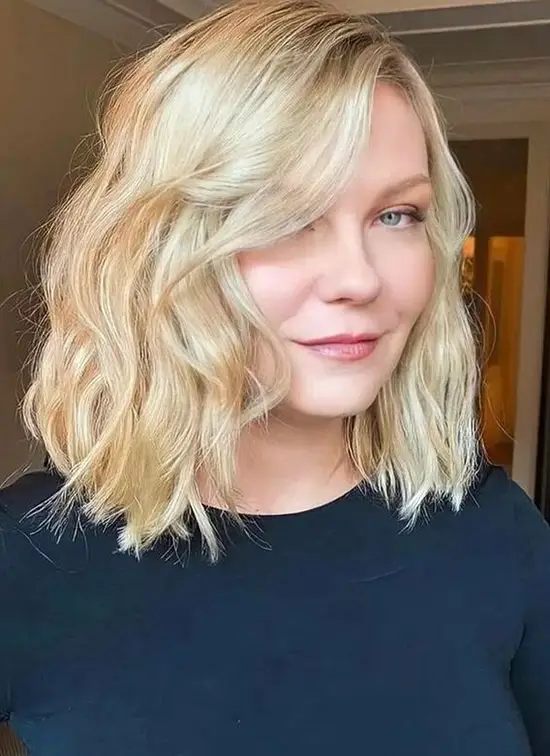 A long wavy hairstyle is a casual look best for those who want a style that needs low maintenance. The length falls near to the shoulder with subtle layers cut via the edges for a weightless finish. She has long side swept bangs that compliment the face and also finished this look wonderfully. 
20. Medium Wavy Light Blonde Hairstyle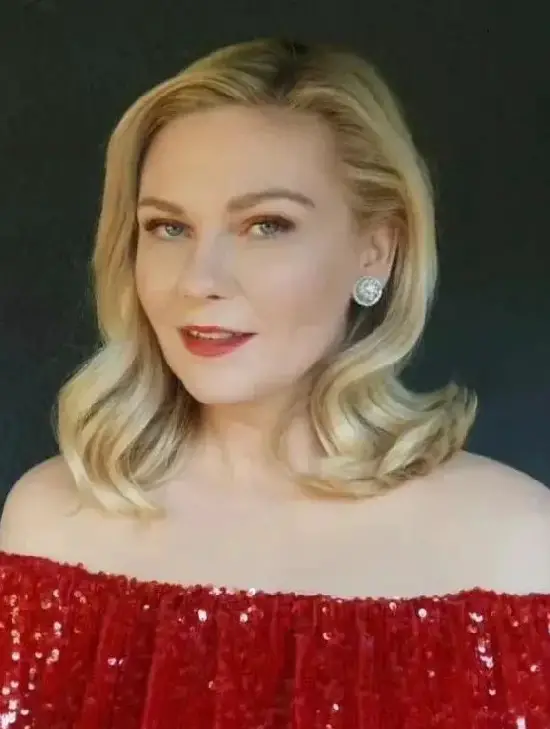 Kirsten Dunst's medium wavy light blonde hairstyle is really a fantastic one that any fashionable women need to have a try. Just look how beautiful she is with this hairstyle. You cannot change the face shape but can make it appear elongated or thinner by selecting the right hairstyle. Medium wavy style with a red glittering outfit gives Kirsten a nice-looking appearance.
You Might Also Like: