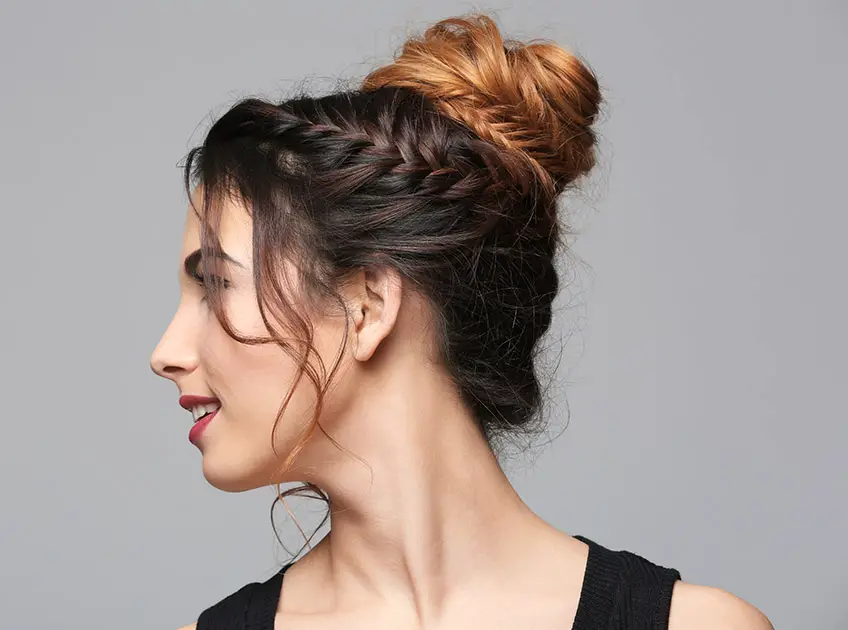 When you have short hair, you may know that hairstyle options are low compared to long hair. Just because your strands are short, don't think you cannot have any beautiful hairstyles. If your hair falls above the ears, don't worry, you can get some cool styles like knotless braids, even if your hair is very tough to put ponytail. But you have seen, that most knotless braid hair looks done with long hair. Truth is, it is also suitable for those whose strands sit only shoulder length and above. Best and some knotless braids on short hair are given below.
Are Knotless Braids Better For Short Hair?
Knotless braids are said to be box braids variations that are pain-free as well as cause less tension in the scalp. Short knotless braids will be long lasting for 6 weeks and it purely depends on how well you maintain them. With all braided hairstyles, your hair textures, as well as maintenance, go a long way and it determines how long you can keep them. If you have short hair or hate hairstyles that cause tension to the scalp, then knotless braids will do better for you. This hairstyle can take nearly 5 to 6 hours and it depends on the length and size of the hair.
Some Pros And Cons Of Knotless Braids For Short Hair
Every hairstyle has certain pros and cons, knotless braids for short hair are not an exception, but it has also had some. They are as follows
Pros
The lack of a knot makes the knotless braids pain-free compared to traditional box braids, in which knots are very tight so it gives a more painful
Knotless box braids will not cause any tension in the scalp
This hairstyle is neater and gives a more natural look
It is long- laster than box braids
Short Knotless braids are lightweight because it is not very bulky.
Cons
Take more time than box braids
More expensive than traditional box braids
Few Knotless Braids Hairstyles On Short Hair
You may be interested to know everything about knotless braids on short hair, for you a few hairstyles are given below that look great on you
DINO Braid: If you have short hair, it can be a tricky one to secure all the hair into a single plait, but it doesn't limit the options. Dino Braid is one of the best choices. Featuring a Dutch braid style running down the center of the head and it makes a beautiful look that helps you to get ready as easily.
Messy Mini Ponytail Braid: When you have a lob or bob hairstyle, a ponytail is still an adorable one. It looks super-cute on the length especially when you add fun short knotless braids.
Half-Up Box Braid Bun: Short hair knotless braid already has its own unique style and adding with Half-Up bun gives you an extra pretty look to the appearance of your hair. To do this style, separate the box braids into two even sections and ensure that the top half is quite smaller than the bottom half. Gather the top section into the ponytail and secure with a hair elastic. Wrap the length of the ponytail around the base to form a bun type. You may use Bobby pins to safeguard stray braids.
Straight Back Cornrows: If you want an elegant look, then pick up straight back cornrows style. It is very easy to style and also easier to maintain, this is why straight-back cornrows are very popular.
Half-up Box Braid Ponytail: Whether you want to go for a swanky event or any party, a short knotless Help-up Box Braid Ponytail will complete your black attire perfectly.
Half-Up Braided Top Knot: Looking to show off the length as well as tie up the tresses? The Half-Up Braided Top Knot gives a look just what you need. This classic style renders you undeniable chic from morning to night with ease.
Swooped Bangs With A Side Braid: Short Knotless Braids style is considered a major trend nowadays. This hairstyle is very perfect for the person who loves feminine as well as playful looks. To obtain this look, create a deep part and brush the hair for a chic swooped shape to one side. Next, gather the rest of the hair at the nape of the neck, then separate it into three sections and make a traditional plait. When you are about an inch from the ends, secure with a hair elastic. Lastly, place pearl clips down the length of your plait and now you got the amazing look.
Conclusion
Natural, feminine, beautiful short hair knotless braids are an excellent way to show off every girl's free spirit and creativity. Go for one that is perfect for you and get a wonderful look whenever you want.
You Might Also Like: