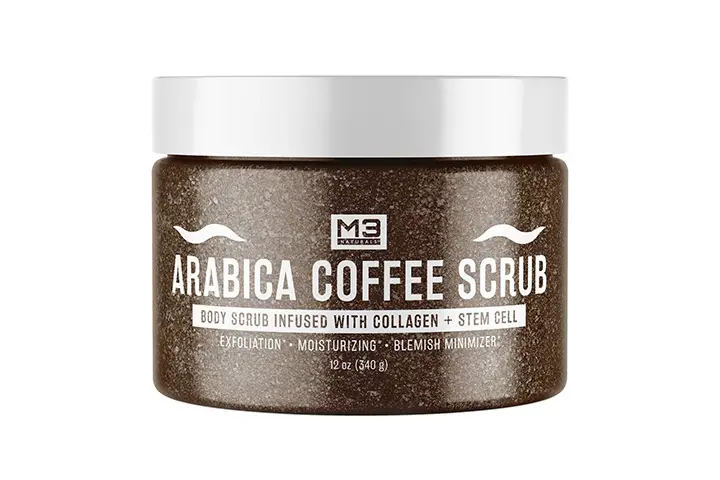 Scrub removes dead skin cells from the surface and smoothes and softens the skin's surface. It provides the best exfoliating experience for your face, body, hand and foot. Caffeine in coffee can help to dilute blood vessels and reduce the appearance of the dimples.
It takes away all the unwanted toxins and dead skin cells by scrubbing with natural coffee scrub. It helps in unclogging the pores to remove toxins and bring back your skin's natural glow.
M3 Naturals Arabica Coffee Scrub
How it Works:
The natural ingredients of this product are dead sea salt, shea butter, organic kona coffee, coffee arabica seed oil and sweet almond oil.
All this natural stuff makes your skin truly powerful and reduces the appearance of cellulite, black heads, eczema, wrinkles, finelines, dry spots and more.
Detox and polish your skin through the removal of unwanted toxins from your pores while adding moisture and balancing systemic pH.
The best coffee scrub and a top quality pore minimizer and makes your skin silky smooth and refreshed.
Pros:
Locks in essential moisture without clogging pores.
Help to restore smooth and soft skin.
Removes dirt, dead cells and toxins.
Non greasy formula.
Help to reduce the appearance of acne and stretch marks.
Cons:
If it dries it will be rash on the skin.
Rating: 4.5 out of 5
M3 naturals Arabica coffee body scrub gives the results like that you just come out of the spa. It locks the moisture and increases skin cell longevity. Anti aging benefits of this product will help to rejuvenate for a youthful glow.
Frequently Asked Questions (FAQ's)
Q. How often do we use this scrub?
Ans: Use this scrub 3-4 times a week and you absolutely love it!!
Q. Is this product vegan?
Ans: Yes it is vegan.
Q. How much do we need to leave this scrub on our body?
Ans: Immediately your skin is moisturized so it depends on how long you want to leave it on.
Alternate Products:
You Might Also Like: