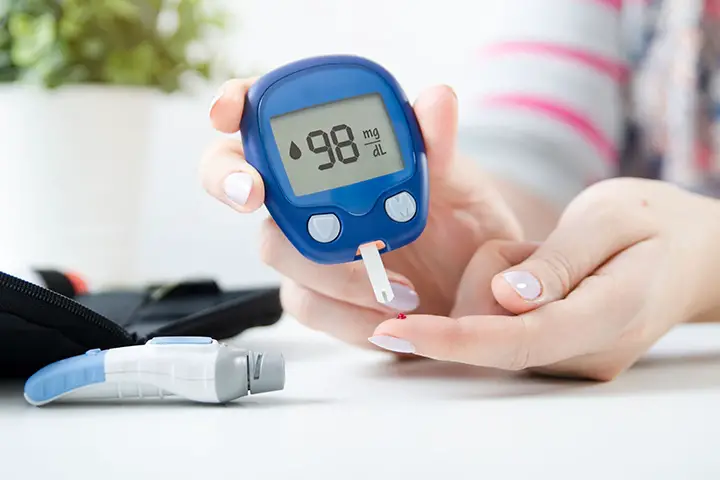 We all love mangoes but little do we know about the beneficial effects of mango leaves. They are quite nutritious and used in some cultures for making tea and other supplements. It has uses in traditional ayurvedic practices and Chinese medicine.
Why are Mango leaves Effective for Diabetes?
Mangiferin is a mango leaf extract that can inhibit the alpha-glucosidase enzyme in the body. This reduces the carbohydrate metabolism in the intestine and lowers blood glucose levels.
Polyphenols in the leaves are known for antioxidant and anti-inflammatory characteristics.
They enhance gut bacteria and prevent conditions such as diabetes, heart problem, obesity, and cancer.
The leaf extract prevents the accumulation of fat in the tissue cells.
A protein named Adiponectin signals the cells to metabolize fats and regulate the sugar in the body.
Method of Using:
Boil 10-15 fresh mango leaves in water and leave it overnight.
Drink it in the morning to manage diabetes. Repeat this regularly for a few months to experience benefits.
Mango leaves contain vitamin C, fiber, and pectin which trigger insulin production and fight cholesterol.
It provides relief from the symptoms of diabetes too.
Precautions:
Those having severe diabetes, must not stop their medicines suddenly while using this remedy as the situation might worsen by doing so. So, it is important to keep a check on the glucose level and regularly with your doctor.
[ Recommended: How To Use Turmeric For Diabetes ]
Are There Any Side Effects of Using Mango Leaves for Diabetes?
Mango leaves do not have any side effects but simply relying on it and trying to replace the diabetes medications with it, without seeking a doctor's advice can prove to be very dangerous.
Diabetes is a lifestyle disorder, especially if you are suffering from type-II diabetes. So introducing mango leaves as a daily morning ritual can help you manage diabetes only when you are following other healthy lifestyle practices, and doing exercises properly.
Frequently Asked Questions (FAQ's)
Q. Can mango leaves cure diabetes?
Ans: No, it is not just the mango leaves, you need to manage your lifestyle to manage diabetes and keep your blood glucose in control.
Q. How long can one see the results with mango leaves treatment for diabetes?
Ans: You have to continue this for a few months to witness improvements.
You Might Also Like
References:
https://www.healthline.com/nutrition/benefit-of-mango-leaf
https://food.ndtv.com/food-drinks/mango-leaves-for-diabetes-this-simple-home-remedy-may-help-manage-blood-sugar-1890903
https://www.ndtv.com/health/diabetes-these-leaves-can-lower-your-blood-sugar-levels-quickly-learn-how-to-use-them-2079247