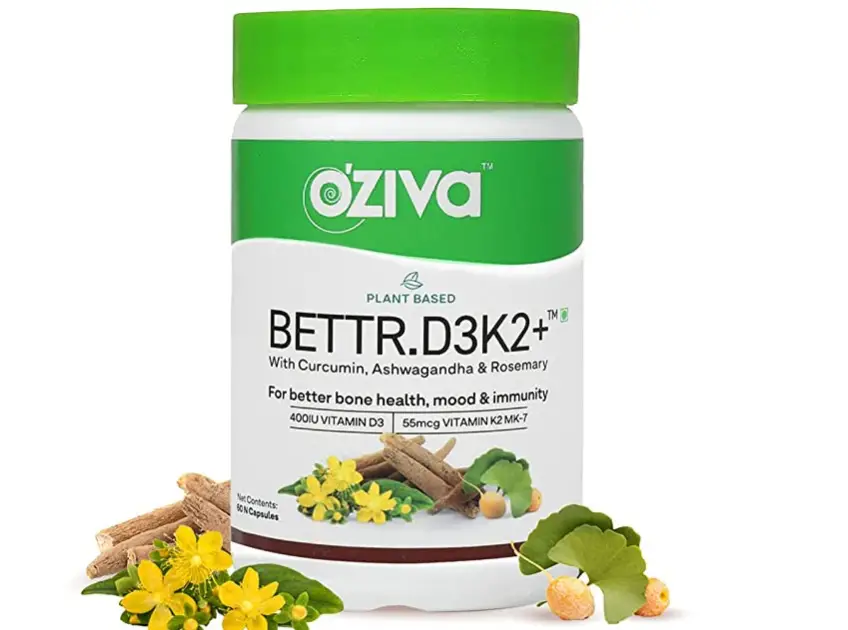 As we grow old, bone density starts decreasing. It results in fatigue and weakness, and the person feels tired easily. At the same time, it affects the immune system. The person starts feeling depressed and anxious. The deficiency of just one element can affect the entire body, making one feel good for nothing. Even though you may take Vitamin D supplements, sometimes they are not sufficient.
As per research, a combination of D3 and K2+ can help in supporting the body by ensuring optimal bone health, arterial health, and immune system balance. Out of so many products available in the market that furnish these needs, Oziva Bettr.D3K2+ is believed to be better for bone health and the overall body.
So, let's review the product and find out the major components and their benefits to the body.
Product Review
Oziva Bettr.D3K2+ consists of plant-based ingredients that are designed to support bone health, better mood, and stronger immunity. The presence of herbal extracts from plants provides great support by activating specific proteins and ensuring the correct deposition of calcium on bones.
What we like the most about this products is the presence of 100% natural and plant-based ingredients that ensure no side effects to the body. For mood elevation, there is Rosemary Extract and Ginkgo Biloba, Ayurvedic herbs like Ashwagandha and Curcumin support anti-inflammation, and Hypericum Perforatum strengthens the body's immune system.
Overall, this product seems promising and worth trying, and we give a thumbs-up to it.
Product Description
Oziva Plant-Based Bettr.D3K2+ consists of plant extracts of Ashwagandha, Curcumin, Rosemary Extract, Ginkgo Biloba, and Hypericum Perforatum. All of these help to build the immune system and acts as a mood elevator. Additionally, it furnishes the requirement of Vitamin D3 in the body and supports better bone health.
The product activates the specific proteins that ensure the correct deposition of Calcium on bones and prevents it from depositing in arteries and blood vessels. It is also good for boosting memory and developing concentration.
You need to take two capsules of Oziva Plant Based Bettr.D3K2+ along with high-fat meals that ensure better absorption in the body. Take it for at least 3 to 6 months for the best result.
Nutrition Facts
There are three major blends in Oziva Plant-Based Bettr.D3K2+:
Bone Support Blend- It delivers Vitamin D3 and Vitamin K2 MK-7 to the body.
Immunity Blend- The presence of Curcumin, Hypericum Perforatum, and Ashwagandha supports the immune system and makes it stronger.
Concentration & Focus Blend- The extracts of Rosemary and Gingko Biloba manage anger, and boost concentration and memory.

What We Like
Oziva Plant-Based Bettr.D3K2+ is a vegan product and certified by the Vegan Society of the UK.
There is no added preservative.
It is a non-GMO product.
There are no side effects of Oziva Plant-Based Bettr.D3K2+-on the body.
What We Don't Like
Regular consumption of two capsules is essential to get the desired result. If you break having the capsules, the result may take time to come. Since there are no chemicals and plant extracts take time to show results, you need to be patient.
How Much Does Oziva Plant Based Bettr.d3k2+ Cost?
The regular price of Oziva Plant-Based Bettr.D3K2+ is Rs 799, but you can get it at a discounted price of Rs 399 only from the official website of Oziva or from a reliable source like Amazon. These are the only two sources that offer deals and discounts on Oziva products. Buying from any other source may not give discounts.
Alternative Products
Conclusion
Oziva Plant-Based Bettr.D3K2+ is one of the highly effective products as it consists of the extracts of plants and herbs from nature. Being 100% natural, the effects of the product are highly promising. Also, there are no chances of side effects.
However, the only drawback is that Oziva Plant-Based Bettr.D3K2+ takes time to show prominent results. Due to this, you need to take the capsules as per the direction and for at least four months. Even though the result may come late, they are everlasting.
Read More: