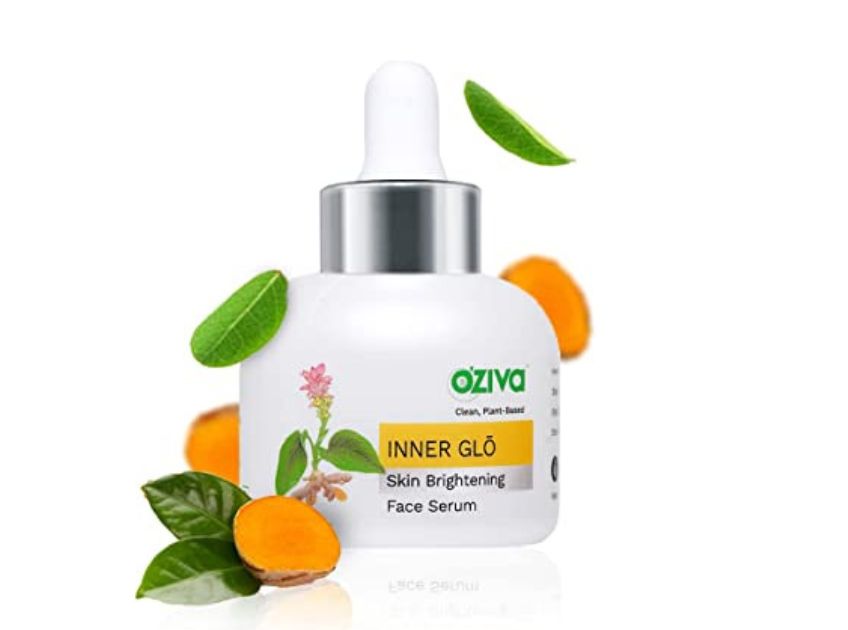 For all those people who use different skincare products to get glowing and radiant skin, Oziva has come up with an excellent face serum that helps to even out the skin tone and make it vibrant and radiant.
We all want healthy and glowing skin but due to stress, poor eating habits, and lifestyle, maintaining skin health becomes difficult. In such cases, using some face serum could help to attain the glow and sheen you always desire.
A soft and supple skin that glows can make you look more beautiful. In fact, people with glowing skin do not require putting on a lot of makeup. Just a blush here and there, and you are all set to rock the party. Face serums help to nourish the skin and keep it well-hydrated.
Let's review the Oziva Face serum and know how effective it is.
PRODUCT REVIEW
This face serum from Oziva is committed to making the skin radiant and glowing as it consists of Vitamin C and rosehip oil- the ingredients that keep the skin healthy and shining. It is a powerful serum packed with the goodness of natural ingredients like turmeric, amla, and saffron.
While turmeric flushes the toxins out of the body, amla furnishes the need for antioxidants that prevent aging marks and spots. All of this help beautify the skin from the inside and make it healthy.
Since all the ingredients in Oziva face serum are plant-based, there are no side effects, making it worth giving a try. Another good thing is there are no artificial fragrances and chemicals that could be harsh on sensitive skin.
Overall, this face serum seems a promising product that is worth giving a try.
PRODUCT DESCRIPTION
Oziva Face Serum is an amazing skincare product that provides nutritive nourishment to the skin. It helps to keep the skin healthy and radiant. The plant-based nutrition even out the skin tone and keep the skin brightening.
It is suitable for all skin types and makes sure that the skin gets healthier with each use. Being a clinically tested and proven product, it is worth spending the money.
To use Oziva face serum, firstly, you need to cleanse the face thoroughly. Next, take three to four drops in the palm and pat it gently on the face. It will take a few seconds for the serum to settle down onto the pores. The skin absorbs the serum and makes you look fresh and lively.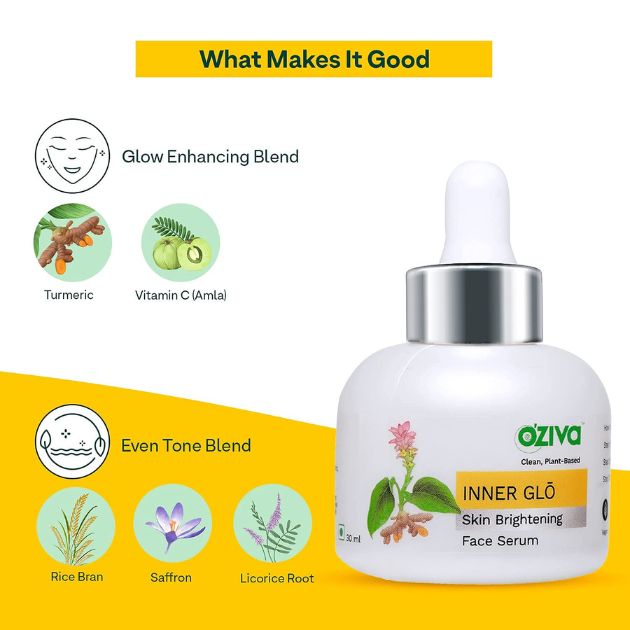 NUTRITION FACTS
The two major blends of the face serum are-
Glow Enhancing Blend– It consists of extracts of turmeric and Amla that provide Phyto Vitamin C to the skin. Additionally, the presence of rosehip oil keeps the skin supple and well-nourished.
Even Tone Blend– This blend consists of extracts of rapeseed oil, licorice root, Rice Bran, saffron, and marshmallow plant roots that provide all the essential nutrients to the skin and make it healthy.
WHAT WE LIKE
It is a clinically tested product.
Certified vegan and cruelty-free.
It is free from sulfate, paraben, artificial fragrance, silicone, and dye.
There are no side effects of this product, and it suits all skin types.

WHAT WE DON'T LIKE
The results of this face serum are visible after regular use of at least two to three months. However, the instant results can be seen immediately after applying, but to get long-lasting results, you need to apply it daily after cleansing the face.
HOW MUCH DOES OZIVA OZIVA FACE SERUM COST?
The regular price of Oziva Face Serum is Check Here. Always buy Oziva products either from the Oziva website or other trusted sources like Amazon to get the benefits of offers and discounts.
Alternative Products
Conclusion
Healthy skin is a personality enhancer. Using high-quality face serum and other skincare products can help to keep the skin healthy, shining, and vibrant. Use Oziva Face serum, which has the goodness of natural and plant-based ingredients. Since there are no side effects, it is worth giving a try.
You Might Also Like: