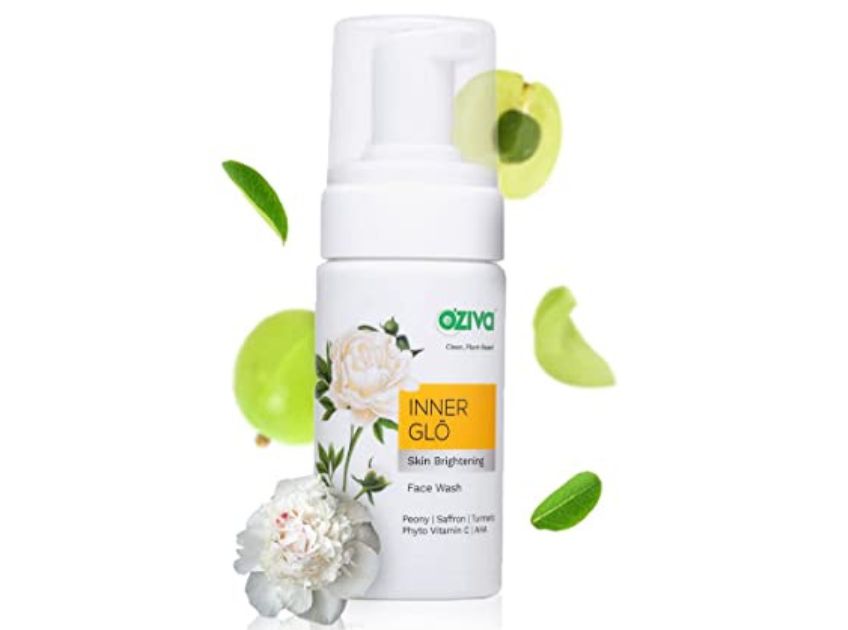 Keeping the skin well-nourished and making it healthy from the inside is essential for a youthful look. Even though some people are born with glowing and vibrant skin, over time, it starts losing its grace due to different factors.
Getting dark spots, pigmentation and blemishes are not new; however, making efforts to maintain the skin and support its health is necessary. You can find plenty of skincare products in the market, but not all of them can suit your skin type and give the desired results. It is the reason why finding the right skin care product is essential.
When it comes to face wash, it is necessary that you use the right one that will suit your skin and cleanse it without losing the skin's natural moisture. If your face wash leaves the skin dry and irritated, it's time to switch to another one.
Today we will be reviewing Oziav Face Wash, which consists of natural extracts, ensuring there will be no side effects.
PRODUCT REVIEW
Oziva face wash is a skin brightening and foaming face wash that cleanses the pores and exfoliates the skin, making it feel fresh and lively. Since it consists of the goodness of Sandalwood, the skin does not feel irritated. In fact, it soothes and calms sensitive skin.
Additionally, there is white peony extract that helps in reducing the pigmentation and restoring the skin barrier, inhibiting the formation of melanin. When the melanin production reduces, the skin automatically looks bright and light.
Another thing that makes Oziva Face Wash promising is Yuzu extracts and Chinese skullcap extracts that promote the development of new skin cells. Other herbal ingredients of the face wash include turmeric oil, saffron oil, and sandalwood oil that keeps the skin healthy and well-nourished.
PRODUCT DESCRIPTION
If you want a visible glow and instant freshness on the skin, nothing is better than Oziva Face Wash, which comprises potent plant-based ingredients. Gently exfoliating the skin and balancing the skin's pH makes the skin healthy, vibrant, soft, and radiant.
The good thing about the product is it suits all skin types. Whether you have oily, dry, or sensitive skin, it will keep it well-hydrated and provide complete nourishment with every single use.
To use it, take a small amount (about the size of grain) on a wet palm and rub it with another palm to make lather. Apply and massage it gently over the face, avoiding the area around the eyes. Now rinse the face wash thoroughly. It cleanses the face and gives refreshing and breathing skin.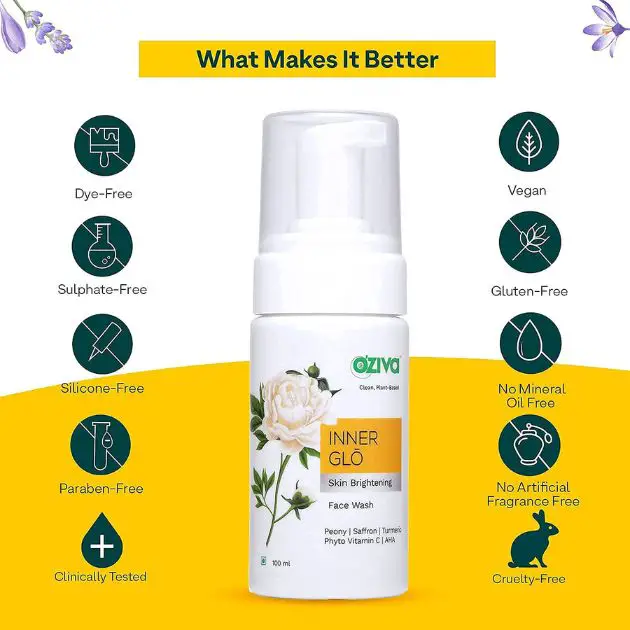 NUTRITION FACTS
The product consists of two amazing blends that work effectively to make the skin bright and radiant.
Skin Radiance Blend– It consists of extracts of White Peony and Sandalwood oil that provide a soothing and calming effect on the skin. Also, it consists of Phyto Vitamin C and Glycolic acid (AHA) for a vibrant look.
Dark Spot Corrector Blend– This blend comprises herbal extracts from Chinese Skullcap Root, Yuzu seeds, saffron, turmeric, and rose. To make it more effective, Vitamin E is added.
WHAT WE LIKE
It is certified vegan and cruelty-free.
It is a clinically tested product.
Free from sulfate, paraben, artificial fragrance, silicone, and dye.
There are no side effects of this product, and it suits all skin types.

WHAT WE DON'T LIKE
It does not form too much lather, yet it cleanses the face thoroughly. So this drawback can be neglected.
HOW MUCH DOES OZIVA FACE WASH COST?
The regular price of this face wash is Check Here. Getting it from trusted sources like the Oziva website and Amazon will ensure that you get it at the sale price.
Always buy Oziva products from trusted sources to avail the benefits of the sale price and faster delivery.
 ALTERNATIVE PRODUCTS
Conclusion
If you are fed up with using face wash from different skincare brands and yet looking for something which is effective and suitable for your skin, switch to Oziva face wash. The results of this product are amazing that you will see yourself after using it for one month.
Even though a face wash costing Rs 449 may seem a bit higher but believe us, it will be worth every penny you spend.
You Might Also Like: