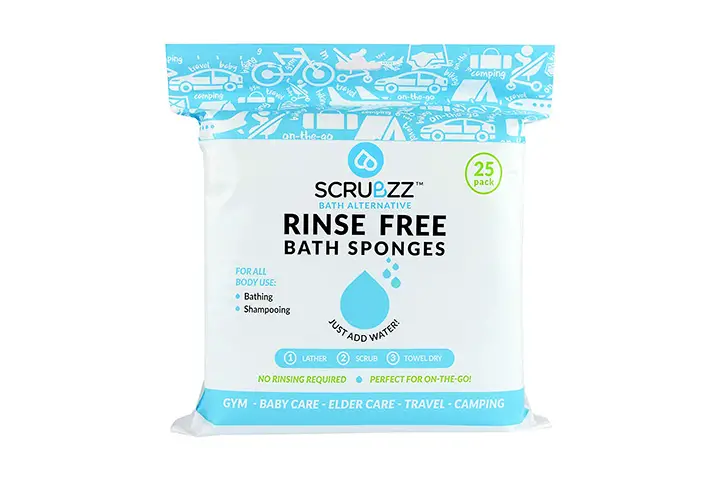 It's always not possible to give head to toe wash. Sometimes you may be too busy or you may be travelling or camping. For such situations Scrubzz no rinse bathing wipes are an ideal solution.
A special bathing product which is designed to give you a clean, fresh feeling wherever or whenever you need.
Scrubzz Disposable No Rinse Bathing Wipes
How it Works:
The ingredients of this unique formula ensure that your skin doesn't dry out and break out.
It is perfect for sensitive skin and people with allergies.
These shower sponges are hypoallergenic and pH balanced.
This sponge is ideal where there is no water or the water where we can not use that means which is not safe for use.
It is very easy to use. Just add a little water, make lather and cleanse to dry use towel. No need to rinse.
Pros:
Gives refreshness as you get showered.
No need to rinse with water.
No mess. Sponges remain intact after use.
Keeps you staying fresh and clean.
Perfect for camping, travel, gym, children or health care.
Cons:
For some it may cause skin irritation.
Rating: 4.6 out of 5
These no rinse bathing towels are used widely in home health care, hospitals and nursing homes. Get one and enjoy the benefit of no rinse bath sponge.
Frequently Asked Questions (FAQ's)
Q. Will sponge clean the whole body?
Ans: Yes , plenty of soapy solution on the disposal cloth.
Q. Can these be used for baby's?
Ans: It can be used on babies, but will caution you that it is not tear free and can irritate the eyes.
Q. Can it be used to wash hairs?
Ans: Yes. You can use this to wash your hair.
Alternate Products:
You Might Also Like: