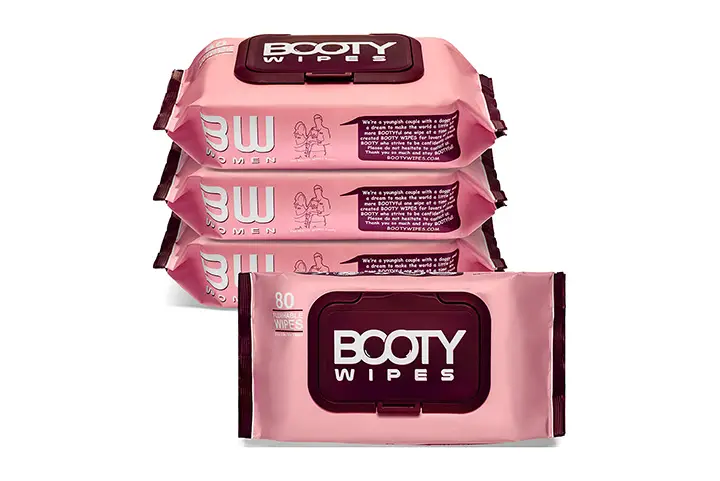 Booty wet wipes are the best option to keep your body fresh and clean. These wipes work great by removing oil, sweat, and dirt from your body.
We can not always clean our hands or anything with water. So maintain a pack of Booty wipes in your back bag to refresh yourself.
There are 320 wipes total 4 flip – top packs of 80 each. No harmful ingredients are infused in this product so you can use these wipes for your personal hygiene.
BOOTY WIPES for Women
How it Works:
These wipes are made with no harmful ingredients and they are free from alcohol and fragrance.
Also, they are enriched with aloe vera and vitamin E.
Aloe vera is a rich source of antioxidants and helps to protect your skin from the damage of UV rays and vitamin E protects from damage caused by free radicals.
The main advantage of this product is that they are flushable and they are plant sourced fiber wipes and Booty wipes maintain the standards of flushable.
Pros:
No harmful parabens.
Alcohol and fragrance free.
Suitable to wipe on all body parts.
Made with plant sourced fibers.
Flushable and pH balanced.
Cons:
For some eyes may be irritating.
Rating: 4.7 out of 5
Be Booty full using these wipes. As they are portable they can carry with you. Best product to use at home and on the go . Maintain your hygiene by using these wipes whenever you need.
Frequently Asked Questions (FAQ's)
Q. Why are Booty wipes more expensive when we compare with others?
Ans: The reason flushable wipes are more expensive is because the material used is much higher quality.
Q. What is the difference between men and women wipes?
Ans: Female wipes are ph balanced while men only plan to use them externally.
Alternate products:
You Might Also Like: