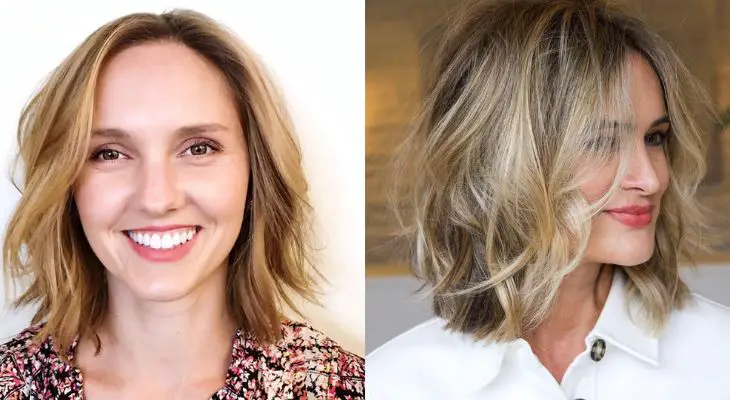 Age is no barrier to getting a beautiful hairstyle, that's why every woman can sport any hairstyle she likes. If you're probably young or over 50 and want to rock shaggy hairstyles, professional stylists say you definitely can. If your mane is short, definitely try one of the modern shaggy hairstyles. Short shaggy hairstyles and haircuts are built by razoring, giving a layered look and lots of texture. This hairstyle is always low maintenance, interesting, and gives a natural, and relaxed look. Let's look at trendy examples of short shag hairstyles and haircuts.
18 Short Shag Hairstyles and Haircuts Ideas
1. Short Shag Hairstyle With Bangs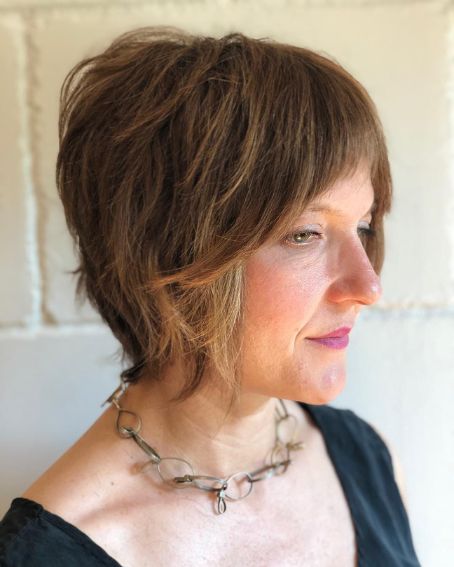 If you want to modernize your shag hairstyle, you should add bangs to your hairstyle. When you choose a short shag hairstyle, it brings more volume to the front and makes your hair look thicker overall.
2. Short Shaggy Mullet Hairstyle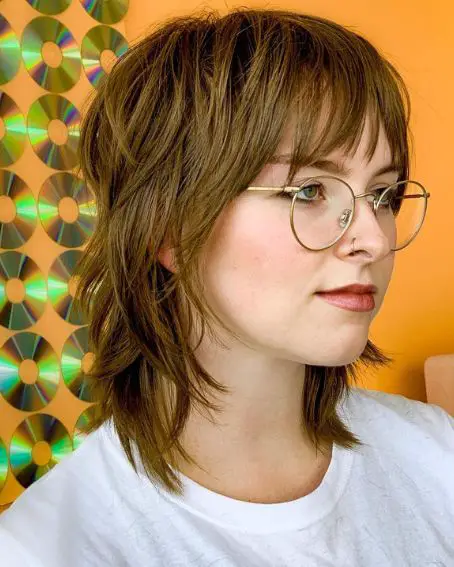 This Short shaggy mullet hairstyle is bold and boyish. The extra texture of the short shaggy mullet hairstyle gives a great style to your hair. It's one of the best for medium-length hair and gives a bit of volume and texture to the cut structure, on hair types with light waves or natural movement.
3. Short Blonde Shag Hairstyle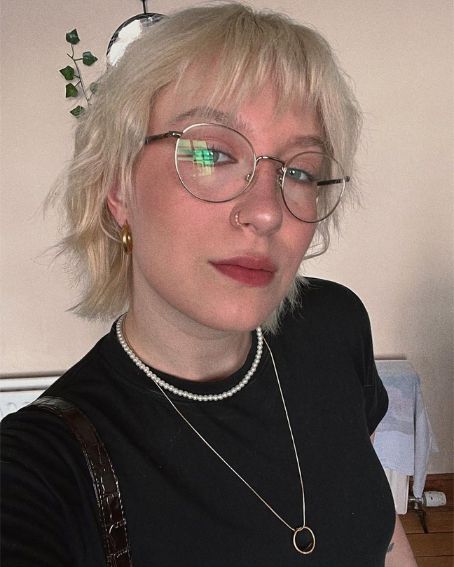 The short blonde shag hairstyle is thick and smooth with messy. Its structure is even better when it is chaotic and unpredictable. It keeps your hair with a fluffy, weightless look and light-blonde hair color gives your gray a natural look. 
4. Short Shaggy Bob Hairstyle With A Middle Part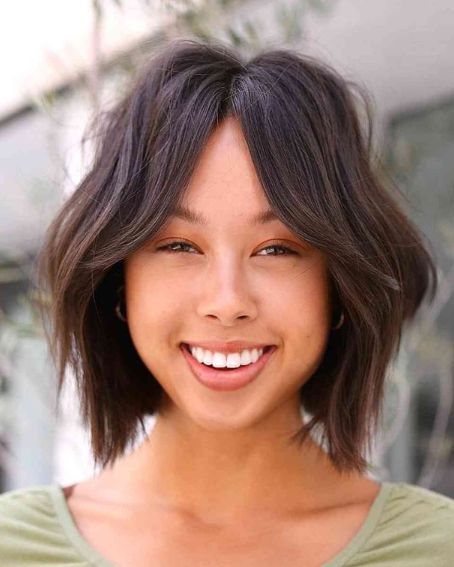 The short shaggy bob with a middle part hairstyle is the most suitable and best hairstyle for a pear-shaped face. All the layers in your hair give fullness and give a beautiful appearance as well as symmetry across the face will make sure the length ends below your chin.
5. Copper Shaggy Hairstyle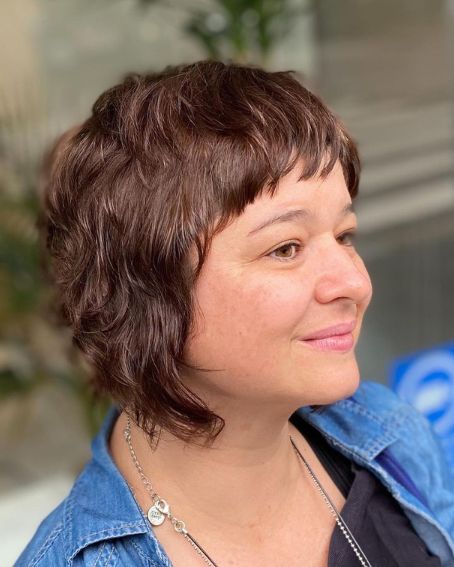 This copper shaggy hairstyle is an ideal match for your dark blonde hair or natural light brown color hair. Changing this hair color to copper is very simple. If you try this hairstyle, you can get the beauty you are looking for.
6. Chin-length Shaggy Bob Hairstyle With Curtain Bangs
Chin length shaggy bob with curtain bangs hairstyle not only adds dimension and texture to your hair but also adds shine to it. You can further enhance the appearance of your hair by adding some highlights. This hairstyle will suit any hair color and face shape.
7. Green Highlighted Wavy Shag Hairstyle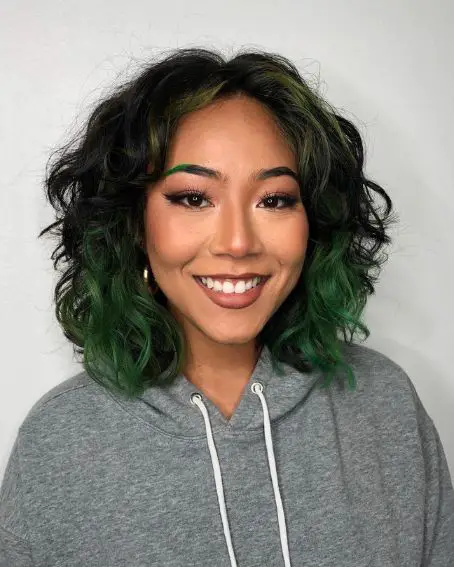 It is much better to define wavy shag strands than natural waves. Green highlighted choppy hair layers are another best way to show the world your unique personality.
8. Triangular Pixie Shag Hairstyle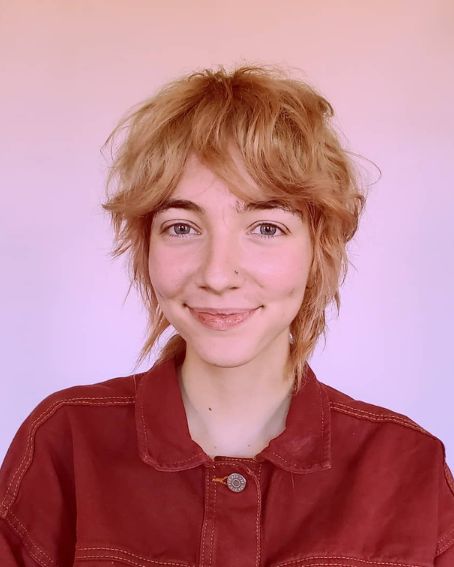 Are you a fan of impressive hairstyles, if yes then this is the hairstyle for you. You can change this Triangular pixie shag style however you want. It is low maintenance and has a modern touch.
9. Windswept Midi Bob Hairstyle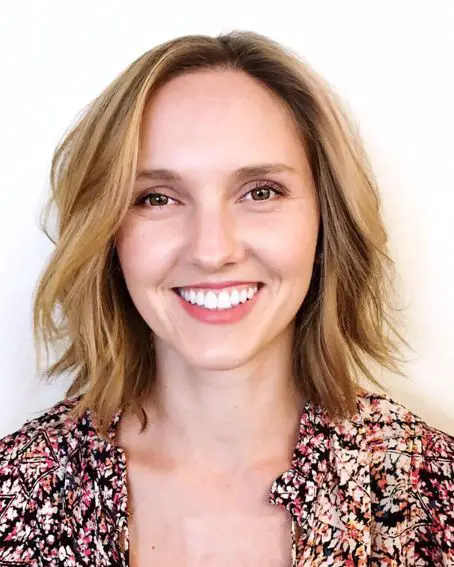 If you're carefree and breezier, go for the Windswept midi bob hairstyle that's full of texture and layers. Its layers add a lot of body to your fine hair.
10. Tousled Shaggy Bob Hairstyle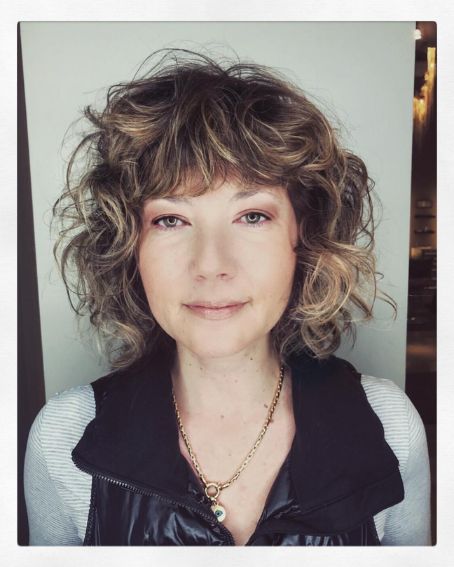 A tousled shaggy bob hairstyle is best for both healthy and damaged by hot styling or dyeing hair strands. This hairstyle can be done very easily and is ultimately low maintenance.
[ Read: 9 Best Haircuts For Damaged Hair ]
11. Shaggy Textured Hairstyle With Choppy Bangs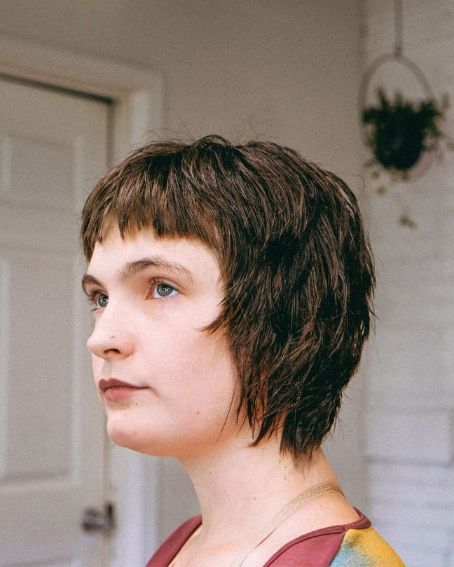 A shaggy textured hairstyle with choppy bangs creates new angles for your face. These choppy bangs work with any type of hair texture you have. Best for people who don't have much time to spare and have a busy lifestyle.
12. Shaggy Inverted Bob Hairstyle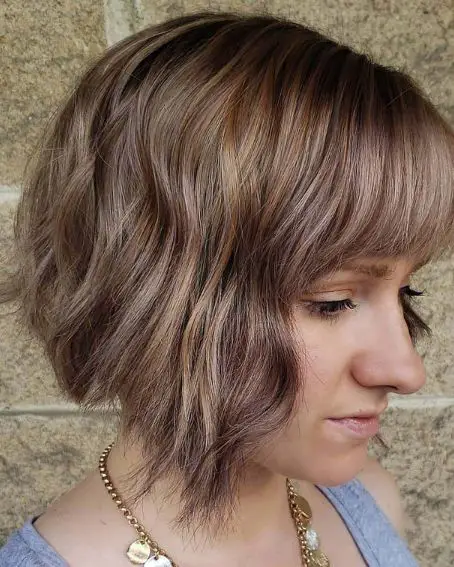 A shaggy inverted bob hairstyle looks great on any woman with an oval face shape. It has thin layers that end at chin level. This hairstyle will enhance the beauty of your hair even more.
13. Black Short Curly Shag Hairstyle With Bangs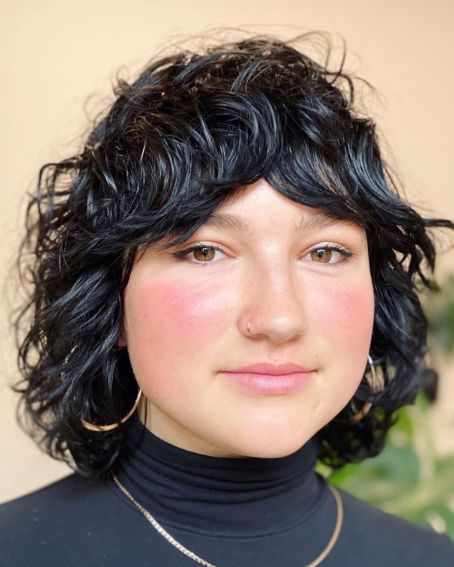 Black short curly shag hairstyle with bangs is a very popular hairstyle among women. Natural waves are what create this hairstyle. Lucky are those who get curly hair naturally. You can style short curly shag with bangs by twisting your black hair strands into curls if you like.
14. Textured Shaggy Lob Hairstyle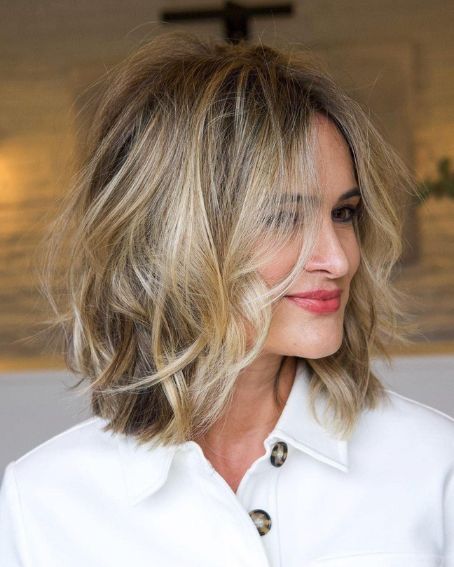 A textured shaggy lob hairstyle is a must-try if you already love trendy hairstyles. It is very famous now and to do this add some long layers to get a textured shaggy lob.
15. Short Shag Haircut With Tendrils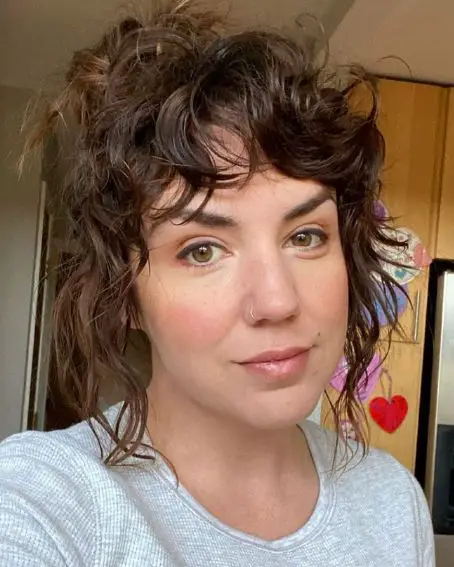 Short shaggy haircuts have many choppy layers resulting in a messy modem hairstyle. Your stylist can achieve elegant beauty by adding different lengths like tendrils and unique elements.
16. Short Pixie Shag Hairstyle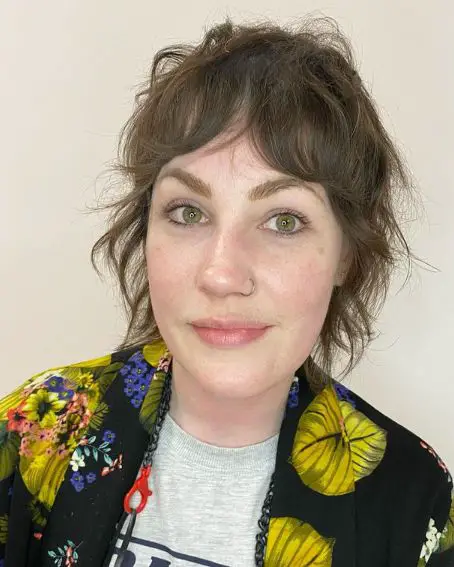 If you are looking for an easy, feminine, and edgy hairstyle, this short shaggy pixie hairstyle will meet your expectations. spritz your hair with the perfect product after you have styled it to bestow your hair with an excellent shine.
17. Mini Shaggy Hairstyle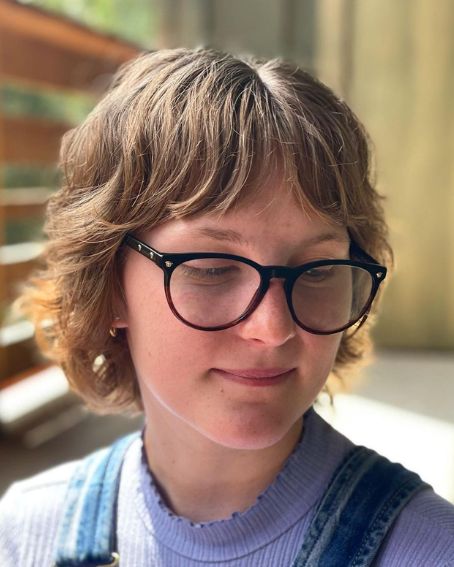 If you want to give your hair a gorgeous appearance this year, try this mini shag hairstyle. This feminine style and edgy will be an excellent trend to try before the end of the season. If you're looking to achieve a textured look, consult your hairstylist on which products to use.
18. Blonde Rocker Shaggy Hairstyle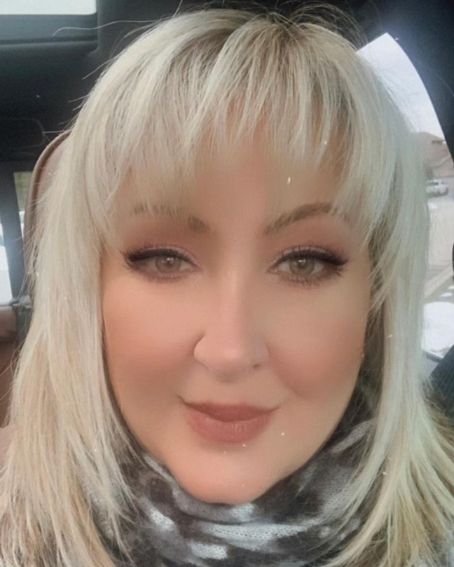 A blonde rocker shaggy hairstyle not only shows your personality but also expresses a unique style. Including short baby bangs in your short hairstyle gives a great blonde rocker shaggy hairstyle appearance.
Best Clean Hairstyling Products
Best Splurge
R+Co Bleu Super Style Crème – Buy on Amazon
Best Drugstore
Kristin Ess Hair Style Assist Blow Dry Mist – Hair Heat Protectant Spray – Buy on Amazon
Best Leave-In Conditioner
JVN Complete Conditioning Mist – Buy on Amazon
Best Texture Spray
Briogeo Blossom & Bloom Ginseng + Biotin Hair Volumizing Spray – Buy on Amazon
Best Shine Spray
Authentic Beauty Concept Glow Touch – Buy on Amazon
Best Heat Protectant
Iles Formula Finishing Serum – Buy on Amazon
You Might Also Like: