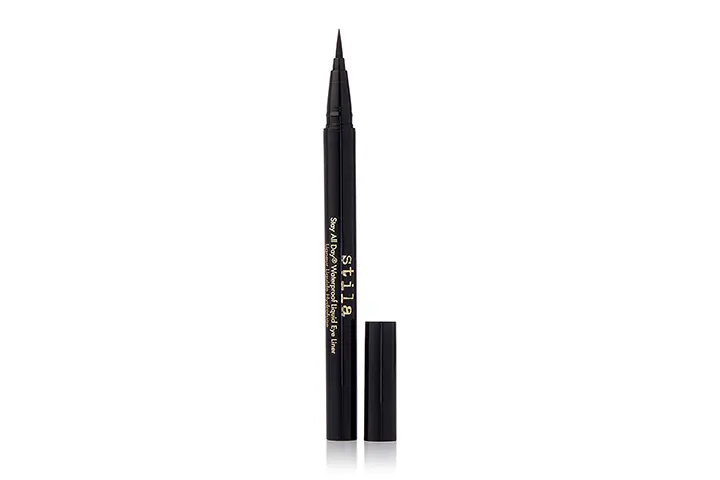 One of the best and most popular eyeliner on pinterest is stila Stay All Day Waterproof Liquid Eyeliner. This waterproof liquid eyeliner that glides on your lids and gives a marvelous look to your lids. It won't smudge or run and stays in place.
Beginners also can use this easily because of its thin marker like tip.
Stila Stay All Day Waterproof Liquid Eye Liner
How it works:
This eyeliner contains a felt tip that is easy to control and deposits only a right amount of fluid black ink, not too much and not too little.
Stila eyeliner forms a thin , precise line to give a bold dramatic stroke. It glides on your lids with ease and no smudging.
Pros:
The biggest advantage of this product is longevity.
It gives a wider look to your eyes.
This product will enhance the shape of your eyes.
Drives faster and stays all-day.
Cons:
It takes time if you make a mistake while using this.
Rating: 4.6 out of 5
Stila Stay All Day Waterproof Liquid Eyeliner is loved by many because it is easy to use and dries quickly. So pick this eyeliner and give a perfect line to your eyelids every time.
Frequently Asked Questions (FAQ'S)
Q. Does it dry quickly?
A: It dries super fast, literally right away. As for corners it performs really well in corners. I wear a small cat eye flick in the corner and the fine line lasts all day. I haven't had any issues with sweat or humidity affecting it either.
Q. How to remove liquid eyeliner?
A: Use an oil based eye makeup remover or there are several options to remove.
Q. Can you wear this while swimming?
A: You can and it will probably stay as long as you don't repeatedly rub your eyes. It's the best eyeliner I have found for staying put and not running.
Alternate Products:
You Might Also Like: