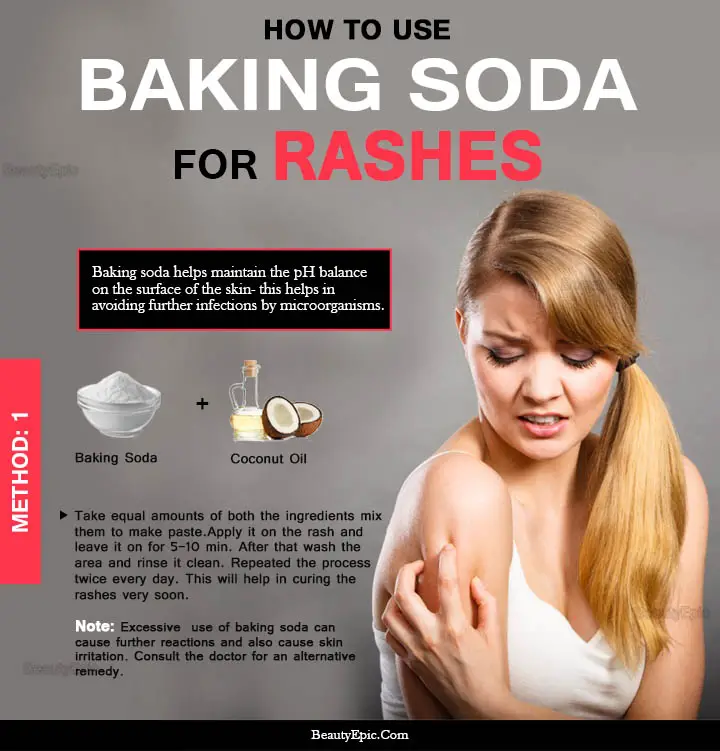 Rashes are red colored bumps in the skin that can be itchy. Rashes are a common occurrence when suffering from any skin disorders such as eczema, psoriasis, insect bites, acne, excessive sweating and exposure to allergens in the environment. Although skin ointments and anti-microbial ointments are available in plenty, the chemical composition in these creams may cause harm to the normal skin cells also. The use of a ready-to-use home based remedy has been proved beneficial to cure rashes. Baking soda is one such component. Baking soda is most commonly used for baking. Baking soda has a number of benefits for personal care. It is used to make toothpaste, mouth- fresheners, facial scrubs, skin exfoliation products, and also works as a deodorant, antacid, etc. In this article our focus would be on using baking soda for rashes cure.(1)
Can Baking Soda Be Used for Rashes?
Baking soda helps in drying out skin rashes which means it has an antibacterial effect on the rashes.
Keeping the rashes dry helps avoid further infection of the rashes and helps with the itchiness.(2)
Baking soda helps maintain the pH balance on the surface of the skin- this helps in avoiding further infections by microorganisms.(3)
It also serves as an exfoliant and hence helps in replenishing skin cells and maintaining the health of the skin..
How to Use Baking Soda for Rashes?
Baking soda can be used for treating rashes in the following ways:
Baking Soda with Water
Add baking soda to water in a 1:3 ratio.
Form a mixture and apply it on the affected area and leave it on for a while.
After a few minutes clean the area properly.
The process can be repeated once every few days.
This would help very beneficial to people suffering from skin rashes.
Baking Soda with Coconut Oil
Add some baking soda to an equal amount of coconut oil.
Mix them properly to form a paste.
Apply this paste on the rash and leave it on for 5-10 minutes.
After that wash the area and rinse it clean.
This can be repeated twice every day.
This will prove to be very helpful and will help in curing you of the rashes very soon.
[ Read: How To Treat Skin Rashes with Apple Cider Vinegar? ]
Tips and Precautions
Baking soda is effective for curing itchiness caused due to skin rashes and also helps in disappearance of the rashes. However, excessive and continued use of baking soda can cause further reactions and also cause skin irritation.
Since baking soda acts as a pH neutralizer, its continued use can cause pH imbalance of the skin leading to the skin becoming basic in nature and there will be an apparent dryness and itchiness on the skin surface.
It is also advised to use food grade baking soda and not cleaning grade for use on the skin rashes.
If using baking soda on the skin causes any further irritation or complication, consult the doctor for an alternative remedy.
Scientific Evidence:
You Might Also Like:
Image:- 1