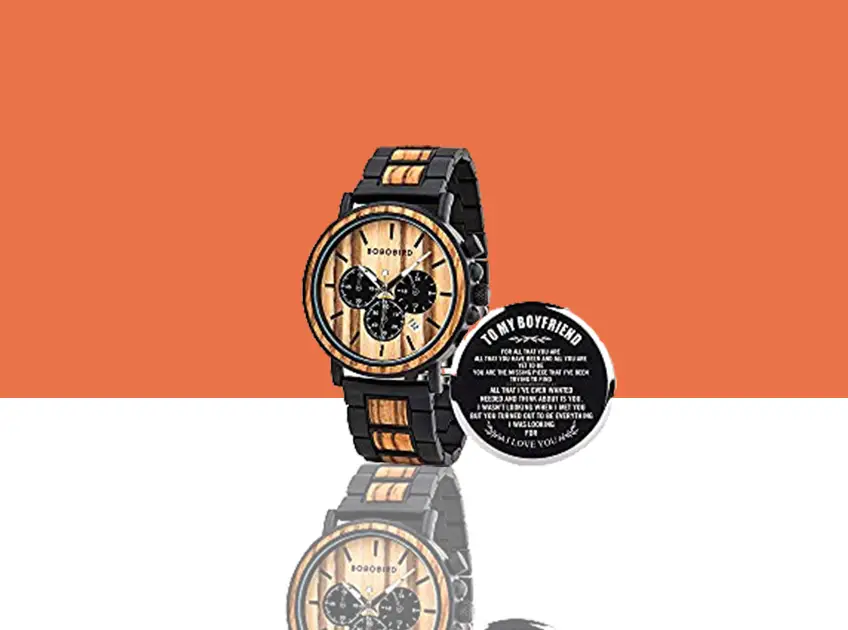 While you may be great at picking out presents, it can get tricky to shop for some people. Boyfriends might be a part of that list, and if you're looking for some inspiration, you've come to the right place.
It doesn't matter if you've just started dating or been inseparable for years – sometimes landing on the perfect gift might take a while. And if you had no luck crawling the Internet, don't worry, we're here to help you out. Whether you want to give him something practical, thoughtful, or something cute, there's something for everyone on our list. Read our list of the 20 best gifts for your boyfriend and find a present that genuinely expresses your appreciation and love for your better half.
20 Best Gifts For Your Boyfriend

If your boyfriend spends way too much time taming his mane, this gift will be his new obsession. This luxurious set contains all the necessary grooming essentials, including a beard shampoo and conditioner, beard oil, beard balm, beard brush, beard comb, and beard scissors. All of these tools and accessories fit snugly into a storage bag, accompanied by an Ebook to help him take care of his proudly grown mane. The beard shampoo and conditioner will cleanse, hydrate, and nourish the beard, while the oil and balm conditions it. The beard wash, conditioner, and oil are enriched with ingredients such as jojoba oil, argan oil, and vitamin E that help keep the beard moisturized. Other accessories like the beard brush, comb, and scissors are ideal for trimming, styling, and maintaining his glorious beard.

Let your boyfriend know how much you love him, and remind him to drive safe with this keychain from LParkin. Made elegantly with stainless steel, it has the words 'Drive safe handsome. I love you', engraved on it. Stylish yet romantic, it comes in a beautiful package. This 2.5-inch keychain slides smoothly into any pocket and will not irritate the skin as it is lead and nickel-free. So, what are you waiting for? Give your boyfriend a present that says it all!

Gift your boyfriend the best of both worlds with this Bluetooth beanie. Made from a double-knit material, it will shield him from the cold winds while allowing him to stay connected to his smartphone. It comes with V4.2 technology and can sync to any Bluetooth-enabled device in a matter of seconds. It has a range of 33 feet, a battery life of up to 15-20 hours, and excellent sound quality, making it a popular gift option. Give your boyfriend the gift of warmth and sound this year!

Is your partner a fantastic boyfriend? Don't just tell him that; let Donald Trump do it for you! Give your boyfriend this witty and funny card and let him know he's a great boyfriend (and trust us, your boyfriend will take this more seriously coming from Trump himself). Made from a durable, strong paper, this card comes in a beautiful red envelope. We are sure gifting this card to your boyfriend will have him rolling on the floor with laughter.

Is your boyfriend lovesick? Does he need an instant cure? Well, these pills are all he needs. Send personalized love notes to your significant other and express your true feelings. With over 80 colorful tablets with cute smiley faces on them, you can instantly bring a smile to your partner's face. Whether you want to compliment him, tell him how much you love him, or even draw something for him, you can find unique and creative ways to show your affection with these capsules.

We don't think there's a better present than relaxation. The MagicMaker's back and neck massager will give your boyfriend a break from the constant stress of daily life. It comes with 8 bi-directional rotating heads that distribute pressure evenly and has other useful functions like a 15-minute auto-shutdown and an overheat protection. Keeping comfort in mind, it is made of a breathable fabric. The built-in infrared heat helps release tension from sore muscles, and it also comes with a car and AC adapter.

Dealing with distance might be dreadful, but here's a present that might help you out. This luxurious pillowcase has the words "Hug this pillow until you can hug me" printed on it and will keep your boyfriend company on lonely nights. Made from smooth, microfiber fabric, it is breathable and silky soft. Don't worry about the text fading away because it is dyed using an eco-friendly process. It is also machine-safe and wrinkle-resistant.

Taking an interest in your boyfriend's hobbies and passions is one of the best ways to express your love for him. If he loves the outdoors as much as he loves you, consider getting him this all-in-one survival gear. This kit contains a survival knife, pocket bellow, a wire saw, an emergency blanket, a flintstone scraper, a flashlight, a credit card knife, a compass, and a waterproof box. Give your wild-spirited boy a present to keep him safe on his wild adventures!

If you want to surprise your better half, look no further. This cool conversation-starter is going to make everyone's jaws drop, including your boyfriend's. It boasts a C-shape frame with a levitating globe. That's right, the globe in this piece floats mid-air with the help of magnetic force. The globe floats in the air for 15-20 minutes, and the 3 LED beads in the frame switch colors between pink, purple, and cyan.

'I love you,' 'No, I love you more!'. Sounds familiar? Settle this fight once and for all about who loves who more. With this picture frame from VILIGHT, which has the words "Love You Most. The End. I Win" printed on it, you can remind your boyfriend you love him the most, every day. This 3×3-inch picture frame can be hung on the wall or placed neatly at a bedside corner.

There's nothing harder than shopping for a man with impeccable taste. He probably has everything, and a simple card may not suffice. So, what can you get for your man that's personalized and elegant at the same time? Well, here it is! This wooden watch from Bobo Bird is the epitome of class and style, and what makes it better is that you can have a personalized message engraved on it. It is lightweight and comfortable on the wrist and has a Japan imported quartz. If your boyfriend has a great sense of fashion, he will appreciate this beautiful wooden watch with a stainless steel finish. And if you needed more convincing, it also comes in a stunning wooden box.

They say that couples who laugh together stay together. If this is true, you should give this gag gift to your boyfriend. Undoubtedly the funniest thing you can give your boyfriend on his birthday, this toilet paper will bring a smile to his face every time he uses the washroom. Each toilet roll comes with 500 biodegradable sheets that are made of thick, 2-layered paper.

Have you always wanted to say something incredibly cheesy like 'You want the moon, baby? Now watch me grab it'? Well, now you can. With this moon lamp from Mono Living, you can quite literally give your boyfriend the moon. Both practical and a novelty item, this lamp is made of eco-friendly and non-toxic materials. Create the mood and setting for any occasion with its 16 unique colors. This beautiful moon texture lamp comes with a wooden stand, a battery life of up to 12 hours, and a handy remote to change the color and mode settings.

You can't ever go wrong with a teddy bear! Who can deny this cuddly, warm, and fuzzy stuffed toy that will instantly brighten your day? This teddy bear from Hollabears holds a plush heart and stands 10 inches tall. Let your boyfriend know how attractive you find him and give him this soft and fuzzy teddy.

If you're always annoyed by your boyfriend playing video games but choose to love him anyway, this mug will speak volumes. This 11-ounce white ceramic mug has an inscription that reads, "I promise to love you even when you're old and you still play video games." The fun and vibrant illustrations on the mug will not fade with time and it comes with a wide mouth and a large C-handle for a comfortable grip. And in case you were wondering, the mug is dishwasher and microwave-safe.

Don't just give your boyfriend something fun, get him a present that he will use. This 10-in-1 pen is equipped with useful tools that help make everyday life easier. It comes with a LED flashlight, a ballpoint pen, a handy screwdriver, an emergency glass breaker, a pen clip, a knife, and a 4-in-1 multi-tool head. The pen itself is made with high-quality aluminum alloy, which is durable and corrosion-resistant. This practical yet stylish pen comes in an exquisite black gift case.

Stay attached to the hip with your loved one with this keychain and necklace set. The set contains a keychain for him, with a heart-shaped hole and a heart necklace for you that perfectly attaches to the keychain. Engraved are the words "Wherever you go, come back to me" on the stainless steel keychain. Be it Valentine's day or his birthday, you can always surprise him with this thoughtful present.

Here's something your boyfriend will love if he plays the guitar! Made from 100% stainless steel, this stylish yet adorable guitar pick comes with the phrase "I couldn't pick a better boyfriend" on it. It is durable, rust-resistant, and has non-allergenic properties. Strum the strings to his heart by giving him this guitar pick.

We already know you and your beloved partner are connected souls, so why shouldn't your keychains be? These puzzle keychains, one for you and another for him, are the perfect way to stay connected even when you're apart. One has the words "You are my missing piece," while the other has "You fit me perfectly" engraved on it. Made from premium quality stainless steel, the keychain set is non-allergenic and rust-resistant.

While your relationship may not need any mending, the material things around you might.
This handy and practical gift will come to your rescue if there's anything that needs mending in the house. Gift your boyfriend this tool hammer that contains 12 useful tools, including a hammerhead, wire cutter, straight knife, and much more. Made from high-quality stainless steel, it is lightweight, portable, and versatile. The hammer comes with a personalized message which says, "Love You Most. The End. I Win".
Whether it is a birthday, anniversary, or Valentine's day, choosing the perfect gift for your boyfriend might be a Herculean task. And to help with this mighty hurdle, we have listed 20 unique gift ideas to give to your special one. Some are funny, some are practical, and others are just adorable. Either way, we are sure you will find something in here. So, what are you waiting for? Hurry up, and find the perfect gift for your boyfriend!
You Might Also Like: