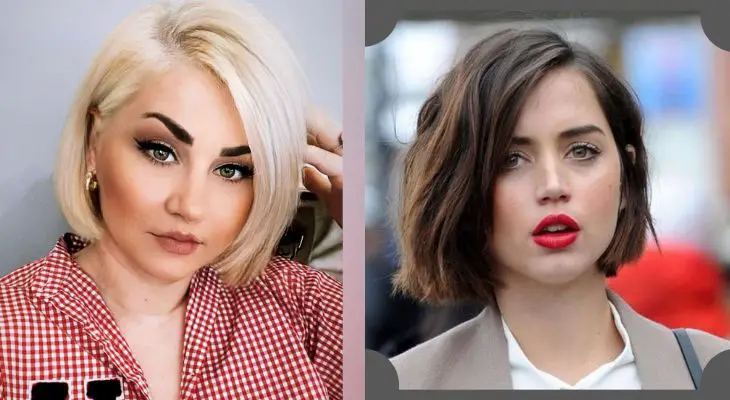 A Blunt cut makes your hair look improved, stronger, and bushier. Most blunt cuts are worn in straight hairstyles to show off the accuracy of lines and the smoothness of the texture. And you can try various stylish additions to the bob like shadings, bangs and layered, etc. Will see some of the types in the below articles.
18 Best Blunt Bob Hairstyles
1. Short Bob Cut With Balayage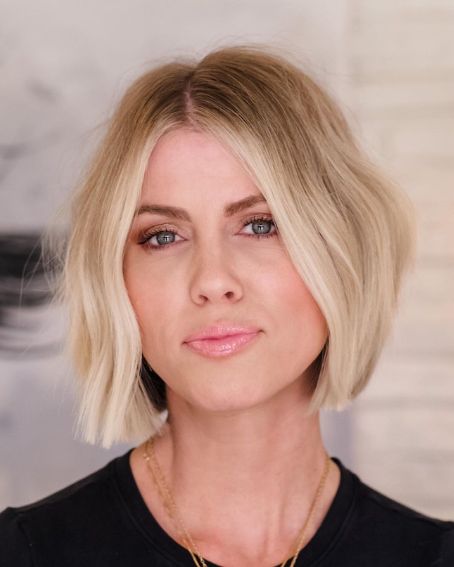 Sleek and chic is an ideal example of a short bob cut. Balayage gives more stylish, textured, and volume. You may consult with your hairstylist to do with the middle part and be careful about the length of the hair to maintain.
2. Sleek Blunt Cut Bob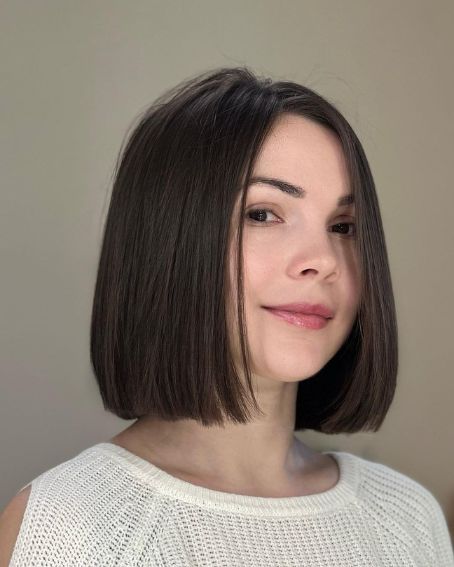 A Blunt cut bob is perfect for black hair. Especially with this sleek blunt, the hair looks thick and straight. The outlook gives you fancy and elegance, but have to care if your hair is thin because it makes you stringy.
3. Classic Bob With Blunt Bangs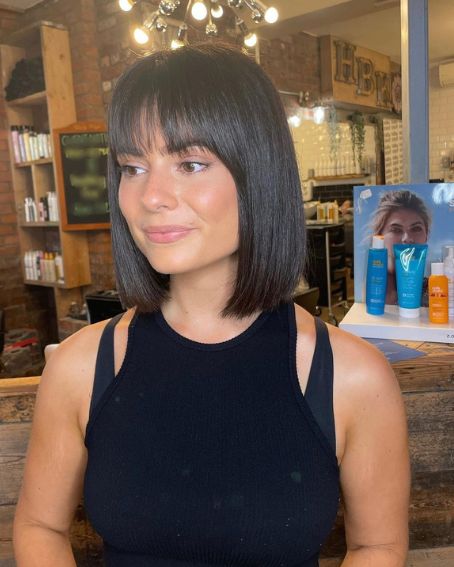 True fashionists go for hairstyles for their short-length hair. Because it gives more classy and the bangs give you chic. The shorter length of hair gives you extra volume and a rounded bob.
4. Airy Blunt With Brown Balayage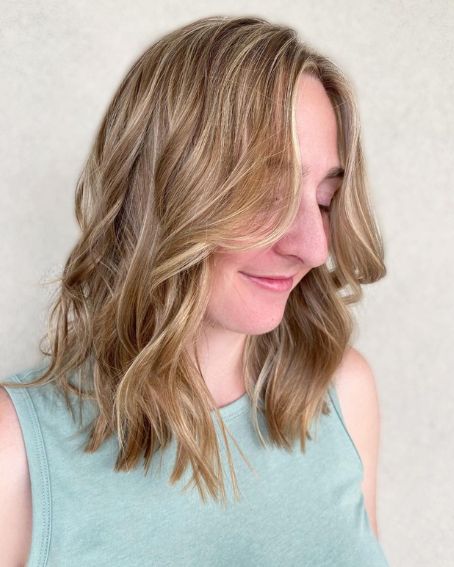 The most romantic blunt for short hair is the trend in 2022. It gives you a more fashionable appearance and the balayage gets attention in the group. This type of hairstyle gives you capacity and wavy hair changes your face shapes too.
5. Classic Blunt Bob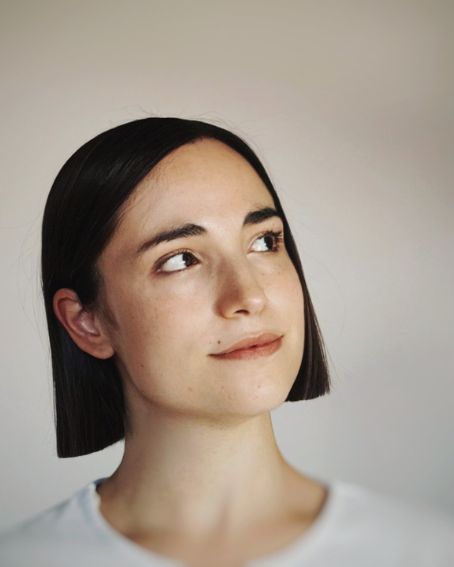 The symmetrical bob is perfect and fashionable for all aged women. Straight hair makes you soft and textured, have maintained with a rounded brush for a blunt cut. For a dimension look, tuck your hair behind the ears.
6. Long Blunt And Brown Hairstyle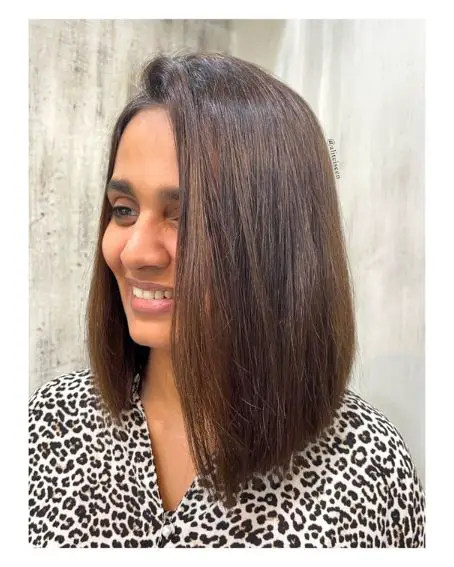 The daring and sexy tapering length gives you accuracy and symmetrical. The brownish shade conveys more elegance and a dramatic appearance. The side-parted straight bob is liked by celebrities and professionals.
7. Messy Layered Bob With Blunt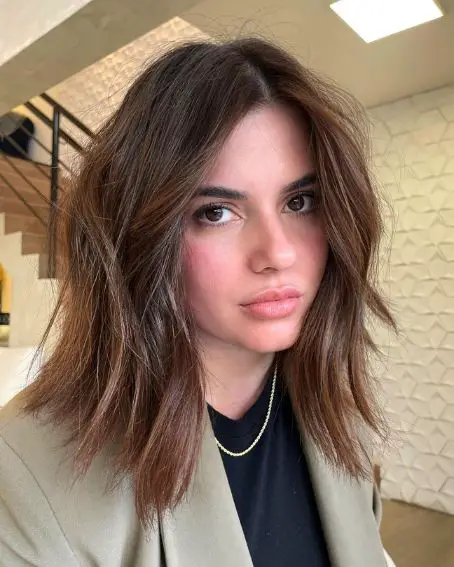 A caramel-colored simple layered bob with a blunt is a budget-free hairstyle for women. Easy to maintain, give you a glamorous looking. The shiny and feathered layers give a more daring outlook. It is best for parties and office places, easy to handle.
8. Blunt Cut With Bangs For Thick Hair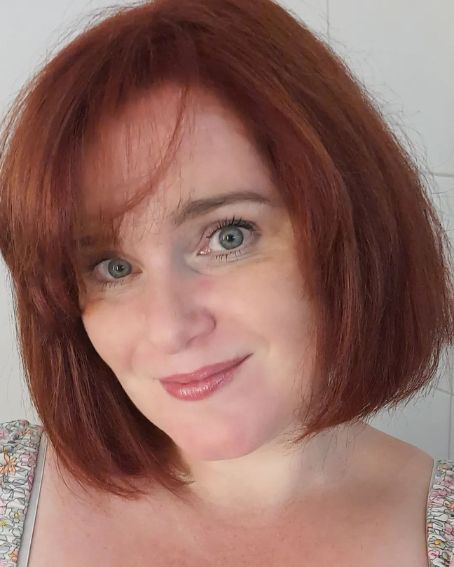 A very popular hairstyle from the 1970's to till now. But it is now followed with an updated version like brown shade. Most western people love this hairstyle with curtain bangs that give you youthfulness and chic. It is fit for all face shapes and skin colors.
9. Wavy Blunt With Caramel Highlight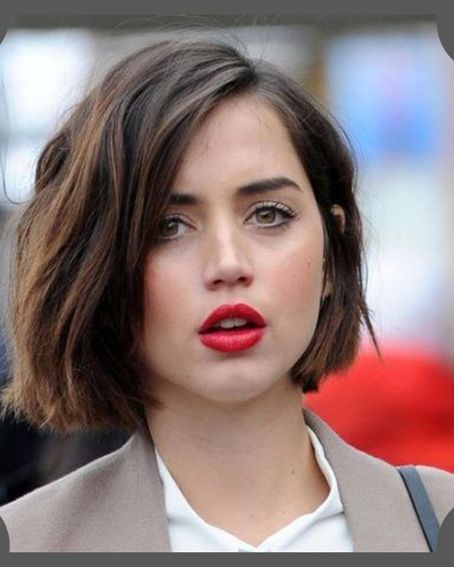 Blunt haircuts are twisted in a variety of ways, and there are no rules for them. Flattering and cheering are the properties of blunt bob. The highlighting of caramel shade with a side part is trendy and fabulous.
10. Middle Parted Side Sleek Blunt Bob
The perfectly straight fine bob does not need any frills and extra touches. The silhouette of this blunt bob is flattering and gives you the best for your face cut. Gradually improving your confidence and also rounded internal curve with a sharp edge makes you bold and youth.
11. Textured Bob With Chunky Bangs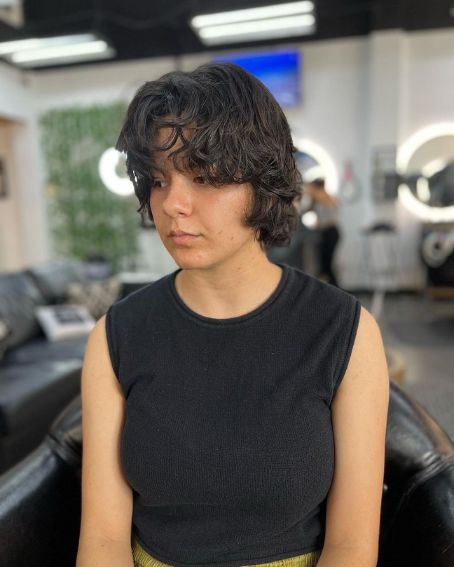 Subtle waves throughout the length give you a messy appearance. The slightly rolling with bang looks casual and unique. With this hairstyle you look bold and confident in your appearance.
12. Black Rooted Side Blunt Blonde Bob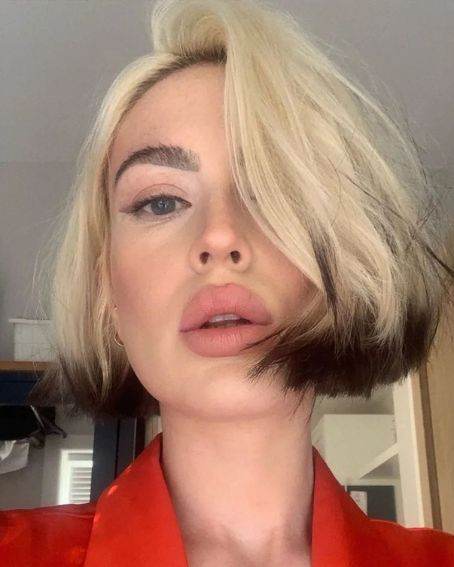 The thicker and more texture is the distinctiveness of the side blunt style. You look versatile with this blonde bob. Additionally doing with black root and black edge in touching viewing is an eye-catcher. It is always an outstanding hairstyle apt for any event.
13. Wavy Shaggy Blunt With Highlight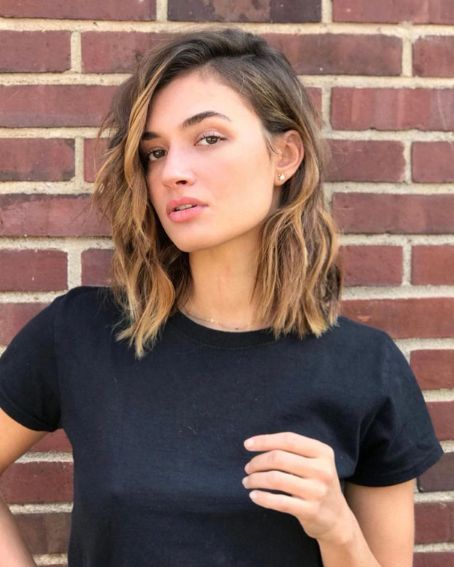 The brownie hair draws special attention in the crowd Which is a very romantic look with edge curls touched on the shoulder making your jaws drop. The subtle highlights and shoulder height length hair can do a variety of hairstyles like this.
14. Asymmetrical Middle Parted Blunt Bob With Red Highlight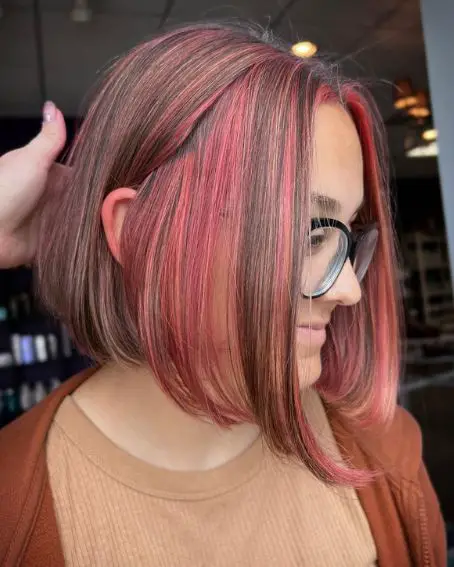 This is perfect for square shaped face because an asymmetrical cut is amazing on straight hair. The surprised curtain bangs length is a cute and trendy hairstyle. The middle part look gives you confidence and strengthens activities.
15. Straight Bob With Black Bang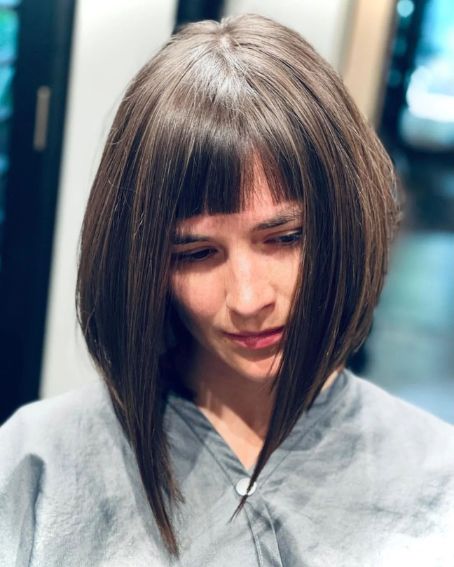 Shoulder-length hair is perfect for any hairstyle with excellent outfits. Bang with long straight hair in the front and short layered in back side is popular in nowadays. It is trendy in the fashion market and many celebs are liked this hairstyle.
16. Layered Burgundy Blunt Bob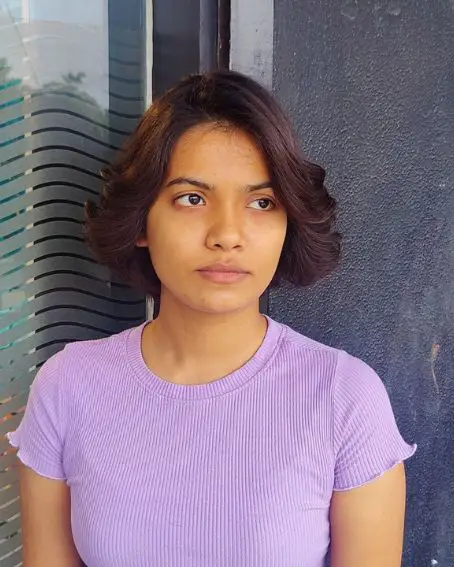 Creating a burgundy blunt bob is giving you a soft brown base. If you plan this hairstyle, you do need more time to maintain it, this hairstyle is lasting for the whole day. The wavy short layered at the end makes others turn their head.
17. Straight Ombre With A Rounded Blunt Bob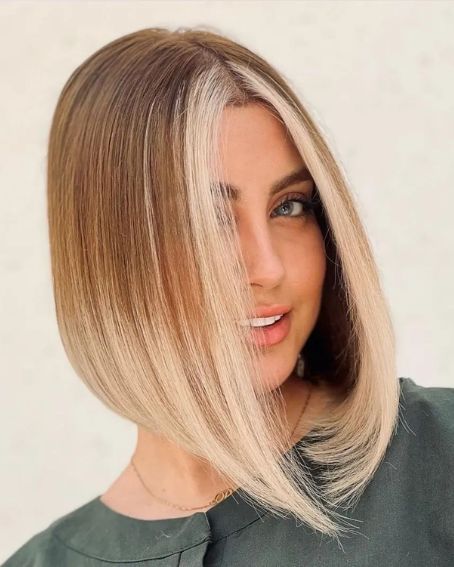 Enhancing the styles and creativity in your hair makes you show braver. This is perfect for framing your face elegantly. The blonde highlights on both sides with length-like bangs make you look fabulous.
18. Side Parted Blonde Bob With Blunt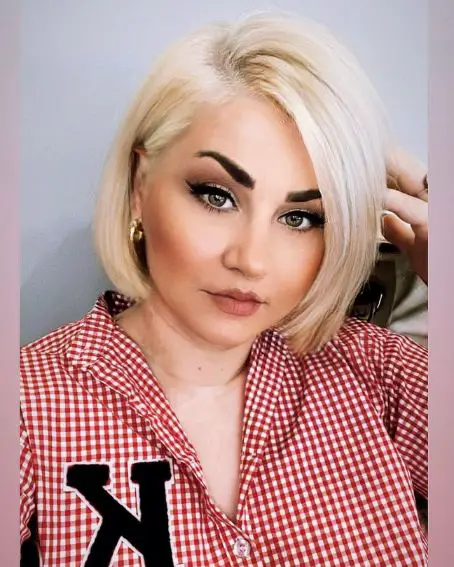 A Blunt bob is a very normal hairstyle but in combination with blonde making an awesome appearance. You look stunning and unique in your western outfit. Normally it is fond of western people and you can manage with this hairstyle for the whole day.
You Might Also Like: