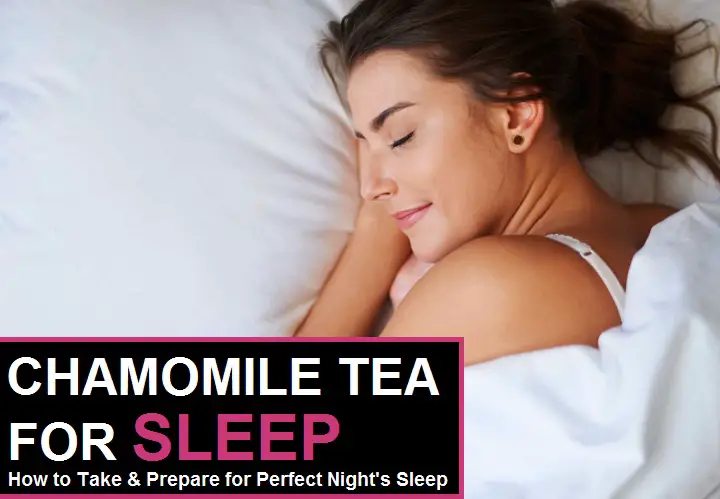 Chamomile also famous as a sleep inducer has sedative effects. It has though not 100% proven but is believed to be one of the best home remedy for relaxation and sleep since ages. This natural herb is being used from centuries and was previously considered to treat upset stomach.
The flavor is more like a crisp apple and floral sweetness. It has an airy light taste that people usually enjoy. This bedtime tea eases anxiety and calms your body down.
What is Chamomile Tea?
This comes from a daisy like plant which is known for its sleep inducing properties. Chrysin found in this plant family is partially responsible to be sleeping aid. It is not only delicious but also has a fruit flavor to it.
The Chamomile Flower is Known to Be:
Anti-inflammatory
Antioxidant
Antifungal
Antispasmodic
Antiulcer and
Astringent healing properties.
Is Chamomile tea Good for Sleep?
Chamomile is rich in calcium, magnesium, potassium, vitamin A and flavonoids that helps to have a balanced diet. Chamomile Tea is considered as one of the best home remedy for sleep.
Below are a few Benefits of Chamomile Tea:
It Detoxes your body: The Chamomile tea helps your get rid of waste and toxins stimulating weight loss and also bloating.
Reduces Stress: Chamomile is a natural stress reliever. When there is excess stress your metabolism goes down and that's when this tea shows its magic.
Helps you Sleep: Because of the sleep inducing properties, this tea helps you sleep better giving your body and mind the needed rest.
How to Use Chamomile Tea for Sleep
If you are sleepless or want a quick method of falling to sleep, try this easy recipe:
Ingredients:
Chamomile flowers
1 cup of boiling water
Procedure:
Pour 1 cup of water in a tea pan
Boil the water and add chamomile flowers (fresh or dry)
Bring it to boil
When the colour of water changes and you can smell the aroma, turn off the heat.
Strain and Drink
You may add Honey (optional)
You can drink this before eating or before going to bed.
Ways to use Chamomile Flowers
There are other ways to use Chamomile Flowers:
Bath: Add a few dried flowers to warm water bath. Also add few drops of essential oil and relax for 15-20 minutes.
Gargle: Add Chamomile flowers to boiling water and let it rest for ten minutes. Gargle to reduce mouth ulcers or inflammation in throat.
Inhalation: Add flowers to boiling water and cover your head with a towel. Take this steam 1-2 times every day.
Other Benefits of Chamomile Tea:
Stomach Cramps
Migranes
Dark Circles
Bowel Syndrome
Acne prevention
Reduce Swelling or pain
Tips While Drinking Chamomile Tea
Don't drink too much as a full bladder will push you for bathroom breaks during your sleep.
Do not brew for more than 3-4 minutes if you want a lighter flavor and not a bitter one.
Drink this not more than 3-4 times per day.
Pregnant women or those with health issues similar to Asthma should avoid drinking this tea.
Excess amounts of this Tea can cause nausea.
Hot or Cold? With Lemon or an extra flavor? Well, drink it anyway and keep your sleep healthy and happy. Chamomile tea can help improve your health and overall well being. Chamomile can be used in a dozen ways to help your body and it all depends on how you use this magical herb. You can drink as a tea, apply to your skin or even add it to your toothpaste. Try and wait for the best results!
You Might Also Like:
Image:- 1