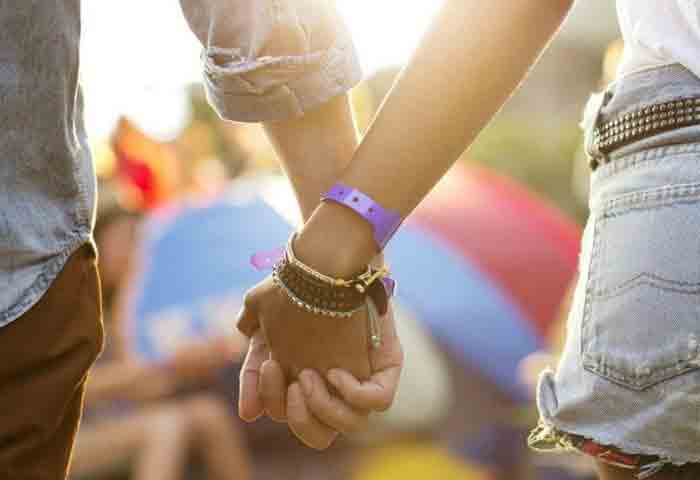 Every one of us has a cute nickname, which is mostly called by someone special, relatives, friends or family.  Everyone loves to be called by nickname as long as it sounds good on their personality and mean something positive. Most of the nicknames given by your friends is after judging your behavior and likes! Being in relation calls for different nick names which you love to call to your partner. A nickname given by your partner remains special to you all the time, and it holds a special reserve of being called by only that person.
[ Read: 25 Creative Ideas to Say I Love You ]
Here we mention you some cute names to call to your girlfriend, and we bet they would love to be called by this name.
50 Cute Names To Call Your Girlfriend
Cutie Pie
Many of boyfriends love to call their girlfriend with this name; as such names will never put you in trouble.
Angel eyes
Have a girlfriend with pretty eyes? Than you should name her as "angel eyes". Calling her with such name can help to make her feel respected and confident about herself.
Donut
Donut is one among those desserts which is mostly coated with sugary substance around it. We don't need any girlfriend would regret on being called as "donut". Calling donut can make her feel she is sweet and good indeed.
Doll
She is heavenly beautiful and charming? Call her doll and she would appreciate this!
Darling
Calling girlfriend with the name "darling" sounds something formal and good. Darling is a standard form of name, which is often called by a boyfriend to address his women.
Hot Mama
If you find your girlfriend hot, sexy, and beautiful call her "Hot mama". She would be confident with her curves from now.
The Dream Girl
If she is your perfect match, and you always wanted such a girl to be your girlfriend, call her "dream girl"
Hop
If she loves more of joy, fun and loves making fun out of everything, call her "hop"
Gorgeous
Gorgeous is not any more just a word, you can call her gorgeous and play safe this time.
Cuddling Bug
Cuddling Bug is one among those names which came in fashion through TV, so calling your women with this name can never make her go upset.
Kitten
Kittens are adorable, cute, playful and cuddly too. Calling your girlfriend "kitten" can make her feel about the positive things in her.
Babe
Well, now the word is talking offence due to media portraying it in the wrong way. But calling your girlfriend with the name "babe" will never put you in trouble.
Queen
You can address her with the name "queen" if she has always been the girl behind your success. Even if not, there is no problem in addressing her with this cute and respected name.
Sweetie
Sweetie is a common name which is used by many of the boyfriends to address their girlfriend. The name "Sweetie" makes her feel sweet and good in behavior.
Joy
Irrespective of a regular boy name, you can call your girlfriend "Joy" if she brings joy and happiness to you.
Happiness
If you thought, happiness is what that comes from your girlfriend, address her with this beautiful name.
Snuggle
Most of the boyfriend love to snuggle girlfriend and if she is someone whom you love you snuggle with, than call her with the name, snuggle.
Melody
Melody is quite a feminist name and if you girlfriend is a singer and her voice is melodious, than call her with the name "melody"
Rose
You can call your girlfriend with the name "Rose" if she was more precious than you and if she is sweet in behavior.
Pan cake
You can call her with this cute name, but make sure you are not associating the name with her figure size.
Lover Girl
If she has always been your lover girl, don't hesitate calling her lover girl.  Calling her with this name can make her feel the power of love.
Honey Bunny
Honey bunny sounds something cute, sweet and adorable. She obviously wont offence calling her by this name.
Dove
Doves are mostly pure, silent and more fragile. If you think, she represents all these qualities in herself, than call her with the name "dove"
Cherry
Just like the cherry at the top of cake, completes the desert you can call her cherry if you thought she completes your life. Her presence is valuable in your life.
Charm
Relationship works with many beliefs and myths. However, if you think she is your luck and brings back the charm to you, call her by this name.
Bright Eyes
Bright eyes are for those girls who have got lovely and bright eyes. If you think her eyes were the best feature, call her "my bright eyes"
My Lemon
Lemon is mostly thought add some unique taste and freshness to the dish. If you though, she brought some uniqueness and freshness to the taste, than she is your lemon.
My Summer
She is bright like summer, call her using this name. As she brings light and brightness to your life, you can call her by the name "summer"
Juliet
If she is the centre of attraction and heroine of your tale, than call her with the name. If you find all the qualities of Juliet in her, call her with this name.
Pinky
If she loved more to wear pinks or something if she represents all the qualities of being a girl, than associate her with the name "Pinky"
Pumpkin
Pumpkin is a type of sweet name, which a girl would not take offence if you take care about the word pumpkin, is not associated with her body size.
Dummy
Although, this is a cute name but you can surely refer this name if you want to lose her. The word dummy resembles some girls who are much more equal to being dumb or giving dumb answers.
Scoop
If you thought, she was just like that one tasty scoop of ice cream which you want to cherish till the end of your life, than call her using this name.
Treasure
If she was treasure to you and more precious than any other person in the life, than call her by the name "treasure"
Honey Bunch
Honey bunch is a dessert which is sugar but not too much. If you think, your girlfriend was just like the honey bunch than call her using this name.
Sexiness
If you find her curves, body and moves as sexy as hell, don't hesitate calling her by this name.
Dumpling
This one of those tricky cute names to call your girlfriend since guys will thinks it's fine, but females will think you're making a comment about their weight.
Boo
Call her Boo If you find her sexy, beautiful and incredibly hot.
Magic
If you though, your girlfriend fills your life with magic and she always brought some liveliness in your life, than call her "magic".
[Related: Cute Things to Say to Your Girlfriend]
Wifey
If you think, she is your future wife or planning to marry her in future, resembles her with the name "wifey"
Cinderella
If she just meant to your Cinderella and was princess in your eyes, you can call her with this cute name.
Hot Stuff
If you find her really irresistible and hot, why not call her with the name "hot stuff"
Sweet Heart
This is one of the most standard names used by boyfriends to call her girlfriends. If you find her sweet and sincere than call 'sweet heart'.
Cookie
If she is raunchy, crunchy and sweet like cookie, than call her with the cute name, cookie.
My All
'My all' is a name which a boyfriend would like to call girlfriend if she meant everything to him.
Pooh
Have you seen the winnie Pooh? If you find your girls as cute as pooh call her with this name. Make sure she doesn't feel awkward and offence the name, due to her weight and size.
Sprinkles
Sprinkles is something that brings joy, happiness and fun to life. You can call her sprinkles, if you thought she possess all those qualities in her.
Peach
Peaches are mostly cute and adorable, which mostly resemble as fruits in peace. If you find your girlfriend, cute as the peach fruit call her with this name.
Lamb Chop
At first glance seems fine, but when you think about it you're comparing your girlfriend to the slaughtering of an innocent little animal. Might as well shoot Bambi while you're at it
Main Squeeze
This is generally considered a cute name for a girlfriend although you could be unconsciously calling her a Cold Frosty.
Photo Credit – 1 
You Might Also Like: