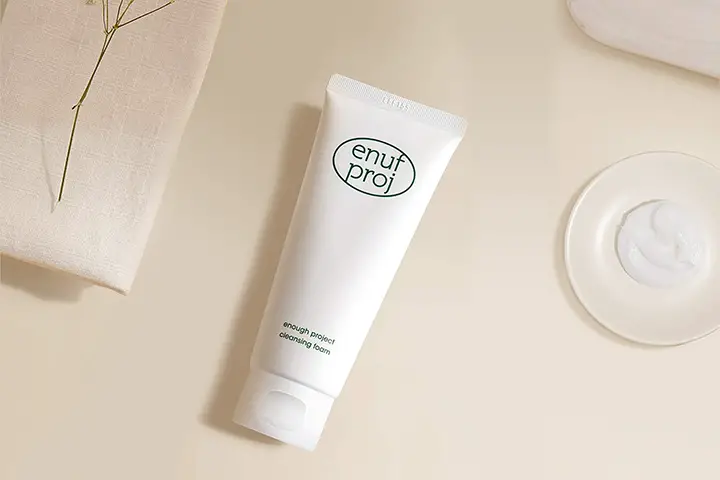 Hide your age by using enough project anti aging face cleanser. It cleans the clogged pores and helps to make your skin acne free and avoid other impurities entering into your skin.
Enough project lightens scars and blemishes to improve skin tone. It also helps to exfoliate the skin gently to keep away the excess oil and dead skin cells to maintain your skin looking young.
Enough Project Face Cleanser
How it Works:
The main ingredients like mint extract and cocoa butter both blend into a soft, creamy thick foam to remove impurities.
Both ingredients are loaded with skin hydrating and nourishment properties.
The best ultra moisturizing foaming texture of this product deeply cleanses and moisturizes your skin.
The soft milky texture sinks into your skin as an intense moisturizer.
It is rich in foam which helps to maintain skin moisture and it is recommended by allure and yahoo! life.
Pros:
Best anti-aging face cleanser.
Soft and creamy texture of the product helps to pamper skin.
Long lasting moisture.
Help to balance oil moisture.
Cons:
May not be suitable for dry and combination skin.
Rating: 4.4 out of 5
Get a perfect balanced complexion skin with vitamin E, which helps to balance oil moisture and reduce the fine lines marks. A perfect face cleanser. Value for your money.
Frequently Asked Questions (FAQ's)
Q. Is this good for oily skin?
Ans: Yes it is suitable for oily skin.
Q. What are the main ingredients of this product?
Ans: The main ingredients are mint extract and cocoa butter.
Alternate Products:
You Might Also Like: