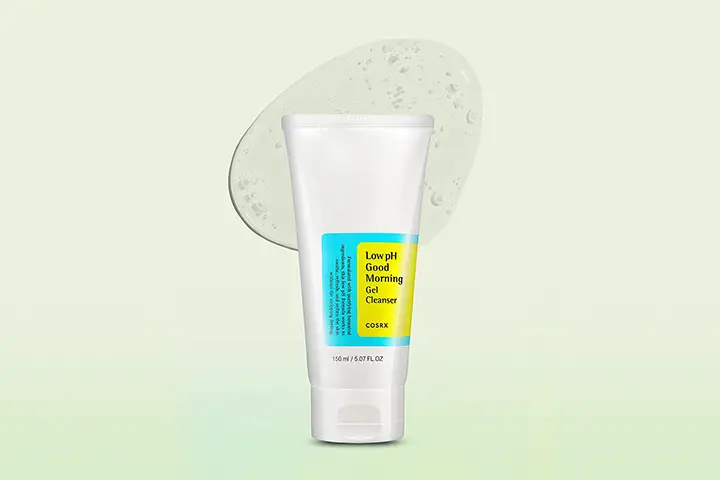 A healthy skin barrier keeps the impurities out and locks the natural oils and moisture in. To strengthen your skin barrier cleanse daily with COSRX Low pH Good Morning Gel Cleanser. It works gently and gives effective results.
It can be used in the morning and at night also. This cleanser removes excess oil, makeup and leaves it feeling fresh and glowing. It clears the pores and avoids skin problems.
COSRX Low pH Good Morning Gel Cleanser
How it Works:
This cleansing gel is formulated with purifying botanical ingredients, which heals and rejuvenates and works great to treat the skin issues from hyperpigmentation and acne caused by aging.
The low pH formula of this gel soothes, refreshes and softens the skin.
Cleanses your skin for a bright and shiny day and a lustrous look at night.
It also protects the skin from trouble-causing irritants.
The pleasant aroma of tea-tree makes you feel more refreshed after using.
It works great for all skin types and the gel cleanser is light and easy to use.
Pros:
Protects skin barrier.
Restores pH balance.
Corrects the uneven texture.
Restores skin's moisture.
Refreshes and hydrates.
Cons:
Not suitable for all skin types.
Rating: 4.5 out of 5.
This cleanser is infused with naturally driven plant extract including BHA and tea tree oil making it work. It effectively removes all the dirt, bacteria and fills skin with vitamins.
Frequently Asked Questions (FAQ's)
Q. Is this cleanser fragrance free?
Ans: The product doesn't contain any artificial fragrance.
Q. Can this be used twice a day?
Ans: The Cosrx Low Ph Good Morning Gel is meant for people prone to dry and sensitive skin, so it can be used twice a day.
Q. Can this be used as a night cleanser?
Ans: Yes, this is a cleanser for both but since it is a low pH balance, the name is good morning cleanser, meaning gentle enough to use in the mornings.
Alternate Products:
You Might Also Like: