Whether you are a beauty expert or not, there is one item which I am sure you would all have in your beauty regime. No I am not talking about your makeup routine or your fashion routine. What I am talking about is the small and very useful pumice stone! Now, we all know that the pumice stone is used to exfoliate but today we will show you 15 different ways in which a pumice stone can be used.
Top 15 Ways to Use Pumice Stone:
1. For Better Skin Tone:
Don't we all love a good and even skin tone? Try this simple trick and you will soon have your desired skin tone.

All you have to do is massage your skin daily with the pumice stone which will improve your blood circulation.
2. Pumice Stone for Cracked Heels:
Do you always worry about hiding your cracked heels? Well, rather than hiding it, how about you fix it?

Soak your feet in soap water for 15 minutes and then gently massage the heels with a pumice stone.

Do this twice a week and we are sure you will see a remarkable difference.
3. Pumice Stone for Corn:

People who have corns in their feet or hands will know how painful it is. Though there are a number of ways to remove the corn, we are sure you have never tried to do it with the pumice stone.

After your bath, gently run the pumice stone over the corn to remove the dead skin. But ensure that your hands or feet are wet.
4. Pumice Stone for Blackheads:
Now this is something we are sure is new for you! You can use the pumice stone to effectively remove blackheads.

The only thing to keep in mind is that while massaging, your skin should be soft rather than dry.
[ Read: How to Use Baking Soda for Blackheads ]
5. Pumice Stone for Dark Skin:
If you are looking at ways to improve your dark complexion, then we would suggest doing it with the help of the pumice stone.

Soak the stone in soap water and massage it over the dark lines on the skin.
6. Pumice Stone for Stretch Marks:
Want to make those stretch marks disappear? The pumice stone is here to help you out.

All you have to do is just rub the stone over the stretch marks while taking bath.

Over a period of time, the stretch marks would gradually decrease.
[ Read: How to Use Vitamin E oil for Stretch Marks ]
7. For Those Ugly Pores:
A natural remedy is any day better than the store bought ones, right? To get rid of those ugly pores, you will have to use the pumice stone at least once in a week. Remember to always massage your face gently with the stone.
8. For Soft Hands:
Just like keeping your feet soft, it is important to keep your hands soft too.

Nobody likes to shake hands which have a hard texture, isn't it? If you think your hands have a hard texture and you would like to make them soft, then you should wash your hands with the pumice stone once in a week.
9. Pumice Stone for Hair Removal: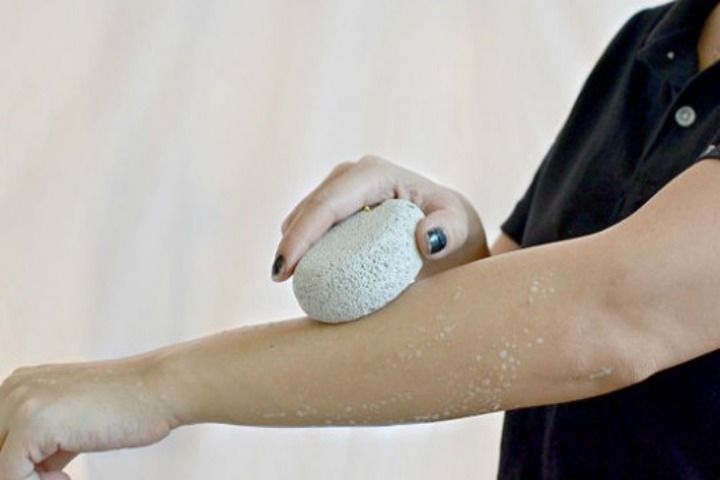 Keep those hair removal creams and wax aside and try this natural way of removing hair. First use a face mask and then massage your skin with the pumice stone to gently remove the skin from your face
10. For Dry Skin:
Tired of your dry, flaky skin? Get that pumice stone out now! Rub the dry area with the pumice stone and see the results for yourself.

Don't forget to dip the pumice stone in soapy water before rubbing it on the skin.
11. Distressed Looking Jeans: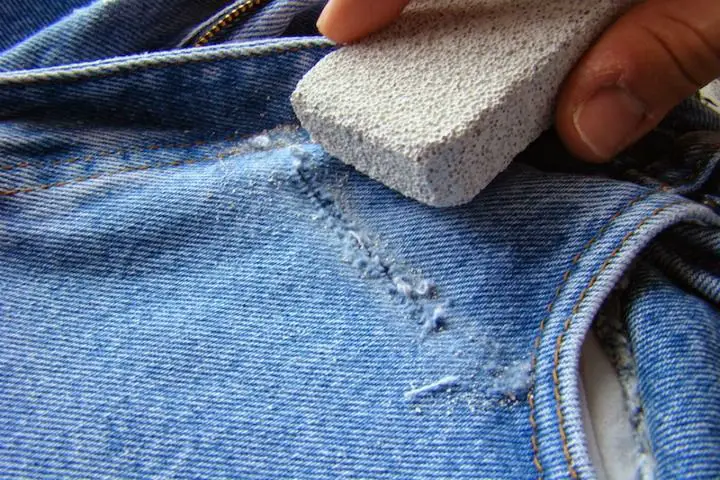 Ok, so everyone is out there flaunting their distressed jeans but you are still looking for the perfect pair to buy and flaunt? How about you add the distressed effect to your already existing pair of jeans? Just rub the pumice stone over it until you get the desired look. Pretty easy, right?
12. Removing Pet Hair:

Love your cats and dogs, but tired of their hair sticking on your furniture and car seats?

Here is a simple way to fix this issue. Just rub the pumice stone wherever required and you can say bye-bye to this problem.
13. For Those Messy Ovens:

Get those greasy stains away and have your sparkling oven back with the help of the pumice stone.

Though it is a time consuming process, it is one of the best ways to get rid of the grease and stain.
14. Make An Oil Diffuser:
The porous nature of the pumice stone makes it an excellent essential oil diffuser that you can place in your room.

Just put 35 drops of any essential oil on the stone and let the scent slowly take over the room.
15. Pumice Stone for Manicure:

Your pumice stone can also double up as one of the tools during your manicure session.

Just wet the stone and use it to remove the extra skin around the cuticles and then you are all set to paint your nails.
So these are the 15 ways in which you can use your pumice stone. Do you have any other innovative ideas to share with us? Let us know in the comments below; we would love to hear from you!
Read Also:
Image:- 1