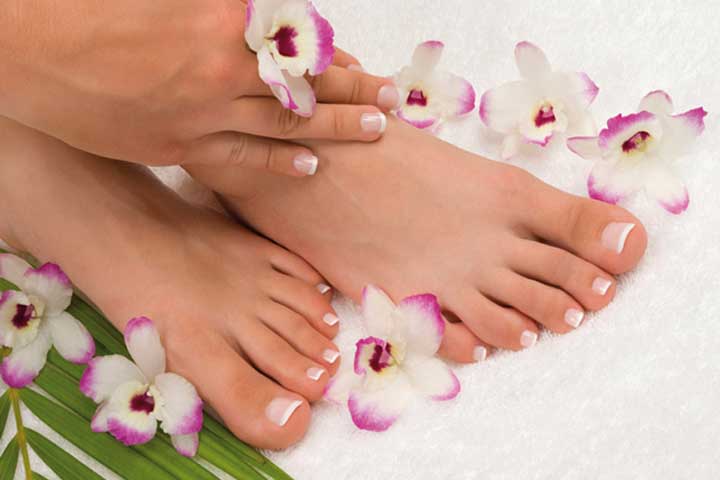 Though your feet is mostly not visible due to your footwear or long outfits, they still get dusty and dirty. You need to take care of them just like you do for your hands and face. A good session of pedicure is what you need to relieve your feet from all the dust and stress. To get a good pedicure, you don't necessarily have to shell out a bomb at the salon in order to get pretty and dainty feet.
Here we have a detailed step by step instruction on how to get a pedicure done right in the comforts of your home!
1. Get The Right Tools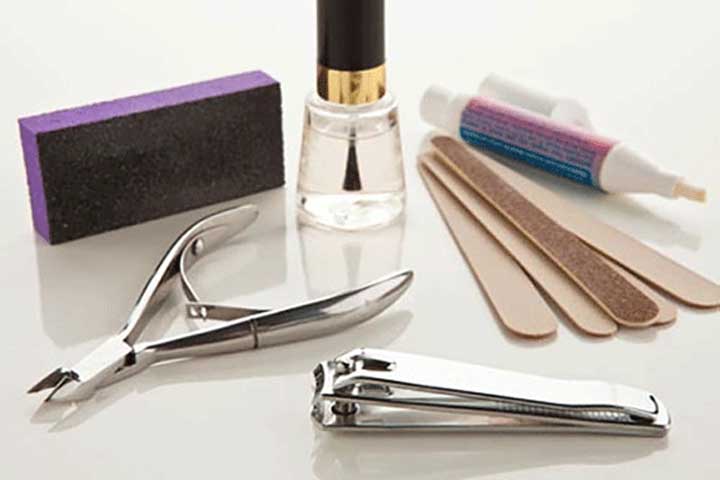 The first step in getting a pedicure done would be to have all the right tools at your disposal. Take a note of these tools and start stocking them up:
A bucket or tub to soak your feet
A nail cutter
Nail filer
Cuticle stick
Nail buffer
Pumice stone
Top and base coat
Nail polish
Below are some of the supplies that are optional:
Bath salts
Cuticle trimmers
Cuticle oil
Lotion
2. Remove Your Old Nail Polish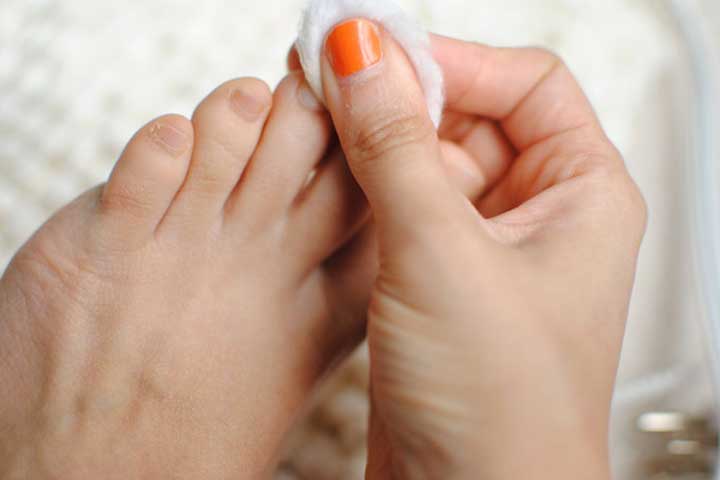 Now that is pretty obvious right? But yes, you have to make sure that you remove all the old nail polish from your nails before you proceed to the next step. If you add a new polish over your old one without removing it, it will definitely not look pretty, isn't it? So, go on and use a nail polish remover to makes your nails spic and span.
[ Read: Simple Toe Nail Art Designs] 
3. Soak Your Feet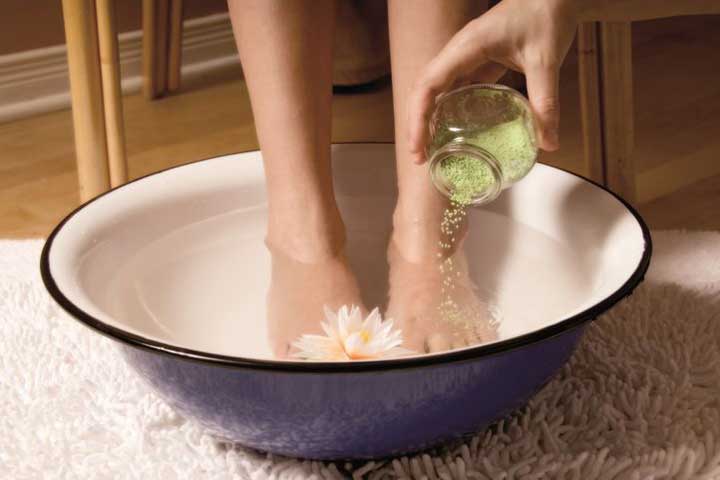 Alright, now it's time to get hold of your tub and fill it with warm water. You can add some bath salts or essential oils in the water. Sit back, relax and let your feet soak in the tub for 10-15 minutes.
Let those dirt and grime come off your feet! The warm water will also soften those hard calluses, your nails and cuticles. Once done, pat dry your feet with a towel.
4. Time To Exfoliate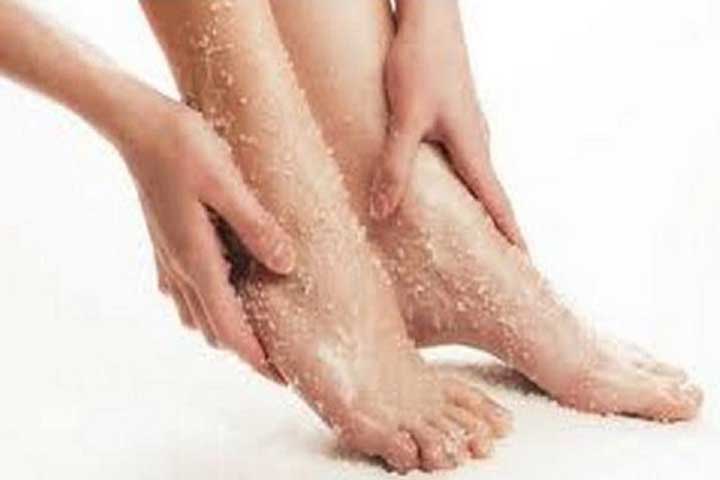 After your feet is dry, its time to exfoliate by using a cleanser cum moisturizer. Show some love to your feet and gently exfoliate them. Once you are done with the exfoliation, leave them for sometime.
5. Snip, Snip, Snip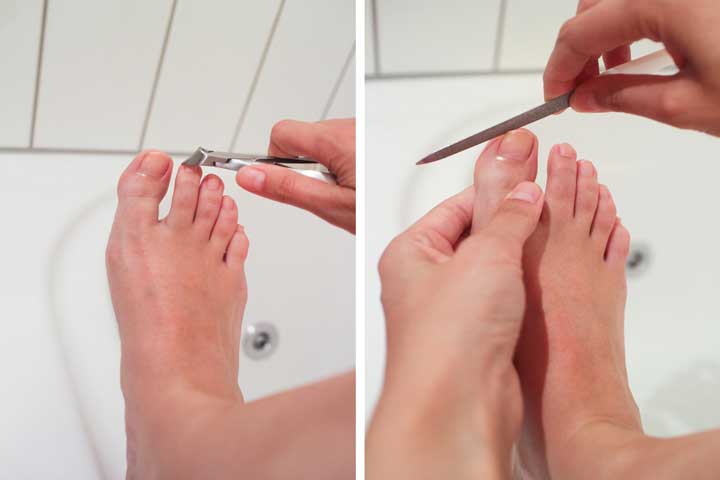 Get your nail cutter out and start snipping your nails. The shape and size depends on you; so make sure you cut them according to your desired shape and size. Also, please ensure that you maintain uniformity across all the nails. As a suggestion, we think oval or square would be the best shape to go for.
After your nails are cut, the next step is to buff the edges using a nail filer. This will ensure that all the sharp edges are smoothened out. Another tip would be to file your nails in the same direction so that you do not cause any damage to your nails.
6. Focus On The Cuticles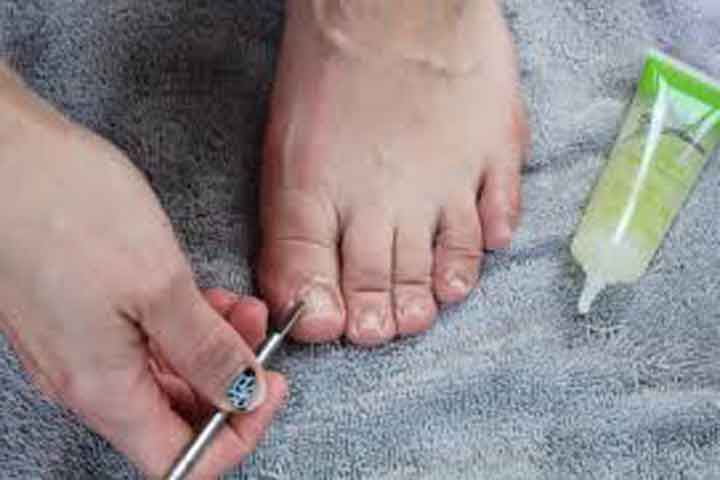 You need to be extra cautious while doing this step. Using the cuticle stick, push back the cuticles around each nail gently. If you want, you can cut away the extra cuticle with a cuticle trimmer. After your trimming session, you can apply some cuticle oil to moisturize your nails.
7. Buff Up Your Nails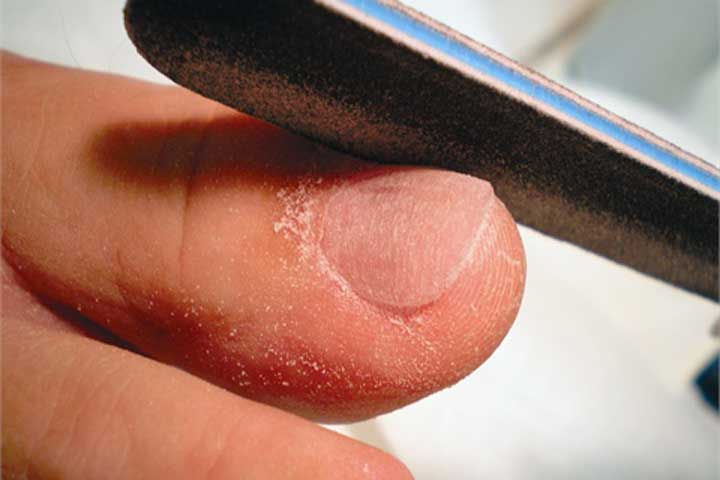 Use your nail buff to remove all the rough edges and to create a proper level for each nail. Once again, make sure you use the buffer in the same direction for all your nails.
8. Get Rid Of Calluses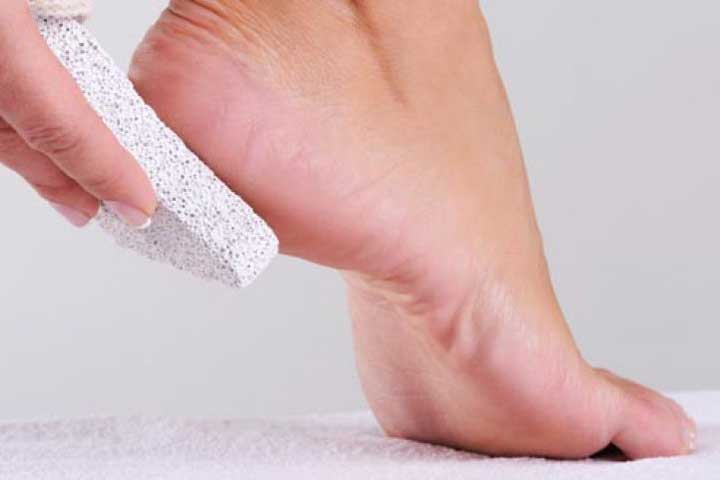 In this step, you will have to use the pumice stone which has to be gently rubbed over your heels so that all the calluses and ridges can be removed. Make sure you do not apply extra pressure while doing so, as it can harm your skin as well.
After using the pumice stone, fill the tub once again with some soap water and soak your legs in it so that all the remaining dirt can be washed away.
9. Dry Them Off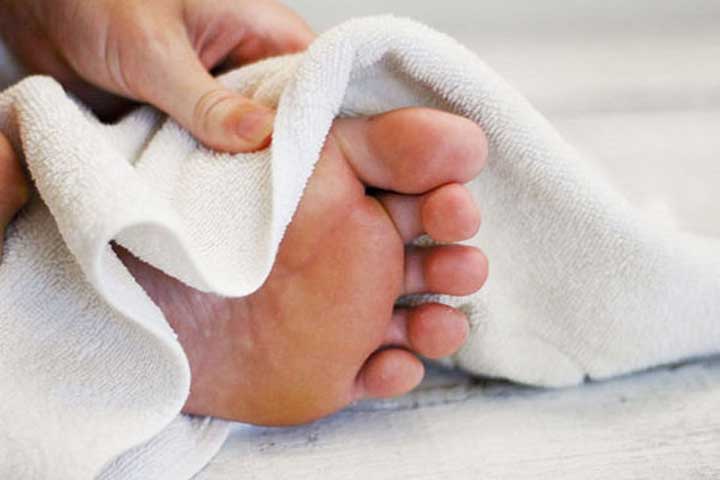 After washing away all the remaining dirt, remove you feet from the tub and pat it dry with a towel. You can empty off the tub as well. Once your feet is dry, if you want you can gently massage some lotion on your feet to keep it soft, supple and moisturized.
10. Prepping Your Nails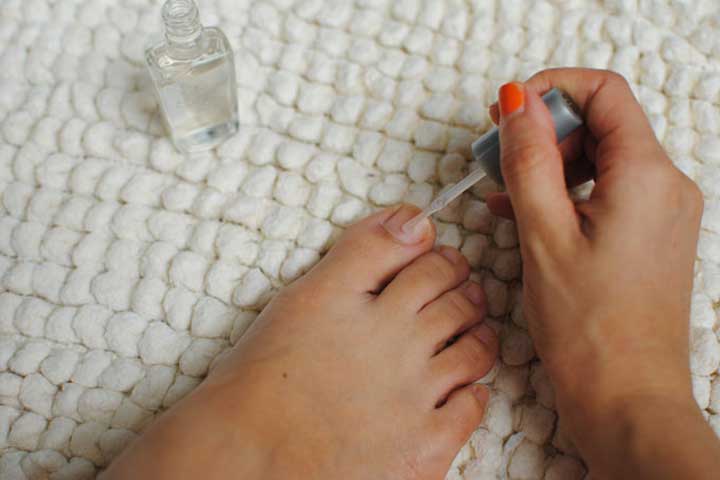 Before you apply your choice of nail color, you need to apply a base coat. This will act as a protective coat for your nails. It will also prevent your nails from becoming yellow due to the nail polish.
11. Pretty Nails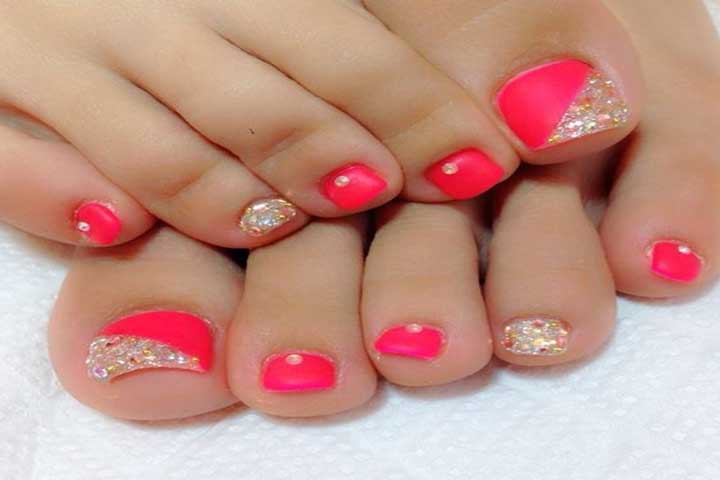 Now that nail art is all the rage, having a single color across all the nails is passe. It's time to have fun and start experimenting. Try out different kinds of nail art – cartoon, stripes, glitter, polka, animal prints, festive, etc. These nail arts are not only pretty but also the perfect accessory to show off your newly pedicured feet.
But, if you don't have the time or patience, you can still opt to paint them all in your favorite color. Just make sure that you add enough coats to get the desired look. Also, don't forget to remove off the extra nail paints from the sides!
12. Final Step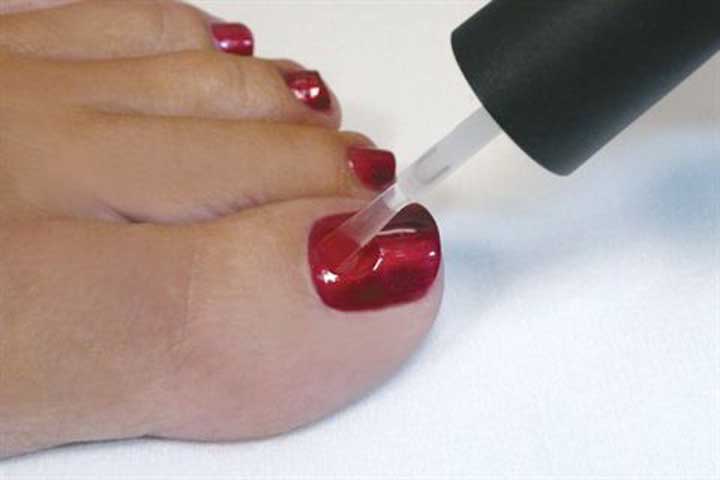 Yayy, you have successfully reached the final step which is nothing but adding a top coat to your nails once the nail polish is dry so that your nail paint is protected and doesn't get chipped away easily.
We hope this step by step instruction comes handy to you the next time you want a pedicure. Yes, we agree it is a time consuming procedure but when you can get it done at home, why would you want to spend an exorbitant amount in the salons? Also, this is a perfect idea for you to have a bonding session with your girlfriends.
So go on and plan your next pedicure date with your girl gang and have a blast!
You Might Also Like:
Image source : 1, 2, 3, 4, 5, 6, 7, 8, 9, 10, 11, 12, 13