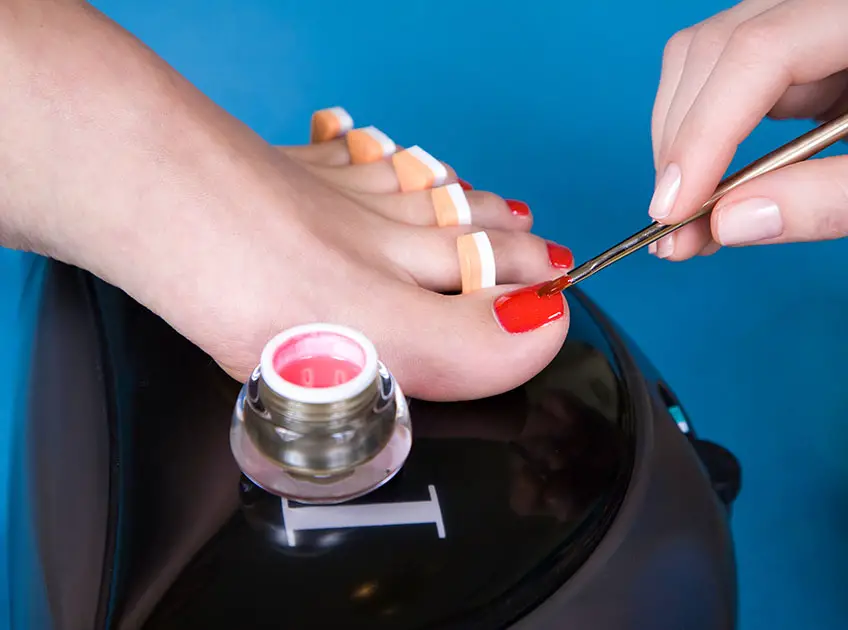 We all know pedicure is an indicator of a woman's good beauty and her reverent attitude towards herself. You may be very familiar with gel manicures. You also know about gel manicures last longer as well as may have knowledge on how to polish without any damage to your nails at home. However, you don't have the knowledge about gel pedicures, even though the salon offered them on their menu. If you are still not sure if a gel pedicure is correct for you, then keep looking at this article for more details to assist you to decide.
A Gel Pedicure Give Long-lasting Toes
Choose Gel Pedicure To Experience Beautiful Toes
Although gel pedicures usually last for four to six weeks, depending on your lifestyle and the type of shoes you wear, manicurists say that gel pedicures usually last at least three weeks. It is too longer than a normal pedicure. It depends on how you handle your feet; regular polish will start to chip in one to two weeks.You can select monthly gel pedicures to retain your toes looking sleek and fresh or take a week or two off between pedicures to give your nails a breather without polishing. Most people are choosing gel pedicures because they trust the benefits are excellent at the extra cost.
Procedure To Do Gel Pedicure
Gel pedicure professionals say that a gel pedicure is almost identical to a gel manicure. If you do a gel pedicure every two weeks once, it will be helpful for your health and foot. the outline base is to cut the nails, lightly soak the feet, trim the cuticles, clean thoroughly, treat calluses, scrub, and massage, accompanied by a base coat layer, two coast layers of color, and a topcoat layer. After each coat of gel polish, your feet will be placed under an LED light for sixty to ninety seconds. As with any pedicure, your feet will be treated before the polish is applied to the nails. you don't want to worry about your nails drying. If you are doing gel pedicures at home, you can follow the same steps.
Gel Pedicure Cost
Gel pedicure cost is a usually higher price than a manicure. Gel pedicure's cost varies based on where you are living. High-end spas or luxury salons charge significantly higher than your local nail salon. However, they usually include features in their services like some champagne or wine, comfortable clothing, and a relaxed atmosphere. Typically, a normal pedicure cost will be USD Thirty to USD Eighty. But the cost of a gel pedicure can be significantly higher, around USD Forty to USD Hundred.
Gel Pedicure Secrets For Long-lasting Effects
1. Toenails grow much slower than fingernails – As with toenails, fingernails grow three times faster than toenails. Therefore, gel manicures should be done more often than gel pedicures to avoid an unsightly bare strip close to the cuticle line.
2. On the other hand, toenails are low susceptibility to damage. After that, your shoes cover your toenails, and you do not open cans, take up things with your feet, or do anything with them. Because of this activity, your pedicure is more susceptible to wear and tear than a nail.
Gel Pedicure Is Better Than A Regular Pedicure
Gel pedicure is much better than regular polish. When you go on travel or vacation, it is very helpful because the shine and polish are long-lasting and also reduce the extra salon cost and you don't have to be scared about chipped toenails. In regular nail polish, sand, salt, and chlorine water affect highly than in gel pedicure. Regular polish tends to dull and chip much faster than gel polish in tropical conditions.
Gel Pedicure Removal Tips
Like hand gel polish, Toe gel polish should remove for a minimum of ten minutes. In order not to damage the cuticles and nail bed, you should not scrape or peel the polish. Cover the nails with aluminum foil and an acetone-soaked cotton ball for ten to fifteen minutes. After that, the gel should lift and stop on its own. "If not, utilize a wooden stick to remove it completely. Taking a regular break from time to time, and using a gel manicure helps to maintain nails from deteriorating.
Conclusion
By going through this guide, hope you have got enough information on how long the gel pedicure on nails gets last. Obtain a gel pedicure once in a month if you need to always have pretty and appealing toes. Concluding that, compared to gel manicure, your gel pedicure will be long-lasting without lifting or chipping.
You Might Also Like: