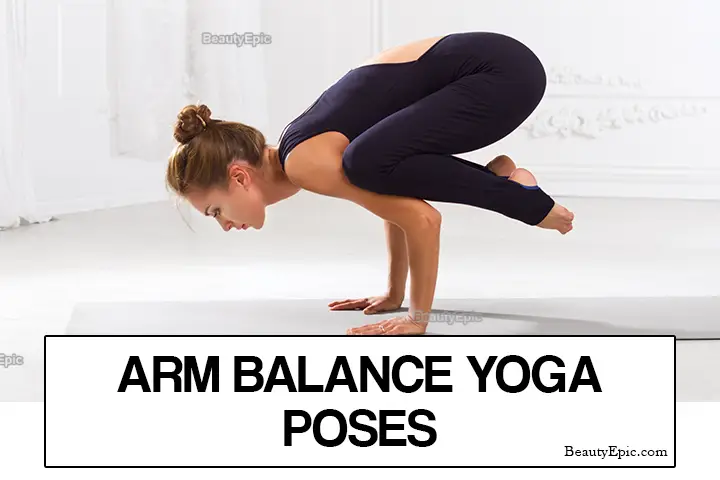 Flexibility is the new cool thing! Usually,arms are required to be muscular and bulky, but not anymore. With the acceptance of yoga in modern science, people are learning various yoga asanas to increase their strength and improve overall body posture. Now you can say Goodbye to fat in the arms because these Arm Balance yoga poses will help you in building sculpted arms. Explore the best 7 yoga asanas which will improve the balance and stability in your body.
[ Read: Yoga Poses for Tight Hips ]
Top 7 Arm Balance Yoga Poses
1. Crow Pose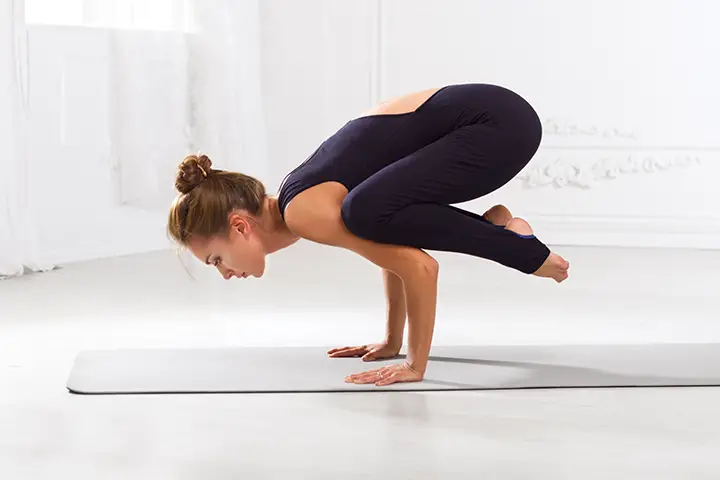 The crow pose is quite a basic asana to improve the flexibility of arms. It tones and strengthens the abdominal muscles and the organs of the torso while stretching the upper back and groins.
This is how you do it:
Start with a squat down position with your toes and ankles touching, spread your knees, and plant your palms down on the mat while spreading the fingers. Keep your gaze forward.
Lift one toe and then exhale and rock forward and again back.
Repeat the movement for 3-4 times till the time you make some balance.
And them while rocking forward, lift both the toes and stay there in the air for 3-4 breaths and come back on the ground.
Recommended Reps: 8-10 times.
[ Read: Best Morning Yoga Poses to Start Your Day ]
2. Side Crow Pose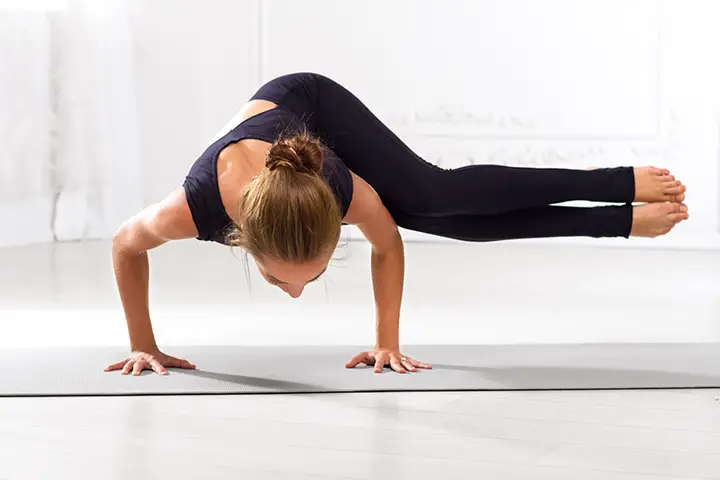 This pose is similar to crow pose but it's done toward both the sides. This pose helps you stretch the upper back and groins while improving flexibility throughout the spine and lower back. Furthermore, it also improves digestion and detoxification.
This is how you do it:
Come into plank pose position on the floor with your feet together.
Swing your heels towards the right as you begin to pivot in your waist.
Hug your knees in tight enough for your right knee to touch your left arm.
Keep your chest and belly tight.
Hold for a breath and then slide back into plank. Repeat on the second side.
Recommended Reps: 5 rounds per side.
[ Read: Yoga Poses to Lose Belly Fat ]
3. Elephant Trunk Pose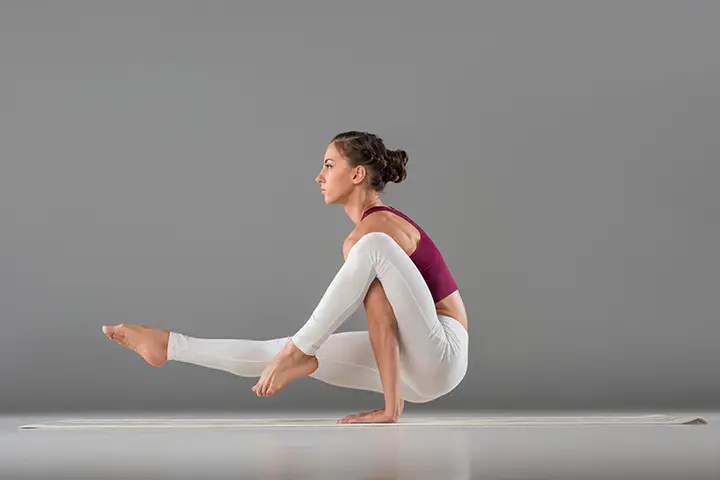 This unique arm balance asana help you stabilize the pelvic girdle while opening your hips, improving balance and coordination. Furthermore, it also helps you move with more agility in daily life and perform tasks requiring pushing.
This is how you do it:
Sit straight on the yoga mat. Start with your right leg extended and pull your left knee into your chest.
Sitting up tall, you'll take that cradle left foot will come into right cook at the elbow just to get some opening in that left hip.
Then, grab the top of your left foot by the right hand and keep left hand underneath the ankle.
Now, work the knee to the back of the room up and over the shoulder a few times.
Recommended Reps: Perform this movement for 8-10 times.
[ Read: Yoga Pose for Weight Loss ]
4. Eight Angle Pose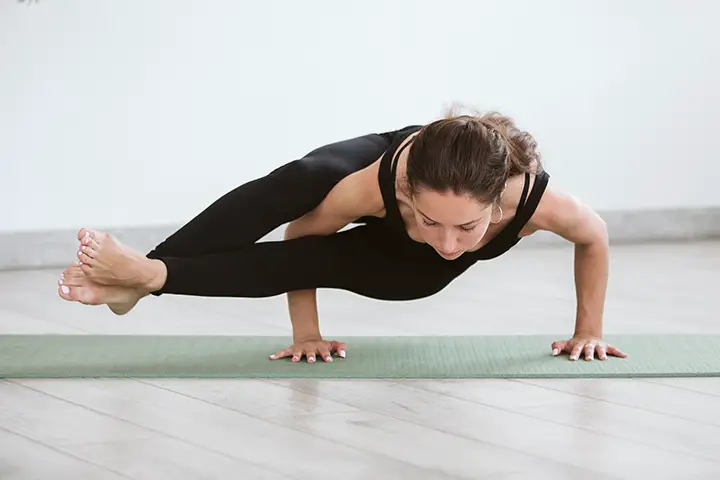 This pose will make you with balance and strength as you move step by step into it. From toning your abdominal and inner thighs to strengthening your arms and upper back, this yoga asana will make you feel unstoppable.
This is how you so it:
Sit down with your legs extended in front of you. Now, bend your right knee into your chest while bringing your right arm to the inside of your bent right leg.
With your left hand, reach for your right foot. Begin to snuggle the underside of your right knee behind your right shoulder.
Then, hook your right leg firmly behind the right shoulder. Keep the right foot engaged to help keep the leg in place.
Now, plant your palms next to your hips while spreading the fingers wide and keeping the chest lifted.
Maintain the hug of the right leg around the shoulder and keep the palms firmly planted on the ground.
Now, pick up the left leg and lightly cross your left ankle over your right leg.
Press your upper (right) leg towards the ground while extending your feet forward, so your hips begin to lift off the floor.
Keep the feet flexed and ankles firmly locked as you begin to straighten your legs.
Bend your elbows to about 90 degrees and hinge your upper body forward, keeping your chest lifted.
Hug your left elbow in towards your waist and engage the arms, core, and legs as much as possible to keep everything lifted off the ground.
Repetitions: Perform this movement for 3-4 times.
[ Read: Yoga Poses for Slim Waist ]
5. Bhujapidasana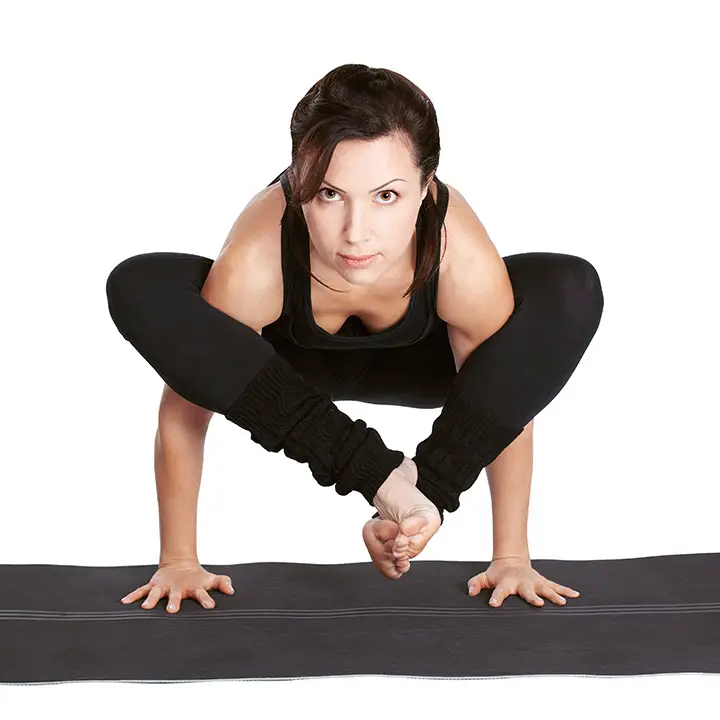 Keeping your nervous system in balanced state is quite essential. Well, this asana nourishes the thyroid gland and keep your metabolism regulated. The abdomen gets a good stretch, and therefore, digestion is improved.
This is how you do it:
Begin this asana by squatting. Place your feet at a distance that is slightly lesser than the distance between your shoulders. Keep your knees wide.
Angle your torso such that it faces forward, and place it between the inner thighs. As you lower your torso, your hips must be raised, such that they come in line with the floor.
Place the upper left shoulder as close to the back area of the left thigh, a little above your knees. Once you have done this, place the left hand on the ground next to the outer part of your left foot. Do the same on your right side as well.
This will make your upper back round up.
Now that both your palms firmly press the ground, lift your body, placing its weight on your hands. The lifting happens because of a shift in the centre of gravity.
Press the outer part of your arms along with the inner thighs as you place the right ankle over your left ankle.
Gaze forward. Hold the pose. Then, bend your elbows and release the pose as you exhale.
[ Read: Yoga Poses for Belly Bloat ]
6. Scale Pose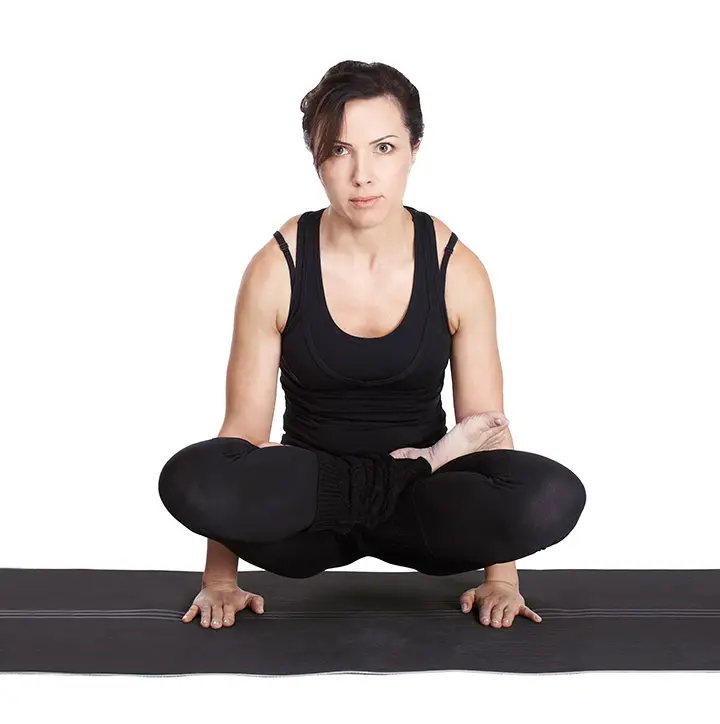 As the asana name is self-explanatory, the scale pose is called as Balance Pose. Not only it develops lot of strength in your arms and core, but it also improves concentration.
This is how you do it:
Start off this asana by sitting on your mat and assuming the cross-legged posture.
Now, take your right leg on top of your left thigh and your left leg on top of your right thigh.
Make sure you keep your back straight.
Now, place your palms low side of your hips and slightly closer to your knees.
Now, lift your hips and knee up against the ground. Stay there for 2-3 breaths and land on the mat slowly.
Relax your legs and bring them in front of you.
Recommended Reps: Perform this movement for 5 times.
[ Read: Yoga Poses for Hips ]
7. Firefly Pose (Tittibhasana)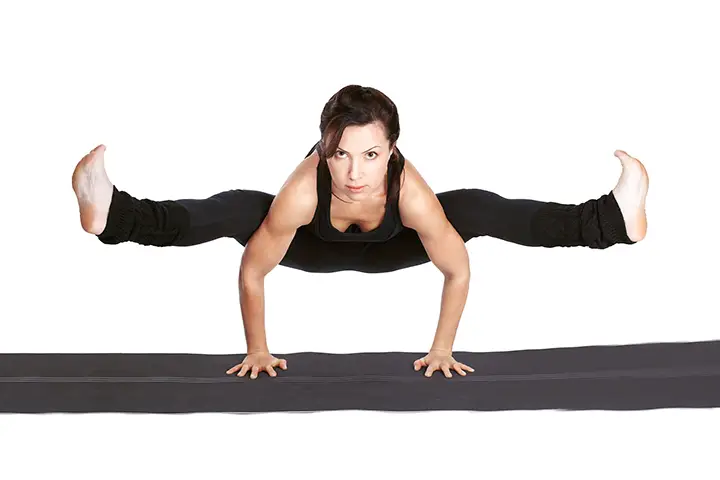 Want to fly high? Fire up your core now. The firefly pose is an arm balance pose that requires more core strength than arm strength. It stretches the inner groins and back torso to the maximum and strengthens the arm and wrists.
This is how you do it:
Squat with your feet a little less than shoulder distance apart. Bring your hips down, move around, and bring your elbows inside your knees pulling your hands down to the same level as your chest.
Now, hands down and lean forwards into your hands and begin to lift the hips up. You're now in deep squat position.
Bring your back lower into the squat while squeezing your arms with the back of hamstrings. Lean into your hands more than your feet lifting your toes to come further into the pose pushing into your hands.
Keep your feet in the air for 3-4 breaths and keep flexing your feet.
To come out of the pose, bring your feet back down and bring weight into your feet and relax your hands now and rest in a squat now.
Recommended Reps: Perform this movement for 3-5 times.
Consistency is the key to successful life. And adding yoga asanas into your daily schedule can lead you to a healthier one. Choose 2-3 yoga asanas from the list and do it first thing in the morning. You will really enjoy and cherish great health.
Best Yoga Accessories
You Might Also Like: