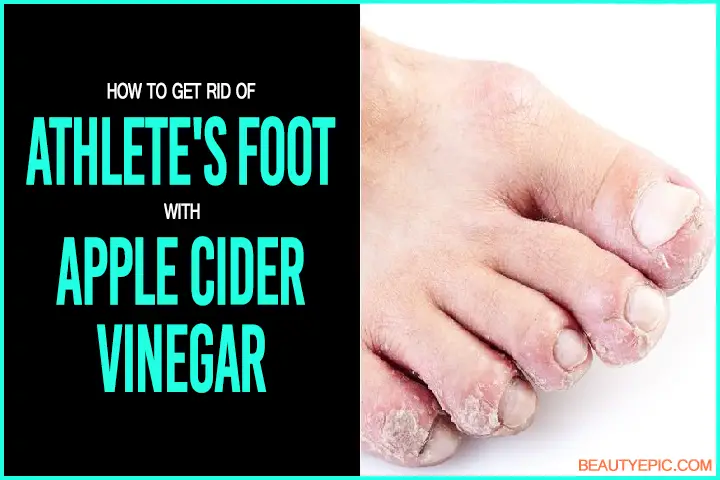 Athlete's foot, also known as tinea pedis, is a fungal infection which affects feet's skin. The problem is contagious and therefore, it can be spread to hands and toenails as well. The name originated from the fact that it is commonly found in athletes. Wandering barefoot in public places is said to be the most common reason behind athlete's foot.(1) Since it is communicable, therefore, one can catch it if he or she comes in contact with the affected person or touch a surface that is contaminated with tines fungus. The problem isn't critical yet it is hard to be cured, especially in case one is suffering from diabetes or have weak immune system. Therefore, in such cases, the patient is advised to seek medical help immediately.
Does Apple Cider Vinegar Work for Athlete's Foot?
Apple cider vinegar's anti-fungal properties kill the fungus due to which the problem is caused.(2)
One can use the cloudy also known as the mother vinegar, for quick results for it has extra healing nutrients.(3)
Due to its anti-ineffective nature, it helps skin fighting infections.
Apple cider vinegar renews the skin and the beta-carotene in it keeps your skin healthy
The anti-inflammatory nature of the vinegar reduces skin rashes caused redness, however, for the same vinegar should not be used in concentrated form.
Apple cider vinegar helps in maintaining the pH level of the body and thereby giving room for new bacteria.
How to Use Apple Cider Vinegar for Athlete's Foot
Itching, burning, stinging, and peeling of the skin are the most common symptoms. The problem also leaves the skin between the foot raw and dry. OTC i.e. over-the-counter topical anti fungal medications are the solution to this problem. However, at times doctors themselves suggest home remedies such as soaking the feet in salty water or diluted vinegar. Therefore, before you visit one, why not try your hands on these remedies all by yourself? One can always go for apple cider vinegar because not only it is effective but also comes handy and you never know, it might solve your problem within minimum time possible.
Apple Cider Vinegar Soak for Athlete's Foot
You'll need:
2 to 4 cups of apple cider vinegar
bucket or large bowl
Preparation time: 5 minutes.
How to do:
Pour 2 to 4 cups of vinegar in a bucket or large bowl.
If more amount is required then add warm water, however, make sure that you do not dilute it much.Container should have at least 50% of the vinegar.
Don't forget to clean and dry your feet before you soak them in vinegar mixture.
Soak the infected foot in it; you can also use cloth to cotton balls to gently scrub the infected area.
If you feel that skin is burning due to vinegar then you may pour more water in the mixture.
Foot shall remain in it for 10 to 30 minutes.
Repetitions: This remedy shall be applied daily, and twice or thrice a day for continues seven days. After, that it shall be practiced once or twice a day for three more days. One can also apply the vinegar mixture directly to the affected area if it is small. It should also be done at least twice a day for 10 to 30 minutes. Since. Acid can be harsh on your skin, you can apply a thin layer of moisturizer on the same.
[ Read: How to Make a Vinegar Foot Soak ]
Apple Cider Vinegar and Honey for Athlete's Foot
You'll need:
4 spoons of honey
1 spoon of apple cider vinegar
Preparation time: 5 minutes.
How to do:
Pour one spoon of vinegar in four spoons of honey.
Apply it to affected area and let it be there for 10-20 minutes.
Rinse it and leave it to get dry.
Apple Cider Vinegar and Hydrogen Peroxide for Athlete's Foot
Hydrogen peroxide is much stronger than the vinegar and has strong anti-fungal properties. Therefore, one should not use it daily.
You'll need:
2 spoons of hydrogen peroxide
one spoon of water
How to do:
Make the mixture by pouring 2 spoons of peroxide and one spoon of water.
If you experience burning or rashes, add more water to it.
Repetitions: It can be used on alternate days i.e. on one day you can soak feet in vinegar water mixture and another day in 2% hydrogen peroxide.
Warning: Never mix vinegar and hydrogen peroxide together for it can burn your foot.
Tips and Precautions
Undoubtedly, apple cider vinegar is one of most productive home remedy to cure athlete's foot. However, the same will prove effective if it is used in right manner; otherwise, it can do more harm than good. Therefore, you can refer to following mentioned tips and precautions for quick and better results:-
The vinegar shall never be used in concentrated form. It contains citric acid which can cause burning sensation and rashes on the affected area.
Whichever cloth you use to dry your feet, make sure that you wash it immediately before it spread fungus to other body parts of yours.
In between, putting your foot in vinegar mixture, make sure that the area is dry and clean. Damp feet will only call for more infection.
In case of consumption, if it will not be taken in diluted form, it can erode tooth enamel and burn your throat and mouth. Straw use is recommended.
If you encounter any type of allergy, you must immediately stop its use.
After drying your feet, make sure you use moisturizer because vinegar is highly acidic and you need something to protect your skin and keep it moist.
In addition to above, it is always best to consult a doctor in case you are taking any other medicines, because there are few medicines which can react negatively when they will come in contact with apple cider vinegar.
Apple cider vinegar can be used to cure plethora of problems. However, one should monitor its amount and use it with caution, because small amount of it will prove to be constructive and at the same time more of it can be harmful.
Best Athlete's Foot Treatments
Scientific Evidence:
You Might Also Like:
Image:- 1