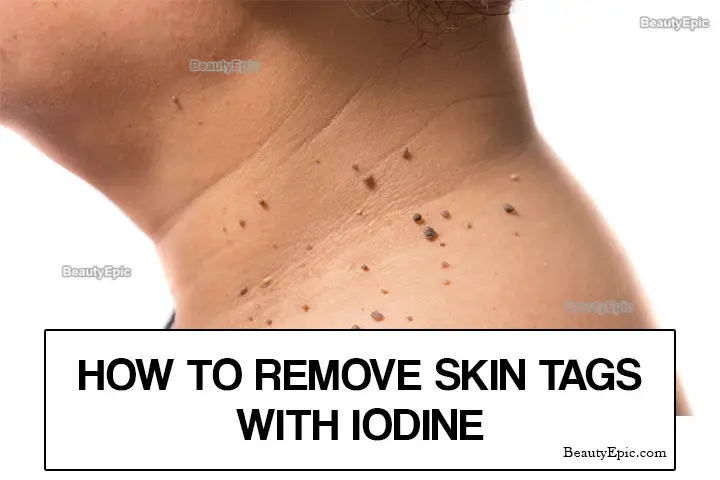 Among the harmless growths, many people experience in their lives is the development of skin tags. Actually, almost half of all adults develop this problem at large. These growths cause no medical complications at all, but then, like other kinds of problem, they may be bothersome in one way or the other.
Is Iodine Good for Skin Tags?
This is a question that many people have debated out there for some time now. Iodine is an effective and among the safest remedies to get rid of skin tags. All you are required to do is applying it at the affected area like twice in a day for some time and you will see results.(1)
[ Read: How to Remove Skin Tags with Apple Cider Vinegar ]
How to Use Iodine for Skin Tag Removal
There are many home skin tag removal techniques out there; there are those that turn to be more effective than others. Having a clear guide from a specialist can help you enjoy the fruits of the right remedy for you. Among the effective remedies around is the use of iodine. It has been proved to get rid of this problem after a few days of usage.
Things you'll need:
There is actually nothing much you require to carry out this treatment. All you need is
Iodine tincture,
a dropper to use in applying iodine on the skin and
Roll of bandage or duct tape to seal the tag.
This product contains antiseptic properties that help bring about a cure.
How Apply Iodine on Your Skin Tag:
To begin with, you should totally avoid applying iodine on the area that is surrounded by this growth.
To achieve this, you need to rub a coconut oil barrier into your healthy skin before you can think of applying iodine.
Next, it is time to grab a dropper and fill it with this product. Apply iodine right on your growth and lastly seal your growth with your roll of bandage.
This should be done like twice in a day till the skin tag gets off.
[ Read: How to Use Tea Tree oil for Skin Tags ]
Does Iodine Work on Skin Tags?

Iodine is a chemical element that works by killing germs and any other kind of growths.
When this product is applied to the affected area, it will break down skin cells that are built up naturally.
This will cause them to get off safely without bringing the user any medical complication.
When to Apply: To achieve results, iodine should be applied on the affected area like twice a day, maybe in the morning and sometimes later in the day.
[ Read: How to Remove Skin Tags Naturally ]
Skin tags are normally body living parts that are attached to an individual's body by a small or narrow stalk. Patients are ever advised never pull off these growths off the skin as this may lead to infections and irritation and the situation can even worsen. Grabbing the growth and pulling it off will cause bleeding, pain and even scarring. Individuals looking for a safe remedy to get rid of their skin tags should try this and you will notice results after some days of use.
Scientific Evidence:
You Might Also Like: