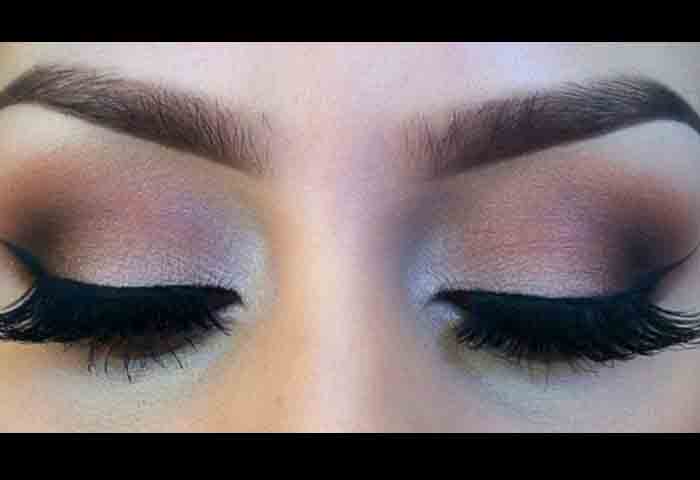 Sex, spice and Smokey eyes; hot enough to speak about. Girls with Smokey eyes are much more attractive says a survey. Do you agree to the same? Smokey effect is excess spreading of a color to signify the intensity. You all want to know the celebrity Smokey eye ticks and tips?
How To Do Smokey Eye Makeup
You are no longer away from a red carpet look. One overdosed stoke of your shadow can give you a Smokey seductress look. But you know what they say, if you do not succeed for the first time, try again and again. You may also consult an expert and take help choosing colors and doing it the right way. Here I come to take Smokey eyes to the next level. Smokey eyes intensify the eyes making you look exquisite. Trust me on that!
Step 1: A Strong Foundation
A strong and neat base is very crucial before you move towards applying more on your skin. Primer the eye perfectly first, i.e. all around the eye and the eye lid. Now use a concealer to hide all the dark areas, remove the dark sacks thoroughly. Now a cream base is ready to uphold the make up. This foundation helps the make up to stay as long as you want it to. You will not have to worry about re-checking or re-doing it!
Step 2: Pencil Liner Art
Use a pencil liner preferably Black, brown or gray. Trace your lash line completely, out to in, giving a broader spectrum towards outside. Then use the same pencil to outline lower lash line. Make it dark. Now take a cotton swab and smudge both the eyelash line. After that use an eyeliner brush to intensify it. The brush gives a bold and sharpening look.
Step 3: Shadow it Up
This is the centrifugal point of this art. Color the eye lid into a Smokey structure." the secret is blending." let us discuss the colors first.
Simple: Nude, neutral or sheer colors are used here. Colors like peach, beige or cream goes this way. This is done either at morning parties or simple occasions.
Shimmers: My personal favorite! It is riot of metallic, Gold, bronze and silver etc goes perfect for shimmer Smokey eyes. This is a hot and seductive diva look. This looks good at night outs and fancy parties.
Combination of colors: Bold the better! What do you think? Fly high with the amazing and countless colors and combination of colors present right there in front of you. You can use multiple colors to enhance your beauty. Combination of 2, 3 or 4 colors can be done here. Get ready to invade to the territories you like spreading wicked looks.
[ Read: Eye Makeup Ideas for Green Eyes ]
Step 4: How to color
Three simple steps. Brow bone, crease and the lid. Brow bone always goes with light color. Crease the darkest and a lid with starting of the color.
Now after application of the linear and color selection, start coloring the lid with your choice of color and start diffusing it with the liner. Now slowly darken the color while you reach the crease. The cease should be darkest. Diffuse the color and liner giving outward stokes. This gives a smoldering high definition look to your eyes.
Step 5: Coats of Mascara
Always double coat mascara for a dramatic high end look. Now curl your eyes and apply Mascara to it. Apply second coat before it dries, as application on dry lashes form clumps. Coat both the lashes for a vibrant look.
Tips to Remember
• It's hard, I know it. But it's worth trying.
• It's important to blend, blend and blend – The Golden rule!
• Do you prefer your Smokey eye soft and subtle or bolder the better? Choose your colours accordingly!
• Always use a brush
• Finally when you are completed, take a big brush and give a final touch removing or merging all harsh lines.
• Clean the excess with a cotton swab damped with cleanser.
Smokey eyes are THE thing people go crazy for, not only girl's even guys! All it requires is practice of blending and choosing the right color suiting your beautiful eyes. But believe me, once you master this art of patience and color selection, you will have all looks starring at your seductive bold eyes! No wonder, Eyes talk a lot!
You Might Also Like:
Image:- 1