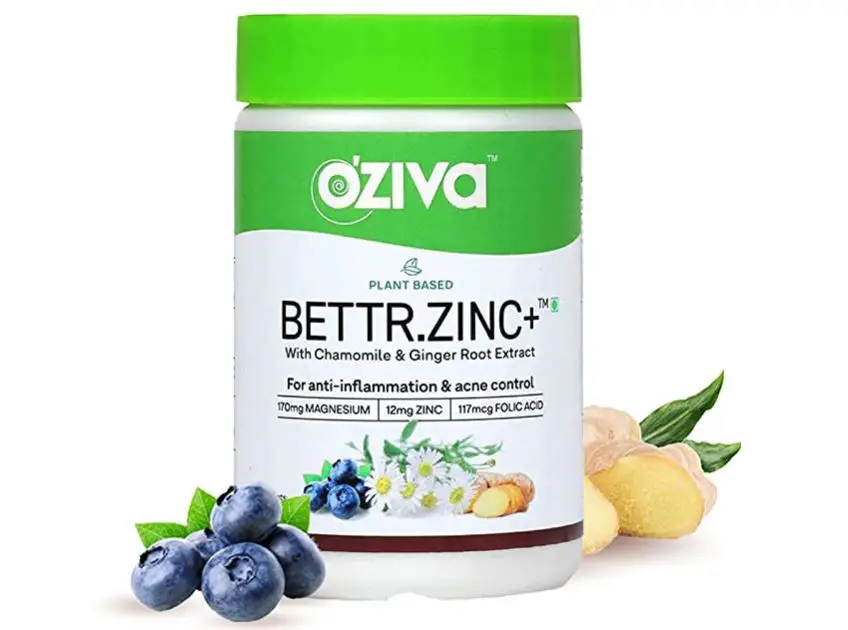 Even though zinc is a trace element, it is extremely important for the health and development of the body. It is essential for more than 100 enzymes in the body to carry out vital functions by undergoing chemical reactions. From creating DNA to support cell growth, zinc is necessary to carry out multiple functions by the body.
Zinc is also necessary to build proteins, heal the damaged tissues and support the immune system. Since different growth and development phases depend upon the presence of zinc, it is essential for the human body. It is vital during childhood, adolescence, and pregnancy. It is also important to have a sense of taste and smell.
Today, we will review Oziva Bettr. Zinc+, a complete plant-based supplement, and see how effective it is for the body.
Product Review
Oziva Plant-based Bettr. Zinc+ is believed to be formulated with 100% natural plant-based ingredients as well as Ayurvedic herbs that will support the anti-inflammation. It is good for skin health as it keeps acne in control. People with acne breakouts or those who often have skin problems can take benefit from this product.
Magnesium and folic acid in Oziva Bettr. Zinc+ consists of zinc derived from GZen-Zinc, a standardized plant extract along with bioactive compounds. The presence of chamomile, ginger root, and blueberry repair skin and control most skin issues.
The best part is this product is vegan and suitable for all, irrespective of age. Since everything is plant-based, the chances of side effects reduce to zero. We give this product a thumbs-up.
Product Description
Oziva plant-based Bettr. Zinc+ contains the goodness of chamomile, ginger root, and blueberry. It has zinc from GZen-Zinc, a standardized plant extract along with bioactive compounds. It is designed especially to prevent inflammation and support skin health.
People with skin issues can benefit from a regular intake of Oziva Bettr. Zinc+. To use, you need to take two capsules daily for daily- one capsule can be taken an hour before the meal and another two hours after the meal. Consume it daily for at least three to six months to see the effectiveness of the product and the difference in your skin.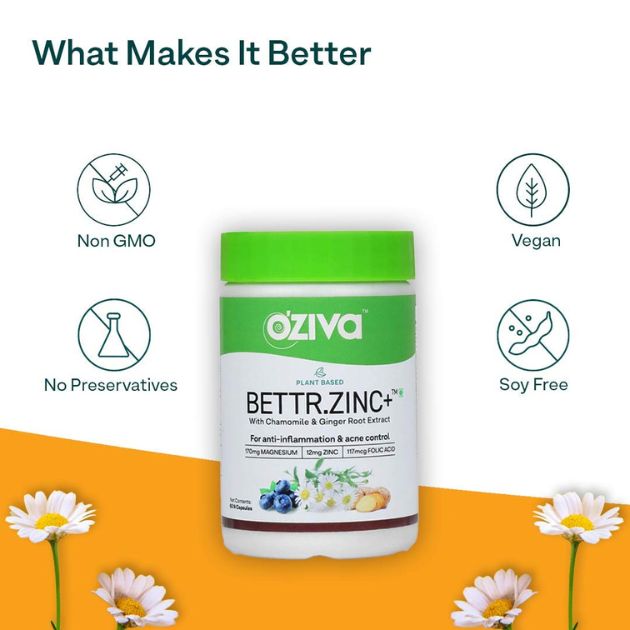 Nutrition Facts
The major ingredients in Oziva Plant-Based Bettr. Zinc+ includes the following-
GZen-Zinc- It is a standardized plant extract for zinc for anti-inflammation.
Chamomile- The presence of polyphenols in chamomile controls acne and keep the skin glowing and healthy.
Blueberry- It helps repair the skin and build immunity.
What We Like
The presence of natural and plant-based ingredients that furnish the zinc deficiency in the body is the USP of Oziva Plant-Based Bettr. Zinc+.
It is free from soy, gluten, artificial sweeteners, and sugar, therefore perfect for health.
Being 100% vegan, it is suitable for all.

What We Don't Like
You have to make a habit of taking two capsules each day as per the directions to ensure that you get the desired results and improve your skin's health. Also, it is important to consume the capsules for at least four to six months as this is not an instant result-giving product.
How Much Does Oziva Plant-based Bettr. Zinc+ Cost?
The regular price of Oziva Plant-based Bettr. Zinc+ is Rs 599, but you can buy it from the official website of Oziva or from some reliable source like Amazon at a discounted price of Rs 569.
Always remember to buy Oziva's products from either its website or Amazon to enjoy the benefits of deals and discounts, running if any.
Alternative Products
Conclusion
If you are having skin issues and facing problems like acne breakout, inflammation, and related problems, Oziva Bettr. Zinc+ is your good go-to product. Apart from helping make your skin healthier, it will also work on building your immunity and making the body healthier and stronger. You would feel less tired, fatigued, and stressed.
So, for complete growth and development, Oziva Plant-based Bettr. Zinc+ is an extremely effective and worthy product. Give it a try and see the difference.
Read More