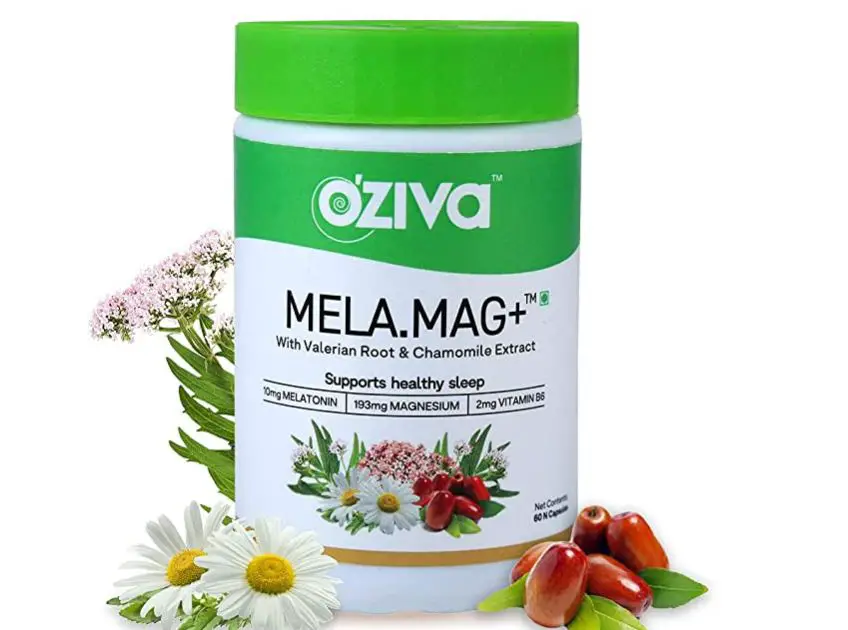 Hectic schedule and stress of day-to-day life have snatched the quality sleep of many people. Apart from these, anxiety, distress, and certain medical conditions also do not allow people to sleep properly, negatively affecting the body and health.
Quality sleep for at least six to eight hours is an epitome of a healthy person. In its absence, a person is more likely to have chronic health conditions like high blood pressure, diabetes, and heart diseases.
Melatonin is one of the components which helps get uninterrupted sleep and increase the time of deep sleep. There are many products on the market that are formulated to help people sleep better; however, all of them are not useful.
A regular intake of sleeping pills can make a person habitual, which is not a good indication. Therefore, today we will review Oziva Mela. Mag+ consists of 100% natural ingredients and helps in improving sleep.
Product Review
Out of so many sleep-improving products, Oziva Mela. Mag+ seems promising, safe, and effective because it contains plant-based ingredients that help reduce stress and get quality sleep.
The herbal extracts from plants like Chamomile, Guduchi, and Jujube furnish the need for melatonin and magnesium in the body naturally, without causing any side effects. The plant extracts are so powerful that they help in regulating the sleep-wake cycle and ensure deep sleep.
With its special formulation, Oziva Mela. Mag+ seems promising and fruitful for people facing difficulty in sleeping.
Product Description
The extracts from plants like Chamomile, Jujube seed, and Guduchi delivers the goodness of melatonin and magnesium to the body. The special formulation improves the sleeping pattern and ensures achieving uninterrupted sleep.
A regular intake of Oziav Mela. Mag+ capsules help people get deep sleep and feeling refreshed the next day. It works like a body calmer, which ensures making it stress-free. You need to take one capsule each day for at least two to four months to get a regular sleeping pattern and experience the difference.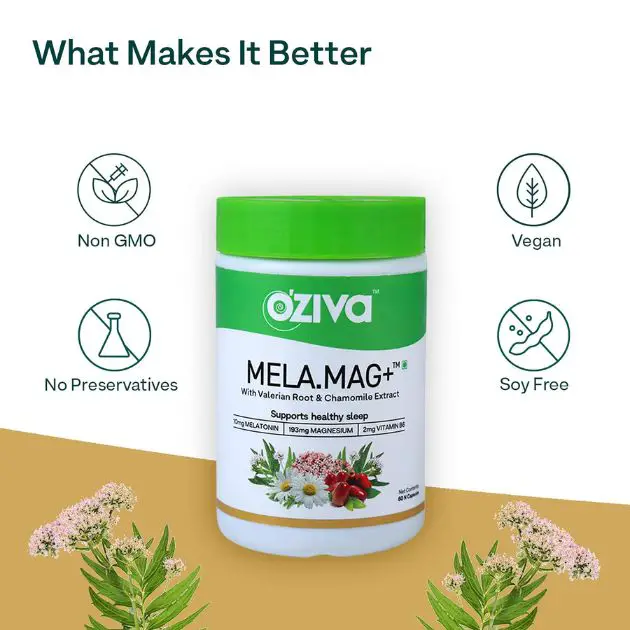 Nutrition Facts
Oziva Mela. Mega+ consists of three major blends that consist of herbal extracts of the following-
Sleep Enhancer Blend- This blend is known to furnish melatonin and phytomelatonin in the body as it contains mint, pepper, thyme, and chlorella as the major ingredients.
Calmness Blend- The presence of Guduchi, Jujube, and Chamomile reduces stress and anxiety, making the person feel calm and relaxed. It aids in sleeping peacefully.
Deep Sleep Blend- To help get deep sleep, the product consists of Magnesium, Vitamin B6, and Indian Valerian Root.
What We Like
It is a chemical-free product, highly effective in getting quality and deep sleep.
Every ingredient of the product is plant-based.
It is soy-free, gluten-free, and non-GMO.
There are no preservatives or artificial sweeteners.
It is completely vegan, making it suitable for all types of people.

What We Don't Like
You need to be highly patient in getting the result as it is advised to take the capsules regularly for at least two to four months. However, the result will be fruitful and long-lasting, making the only drawback of regular consumption negligible.
How Much Does Oziva Mela. Mega+ Cost?
The regular price of Oziva Mela. Mega+ is Rs 699, in which you get a packet with 60 capsules. When you buy the product from Oziva's official website or some other trusted source like Amazon, you can avail of the discounts and get the product at Rs 629 only.
Alternative Products
Conclusion
Quality sleep in a stretch of six to eight hours is highly effective for overall health and well-being. Lack of sleep welcomes a lot of diseases, among which some are chronic. If you cannot get quality sleep for some reason, start taking one capsule of Oziva Mela. Mega+ every day that can help to a great extent.
While some people believe it's not good to take sleeping pills as you get habitual, Oziva Mela. Mega+ is all-natural, with no side effects, making it perfect for daily consumption. Start taking Oziva Mela. Mega+ and improve your sleeping pattern.
Read More