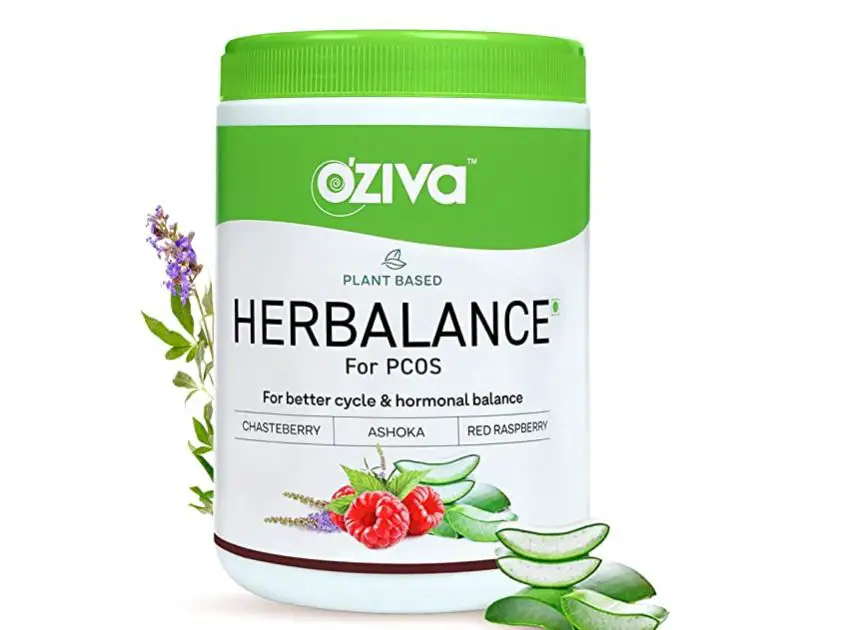 Hormonal issues can take a toll on life. It disturbs the menstrual cycle and creates problems in conceiving. One of the most common issues that women face today due to hormonal imbalance is PCOS, Polycystic Ovary Syndrome that may happen among women of reproductive age. Some problems that women endure due to PCOS include prolonged menstrual periods, excess male hormone levels, and failure of ovaries to release eggs.
All such problems, along with excessive weight gain, development of facial hair, and mood swings, make things worse. Even though women suffering from PCOS take medications, they also come with certain side effects. Therefore, switching to something natural and herbal could help relieve the symptoms.
Oziva Plant-Based HerBalance is an amazing product that can give promising results to the user.
PRODUCT REVIEW
Oziva Plant-Based HerBalance comprises a combination of plant-based whole foods that have the power to regulate hormonal balance. Once the hormones get regulated, all the related issues like the irregular menstrual cycle, prolonged menstrual periods, and related issues get resolved.
The best part about this product is there are no chemicals that can cause side effects. The herbal extracts from nature make it highly effective. Each ingredient is added thoughtfully that can maintain the hormonal balance and improve fertility.
Another thing that sets Oziva Plant-based HerBalance apart is it is gluten-free, soy-free, non-GMO, and devoid of artificial sweeteners. Also, there are digestive enzymes in the product to aid in digestion and reduce bloating.
All in all, it is a great product that can be used by women suffering from PCOS and infertility issues.
PRODUCT DESCRIPTION
HerBalance is enriched with herbal extracts of plants like Chasteberry, Rhodiola Rosea, and Red Raspberry that are effective in controlling the hormonal imbalance in the body. It also comprises digestive enzymes to ensure that you do not suffer from any digestion issues.
Vitamin B8 is also an important ingredient in the product. Each component comes from plants like Chasteberry, Shatavari, Red Raspberry, Ashoka, and more that have Ayurvedic significance and are known to be highly effective for PCOS and infertility.
To take Oziva's HerBalance, mix two scoops of powder in 150 ml of water. Stir well with a spoon or use a blender to mix. Enjoy the drink for at least three months to see the results.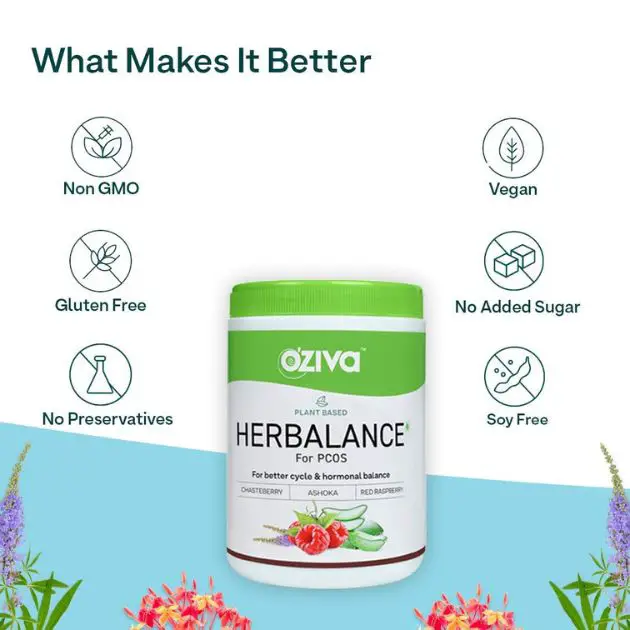 NUTRITION FACTS
Shatavari helps to reduce stress and increase fertility.
Chasteberry improves the level of the female reproductive hormone progesterone and alleviates male hormone androgen. It helps in reducing facial hair.
Aloe vera controls the skin issues like acne that usually occur due to hormonal imbalance and make the skin clear and smooth.
Red Raspberry regulates the menstrual cycle and helps to control the issues with the uterus.
Gokhru will never let cyst formation and stimulate ovulation.
Ashoka, with its anti-inflammatory properties, boosts the level of estrogen.
WHAT WE LIKE
The best thing about Oziva HerBalance is the presence of herbal extracts that work at their own pace and helps in controlling the issues from the root. It acts as a revitalizing tonic for the female reproductive system.
Some symptoms that will reduce with its intake include-
PCOS
Menstrual cramps
Excessive weight gain
Facial hair
With hormonal balance, everything starts falling in its right place, and fertility will improve. For women facing problems in conceiving, Oziva HerBalance has been highly effective.
It is free of gluten, soy, and artificial sweeteners, which makes it more promising. Also, it is certified clean by US CLP & certified vegan by the Vegan Society of the UK.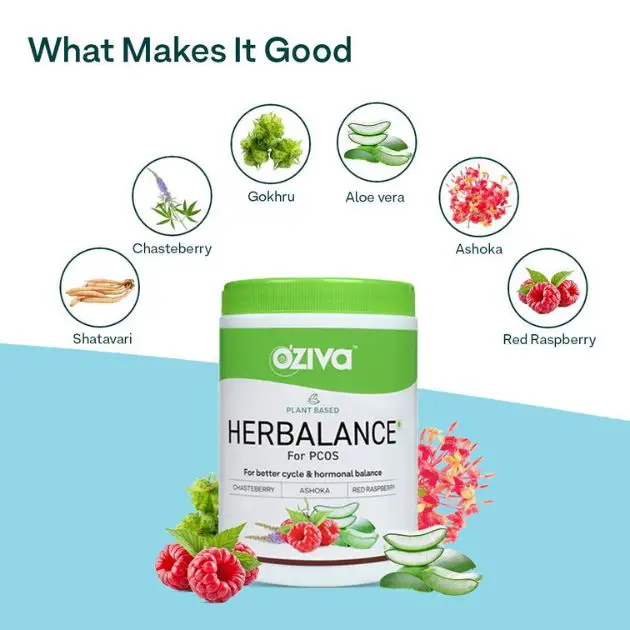 WHAT WE DON'T LIKE
Oziva HerBlanace is a plant-based product that contains herbal extracts. Since there are no chemicals, it takes time to get the results. You have to drink it for at least three months to let the ingredients work and give the desired outcome.
HOW MUCH DOES OZIVIA HerBalance COST?
Although the regular price of Oziva HerBalance for PCOS is Check Here. Always buy Oziva products from a trusted source like Oziva's website or Amazon to get the right product at your doorstep.
ALTERNATIVE PRODUCTS
Conclusion
Oziva HerBlanace is useful not only for women suffering from hormonal imbalance but also who want to conceive and improve their fertility. The natural ingredients in the product are powerful enough to maintain the right level of different hormones and keep all hormonal issues at bay.
Read More