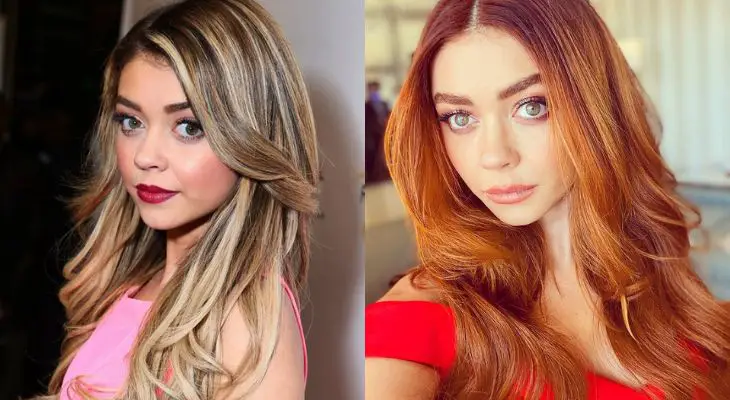 Sarah Hyland is a singer and actress who has very much fascinating and glowing appeal. The cute and chubby Sarah looks gorgeous with a variety of styles and fashion. She is a fashion oriented actress where she expresses herself in different styles of fashion and hairstyles that suit her very well on her outfits.
Here are some of the best and trendy hairstyles which she tried and looked awesome, in which we have listed some of them which you may also like and try them.
Top 20 Sarah Hyland Hairstyles &Haircuts
1. Sarah Hyland Hairstyles Pretty Ponytail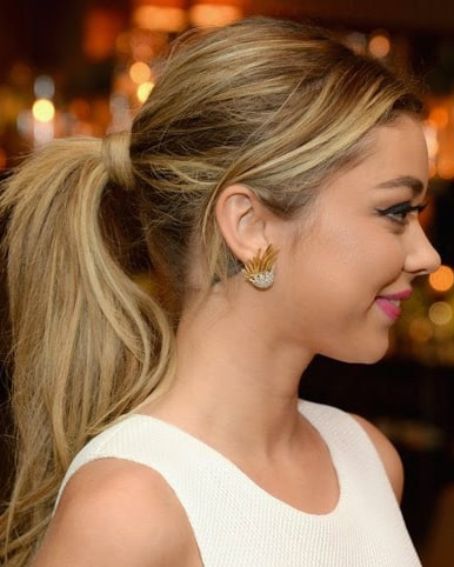 This is a pretty ponytail hairstyle of Sarah Hyland which looks great and is blond . This hairstyle is a very easy and effortless hairstyle with side bangs, that make you look younger and cute.
2. Sarah Hyland Fascinating Half Up Hairstyle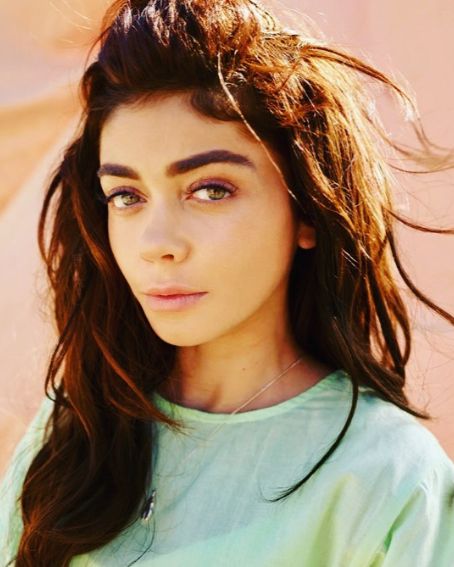 This hairstyle looks tremendous with layers of semi curls and locks at edges. These hairs are pulled up on top by making a puff on top.This is the most trending hair style which attracts everyone.
3. Sarah Hyland Choppy Bob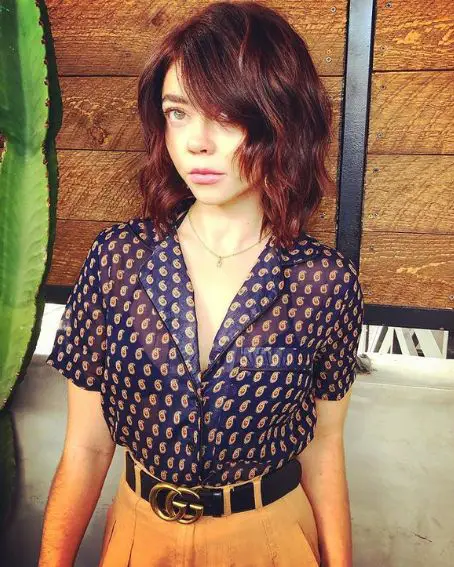 Sarah Hyland is with short wavy Bob with red ombre shade hair with side parted along with feather cut layer hairs. This hairstyle looks very trendy and fascinating in red blonde, and is a Bob which has a feather cut layered edges.
4. Sarah Hyland High Bun Hairstyle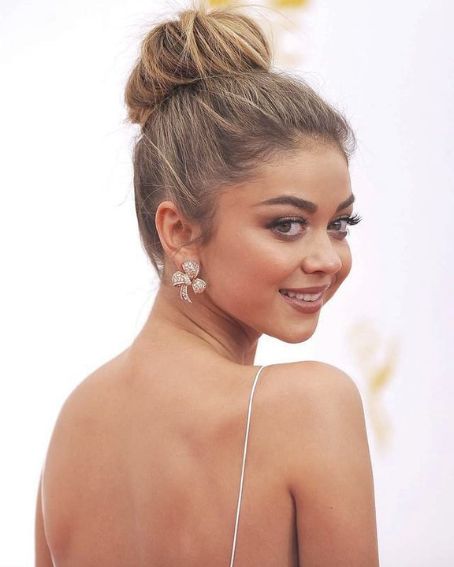 This is a high bunny hairstyle which is pulled up and made into a knot on top of the head. This is a cute and simple hairstyle where Sarah Hyland looks gorgeous in this bun hairstyle with a cute face cut.
[ Read: Selena Gomez Hairstyles ]
5. Sarah Hyland Long and straight Hairstyle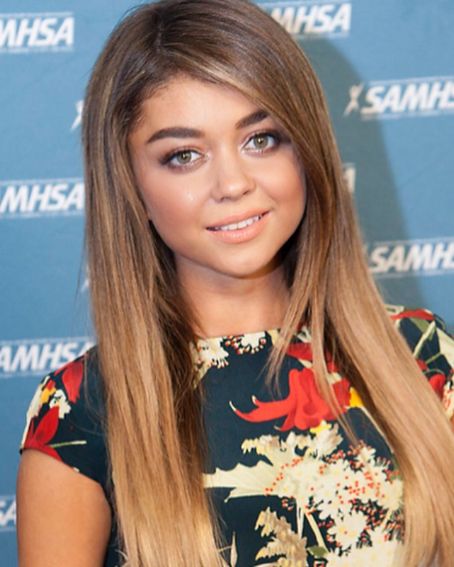 Sarah Hyland appears in a stunning look with her beautiful appeal on straight and sleek hairstyle. This hairstyle is simple and easy to maintain which looks glossy and falls on her shoulder with side parted.
6. Sarah Hyland Ombre Hair
This is a tremendous and trendy side swept long layered hairstyle with wavy and semi curls bangs. This hairstyle is ombre shades with copper and brown which is best on cute and chubby girls in which they look cute as well as sweet in their reactions.
7. Sarah Hyland wavy Haircut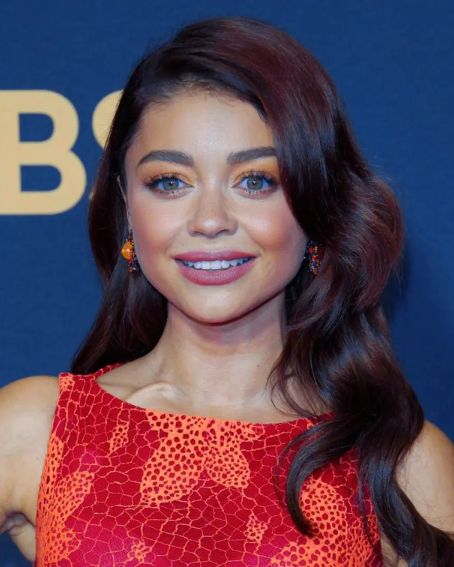 Sarah appears in an event in the best hairstyle in Wave copper red long layers side part hairstyle along with a beautiful outfit. This hairstyle grabs everyone's attention with her attractive appearance and beauty.
8. Sarah Hyland Long Layered Hairstyle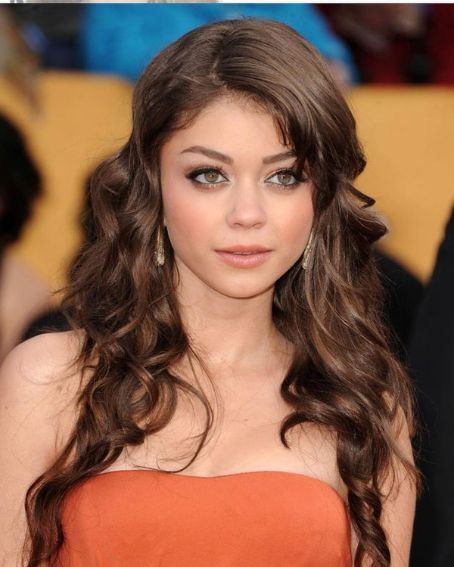 The fantastic hairstyle of Sarah Hyland is with long Jagged layered curls with side bangs that fall on the face, the edges are rolled up with curls that bounce.this hairstyle has plenty of Style movements to show up.
9. Sarah Hyland Medium Wavy Hairstyle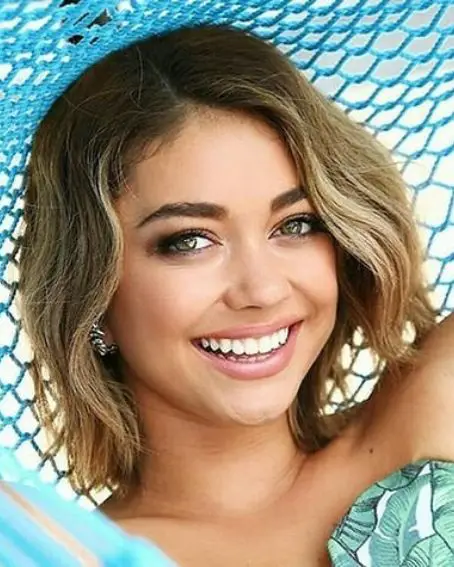 This is a short Bob with a blonde hairstyle of sarah with side parted along with feather cut layer hairs. This hairstyle looks very trendy and fascinating in blonde, and is a very short Bob which is Chin length.
10. Sarah Hyland Bangs Hair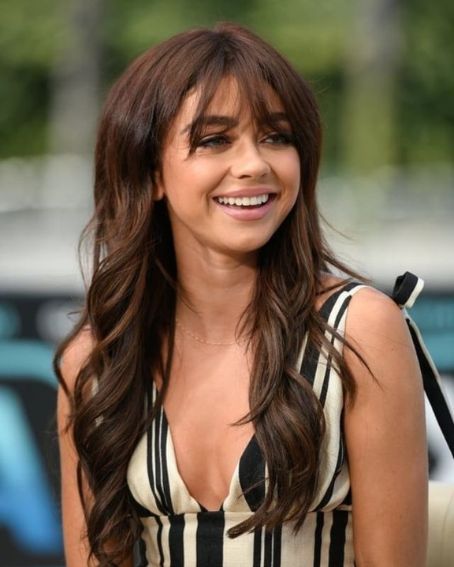 Sarah Hyland looks beautiful in a Brown long Shag hairstyle with front bangs that fall on forehead. This hairstyle is brown layered and curly at the bottom. The wispy long length haircut is super faminine and so trendy.
[ Read: Mandy Moore Hairstyles ]
11. Sarah Hyland Long Curly Hairstyle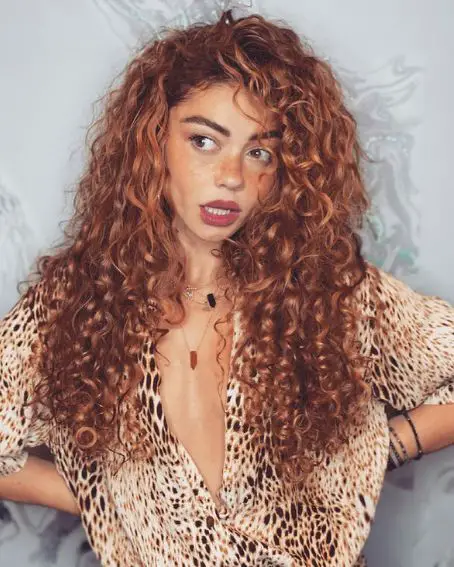 Sarah Hyland is enchanting and charming with a blond copper curly hairstyle, these copper coils are long and bounce up. The layered curls look shaggy and wispy with blonde locks grab everyone's attention to try the style.
12. Sarah Hyland Brown Wavy Hairstyle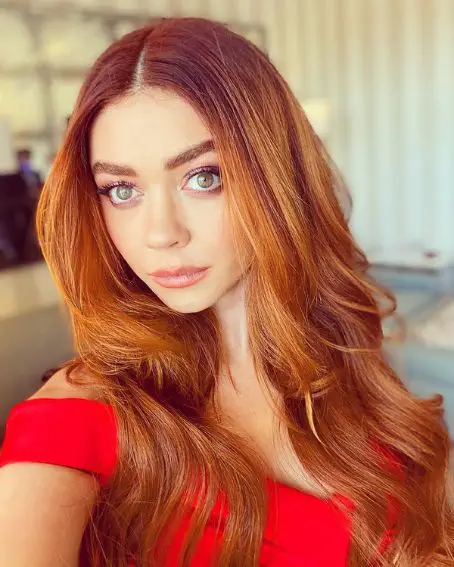 Pretty Sarah Hyland in long and wavy reddish brown hairstyle looks cute with wavy layered bottom and Blunt on top. The wispy long length thick blonde wavy haircut looks trendy and fancy.
 13. Sarah Hyland Long Braided Hairstyle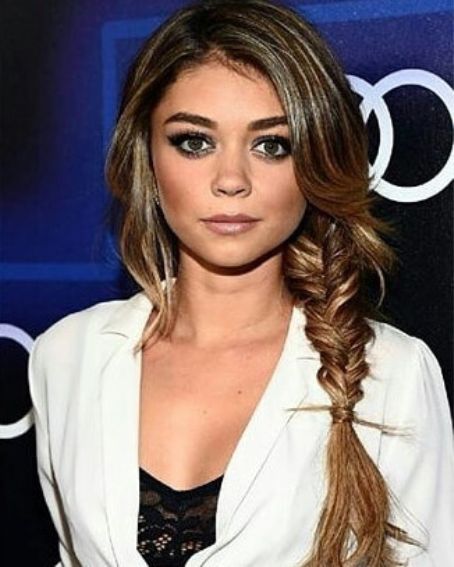 Sarah Hyland appears with a unique and beautiful bridal hairstyle which enhances her beauty. Her style and fashion make everyone fall in love as this has bob on top with flicks that slides on sides and braided at back.
14. Sarah Hyland Bob With Bangs Hairstyle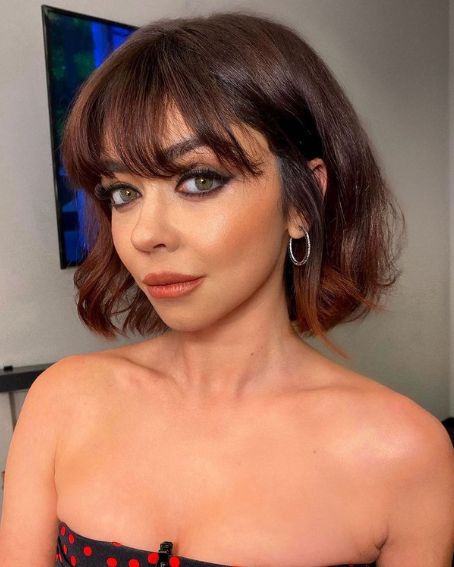 This is a shoulder length medium Bob hairstyle which is brown with front bangs which falls on the forehead. This hairstyle gives a brilliant finish which looks simple and trendy and can be tried on.
15. Sarah Hyland Short And Wavy Hairstyle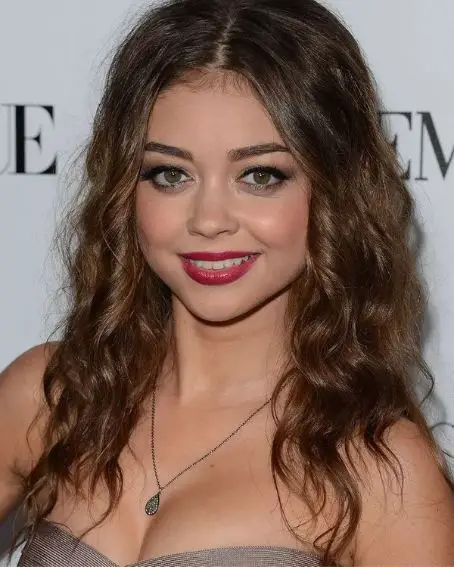 The cute sarah looks beautiful with her glossy and Shiny texture and medium length curly hair. This hairstyle makes her face look so bright with a middle parted hairstyle and layered cut edges.
You Might Also Like: