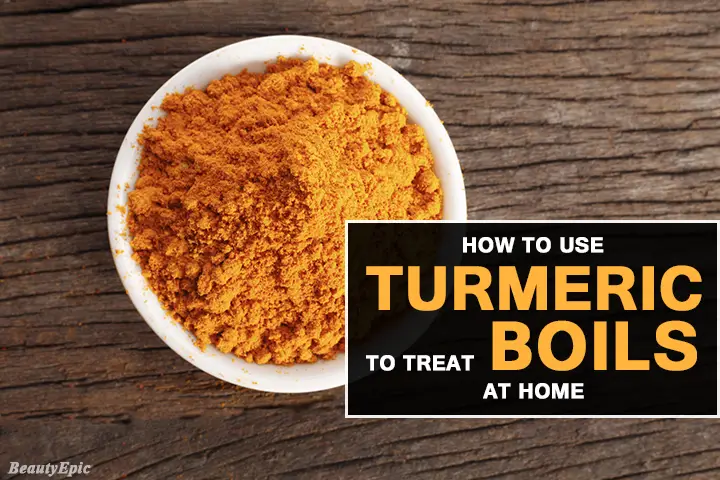 Boils can be described as pimples with puss inside. They are bacterial infection caused in hair follicles due to bacterial deposits. Boils can appear anywhere on the body and can be really painful. Turmeric, the perennial herb found extensively in India and China can prove to be a therapeutic ingredient to cure boils. They are always found in our kitchen and if not, in the nearest grocery around you. Let us read to know how to use turmeric for boils.
Is Turmeric Good for Boils?
The use of turmeric has been traced back to thousands of years in India and China. Turmeric finds extensive use in Ayurveda and because of its holistic benefits.
It has natural anti-inflammatory and blood purifying properties that cure pain and itching.
It has an antibacterial property that fights against bacteria.
It acts as an antioxidant that removes free radicals in the skin, which in turn removes toxins from the body.
It boosts the immune system which strengthens to fight against the bacteria.
Curcumin is a natural ingredient present in turmeric which cures skin abscess internally by fighting bacteria.
It is germicidal and detoxifying that removes the root cause of boils and prevents its recurrence.
How to Use Turmeric for Boils
1. Turmeric Root for Boils

You'll need:
Preparation time: 2 minutes.
How to do:
To soften the turmeric root, you will have to soak it for 15-20 minutes in hot water.
Add a little water and rub the root on a coarse stone.
Apply the root on the affected skin.
You can rinse it off using water after 15-20 minutes.
Repetitions: This should be applied twice a day for a week and then just twice in a week.
[ Read: How to Use Epsom Salt for Boils ]
2. Turmeric Milk for Boils

You'll need:
1 teaspoon of turmeric
1 glass of milk
Preparation time: 5 minutes.
How to do:
Add 1 teaspoon of turmeric and a glass of milk in a vessel and boil it for couple of minutes.
Drink this turmeric milk 2-3 times in a day for a week.
Repetitions: Consume this tea 2-3 times in a day for a week
Note: You can also use water instead of milk.
[ Read: How to Treat Boils with Castor Oil ]
3. Turmeric Compress for Boils

You'll need:
1 cup of water
1/2 teaspoon activated charcoal
2 crushed garlic cloves
1 teaspoon of turmeric
medical tape
Preparation time: 5 minutes.
How to do:
In a cup of water, add activated charcoal,  garlic cloves and turmeric.
Heat this mixture for couple of minutes and then soak some gauze pads in it.
Place the gauze pads on the boils and use medical tape to keep it in place.
You can remove the pads after few hours.
Repetitions: Doing this on a regular basis will give you positive results.
[ Read: How to Get Rid of Boils with Tea Tree oil ]
4. Turmeric Tea for Boils

You'll need:
turmeric
water
2 tablespoons of almond oil
1 cup of milk
Preparation time: 5 minutes.
How to Prepare:
To prepare the turmeric tea, you would need to add turmeric and water in a vessel in the 1:4 ratio.
Let the liquid simmer for 10 minutes.
After it simmers down, you need to add 2 tablespoons of almond oil and a cup of milk.
Switch off the flame and your turmeric tea is ready!
You can also add a natural sweetener if required.
Repetitions: Drink this tea daily once.
5. Turmeric Paste for Boils

You'll need:
1 cup of water
1/2 cup of turmeric powder
Preparation time: 5 minutes.
How to apply:
Take a saucepan and add a cup of water and 1/2 cup of turmeric powder.
Boil the mixture and ensure that you keep stirring it.
You need to keep it on simmer until a thick consistency is formed.
Once you get the desired consistency, switch off the flame and let the concotion cool down for couple of minutes.
Transfer the contents into an air-tight container and store it in the refrigerator.
You can apply this turmeric paste on the affected skin as required.
Wash it off with water after 30-45 minutes and pat dry the area.
Repetitions: Ensure that you do this on a regular basis.
Tips and Precautions:
Do not exceed 1–2 teaspoons, three times a day.
Turmeric can stain the skin and your clothes.
Regular intake of high doses of turmeric can lead to dehydration and constipation. So, drink plenty of water.
In order to prevent the skin from drying up, you can add in a little curd to the turmeric.
If you don't like the taste of turmeric, you can take turmeric capsules, 400–600 mg once a day.
Never ever squeeze or pop a boil because it spreads the infection and causes blood poisoning and cellulitis.
Turmeric can thin the blood, so avoid consuming turmeric if you're taking blood-thinning medicines.
Mild stomach upsets, nausea, indigestion, dizziness, etc., are reported as minimal side effects of taking turmeric in the long run.
You Might Also Like:
Image:- 1