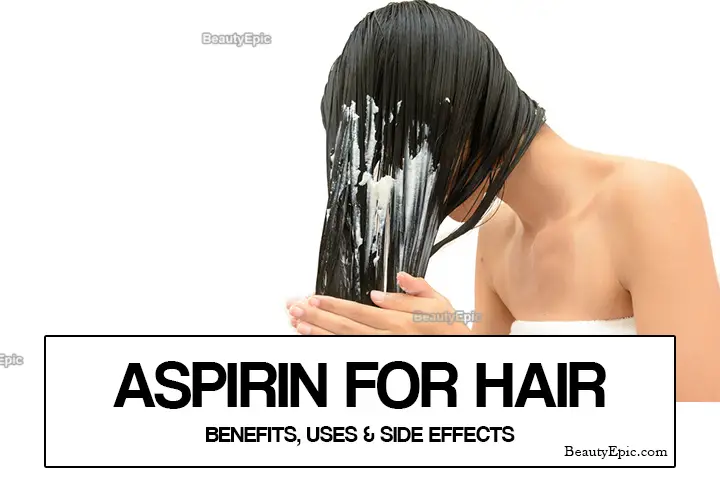 You will be surprised to know that aspirin will make your hair appear as if you came out of the saloon. It is pretty popular among women and is worth trying out. You will come across many hair products in the market and women like experimenting. They create various recipes by trying out different ingredients. This is how aspirin was discovered to be beneficial for the hair. Aspirin is readily available at an affordable price.
Benefits of Using Aspirin for Hair
Apart from being the most commonly used drug, this medicine works wonders on hair. There are many things that it can do for your hair.(1)
It can unclog the pores in the hair scalp, fight dandruff, restore hair color, and make the hair smoother.
Salicylic acid present in aspirin is a great moisturizing agent which can help in removing dandruff.
The best way to use it is to crush the tablets and create a powder to apply it with your shampoo.
Chlorine is harmful to your hair. In case you are a swimmer and swim on a regular basis then the chlorine in the water might damage your hair.
You can restore the natural color of your hair by using aspirin. Make a paste of aspirin and water to apply it on your hair.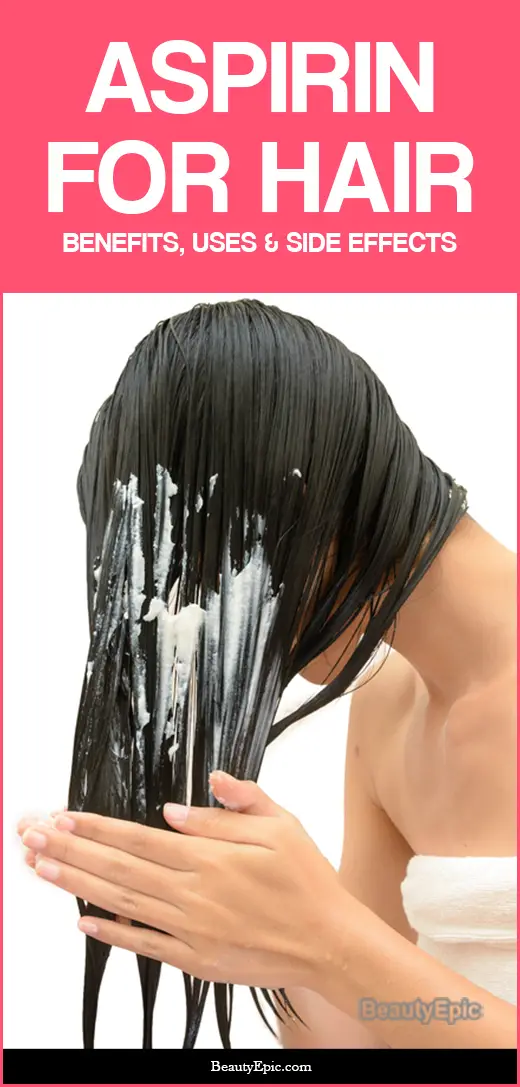 What Happens When You Apply Aspirin To Your Hair?
If you apply aspirin on your hair, it will make the hair appear lustrous and shiny. It cleans the scalp by unclogging the dirty pores.
Moreover, it can get rid of the dirt buildup. Salicylic acid dissolves the dead skin cells and the buildup caused by shampoo. It can also serve as a clarifying agent.
In case you are suffering from hair loss, aspirin can prove to be really helpful.
It slows down the production of prostaglandin D2 since it is a great inhibitor of it.
Some people have also experienced hair growth by using aspirin.(2)
[ Read: Homemade Castor oil Hair Masks ]
How to Use Aspiring for Hair
Things Required:
How to Do:
You need to make a powder of the tablets to mix it with hair masks or shampoos, both of these effects for the hair and show quick results. You will be able to see the difference just after the first use.
The aspirin mask works just after the first use and shows apparent and immediate effect.
You will have lush clean and visibly soft hair. You can also add power to the shampoo.
Best Time to Apply: During bath.
No of Repetitions: Use it once in a week for a month and you will see great results.
[ Read: Benefits of Apple Cider Vinegar for Hair ]
Side Effects of Using Aspiring for Your Hair
Aspirin might lead to allergic reactions. It might be swelling of the nose, tongue, or lips. You might also incur breathing problems.
This might have happened when you inhale or consume a small amount of it. Also, apply it in large amount might make your scalp dry.
At times it might cause irritation to normal skin. Be careful to avoid the eyes while applying it.
Miracles can happen when you use aspirin for your hair. It affects the exterior appearance of your hair and makes it look brighter, denser, and stronger.(3)
Scientific Evidence:
You Might Also Like: