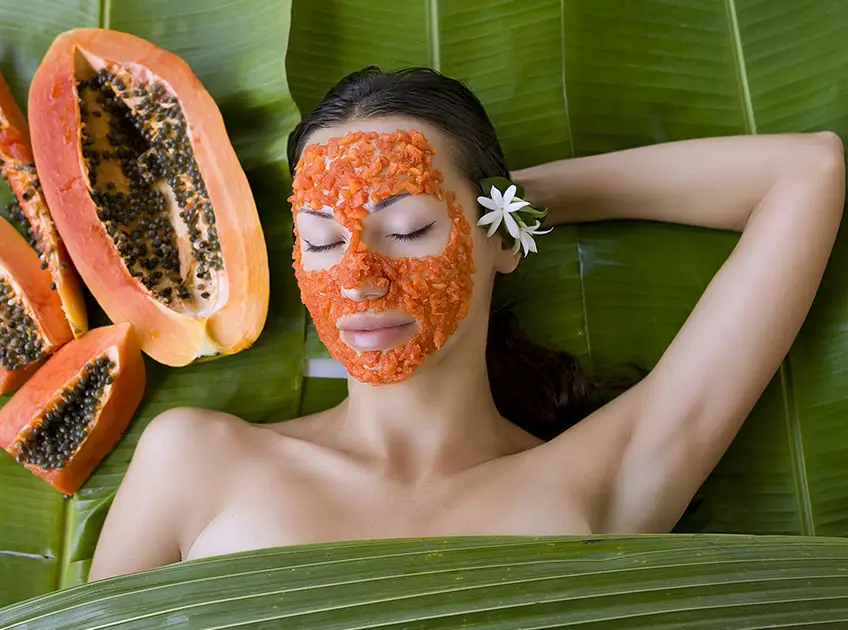 Papaya is considered to be the super ingredient as it possesses numerous beat uses for the skin, face, and hair. It is a tropical fruit infused with antioxidants and anti-inflammatory properties.
Benefits of Papaya for Skin
This exotic fruit rich in vitamin C exhibits numerous advantages for the skin. A few popular benefits of papaya for skin are listed below.
1. Soothes Irritated Skin
Skin irritation and rashes occur due to various reasons. The enzymes in papaya soothe the affected skin area. Eventually, papaya is used in the treatment of psoriasis and dermatitis.
Papaya and Cucumber Facial
Ingredients
¼ Cup Banana
¼ Cup Papaya
½ Cucumber
Recipe
Chop the cucumber into small chunks and blend with ripe papaya and banana.
Apply this smoothie to your neck and face.
Rinse it off after keeping for nearly 15 minutes.
Tip: The anti-acne effect of cucumber helps in skin whitening while banana provides hydration to your skin naturally.
[ Recommended: Benefits Of Castor Oil For Skin And Hair ]
2. Helps in Pore Tightening
Papaya is enriched with nutrients that focus on boosting collagen production, especially unclogging and diminishing the pores.
Egg White and Papaya Face Mask
Ingredients
1 Egg White
2 tbsp Papaya Pulp
Recipe
Combine the papaya pulp with egg white.
Apply this to the acne-affected areas.
Rinse it off after waiting for 10 minutes.
Tip: Egg whites are a good source of protein holding the benefits of skin tightening and making your skin look soft and firm.
[ Recommended: 12 Amazing Benefits Of Kiwi For Skin & Hair ]
3. Combats Skin Tanning
This tropical fruit is loaded with vitamins A and C abundantly. It flushes out the free radicals and helps to regain your skin tone when applied to the tan-affected skin area.
Papaya and Tomato Face Pack
Ingredients
4 Pieces of Ripe Papaya
1 Tomato
Recipe
Grind well tomato and papaya pieces to smooth puree.
Apply gently to the face and neck.
Let it dry for 10 minutes.
Wash your face with tepid water.
Tip: The ample amount of antioxidants in tomato lightens the adamant sun tan and brightens your skin tone.
[ Recommended: Benefits & Uses of Almond Oil for Skin and Hair ]
4. Moisturizes the Skin
Papaya is a boon for providing moisture to dry and dehydrated skin. As it is rich in potassium, it works great for dealing with dry and flaky skin.
Honey and Papaya Face Mask
Ingredients
½ Cup Ripe Papaya
2 tbsp Milk
1 tbsp Honey
Recipe
Add milk and honey to the smashed ripen papaya.
Stir it well and apply to the skin.
Rinse with chilled water after drying for 10-15 minutes.
Tip: Milk serves as a natural moisturizer and aids in providing required nourishment and hydration to your skin keeping it soft and supple.
[ Recommended: Tomato For Skin, Face and Hair – Benefits And How To Use? ]
Benefits of Papaya for Face
As papaya is a great nutritional fruit, it delivers countless benefits to face. The following are some advantages of papaya for face.
1. Get Rid of Pigmentation
The beta-carotene and phytochemicals-rich exotic fruit assists in lighting dark spots. It is the best remedy for removing pigmentation and therefore delivering a bright face.
Papaya and Orange Juice Face Mask
Ingredients
3-4 tbsp Papaya Pulp
3 tbsp Orange Juice
Recipe
Add papaya pulp and Orange juice to a bowl and mix well.
Apply this combo to your face and rest for nearly 15 minutes.
Rinse it off under normal water.
Tip: Vitamin C in orange helps in bleaching your face by removing dirt and dead skin cells and improvising your face complexion as well.
[ Recommended: Rice Water for Skin and Hair: Benefits and Uses ]
2. Attain Acne-Prone Face
As papaya consists of proteolytic enzymes, it kills the acne-causing bacteria further controlling the occurrence of pimples and breakouts in the future.
Papaya and Sandalwood Powder Face Pack
Ingredients
1 tbsp Lemon Juice
1 tbsp Sandalwood Powder
½ Cup Mashed Papaya
1 tbsp Honey
Recipe
In a cup of mashed papaya, mix sandalwood powder, honey, and lemon juice.
Apply to your face gently by letting it dry out for 12-15 minutes.
Wipe out the mask using normal water.
Tip: The antibacterial and astringent properties of lemon juice eliminate the impurities and protects your face from excess greasiness.
3. Removes Wrinkles
The antioxidant aspect of papaya helps fight free radicals which are hazardous to your skin and face. It decreases the symptoms of early aging like wrinkles and fine lines.
Papaya Peel Massage
Ingredients
Recipe
Rub the papaya peel over your clean face and neck.
Wait for 20 minutes and wash with cold water.
Tip: Papaya peel is fully packed with enzymes that remove inactive cells from your face thus removing age spots.
4. Promotes Face Glow
Papain is the enzyme enriched in papaya contains skin cleansing properties. It exfoliates your face thus improvising your face tone and natural glow.
Turmeric and Papaya Face Mask
Ingredients
½ Cup Ripe Papaya
½ tbsp Turmeric
Recipe
Mash the papaya in a bowl and add turmeric.
Merge the ingredients until it forms thick paste.
Apply to your face by massaging gently.
Scrub and rinse your face once the mask is dried.
Tip: Turmeric is famous for its anti-microbial and antibacterial properties and is a traditional remedy used to stimulate skin health.
Benefits of Papaya for Hair
Beyond its skin benefits, papaya contains enzymes that support haircare. Some benefits of papaya for hair are given below.
1. Dandruff-Clear Scalp
Fungal infection leads to dandruff and an itchy scalp. Papaya makes wonders in preventing dandruff and heals your scalp from itching and irritations.
Papaya and Neem Oil Hair Pack
Ingredients
5 Pieces of Ripe Papaya
5-6 Drops Neem Oil
1 tbsp Coconut Oil
Recipe
Mash the ripened papaya and blend with neem and coconut oil.
Use this combination on your scalp.
Give a gentle massage and rest for 20 minutes.
Shower your head thoroughly.
Tip: Neem is an anti-fungal and effective ingredient that helps your hair to get rid of dandruff problems.
2. Conditions Dry Hair
Because of the high vitamin A in papaya, it regains the life of the hair by nurturing the required sebum production.
Yogurt and Papaya Hair Cover
Ingredients
½ Bowl Yogurt
½ Ripen Papaya
Recipe
Blend the papaya and yogurt together into a fine paste.
Apply this purée to your hair covering the roots to ends.
Rinse it off after keeping it for an hour.
Tip: Yogurt has the ability to lock the natural moisture in your hair by giving lustrous shine to your mane.
3. Thickens the Hair
Papaya contains enzymes that provide the nourishment needed for healthy hair growth.
Papaya and Fenugreek Hair Mask
Ingredients
½ tbsp Fenugreek
½ tbsp Black Cumin
3-4 ripe Papaya Chunks
Recipe
Soak the fenugreek and black cumin overnight.
Add them to a blender along with papaya chunks and blend finely.
Gently massage the fine paste to the hair.
Wait for 45 minutes and wash it off.
Tip: Fenugreek seeds and black cumins are the traditional ingredients strengthen the roots of the hair follicles.
4. Obtain Frizz-Free Hair
Papaya treats the brittle and frizzy hair giving it natural shine and moisture.
Banana and Papaya Hair Pack
Ingredients
1 Ripe Banana
1 tbsp Olive Oil
2 tbsp Papaya Pulp
1 tbsp Honey
Recipe
Smash the banana well and mix with papaya pul, olive oil, and honey.
Put this mixture on your hair and scalp.
Wrap your head with a warm towel and stay for 20 minutes.
Cleanse your hair with a gentle shampoo.
Tip: Banana is the most utilized element for providing smoothness to your hair.
If you searching for one remedy that paves a way for the entire skin, face, and hair care, then papaya makes wonders. It gives you a greater shine and youthful glow.
Recommended Topics: