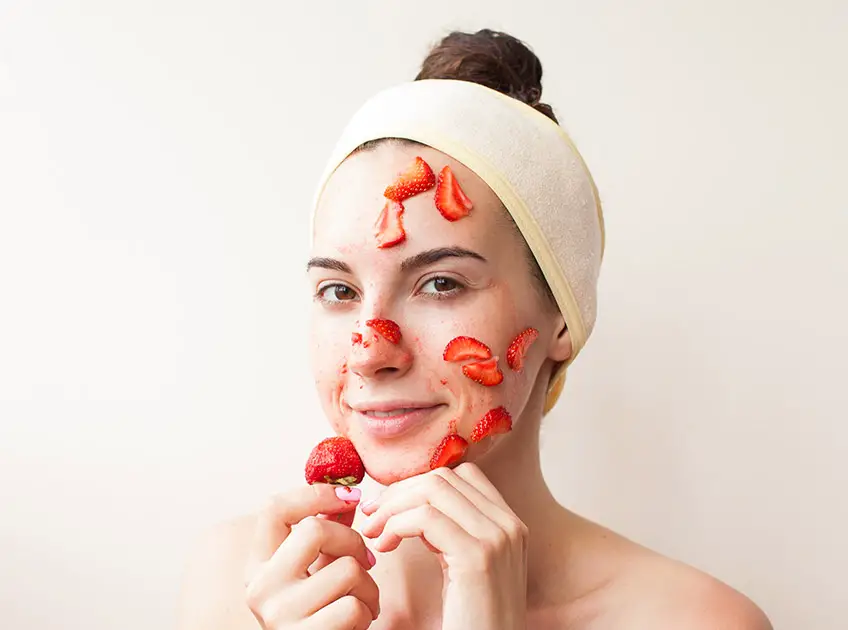 Strawberries are the sweet juicy fruit powerhouse that does wonders for enhancing your beauty. It works amazingly great for reinforcement of your skin, face, and hair. Its antioxidant and vitamin C properties contribute to upgrading your look glamorously and youthfully.
Benefits of Strawberries for Skin
This red succulent fruit performs miraculously when coming for skincare. Some popular benefits of strawberries for skin are given below.
1. Reduce Pigmentation
Strawberries rich in salicylic acid and ellagic acid fade away pigmentation. It further supports removing dark spots and skin tanning at the same time.
Strawberries and Lemon Face Mask
Ingredients
2-3 Strawberries
1 tbsp Lemon Juice
Recipe
Get strawberries in a bowl and mash well by adding lemon juice.
Combine those ingredients well and apply to the face.
Keep it for 15 minutes and rinse with warm water.
Tip: The citric acid in lemon naturally exfoliates your skin and gives a bright glowing appearance to the skin.
[ Recommended: Beauty Benefits of Papaya for Healthy Hair and Skin ]
2. Splendid Skin Scrub
This delicious fruit is an excellent scrubber that wipes out the impurities and dead cells. It helps to replenish your skin's top surface as well.
Strawberry Scrubber
Ingredients
4 Ripe Strawberries
½ cup Sugar
3 tbsp Olive Oil
Recipe
Smash the strawberries well in a cup.
Mix olive oil and sugar to it.
Massage your skin generously with this scrub and take a bath.
Tip: Sugar is an excellent exfoliating agent which gently flushes out the toxins from your skin. Moreover, it induces cell turnover and delivers a healthier skin.
[ Recommended: Benefits and Uses of Petroleum Jelly For Your Skin & Hair ]
3. Get a Glow
Using a strawberry face mask regularly can do many wonders in nourishing your face as well as making it glow.
Chocolate and Strawberry Face Mask
Ingredients
2 Strawberries
1 tbsp Cocoa Powder
1 tbsp Honey
Recipe
Crush the strawberries with cocoa powder and honey.
Use them on the face and keep for 15 minutes.
Rinse it off using warm water.
Tip: Cocoa powder holds the ability to increase the elasticity of your skin and gives an instant glow.
[ Recommended: Benefits of Flaxseed Oil for Skin and Hair ]
4. Tackles UV Damages
This appetizing fruit helps to reverse the damage produced by free radicals and UV rays.
Fresh Cream and Strawberry Face Pack
Ingredients
3-4 Strawberries
1 tbsp Honey
2 tbsp Fresh Cream
Recipe
Crush the strawberries into purée and mix along with honey and fresh cream.
Apply this purée to the face.
Leave it for about 15 minutes then rinse your face.
Tip: Fresh cream for skin stimulates collagen production and tackles premature aging signs including wrinkles and age spots.
[ Recommended: 12 Amazing Benefits Of Kiwi For Skin & Hair ]
Benefits of Strawberries for Face
As strawberries are enriched with AHA, it exhibits abundant benefits for the face. The following are the majorly popular advantages of strawberries for the face.
1. Brightens your Face
The strawberry juice is best for lifting your dull face on the spot. It lightens the blemishes and tends your face a brighter and revitalized look.
Strawberry and Rice Flour Face Pack
Ingredients
2-3 Strawberries
1 tbsp Rice Flour
Recipe
Grind the strawberries along with the rice flour.
Subtly apply to the face and neck.
Let it dry for 12-15 minutes and wash away.
Tip: Rice powder is effective in absorbing the excess oil from your face and helps to get a glowing and flawless face.
[ Recommended: Benefits & Uses of Almond Oil for Skin and Hair ]
2. Blemish-Prone Face
As strawberries are a great source of vitamin C, it soothes and relaxes the breakouts and pimples. Its anti-inflammatory property cleanses the pores keeping the bacteria at bay.
Banana and Strawberry Face Mask
¼ cup Banana
¼ Strawberries
¼ Yogurt
1 tbsp Honey
Recipe
Mash the banana and strawberries.
Add yogurt and honey to it and blend well.
Apply this mixture to the face.
Wash your face with lukewarm water after waiting for nearly 15 minutes.
Tip: Banana consists of potassium and vitamins that disposes of excess sebum thereby promoting clear skin.
3. Deals with Swollen Eyes
If you are suffering from dark circles and puffy eyes, then strawberries are the best possible choice. It acts as an astringent that helps pacify your under eyes and reduces inflammation.
Strawberry Eye Bags
Ingredients
Recipe
Get a few fresh strawberries and put them in a refrigerator
Take out the berries after 20 minutes and cut them into thick pieces
Lie down and keep the slices under your eyes
Remove and rinse with chilled water after 5 minutes
Tip: Since strawberries are loaded with alpha hydroxyl acids, they soothe the skin while reducing swelling and puffiness.
4. Acne-Free Face
The salicylic acid in strawberries are an added benefit for acne treatment that prevents future breakouts from occurring.
Honey and Strawberries Face Pack
Ingredients
3 Strawberries
1 tbsp Honey
Recipe
Using a fork smash the strawberries into a smooth paste.
Add honey to the strawberries smoothie and mix well.
Apply the combination to the face.
Let it completely dry for 15 minutes and rinse it off using warm water.
Tip: Honey's humectant characteristic provides a plenty of moisture to your skin further combating the acne and dirt.
Benefits of Strawberries for Hair
Beyond its benefits for skin and face, strawberries hold a good amount of benefits for hair. Below are the few advantages of strawberries for hair.
1. Prevents Hair Loss
The silica content in strawberries gently aids in preventing hair fall, therefore boosting healthy hair growth. It also assists in slowing down the problem of baldness.
Strawberry and Coconut Oil Hair Pack
Ingredients
2 Strawberries
1 tbsp Honey
1 tbsp Virgin Coconut Oil
Recipe
Mash the strawberries with a fork and mix with honey and virgin coconut oil.
Stir it well and put it on your scalp.
Wash with normal after leaving it for 30 minutes.
Tip: Virgin coconut oil penetrates deep into your hair follicles providing moisture and preventing hair breakage simultaneously.
2. Tackles Dry Hair
The antioxidants in strawberries tackles the dry and frizzy hair and prevent dandruff and flakes.
Strawberry and Apple Cider Vinegar Hair Pack
Ingredients
5 Strawberries
½ cup Coconut Oil
3 tbsp Honey
¼ Apple Cider Vinegar
Recipe
Add all the ingredients to a blender and blend until fine paste.
Apply onto the scalp and hair.
Let it soak for 25 minutes and rinse off.
Tip: Apple cider vinegar keeps your scalp healthy and strengthens the hair further balancing pH level.
3. Moisturizes your Hair
Being loaded with vital nutrients, strawberry helps lock in the moisture in your hair and improves hair texture.
Egg Yolk and Strawberry Hair Pack
Ingredients
1 Egg Yolk
1 cup Strawberry Purée
2 tbsp Olive Oil
Recipe
Combine the egg yolk with strawberry purée and olive oil.
Apply to your hair using a brush.
Wait for 20 minutes and wash with normal water.
Tip: Egg yolk provides the required nourishment to your hair keeping it hydrated for a longer time.
4. Promotes Hair Shine
Vitamin C and antioxidants in strawberries aid in attaining a shiny and glossy hair.
Yogurt and Strawberries Hair Pack
Ingredients
2 tbsp Yogurt
8 Mashed Strawberries
Recipe
Combine the mashed strawberries along with yogurt.
Put this mixture to the hair and scalp.
Leave for 20 minutes and rinse off.
Tip: Yogurt moisturizes your hair and blocks natural oils, giving your mane a natural radiance.
Strawberries are not just a treat for your taste buds, but they can work wonders on your skin, face, and hair. If you wish to beautify your overall appearance then strawberry can be your key secret.
Recommended Topics: