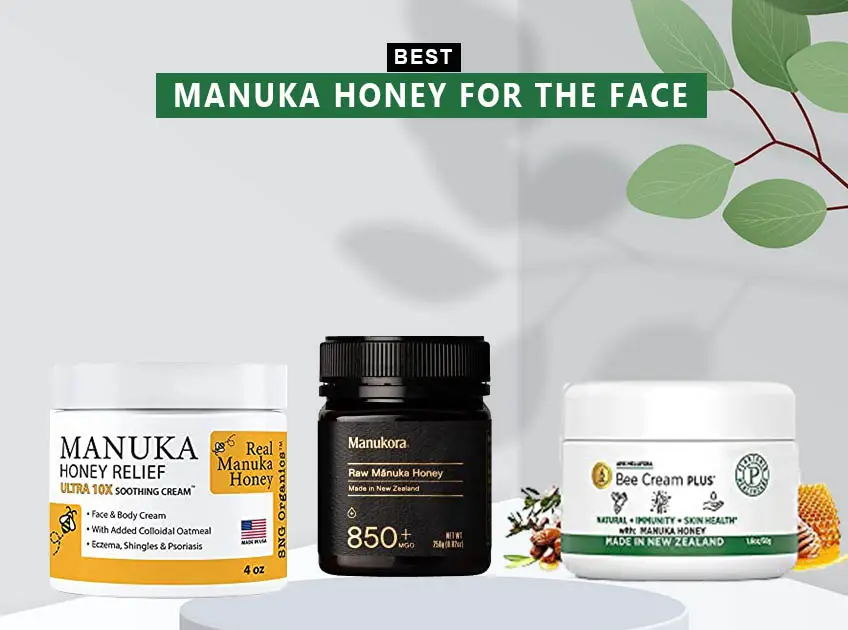 Using honey on the skin can seem to be messy but is well known to be a triple-threat skincare ingredient. Manuka honey has some similarities with regular honey and can fight infections. It is New Zealand honey produced by the bees which pollinate a certain flower from the manuka bush
Manuka Honey
It has methylglyoxal (MG) that has anti-microbial and anti-viral characteristics. Besides this, manuka honey can balance the skin's pH level as it has anti-inflammatory properties. Hence, we have shortlisted some of the best manuka honey skin care products that you can invest in. Read on to know more.
Choosing The Best Products With Manuka Honey For Your Skin
While buying a manuka honey product, check for customer reviews, and uses of the products such as moisturiser, serum and others; other ingredients added to it to ensure that it doesn't cause any skin irritation.
Unique Manuka Factor or UMF rating is another crucial parameter to be considered while choosing a product. It determines the ability to take on bacteria and other microorganisms. UMF needs to be at least 10 for the best antimicrobial capability. These factors will help you find the best product that can deliver the best outcomes on your skin.
[ Read: 12 Amazing Beauty Benefits Of Honey For Skin, Hair ]
7 Best Manuka Honey For The Face
1. Manukora Raw Manuka Honey for healing effect on the skin
Why Do We Like It?
It is a raw, authentic and legit Manuka honey.
UMF rating is 20+. It is MGO-certified, containing at least 850 mg/kg of dietary methylglyoxal.
Heals pain and inflammation.
Relaxes the body and helps in get better sleep.
Heals burns on the skin.
What Do We Dont Like About It?
The price is on the higher end.
It has a sticky consistency.
2. Manuka Honey Cream for reducing skin inflammation and itchiness
Why Do We Like It?
Has a calming effect on itchy and red skin.
Reduces skin inflammation.
It doesn't have synthetic fragrances.
Safe for use on baby's skin.
It has a UMF of 10+.
Oats in it keep the skin calm and moisturised.
What Do We Dont Like About It?
Its moisturising effect could have been better.
[ Read: 8 Effective Home Remedies for Itchy Skin ]
3. Honey skin face and body cream for ultimate moisturisation
Why Do We Like It?
Manuka honey in the product has a UMF of more than 12 and has a soothing effect on the skin.
Aloe vera, cacao seed butter, shea butter and coconut oil keep the skin moisturised
Works well on dry skin, and provides relief in case of eczema and rosacea.
Cruelty-free product.
Doesn't have sulfates and parabens.
What Do We Dont Like About It?
The product has a very faint scent which might be disliked by some individuals.
4. First Honey Manuka Honey for healing wounds and preventing infection
Why Do We Like It?
It is medical-grade manuka honey with 12+ UMF, that is sourced from a family-owned farm in New Zealand.
Protects the skin from infection and prevents the multiplication of microbes.
You can store it for a long time as it has 4 years shelf life.
It reduces swelling and soothes any skin irritation.
Improves skin regeneration
It has anti-inflammatory, anti-bacterial and moisturising characteristics on the skin.
What Do We Dont Like About It?
[ Read: How to Use Honey to Heal Wounds ]
5. Manuka Lane cream for smoother wrinkle-free skin
Why Do We Like It?
Ingredients in the product make the skin smooth.
Wrinkles are reduced since it has the goodness of hyaluronic acid in them.
Peptides in the product further reduce the appearance of wrinkles.
The elasticity of the skin increases because of the hydrolysed collagen
What Do We Dont Like About It?
There is no information about the UMF rating on the product.
[ Read: How to Get Rid of Wrinkles with Honey ]
6. Mr Bees Manuka Honey for keeping the skin moisturised
Why Do We Like It?
A tiny amount of the product can keep the skin moisturised for a long time.
It can heal dry or cracked skin.
Has a soothing effect in case of skin conditions like eczema or psoriasis.
Manuka honey used in the product is sourced from the home country Australia and is 100% organic.
It can be safely used for kids as well as adults.
Gets absorbed into the skin quickly.
What Do We Dont Like About It?
7. Plantonin pH-balanced Bee Cream Plus for repairing the skin
Why Do We Like It?
It can be used on sensitive skin.
You can use it on any type of skin.
Reduces acne flares by cleansing the skin pores and removing dead skin cells.
It is a pH-balanced product.
Creamy texture and lightweight formula.
Doesn't contain any scent.
Cruelty-free.
What Do We Dont Like About It?
Somewhat greasy feel might not be liked by all.
[ Read: How to Use Manuka Honey for Acne ]
Conclusion:
Manuka honey should always be stored at room temperature for ease of application. Those who are allergic to bee stings or have certain skin conditions should avoid using them. The antimicrobial properties of this product make it famous, but doing a patch test is the safest way to ensure that it doesn't cause any adverse effects on the skin.
You Might Also Like: