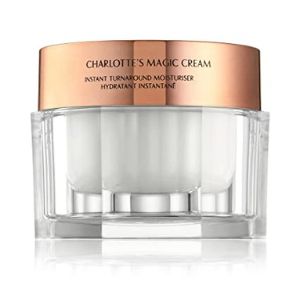 Undoubtedly, Charlotte Tilbury has some of the best makeup products. With plenty of luxury skincare products, it has become one of the favorite brands of people worldwide. Among its products, Charlotte Tilbury Magic Cream has gained a reputation as a highly effective moisturizer that nourishes the skin deeply. It is one of the best-selling products of Charlotte Tilbury.
Giving the desired plump and supple feel to the skin, Charlotte Tilbury Magic Cream is popular not only for its hydrating properties but hefty price tag as well. If your pocket doesn't allow investing in Charlotte Tilbury Magic Cream every month, we have come up with the best Charlotte Tilbury Magic Cream alternatives that will give excellent results at a lesser price.
Now, getting the glow delivered by Charlotte Tilbury Magic Cream is possible with its less expensive alternatives. Before checking them out, let's find out what makes Charlotte Tilbury Magic Cream so popular and trendy among makeup enthusiasts.
Charlotte Tilbury Magic Cream Review
Creating magic on skin, Charlotte Tilbury Magic Cream is one of the most effective moisturizers of the time. It holds the position of being an award-winning product among different makeup and skincare brands. Formulated to deliver the goodness of skin-loving ingredients, this product is one of a kind. As long as you don't mind paying the price, Charlotte Tilbury Magic Cream is your go-to moisturizer.
The active ingredients of Charlotte Tilbury Magic Cream are called 'magic 8' by the brand. This blend is supposed to hydrate the skin and deeply nourish and moisturize it, leaving it soft, supple, smooth, plump, and dewy. At the same time, it improves the elasticity of the skin by increasing the production of collagen and increasing firmness. With regular use, you can get rid of premature aging signs like fine lines, wrinkles, and blemishes.
Key Ingredients Of Charlotte Tilbury Magic Cream
Shea Butter- It is an emollient loaded with antioxidants that moisturize and soften the skin.
Kernel Extract- With anti-inflammatory benefits, kernel extract consists of omega-3 fatty acids and beta-glucan, making it suitable for people with oily skin.
Allantoin- It is extracted from the comfrey plant and has soothing properties.
Aloe Barbadensis Leaf Juice- Delivering moisturizing benefits, this ingredient has anti-inflammatory and healing properties.
Camellia Oleifera Seed Oil- It is a rich source of fatty acids and replenishes and rejuvenates the skin.
Rosa Canina Fruit Oil and sunflower seed oil- These oils are rich in fatty acids and linoleic acid that balances the skin's pH and nourishes it deeply.
Plumeria Rubra Flower Extract- With a soothing fragrance, it helps to moisturize the skin.
Apart from these plant extracts and oils, Charlotte Tilbury Magic Cream also consists of Sodium Hyaluronate- which hydrates the skin, Tocopherol aka Vitamin E- an antioxidant, Palmitoyl Tetrapeptide-7- reduces wrinkles and fine lines, Palmitoyl Tripeptide-1- stimulate collagen production and Vitamin C- brightens and lightens the skin.
The star ingredient of Charlotte Tilbury Magic Cream is BioNymph Peptide, which smooths and plumps the skin. The peptide is obtained from Nicotiana sylvestris leaf cell culture, glycerine, and water. It improves collagen synthesis and protects the skin from external and oxidative stress.
Pros
It is suitable for dull and dry skin types.
Consists of anti-aging ingredients that keep the skin youthful.
Deeply nourishes and hydrates the skin.
Extracts and oils from plants naturally replenish the skin with essential vitamins and minerals.
Cons
Oily skin types may find Charlotte Tilbury Magic Cream a bit heavy on the skin.
There is added fragrance in this moisturizer.
It is expensive and not easy to afford for everyone.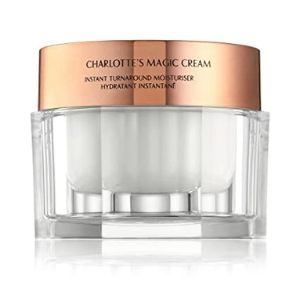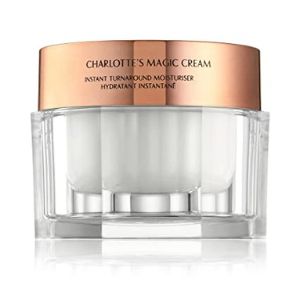 5 Best Similar Charlotte Tilbury Magic Cream Products
1. Nivea Creme
Formulated with emollients like mineral oil, petrolatum, and moisturizers like glycerin and panthenol to create a
rich and highly moisturizing cream that nourishes the skin.
The nourishing formula transforms rough and dry skin.
Ideal for the face, hands, and body and perfect for dull and dry skin.
2. It Cosmetics Confidence in A Cream
Active ingredients are shea butter, aloe vera, vitamin E, allantoin, sodium hyaluronate, and peptides that soften, smooth, hydrate, moisturize and firm the skin.
Delivers anti-inflammatory and antimicrobial benefits due to the presence of turmeric root extract. It also helps to control sebum production.
Anti-aging properties in the cream support skin elasticity and even skin tone with a reduction in the appearance of wrinkles, fine lines, and pores.
3. First Aid Beauty Ultra Repair Firming Collagen Cream
Active ingredients are collagen, niacinamide, C12-15 alkyl benzoate and glyceryl stearate SE, and peptides that plump the skin and reduce the signs of aging.
Improves loss of firmness, wrinkles, fine lines, and dryness to give smoother, more youthful-looking skin.
It is a fragrance-free product with the goodness of skin-friendly natural ingredients like Glycyrrhiza glabra root extract and Camellia sinensis leaf extract.
4. Pacifica Dreamy Youth Day and Night Face Cream
Enriched with moisturizing sunflower seed oil, allantoin, soothing aloe barbadensis leaf juice, firming peptides, beta-glucan, vitamin E, and hydrating hyaluronic acid to keep the skin well-nourished and hydrated.
Also consists of floral stem cells and plant extracts for a healthy glow and to reduce aging signs.
The cream doesn't feel greasy on the skin and gets absorbed instantly.
5. Paula's Choice Skin Recovery Replenishing Moisturizer
Aloe barbadensis leaf juice, allantoin, palmitoyl tripeptide-1, palmitoyl tetrapeptide-7, sodium hyaluronate, vitamin E, and vitamin C are the active ingredients that provide instant and extended hydration.
Consists of primrose oil to deliver the benefits of antioxidants and moisturization.
Suitable for sensitive and acne-prone skin, leaving it silky and supple with improved radiance.
You Might Also Like: