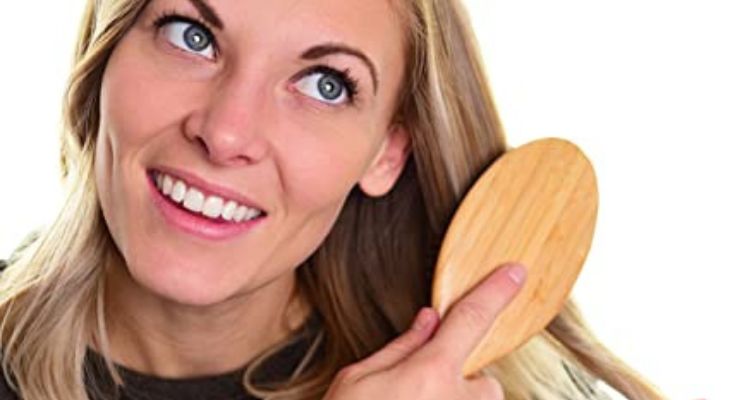 Made with the finest boar bristles, Mason Pearson Brush is the most popular brush among celebrity hairstylists. These brushes are handmade in England and are worth every penny.
However, if you want one Mason Pearson Brush, you have to put a dent of $200 in your pocket. While celebrity hairstylists can afford them, it is not a budget-friendly option for everyone.
If you want to have a Mason Pearson Brush and enjoy its goodness but can't afford it, fret not, as we have some great Mason Pearson Brush alterniatives that will not put a hole in your pocket.
Mason Pearson Brush

There are a few things that make Mason Pearson Brush so popular among hairstylists, and some of them are the following-
Superior design
Ability to calm frizz
Helps disperse natural oils from the scalp to your strands
Great for those who avoid washing their hair on a daily basis
A solid alternative to dry shampoo
Tames all types of hair with no hassle
It also doubles as a damage-minimizing alternative for styling tools.
The soft touch and the hair-enhancing benefits of Mason Pearson Brush make it suitable for all hair types. Moreover, unlike standard brushes made from synthetic fibers and nylon, boar bristle brushes don't pose the risk of damage and breakage.
Since it disperses oil evenly, it helps to straighten the locks without using a flat iron. Also, it reduces unsightly static from the strands.
Even though everything about Mason Pearson Brushes is great, the price is not. Luckily, we have plenty of solid Mason Pearson solid alterniatives that offer the same benefits without breaking the bank.
Pros
Suitable for brushing before and after shampooing for all hair types.
Has the patented pneumatic cushion that conforms to the contours of the scalp, which optimizes brushing with minimal effort.
Good for long to very long-length textured hair and detangling.
Cons
[ Read: Best Flat Iron For Hair Straightener ]
5 Mason Pearson Brush Alternatives
1. Dovhalia Boar Bristle Hair Brush Set

Designed especially for thin and normal hair, Dovhalia Boar Bristle Hair Brush Set helps to add shine and texture to the hair. It comes with a wood comb and bag as a complimentary gift.
It is a high-quality brush that works on all hair types and is suitable for coarse, textured, or curly hair. Soft bristles and shine-infusing and moisturizing powers to evenly spread sebum from the scalp to the strands are what makes this brush the closest alterniatives to Mason Pearson Brush.
Made from 100% pure boar hair.
Designed with strong bands of boar bristles that reach straight through to roots to redistribute the hair's natural oils throughout the hair.
Conditions root to tip give the natural hair a beautiful shine.
Best for thin to normal hair.
It is built to last, with no nylon fillers that scratch your scalp and no unpleasant smell.
2. Bsisme Nylon & Boar Bristle Brush

Designed with both boar bristles and nylon bristles, the Bsisme Nylon & Boar Bristle Brush is an amazing product to splurge into. It adds texture and shine to the locks, making them look naturally beautiful and healthy.
Moreover, this brush also boosts blood flow to the scalp while detangling unruly knots. All this helps in promoting hair growth, giving luscious locks in no time.
Features comfortable wooden paddle handle, soft rubber massage cushion implanted with 70% boar hair, and 30% nylon bristles.
Consists of stiffer ball tips and nylon pins that get through thick long curly hair, detangle knots with ease gently, and massage the scalp.
Softer boar bristles distribute oil to heal dry, smooth frizz and add natural hair shine.
Great for women, men, and kids detangling, massaging, and smoothing thick, thin, curly, straight, long, short, wet, or dry hair.
3. Belula Nylon & Boar Bristle Hairbrush

With premium boar bristles, Belula Nylon & Boar Bristle Hairbrush is a perfect hair brush for all types of hair. This comprehensive set comes with a natural bamboo brush designed with boar and nylon bristles, a detangling comb, a headband, and a travel case.
Moreover, this brush doesn't damage or break damp hair like conventional and synthetic brushes and features superb knot-reducing power.
It consists of long flexible nylon pins so that it can manage thick and thin hair equally.
Helps distribute sebum (scalp's natural oil) on the entire length of the hair strand.
Enhances the texture and color of the hair.
Makes hair look shinier, healthier, and smoother.
[ Read: Damaged Hair – Causes, Home Remedies & Precautions ]
4. SUSTAINABLE SHASH Nylon Boar Bristle Brush

Suitable for normal to thick hair, the SUSTAINABLE SHASH Nylon Boar Bristle Brush is a perfect solution to give hair a boost of health and natural shine. It gently detangles the hair without pulling or causing unnecessary friction.
It softens the hair and improves its texture. Moreover, it stimulates the scalp and boosts blood circulation.
Effortlessly detangles with zero pulling or causing
.
Rubber cushion is incredibly gentle, ensuring a pain-free experience.
Designed for normal to coarse hair, the natural bristle brush is great for detangling, conditioning, smoothing, and strengthening hair.
Available in three sizes- small, medium, and large.
Smooths and hydrates hair by carrying sebum from root to tip.
Keeps hair super-soft with a subtle shine.
Also improves overall texture, making hair easier to style.
5. Denman D81L Large Hair Brush with Soft Nylon Quill Boar Bristles

It is a porcupine-style cushion brush suitable for grooming, detangling, straightening, and blow-drying hair. It gives a refreshed and rejuvenated look to the hair strands.
It can be used for reducing frizz, gentle detangling, straightening, and adding shine and volume.
Reduces harshness to the scalp while grooming and styling hair.
Uses flexible nylon bristles set into tufts to gently reset the style and add shine by bringing out the hair's own oils and smoothing the cuticle.
Offers optimum comfort while styling or grooming hair.
Ideal to be used by all hair types like fine, thick, soft, curly, short, and long for both men & women.
You Might Also Like: