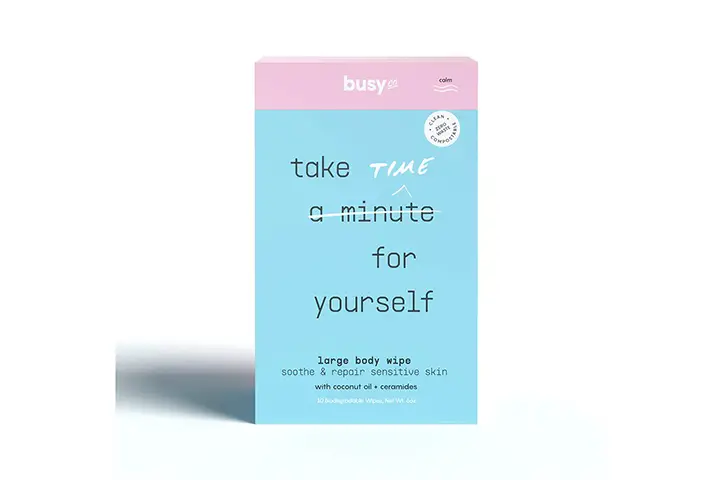 Best method for quick bathing is to pick Busy Co. soothing body cleansing clothes. These moisturized cloths protect against dehydration and best product against dehydration and best product for the people with sensitive skin.
These wipes are free from anything harmful, including artificial fragrances, parabens and aluminum. They really clean up well and remove sweat and odor after you hit the gym.
Busy Co. Soothing Body Cleansing Cloths
How it Works:
Each wipe is infused with pure, natural ingredients that truly benefit all skin types.
These help to minimize pores and wrinkles to toning and brightening your complexion.
Large body wipes soothe and repair sensitive skin with coconut oil and ceramides, which help to lock the moisture into your skin and prevent dryness and irritation.
Coconut oil keep your skin supple and hydrated.
Pros:
They give a quick refresh wherever you are.
These unscented wipes work great for sensitive skin.
Easy to carry even in pocket.
You can hydrate your skin in an instant.
Great for post surgery recovery.
Cons:
Cleansing cloth is very thin.
Rating: 4.6 out of 5
Busy Co. Soothing Body Cleansing Clothes are of large size and will give quick refresh. These wipes gently exfoliate your skin while removing sweat, odor and dirt. They are portable and even fit in your pocket and help to stay fresh when you are on the go.
Frequently Asked Questions (FAQ's)
Q. How strong is the smell?
Ans: Not very strong….just a clean refreshing smell..
Q. How big are the clothes in inches?
Ans: It is about 10" X 12".
Alternate Products:
You Might Also Like: