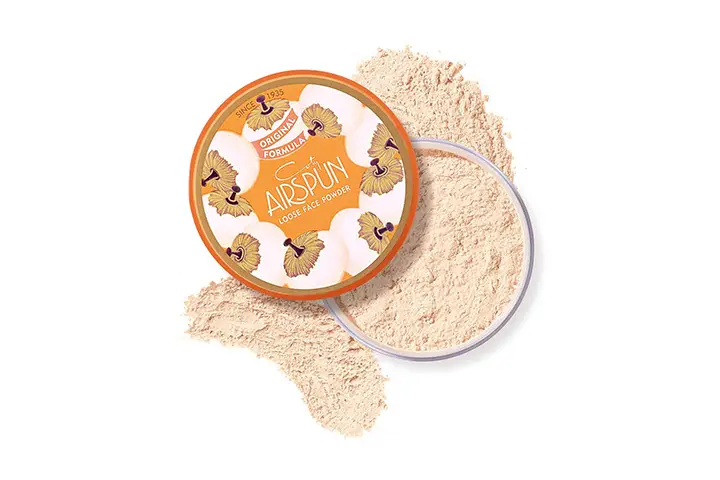 Coty Airspun Loose Face Powder has been one of the best kept secrets since 1953. It gives a smooth and soft look to your skin.
This product lessens the appearance of fine lines, wrinkles, acne and scars. The air spun face powder can make your skin look both wonderful and fresh.
Coty Airspun Loose Face Powder
How it Works:
It works on your skin as a foundation coverage or uses the loose powder on top of your makeup as a setting powder.
So you can get that flawless smooth look.
Air spun loose face powder is long lasting and helps give full coverage that feels lightweight enough to wear all day.
It blends with air to create a lightweight , velvety finish.
This fine powder hides lines and blemishes leaving a flawless finish.
Pros:
By using this powder you will get radiant glowing and unblemished skin.
It is perfect for sensitive skin.
It offers extra coverage and good color match.
It creates flawless matte finish on oily and combination skin.
This product will help to conceal and reduce the look of rough skin.
Cons:
It creates skin and eye irritation problems for some people.
Rating: 4.5 out of 5
If you want even skin tone and to get rid of skin blemishes, wrinkles and fine lines start using Coty airspun face powder. It gives a beautiful skin tone you want, you can also use this to set coloring and for highlighting.
Frequently Asked Questions ( FAQ's)
Q. Does this product leave a white cast?
Ans: This particular shade is very light and could likely leave a white cast. I choose this shade because I am particularly fair-skinned, due to a health issue. Coty Airspun is available in several other shades.
Q. Does this make you break out?
Ans: I have combination skin and haven't had breakouts like that since I was a teen.
Alternate Products:
You Might Also Like: