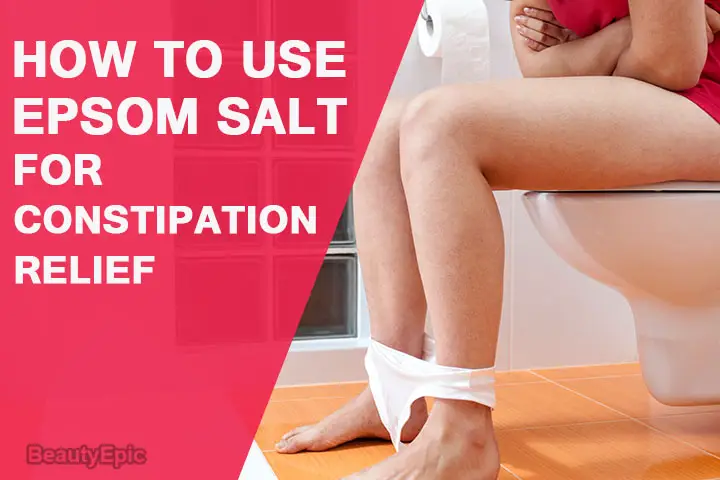 While constipation has become a quite a common problem faced by many, the need of finding a solution to the problem by a natural remedy has always been the need. Being an extremely discomforting health issue, constipation can now be curbed easily. Below we have mentioned some effective ways to use epsom salt for constipation problem. Have a look!(1)
Does Epsom Salt Help With Constipation

?

Epsom salt is very effective in treating constipation. Being a natural remedy for constipation it is very useful as an everyday medication. It is regarded as a safe alternative.(2)
Epsom salt helps in softening the stools because of the presence of magnesium sulfate. It is a laxative because of which water is brought into the bowels.(3)
The magnesium content makes it easier for the stool to pass through by contracting the muscles present in our bowel.
If you are looking for an agent that can detoxify your colon, then Epsom salt will come in handy. 
How to Use Epsom Salt for Constipation
Epsom salt looks like common salt or table salt, but it is made of different ingredients. It's made from the minerals magnesium and sulfate. It was first discovered centuries ago in Epsom, England. Epsom salt works as remedies for health, beauty, gardening and crafts purposes. It is a natural alternative that has been used therapeutically for hundreds of years. It is a safe and inexpensive alternative for pricier, over-the-counter remedies.(4)
1. Epsom Salt and Lemon Juice for Constipation
You'll need:
4 oz of water
1 teaspoon of lemon juice
1 teaspoon of Epsom salt
Preparation time: 5 minutes.
How to do:
Though Epsom salt does not taste too good but adding lemon juice helps to gulf down the mixture.
Take 4 oz of water in a bowl and add a teaspoon each lemon juice and of Epsom salt.
You will have to drink it up in one go.
You can have another drink after 4–6 hours if you don't see any effective results.
Follow this process regularly. 
Repetitions: Daily.
Note
The dosage instructions should be read correctly.
Adults can take a cup of water/juice with 2 teaspoons of salt in it.
Children aged 1+ can have the same thing but ensure that you use just 1/2 teaspoon of the salt.
[ Read: How to Use Apple Cider Vinegar for Constipation ]
2. Epsom Salt Bath for Constipation
Deficiency of magnesium is a likely cause for chronic constipation. Taking Epsom salt baths regularly won't cause any side effects and will help to give relief from the problem.
You'll need:
warm water
1-2 cups of Epsom salt
Preparation time: 5 minutes.
How to do:
Fill a bathtub with warm water and add 1-2 cups of Epsom salt.
Give the water a thorough stir and lie down in it for 10–30 minutes.
Wash your body completely after the soaking-in.
Use a soft towel to pat dry the skin. Do follow this method on a regular basis.
Repetitions: Daily.
[ Read: Benefits of Epsom Salt Bath ]
You Might Also Like:
Though epsom salt is very effective against constipation it has certain side effects. There are certain precautions that need to be taken while using the salt.
The instructions given on the packet must be followed correctly.
If any of these feature in your diet, then it is advisable not to use Epsom salt: antibiotics, pain relievers, vitamin and mineral supplements, antacids or antidepressants, corticosteroids, diuretics, blood pressure medications, etc.
One must not drink more than two glasses of Epsom salt water in a single day.
If your constipation problem is chronic or if you have kidney problems then avoid using this salt.
Scientific Evidence:
You Might Also Like:
Image:- 1